HANNA CITY, IL – I am a true-blue blood-loyal Ford man. I'm always looking for cars – mainly Mustangs, Torinos, Cyclones and Fairlanes, but most Fords catch my eye. My family and I show, race and farm with Fords. One day in January of 1976, I saw a Mustang advertised for sale. The owner said he had a lot of calls, but they couldn't come until evening or the coming weekend. So I decided to go "right now" because it was raining and I couldn't ship hay.

When I saw the car, the main things that looked different to me was the rear spoiler was 3-1/2 inches wide with a sharper blade, plus the spoiler stands were 5-1/2" closer together and chrome plated. What's more, the rear window slats were much different than factory originals, as were the Ford decals on each side.

When I got closer to car, I could see many parts that were not production correct, yet the car was too new at the time to be fitted with Boss aftermarket parts, because they were mainly unheard of back then. The closer I looked the car over in every minor detail, the more I knew in my mind that this car was special in some way. So I didn't question the owner very much.

Looking back on that day, I remember he was firm on the price and, I really think I had purchased this car from the late Larry Shinoda's tailor. I've since received more information that I believe in time could document this as being true.

When I got home from making the deal, I recall my wife, Danette, wasn't the happiest. She said, "You just purchased two other cars only a month earlier!" But soon afterward, she began to like this Mustang. I actually named it "My Special Edition Mustang."

We parked it after two years of driving it around because my wife had a hard time getting our son, Jason, out of the back seat. All these years since, I've kept a roof over the car, but let it sit.

As history repeats itself, my daughter, Jennifer, parked her own Mustang and bought a new Taurus for her two daughters in order to make transporting them around much easier. A person works, eats, sleeps and raises a family and time goes by so fast . . .

So, about 15 years ago, Jason kept encouraging me that we needed to find out more about My Special Edition Mustang we had sitting on our farm. But all the people I contacted for information couldn't tell us anything about it.
My son took his yearly trip to California to visit his aunt and, as usual, they visited many car businesses. He found a real Mustang historian and they discussed our car. The historian said, "Well, there is a car out there that no one knows what happened to." But then he asked Jason, "Does it have rear quarter scoops?"
Jason called and asked me, so I went out to the barn and checked with a mirror from inside and could see it did have scoops at one time, but they were capped and brazed closed. But nothing definitive could be determined at that time.

Some time later I told Donald Farr, a longtime Mustang journalist and author, that I was looking for information on the late Ford stylist Larry Shinoda and his Boss Mustang prototype. Through this inquiry that Donald put out into the Mustang community, I received a huge amount of calls. Some people were just interested to hear about my car, while others were able to give me help in one way or another. As time went on, I received many high hopes – and just as many real downers.

There were so many different things about the car that made me lose a lot of sleep, as I constantly kept coming up with lots of unanswered questions. One day, I gave the steering wheel much thought: Could the custom "LB" script in the wheel center stand for "Larry's Boss" and the fancy number "1" stamped on one spoke mean this was the first Boss car?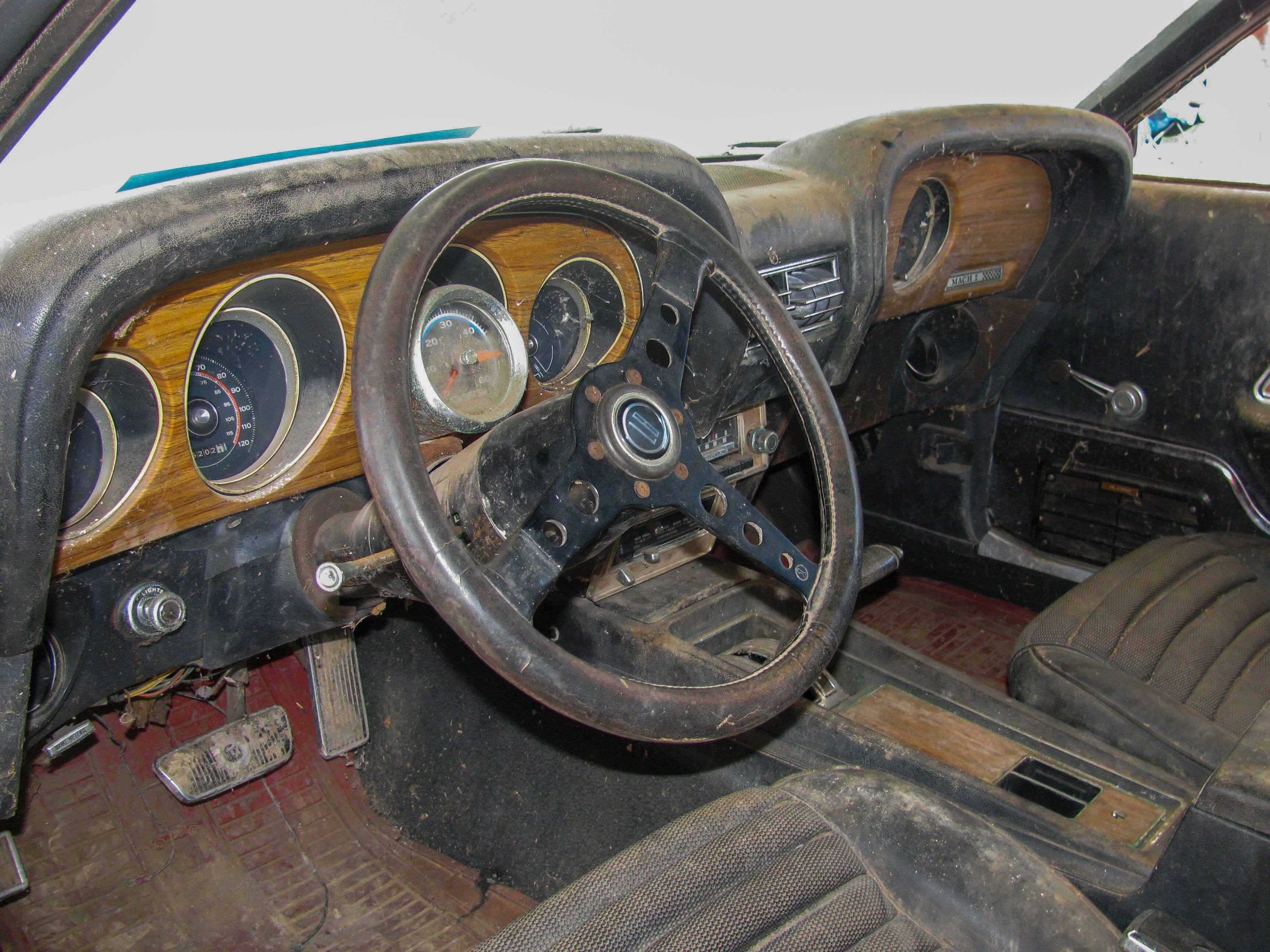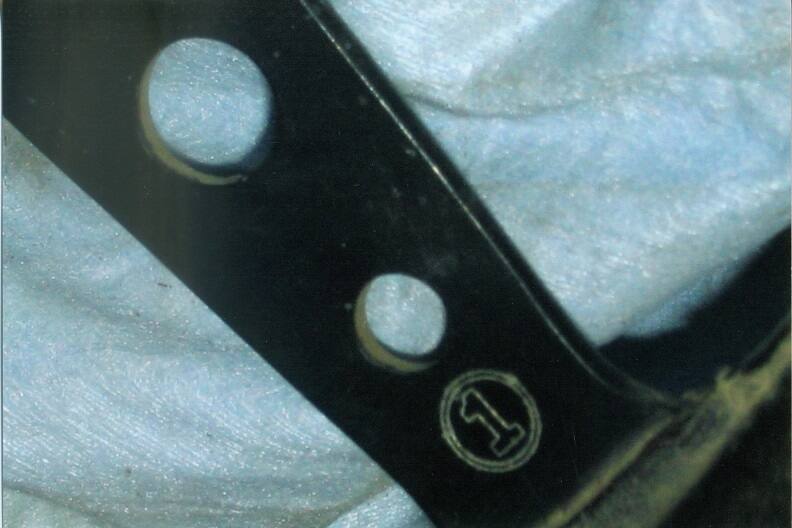 I called someone I knew who was well-versed in Corvettes and asked him if Larry's 1963 Split Window 'Vette could be located. After about four months he called back and said that he found it. It took another three weeks for the owner to call me and answer a question about what the steering wheel center looked like in that Corvette. He explained what it looked like and – it was the same, except instead of "LB," his said "LC" (likely for Larry's Corvette). Finally, I thought that I might be on to something!

I've talked to four Ford engineers who Larry worked with and three of them remember this car, and they told me it stood out because it was so different. They gave me quite a bit of information about Larry and this Boss Prototype. Many believe Mr. Shinoda was among the best stylists of his era, and those who worked with him liked that Larry would speak what was on his mind.

They also recall that after Larry finally had modified his Mustang to exactly how he wanted it to look, he had to bring it before the Ford board to get it approved. It turned out to be quite a challenge, but after four times going up for production approval, the Boss finally got the green light – and word was they unanimously liked it. Larry had picked the "Boss" name after his nickname for his former boss at GM, Bunkie Knudsen, who was hired by Henry Ford II to replace Lee Iacocca as Ford Division President at the time. Knudsen had hired Shinoda away from GM to join him at Ford. I have heard that some Ford program managers wanted the name for this new performance Mustang to be called the SR2 Sedan Racing model, but Larry convinced the board that the Boss name was better.

There were some other things I found out about the car which proved to be different than other production Mustangs of that era. For one, it sat lower, and I found out that Larry had lowered it like a Trans Am race car. Along with the racing suspension components, Larry had fabricated and installed a large rear sway bar. He also installed a burglar alarm in the trunk, an electric trunk-release latch, a tilt steering wheel, and rear disc brakes. His car had many other different features, including a deluxe interior and having the slots under the hood all cut out. I kept all the original parts on the car just the way they were when I bought it. Most others who would have owned this car probably would've thrown away the prototype parts and put on production parts.
The Boss Mustang was Larry's first assignment when he was hired in at Ford. There are many other cars he had worked on in Ford Design that you can read about in other articles, but it was clear that he was great at what he did as an automotive stylist.
I've been told by several people that years later, Larry had tried to find this Boss Mustang prototype to buy back, but couldn't locate it. You simply can't believe how I felt after doing several years of research to finally receive all the documentation needed to prove what this Boss Mustang was! I had shown the car at several big Mustang shows when it was just pulled from storage unrestored, and it drew people from all over the world – with some of them saying they came to the show because the car was there and they wanted to see it like it was.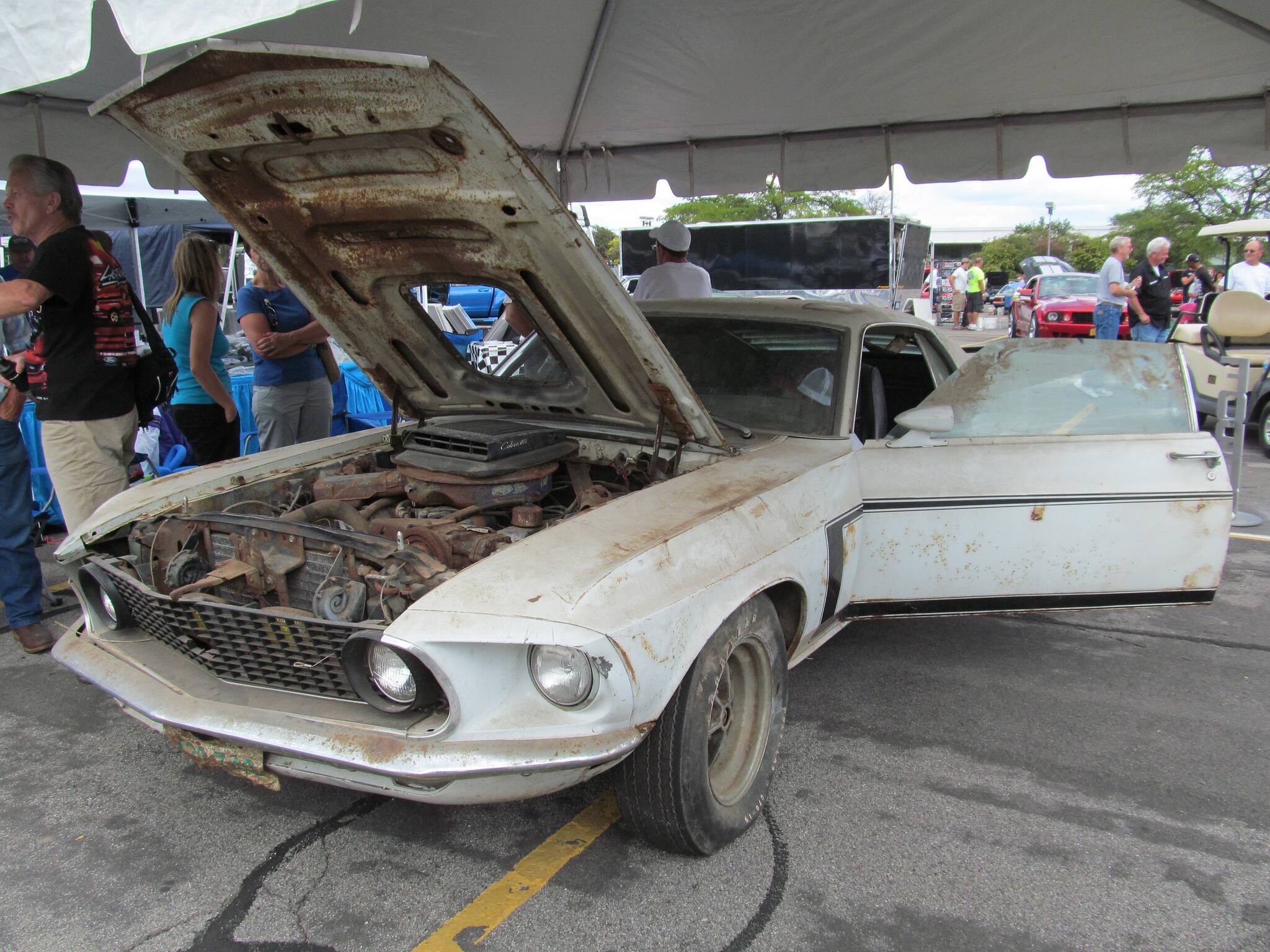 I've now fully restored the car to the exact way that Larry had it when he drove it at Ford, and I used NOS parts in the build. So far, we've shown the restored Boss prototype twice in its newly restored condition, including at MOCSEM huge "Mustang Memories" show at the Ford Product Development Center in Dearborn last August, and most recent at the Muscle Car Nationals in Chicago.
My wife Danette and my entire family hope to be able to travel with me all over the country showing this "first" Boss and look forward to meeting many of the real car people out there and talk Mustangs. Owning this special car has been a great experience.
One thing we hope for by showing this car in public is that more young people get car fever. The car hobby is one of the greater things that kids can get involved with – and have fun while learning a lot about cars and meeting a lot of good people. We feel fortunate to own this unique Boss Mustang which started it all. I wish I could've met the late Larry Shinoda himself, but we hope Larry is now happy in his next life, looking down at his beautiful car which still is appreciated and looks great today.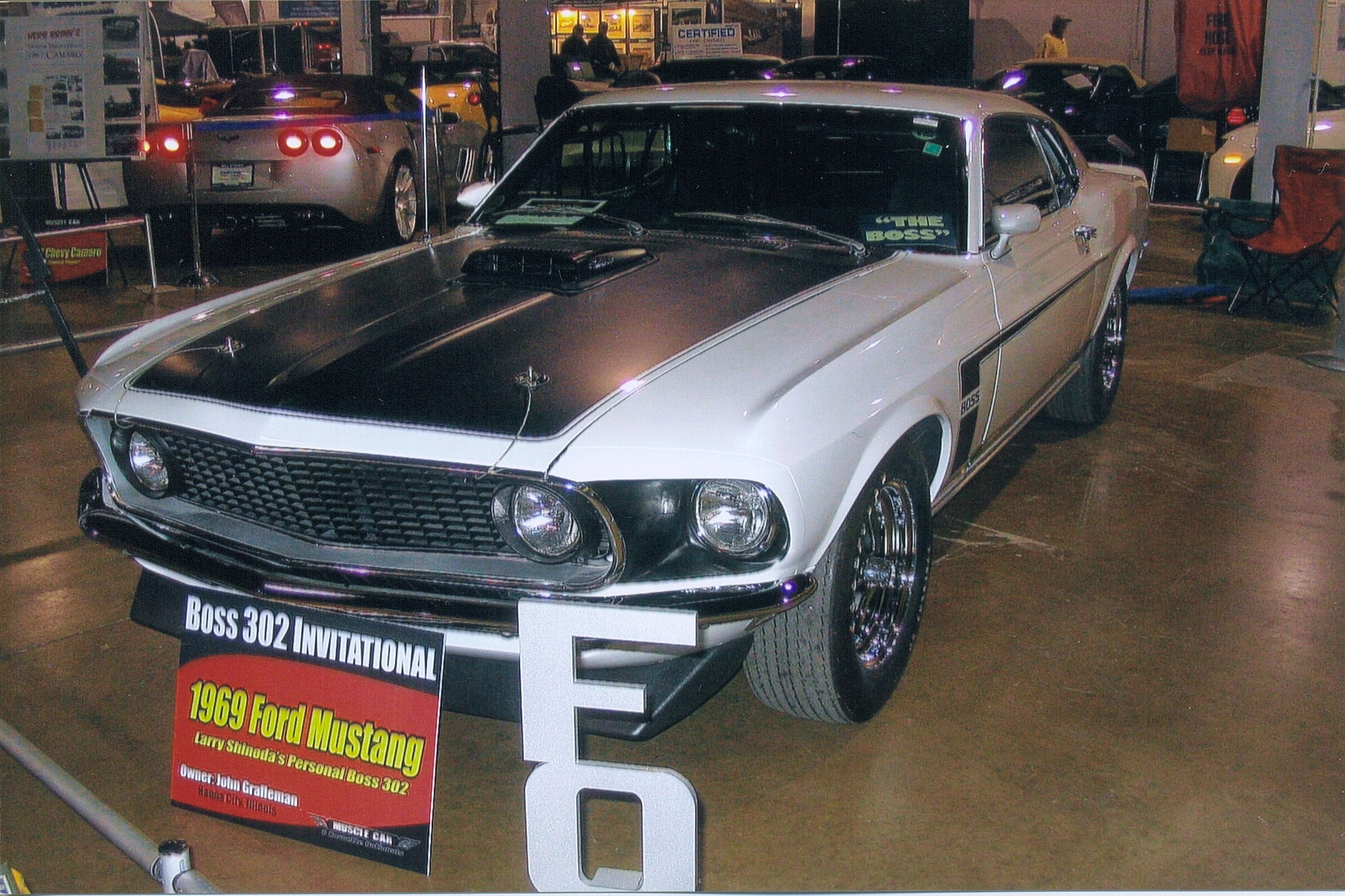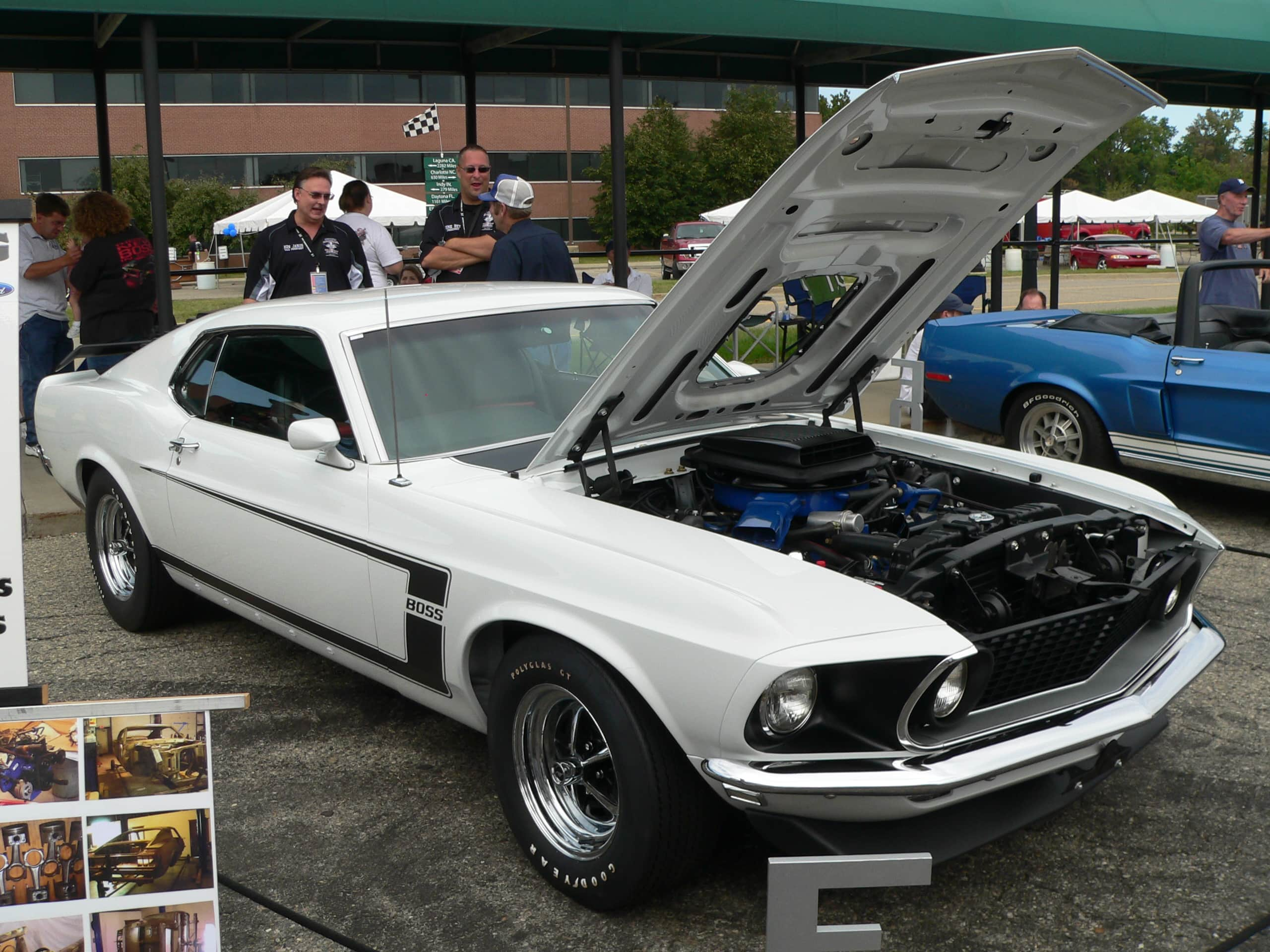 There's one more thing I need to share: I've read in magazines that after Larry got this prototype done, he went over to the GM executive parking lot when his buddies were getting out of work and burnt rubber all over the lot with his Mustang! In fact, when I displayed this car in Mustang Alley during Detroit's massive annual Woodward Dream Cruise, a man came up to me and told me that he remembers years ago working with Larry at Ford and going with Larry to do just that. So if you remember reading that in articles you may have seen about Larry – it turns out it is true!
Which reminds me. When I rebuilt the motor, we were very surprised at all of the things that Larry had done to the engine to make it so fast – which is why Larry could run against other Boss 302s and be a lot faster, even with the A/C on (which was another thing that has been mentioned in some old magazine articles).
Our thanks to Bob Perkins and Phil Schultz, who did the NOS Parts restoration on this one-of-a-kind Mustang. No Mustang owner could ask for a higher level of perfection than what these guys delivered. I have a feeling Larry would have wanted it that way!
PHOTOS COURTESY THE JOHN GRAFELMAN FAMILY & JOHN CLOR / FORD PERFORMANCE