DEARBORN, MI – The existence of factory built "W-Code" 427-powered Mustangs is one of oldest and most controversial topics in Ford's pony car history. Despite documented prototype builds, the reality of 1968 Mustang brochures listing the 427cid V-8 as a factory option and even some owner claims – it appears there's no viable proof from either the experts or from hard evidence. So is a factory 427 Mustang an ultra-rare collector's item – or just an urban legend?

Born at the advent of the muscle car era, the Ford Mustang is a car that has always been designed to deliver on the brand promise of "Fast, Fun and Affordable." It's probably no coincidence that the first word in that product mantra is "Fast" – because stylish, sporty cars that make enough power to actually be fast also have a better chance to deliver on that second attribute – fun!
Although Ford Motor Company has provided the world with V-8-motivated driving "fun" since way back in 1932, by the time the Mustang had bolted from the marketplace starting gate, enthusiasts' appetite for horsepower had become insatiable. Which meant that as much fun as early 289 V-8-powered Mustangs had been – even the "HiPo" 289 versions – they quickly took a back seat to a newfound lust for the kind of power and torque that can only come from a big-block V-8.
Ford's first response to that powerful market demand came in 1967, when Mustang not only got bigger, but it got its first big-block as well – the venerable 390-cubic-inch "Thunderbird Special" V-8 with a four-barrel carburetor and a rating of 320 horses. The standard engine in the T-Bird, this same 390 workhorse engine could also be had in many Fairlanes and full-size Fords. Opting for the 390 in your Mustang cost $264, which was far cheaper than the extra $434 (over the base 200-cid inline six) that it cost for the "Hi-Po" 289 (by now called the "Cobra") small-block.
There were three transmission choices in '67: a standard three-speed manual; a new close-ratio "Top Loader" four-speed stick-shift; and a new automatic, the "SelectShift" Cruise-O-Matic, which was a $233 option that was often teamed with the 390 V-8. ("SelectShift" referred to a manual-override feature that allowed the driver to keep the automatic in any of the three forward gears up to the engine's redline for maximum acceleration, as well as to allow manual downshifts from third to second.)
But the 390 was just too slow-revving and mild-mannered for the serious Ford horsepower buffs. And even though Carroll Shelby was offering Ford's 428 cubic-inch "Police Interceptor" big-block in his upmarket GT500 Mustang model, the motoring press still wasn't that impressed when compared to the big-motored Chevies, Pontiacs and Mopars. So later that model year, Shelby reportedly decided to go all-out and build some three dozen GT500s with Ford's premier race engine underhood – the 427 big-block.
The LeMans-winning Ford 427 V-8 had first been introduced in 1963 as a "race engine," developed for use by NASCAR stock-car race teams and professional drag racers. While 427-powered "Lightweight" Galaxies and Fairlanes made headlines at the racetrack, scant few 427 V-8s found their way underhood as passenger car options on big Ford and Mercury sedans and convertibles. By 1965, the 427 race engine employed a "side-oiler" block configuration (sending oil to the crankshaft first, then to the camshafts and valvetrain second – the direct opposite of the earlier "top-oiler" version), and was available with low-riser, mid-riser, or high-riser aluminum intake manifolds, topped by either single or double four-barrel carburetors. The low-riser, single four-barrel street versions were conservatively rated at 390 horsepower. Word of such Shelby 427 installations sparked much speculation that this famed V-8 was destined to appear in the Mustang's engine bay as a factory option sometime in 1968.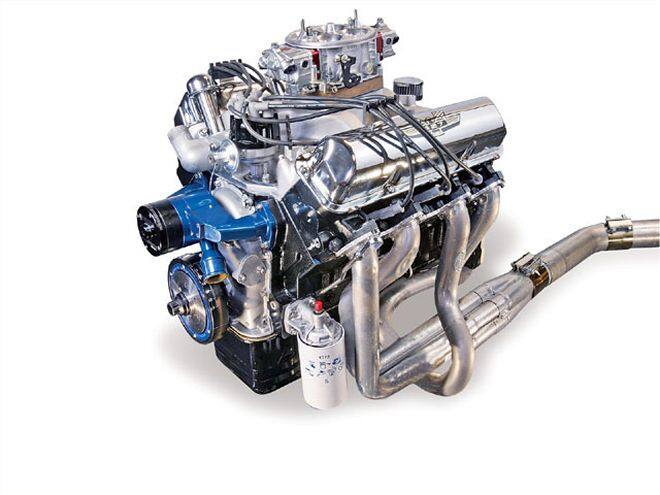 A series of events leading up the introduction of the 1968 Mustang is at the heart of the assumption that there was, indeed, a factory 427 Mustang offering. First and foremost, of course, was a Ford product announcement in late 1967 that a hydraulic-lifter 427 engine would be made available as an option – merely by selecting the "W-Code" on the order sheet – for both the Mustang and its sister-car, the Mercury Cougar.
Secondly, early 1968 Mustang product brochures showing information on the availability of the 427 are said to exist. Seeing the mighty 427 at the top of the '68 Mustang engine selections chart certainly had many performance fans chomping at the bit. All that would have been needed was to choose the W-Code 427 on your order and cover the whopping option price tag of nearly $700, and you'd land yourself a four-barrel 427 with 10.9:1 compression – good for at least 390 horses at 5,600 rpm and a then-unheard-of showroom stock 0-60 mph time of around six seconds. Oh, sure you'd be forced to pick the Cruise-O-Matic as your transmission choice, but front disc brakes instead of drums were also part of the deal.
To add fuel to the fire, 427 Mustangs were being featured in the motoring media. As somewhat of a teaser in the car magazines at that time, Tasca Ford had swapped a race-worthy 427 into a Mustang and nicknamed it the "KR" – a true "King of the Road" before Shelby had made the moniker famous on his 428-powered GT500. And at least one publication printed a photo of what it described as a Ford "pre-production pilot 427 Mustang," showing that Ford engineers actually DID build a 427 Mustang test mule or two for 1968. But the question is: Did those cars wear a VIN plate? And if so, was it stamped with the telltale "W" engine code? Or better still, did any of those cars somehow dodge their date with the Ford crusher after their engineering life was over? No one knows. To this date, no one has been able to document a factory built 427 Mustang, or provide even a photo of a 1968 Mustang VIN plate with the 427's "W-Code" on it.
What CAN be verified is that a handful of 427 engines DID arrive at the Mustang assembly plant early in the 1968 model run, and found their way into a select number of new Mercury Cougars. These cars, dubbed the Cougar GTE, ARE identified by the "W-Code" in their VIN plates, and were indeed fitted with Ford's premier 427 race engine. Even though they were all equipped with a 650-cfm Holley four-barrel carburetor that was considered far too small to take advantage of the 427's true power potential, you didn't hear complaints from the proud owners of these fast cats.
Still, reports and supposed sightings of W-Code Mustangs have persisted for decades. The ongoing claims of 1968 factory original 427 Mustangs had eventually turned into such a controversy that Ford production-data guru Kevin Marti of "Marti Report" fame was asked to search his massive Ford computer archives to try and settle the issue once and for all.
According to his most recent book, Mustang By The Numbers 1967-1973, Marti found that Ford indeed made W-Code Cougar GTEs, but that not a single W-Code record exists in Ford data for ANY 1968 427 Mustangs. The same goes for the W-Code 1968 Fairlanes, Cyclones and Torinos that were also mentioned in catalogs and owners manuals. (And yes, it's true that the December 1967 issue of SuperStock magazine featured a factory "427 Torino GT" – but to this day no one can explain if that particular car was a Ford prototype or possibly just wearing 427 badges while a 390 still lurked underhood.)
It's interesting to note that Ford had produced "427" hood scoop emblems intended for 1969 model-year Mustangs and Torinos that never reached production, as the emblems carried a Ford part number (C9ZZ-16637-A) and could be purchased from dealers. But it all became academic in December of 1967, when Ford dropped the 427 from its engine lineup.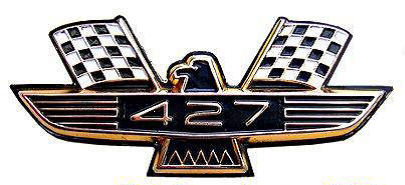 The 427's bore size, complex block and exacting build tolerances made it too expensive to manufacture in viable quantities, so it was replaced by the just-as-big yet easier-to-make 428. By the time April 1, 1968, rolled around and Ford unveiled the 428 Cobra Jet engine as the high-performance big-block V-8 for the Mustang, the 427 faded from the limelight – and was soon relegated to the "racing exotica" class after the 428 Cobra Jet's bottom-end was beefed up in the Super Cobra Jet versions that were released a bit later.
Despite an ongoing lack of evidence that factory 427 Mustangs were ever built – even all these years later – some in the hobby still hold out hope that proof will be unearthed someday. Marti himself says that Ford data is not infallible, and has oddities that cannot be explained. For example, he notes that the 1972 Mustang options list does not show that the rear deck spoiler was available, even though it appears in both 1971 and 1973.
When it comes to the possibility of a "W-Code" 427 Mustang being missed in the data capture, Marti has been quoted as saying, "Ford might have built them in such small numbers that they never showed up as a Code, kind of like the '67 Shelbys that had an "S" engine code (390) and were, in fact, packing the 428."
So the search continues for the real-deal factory 427 "W-Code" 1968 Mustang. Until one can be proven with documentation, the only place you'll find them is at the very top of Mustang lore.
Editor's Note: If YOU happen to find proof of a "W-Code" 1968 Mustang, we'd like to know about it. Send info to AskTFR@Ford.com. (Our thanks to Bill Hamilton, David Ahner and Gary Barto, who had first responded to this query via the MCA's 'Mustang Times' magazine.)