MOHNTON, PA – The gates had been open for 90 minutes, and still the line of Mustangs stretched literally as far as the eye could see, back east along tree-lined Bowmansville Road. They'd gathered on a hot Saturday in August to prance and to preen, to see and be seen, at the seventh annual American Muscle Mustang Show, at Maple Grove Raceway in Mohnton, PA.

More than 3,000 Mustangs registered for the show, and more than 15,000 folks came out to see them. According to sponsor/promoter American Muscle, the Philadelphia-adjacent retailer of Mustang parts and performance accessories, this is the largest Mustang-exclusive event in the Northeastern United States. And the 2015 edition was the biggest one yet.

From seats and shift knobs to springs and suspension arms; from supercharger kits to cams, heads, and engine blocks; if it fits a Ford Mustang, you can likely buy it from American Muscle – although their parts catalog clearly favors models from the Fox-body forward. The Maple Grove event showcases their wares, but the day's $55,000 in proceeds all went to the Make-A-Wish organization.
The centerpiece of the show, in fact, was a "Wish" that American Muscle made real: Terminally ill Jonathan Mullins, 18 and already the owner of a well-worn 2000 Mustang GT, wished for his car to be rebuilt in the style of the 2012 Boss 302 Laguna Seca Edition, and had even sketched an adaptation of that model's distinctive red-and-black livery on an SN95 body. American Muscle located a similar-vintage donor car and completely rebuilt it – on a lowered suspension, with Bullitt-style wheels, upgraded intake and exhaust, and even racing seats. Painted red and black per Jonathan's Wish, it was unveiled during a mid-day ceremony.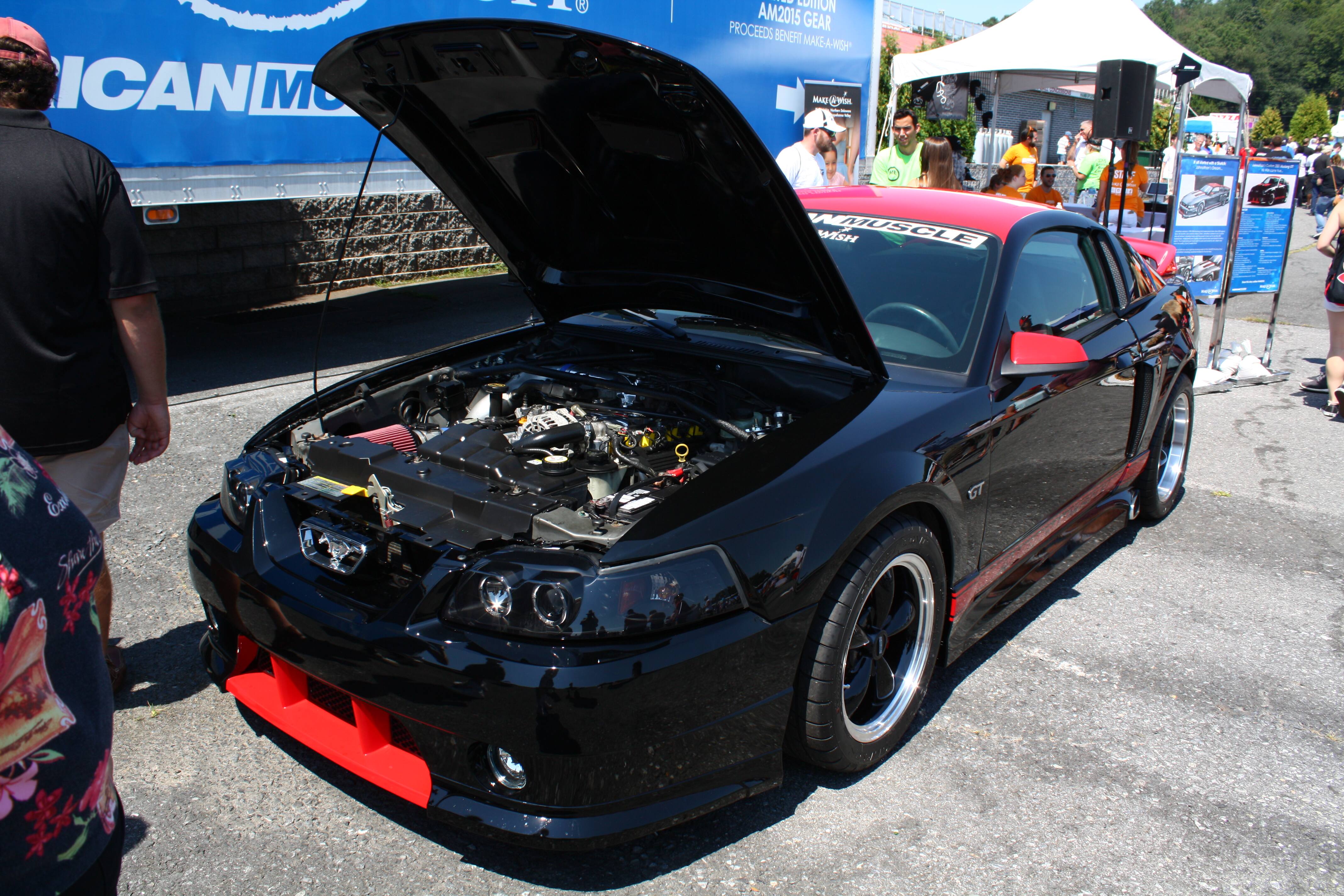 Even so, Jonathan's was just one of several special Mustangs highlighted on the midway. Guest-of-Honor Steve Saleen brought his 2015 S302 Black Label, with its body mods adding three-and-a-half inches to its overall length, and its promise of 730 horsepower from a Ford 5.0-liter Coyote and a screw-type supercharger. Also on hand was Chip Foose, claiming an even-more-muscular 810 horses from his Bama-blown Mustang MMD.

Spectator applause crowned the winners of the BBK-sponsored revving contest, where 10 willing entrants were allowed one minute each to wow the crowd with sexy exhaust sounds; and of the Roush Performance Burnout Competition, where at least two contestants totaled a pair of rear tires. In the BAMA Dyno Challenge, Al Davis' turbocharged 2011 lifted off the rollers while recording 956 rear-wheel horsepower, only to be topped by Adam Arndt's '88 GT which, packing a 352cid pushrod motor and a ProCharger, clocked an eye-popping 1,161 ponies.
The vast show field stretched from the drag strip in the west to the corn fields in the east. Owners' clubs parked together, and the largest, by our estimate, was the Red Mustang Registry, whose self-proclaimed "Red Sea" of at least 50 cars occupied the prime real estate just inside the entry. Also represented were the Blue and Yellow Mustang Registries; plus the Fox Body Addicts, the Boss Exchange, the Central Virginia Mustang Club, the Mustang Club of Maryland, and of course the Mustang Club of America.
The overall mix was about what you'd see on the street: Mostly S197's and SN95's, followed by latest-generation S550's. We saw a good number of mid-80's-and-up Fox bodies, too, but from about '85 back the numbers thinned out quickly. We counted exactly three Mustang II's, and one lonely '73 Grande representing the whole '71-73 era. Somewhat more numerous were the '64-70 classics; and outstanding even among those were Dave Walmer's yellow '69 Boss 302, equipped with an unusual Autolite Cross-Boss manifold and inline four-barrel carburetor; and Hubert Snyder's subtly modified "Boss 5.0," also vintage-1969 and sporting Calypso Coral paintwork.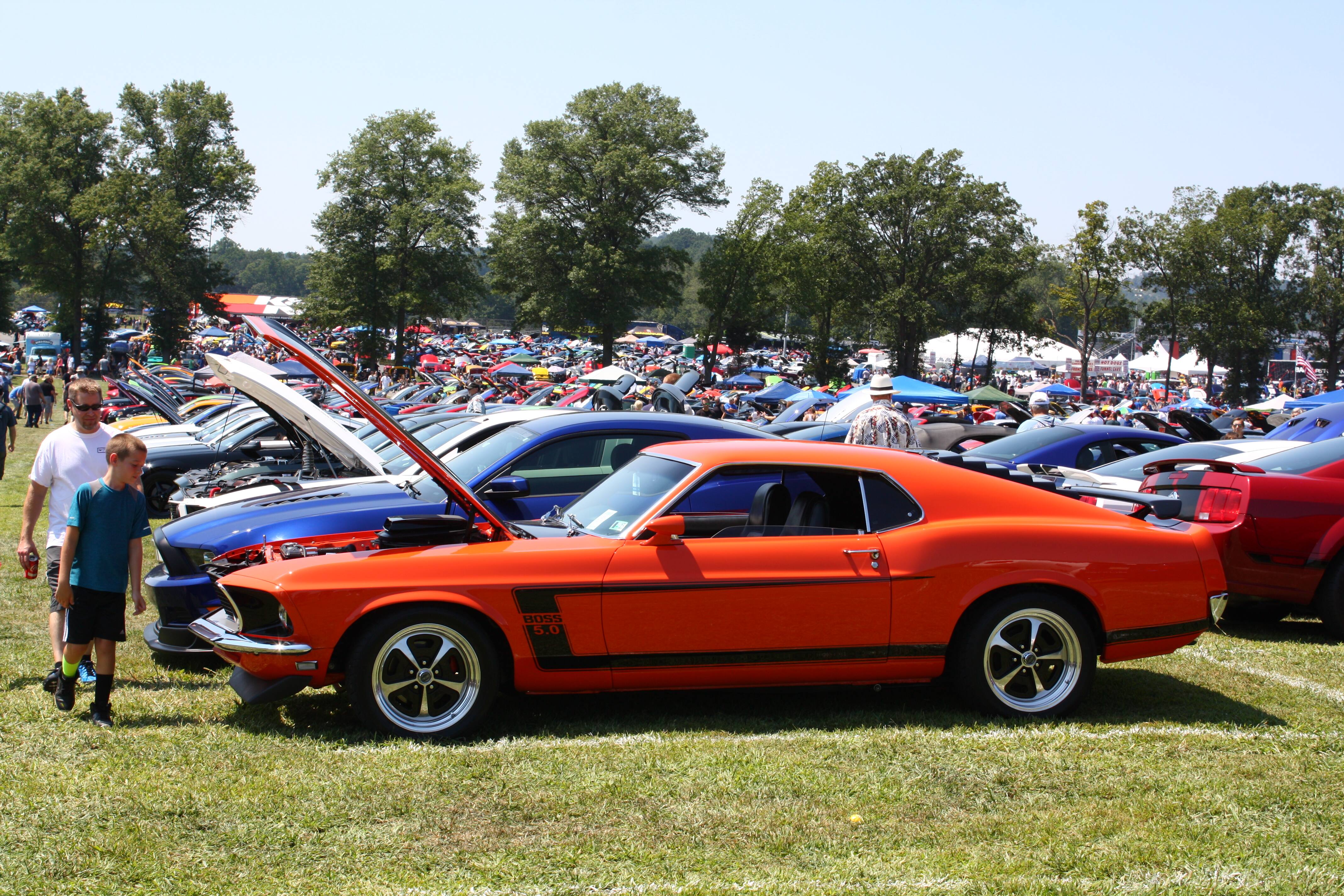 Only a few of the show cars lined up for the exhibition drag races at 2 o'clock, so the quarter-mile showdowns were dominated by vehicles from the manufacturers' midway. In a kind of Battle of the Blowers – announced as a contest of "SVT power vs. big centrifugal power" – it was the latter that prevailed, with a centrifugally blown silver 2003 SVT Mustang "Terminator" Cobra posting a 10.85 at 132.61 mph, vs. the 11.10 at 132.59 mph of a black '14 GT500 packing an SVT Eaton. Both cars were built and brought by Bama Performance, as was the blown 2015 GT that turned the fastest time of day: a 9.49 at 145.67 mph.
Or should we say the fast wheel-driven time, as the jet dragster "Jersey Thunder" climaxed the proceedings with a very clean run – in fact, sounding very much like the world's largest vacuum cleaner – of 5.69 at 280.37 mph.
FORD PERFORMANCE PHOTOS / COURTESY JOHN F. KATZ