SALINAS, CA – A 5.2-liter V-8 engine with 180-degree flat-plane crankshaft. All-aluminum block and heads, double-overhead camshafts and four valves per cylinder. Over 102 horsepower per liter. Rated at 526 horsepower, and 429 pounds-feet of torque. Engine, transmission and rear diff coolers. Redline of 8,250 rpm.
Based on the above race-derived attributes, you wouldn't be far off thinking that this impressive powerplant belongs to a Ferrari, Porsche or Lamborghini. You'd be close, but you'd be wrong. If you're on this website, and pump Ford blue through all of your internal galleys, you know what it is: It's the over-the-top, purpose-designed and -built V-8 engine in the new Ford Shelby GT350 and GT350R; simply put, the most powerful naturally-aspirated Ford production car engine . . . Ever.

Forget 427s, Boss 429s, and any other non-turbo or supercharged Ford street engine; this is the new Mac Daddy Ford Motor. And it's incredible. So is the rest of the car that it uses as an engine stand.
Don't think – even for an instant – that the new Ford-built GT350 is merely a hopped-up Mustang GT. Because it is so much more than that. Ford went all-in on this uber-special Mustang, assigning an elite team of engineers, designers, racers, hot-rodders and supplier partners, to develop it into a true race car for the street. Every component, every system and aspect of the standard Mustang was fair game for scrutiny and optimizing in order to make this car a true Shelby Mustang. Meaning it's amped and balanced for an ultra high amalgam of on-road performance and toughness like no other Mustang before it, and done with Carroll Shelby's original concept in mind: increased power, better handling, reduced weight, eye-catching style, the ability to play credibly on the race track, exclusivity, as well as heaping major big balls of street cred.
It would take us all the server capacity on this website to list every detail and system – large and small – that got massaged in order to crank the Mustang's volume up to, oh, about 15 out of 10, making it into the first Ford-designed, -engineered and -built GT350 since the late 1960s. But a few bullet points should give you an idea of the massive commitment effort, investment and mindset that went into making this car what it is:
· A virtually all new 5.2-liter V-8, based on the GT's fabulous 5.0, centering around a race-derived 180 degree "flat-plane" crankshaft architecture – the first ever in a Ford production engine. Why? Ford advises that "the 180-degree flat-plane crank layout permits a cylinder firing order that alternates between cylinder banks, reducing the overlap of exhaust pressure pulses. When combined with cylinder head and valvetrain advancements, this permits better cylinder breathing, further extending the performance envelope of the V-8."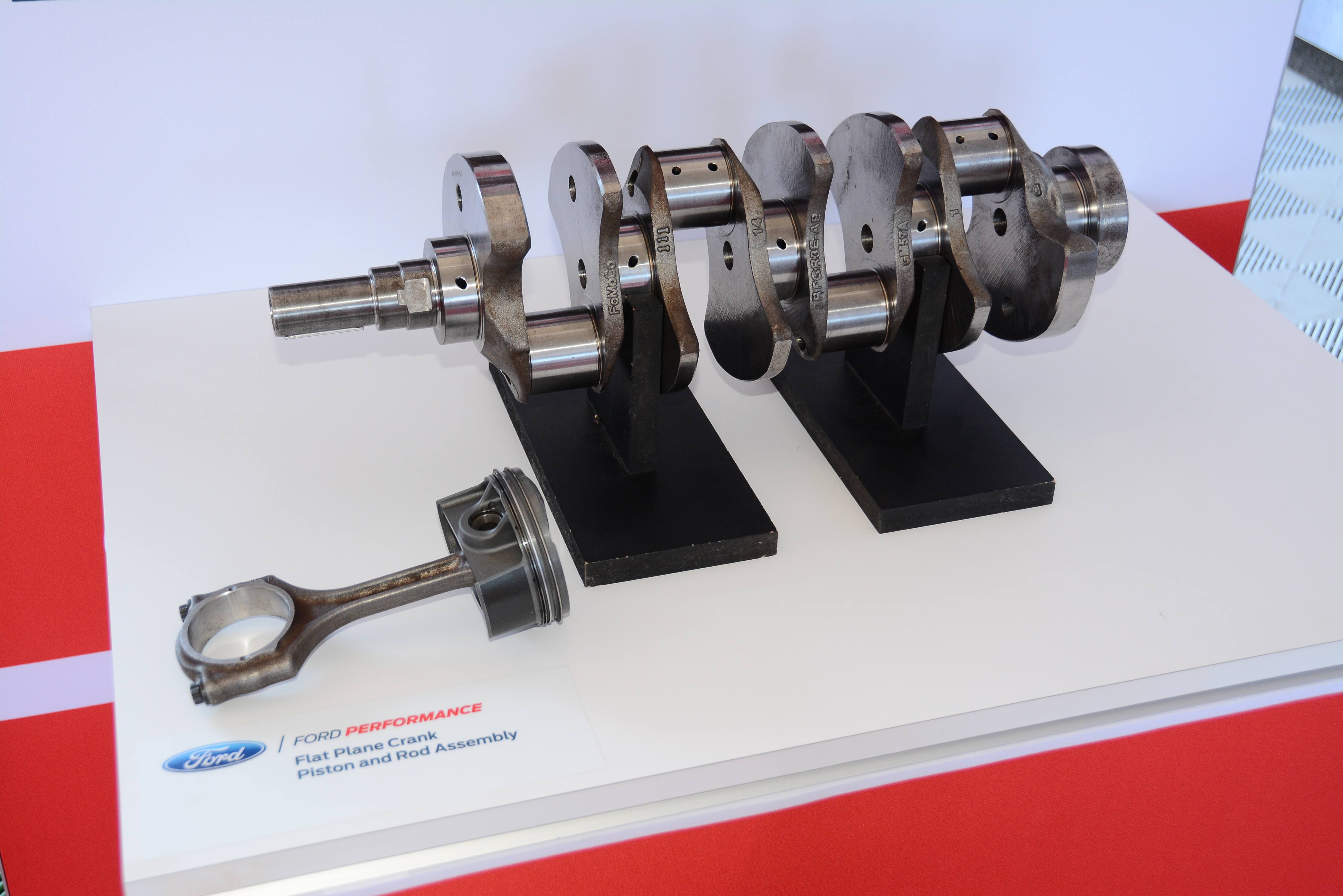 · Structurally stiffer body/chassis for sharper responses and more precise steering and handling. GT350 specific enhancements include an injection-molded carbon fiber composite grille opening and optional lightweight tower-to-tower brace.
· Major meats: The GT350 runs strong, light aluminum 19-inch alloy wheels, measuring 10.5 inches wide up front and with 11.0-inch steamrollers out back, wrapped by seriously sticky Michelin Pilot Super Sport tires.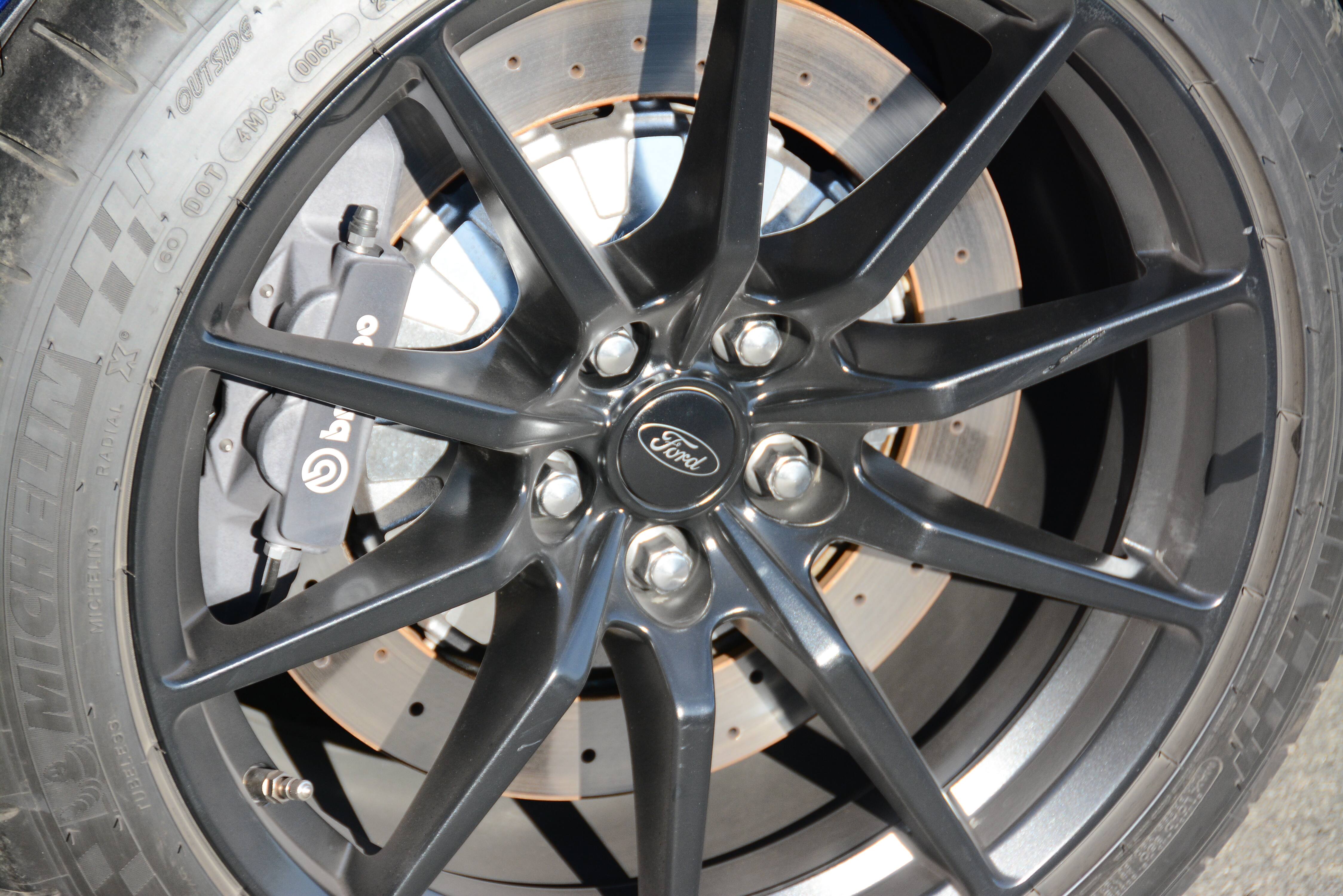 · Magnetorheological shocks: The special computer-controlled dampers, which Ford calls MagnaRide, are filled with a hydraulic fluid impregnated with tiny iron particles; when electric current is passed through the fluid, a near instant adjustment of suspension performance can be made. Plus this allows the shocks to be tuned to the car's four preprogrammed ride/handling/traction/exhaust system modes, which are, Normal, Sport, Weather, and Track.
· Bodacious body panels: All of the exterior bodywork forward of the firewall is new and GT350-specific, with the fenders and hood stamped of aluminum. The hood is tightly sculpted around the engine for better aero management, and notice those gills in the sides of the fenders – they're not just for looks! They are functional exhaust vents for the front brakes' cooling system. The exhaust vent in the hood is also a functional piece, helping rid the engine compartment of trapped hot air.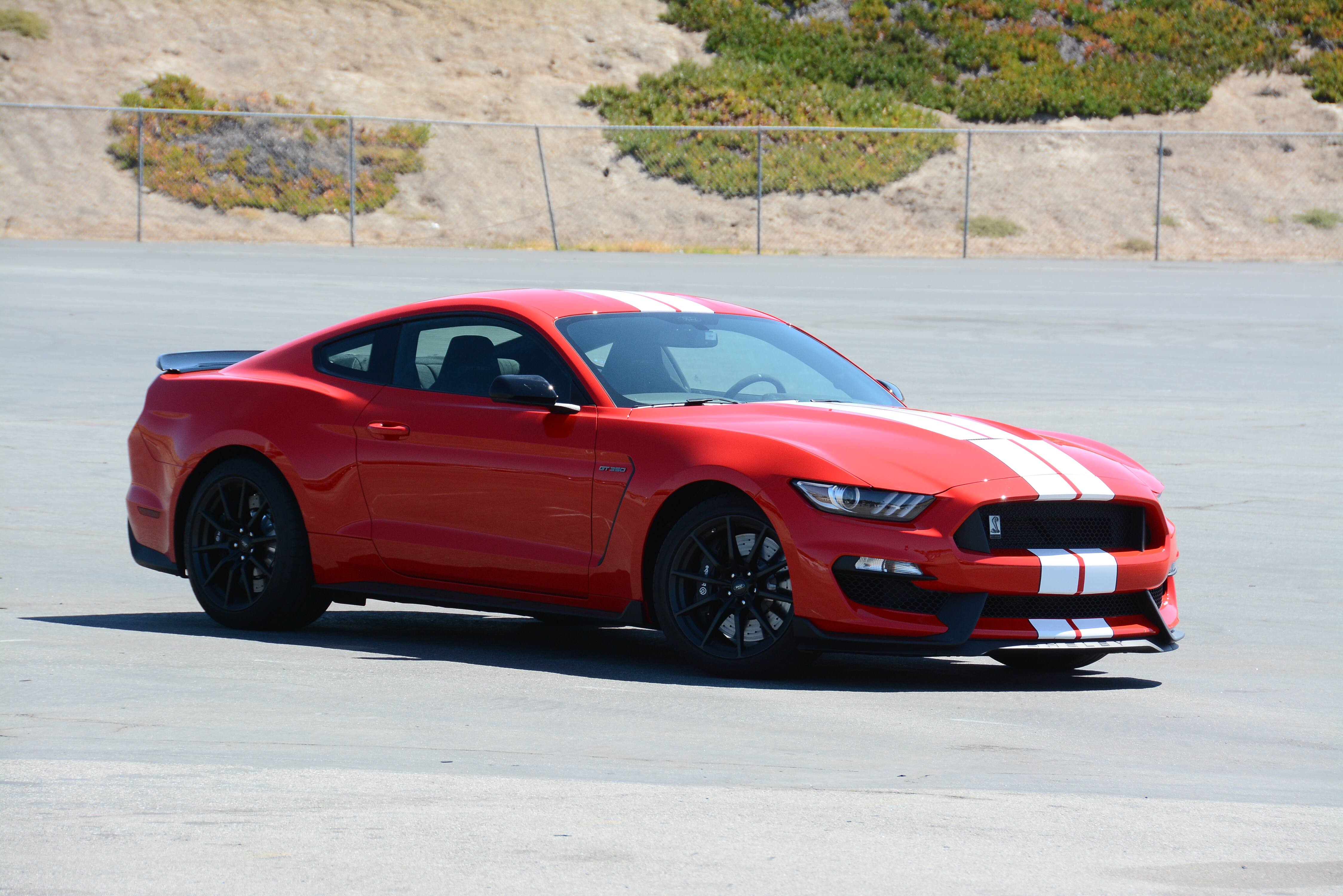 · Wings and things: The big carbon fiber wing on the back is also an important aero element, as the new Shelbys are tuned to provide meaningful downforce with a minimum of drag. And a considerable effort went into tuning the car's underbody aero, too; air is ducted to cool both the front and rear brakes. Plus the transmission. And the rear Torsen diff.
· Big Brakes: Really trick binders are these, rendering costly carbon-ceramic brakes unnecessary. The pizza dish-sized rotors (394mm in front, 380mm aft) are comprised of two pieces; a cross-drilled and vented iron rotor, mounted on an aluminum hub/hat. The use of two different pieces, made of two different metals, allows for unparalleled heat dissipation and cooling; top-end Maseratis use the same technology. Six-piston Brembo calipers do the clamping. The moral is that no matter how hard you drive, you'll never fade these brakes.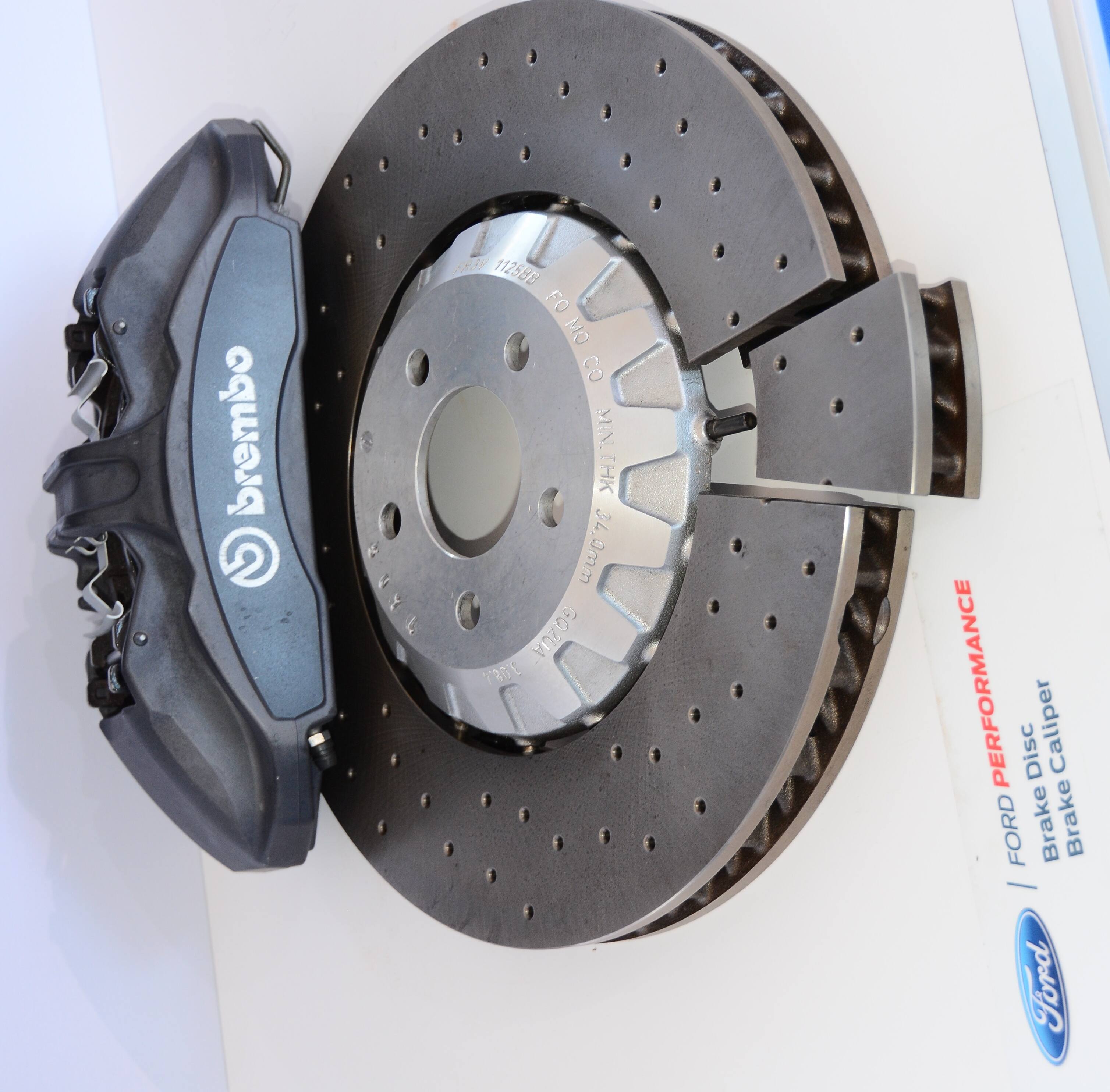 · Garden-variety Mustang chairs wouldn't be right enough for a GT350, so Ford engaged the seat wizards at Recaro to whip up special seats for the hottest new Shelby Mustang. They are optimized to blend racetrack required levels of grip and support with the comfort needed for an everyday road car. The upholstery cloth is also special, and the seatbacks have cutouts at shoulder level for your racing harnesses. The flat-bottomed steering wheel is another pure racing touch, and aids occupant entry and exit. Plus . . . well, it just looks cool.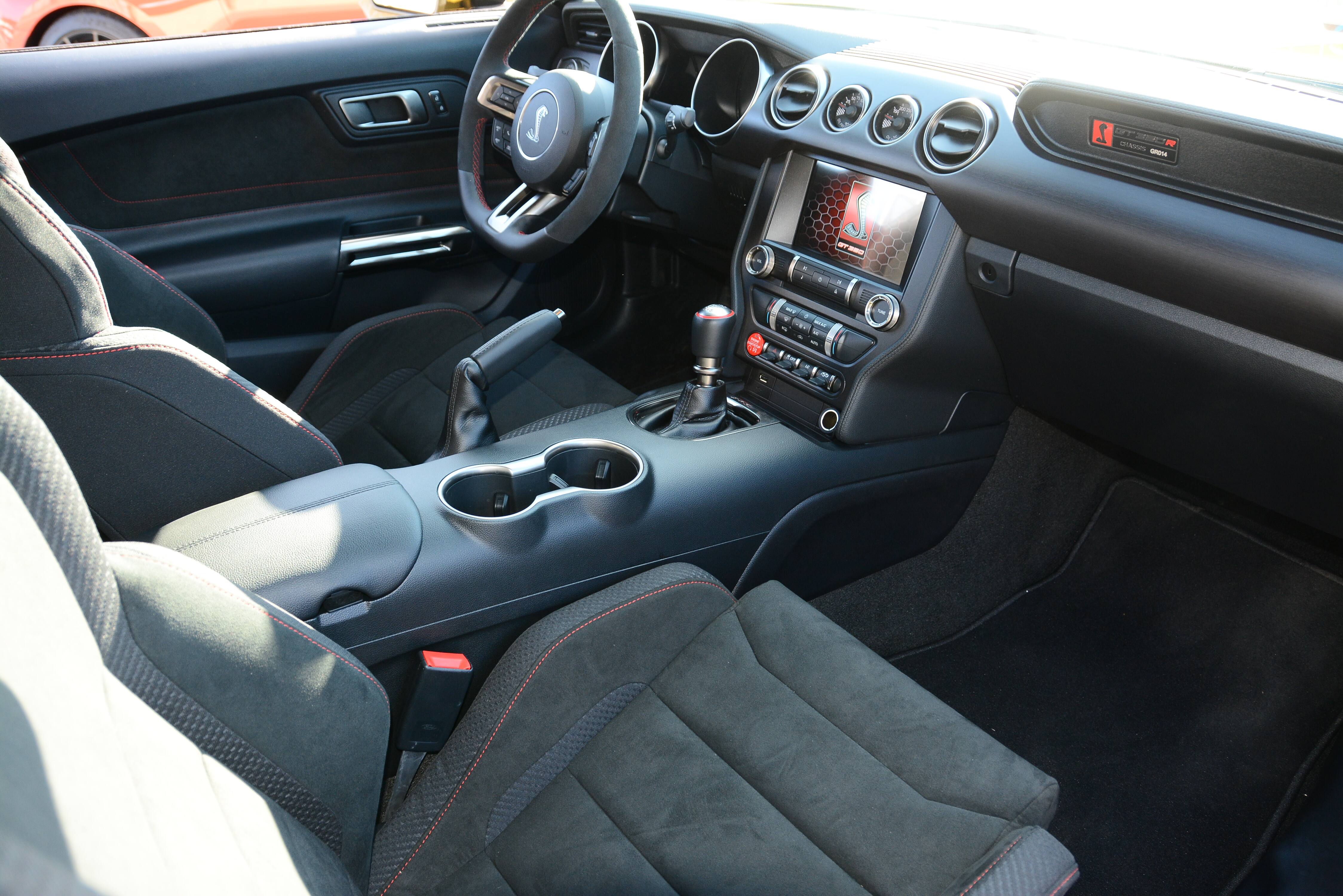 · Symphonic pipes: The GT350 gets a specially developed exhaust system balanced for optimal flow and minimal back pressure, exiting out the rear fascia via four baloney-cut exhaust tips. The system has electrically actuated valves in it that open up under certain conditions, or when told to do so via a control button in the cockpit, to let out an extra healthy dose of motor music when you're really on it.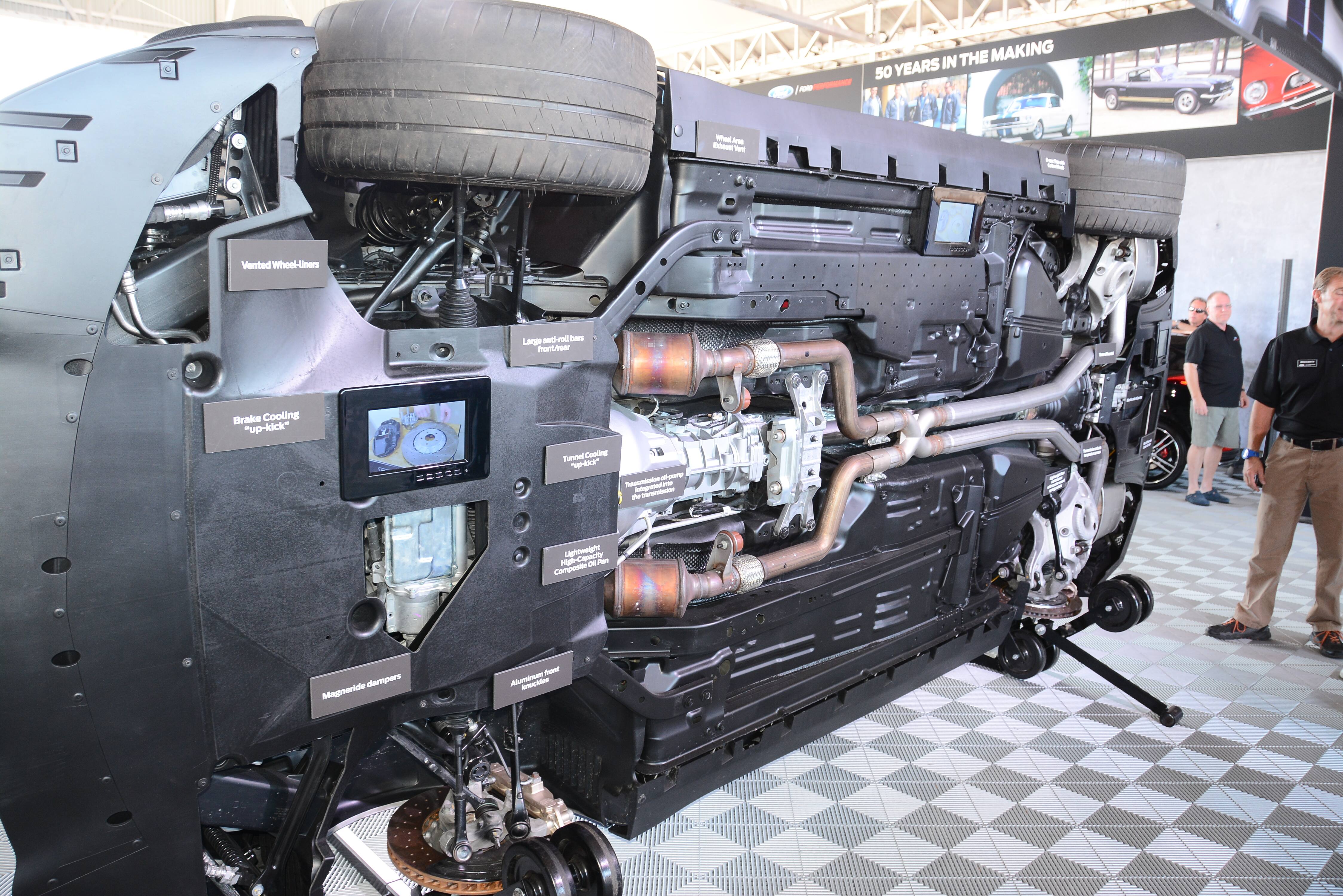 · Each GT350 wears a special number plate on the dash evidencing its authenticity and number in the production sequence.
· Automatic transmission? Vinyl top? Fake wood trim? Don't go there, pal. But there are Track and Tech packages that up and juggle the equipment options and choices just a bit further.
Not enough? O.K., you can race it up a bit more by stepping up to the GT350R. Remember the special Shelby GT350 R model of 1965? That spirit continues five decades on in the form of an R model of the new car. Still street legal, and comfy enough to drive on the road, is the new GT350R which gives you everything noted above, plus a little more emphasis on its racetrack performance capability. Yes, the powertrain remains the same. But …
· The R model goes a little further in its weight-saving measures, including mega high-tech carbon fiber road wheels developed in concert with Australian supplier Carbon Revolution. Even though larger than the GT350's alloys (at 19x11 front and 19x11.5 aft), they still save weight, to the tune of about 15 pounds per corner. And if you race, you know that saving 60 pounds of unsprung reciprocating is huge.
· Saving more weight, Ford peels off the air conditioning, audio system, rear seats, trunk floorboard and carpet, backup camera, emergency tire sealer and inflator, and a pair of resonators out of the exhaust system en route to a total savings of about 150 more pounds. If you want all that stuff in order to maintain a higher level of street civility, you can order most of it back in the Electronics package.
· R model design touches include a different front splitter and rear wing, red-painted brake calipers, red exterior pinstriping, red pinstripe stitching on the seats, and "R" badging.
Dave Pericak, Director, Ford Performance, summarized it succinctly: "This is the pinnacle of a performance Mustang today…The Shelby GT350R lays the groundwork for a story that will play out for years to come on the track and the street."
Given the GT350's mostly no-compromises approach to developing and delivering this car at very affordable prices (for what you get) it struck us as curious that the engine doesn't run direct fuel injection. We asked the question, and got a bit of a non-answer: "It was considered, but not needed or included in the engine package at this time. That's not to say it's been conclusively ruled out forever, but it was not needed at this time to reach our performance goals." That either means that D.I. was judged as an unneeded budgetary expense, or that it may show up when Ford elects to freshen and update the car in the future.
Enough parts talk. How does it drive? Like a race car for the street is the topline answer.
My GT350R driving experience was destined to be me taking hot laps around the Monterey Peninsula's Mazda Raceway Laguna-Seca; an undulating, elevation change-laced natural terrain road course that's both highly technical and long legged – there are corners named after famous fast guys like "Andretti" and "Rahal," so that should tell you what it's all about. My Miller Motorsports Racing School coach helped me buckle in and adjust the mirrors, seats, and wheel. He also fired the engine and told me to "pass on the Normal and Weather driving modes; you won't want or need them." We began familiarization laps in the Sport mode, which opens up the exhaust baffles, and resets the steering, shocks, ABS and Traction Control parameters for more aggressive driving, switching to Track mode for my last couple laps. This shuts off all the traction stuff, allowing for some well-controlled tail-out shenanigans.

The dual-mass clutch is lighter than that of my own '08 Shelby GT, and the shifter for the 6-speed Tremec trans is short, stubby and direct. I've done many laps around Laguna, but still have lots to learn about its subtleties and how to get the most out of any car through its more technical passages. Blatting down the hot pit lane gives my first taste of the exhaust notes that I know I'll fall in love with (which really need to be recorded and Podcast), and warming up through the first few turns tells me how smooth this car rides, how direct the steering is, and how quickly the new GT350 responds to all commands. As the tires, brakes, and my brain warm up, it's easy to go faster. The torque curve is particularly meaty, with a near-3,000 rpm band in-between the torque and horsepower peaks. Up to and over and down the famous Corkscrew turn confirms how balanced and controlled the chassis is, and later turns demonstrate the race-car levels of grip on hand. And that's just my first lap!

The last turn prior to the main front straight is a tight hairpin left, allowing me to toe-and-heel downshift from fourth to second gear (just like Parnelli in the old Trans-Am Boss) and then it's hard on the gas all the way down the straightaway. As I redline and upshift down the long straight, with other cars just ahead and behind, it sounds a bit like George and Parnelli in the old Bud Moore Boss 302s of 1970.

Cresting the hill at the end of the straight, it's time to set up for Turn 1, with several more downshifts and a firm squeeeeeeeze of those fabulous brakes, which are really strong and ultra-progressive. Then its many more turns of up and down through the 6-speed …whummmmmmmmmmmmm-pah, whummmmmmm-pah! Whum-Whum-Whum down to second again and up the hill. I'm going faster and faster without really trying much harder. The ride is firm, no doubt, but not too stiff for the street, and just right for your favorite mountain road come the weekend. The pedals are perfect for my size-11 toe-and-heel braking and downshifting.

The laps simply fly by, and it occurs to me that besides being gorgeous, fast and noisy, this car is supremely trustworthy. The rear end has plenty of grip, the front end grips and sticks, the steering feelsome, and I can feel the downforce at higher speeds. I always feel like I can really lean on this car, and its neutral and true all the way, talking to me about the pavement below, and telling me what it has in mind always. And more importantly, it listens to me, responding linearly to my every wish and command, with plenty of excitement but no scary surprises. O.K., I want one.

After pitting and stripping of my helmet and HANS device, it strikes me in major ways how true this car is to Carroll Shelby's original ethos of comprehensively improved and balanced performance in every way possible over the underlying base car. There are a couple casualties, however; that being the "base" version of the Shelby American built "post-title conversion" 2015 Shelby GT, as the Ford factory-developed, -built and -warranted GT350 renders the Las Vegas-built machine somewhat superfluous, with this car's greater technology and performance for less money. The top-level Shelby GT, with something over 700 horsepower, has been reborn as the Shelby SuperSnake, a Shelby American brand with a ton of equity, and always a strong seller, somewhat replacing the outgoing 662-horse Ford SVT-developed Shelby GT500. And any company that produces aftermarket exhaust systems will be wasting its time and development dollars attempting to better the stock, high-tech system built into the GT350. It sounds perfect in both modes, and a Ford engineer confided that "there isn't one single horsepower to be found in this car by changing the exhaust."

So, is this, could this really be, the best Mustang Ever? Betcha, Boy, Howdy! Oh yes. And the late, great Carroll Shelby himself would positively love it.
FORD PERFORMANCE PHOTOS COURTESY MATT STONE / INSPIRED COMMUNICATIONS