GROSSE POINT, Mich. - From modern day track machines to old school Ford hot rods, EyesOn Design brings in some of the most rare and exciting vehicles you'll find at a car show. Hosted at the Edsel & Eleanor House just a short drive away from Dearborn on June 19th, you'll find 200-300 hand selected vehicles that will make up the annual show. EyesOn Design focuses on all vehicles, both domestic and foreign, and celebrates automotive suppliers and other loyal companies. While they have many classes of vehicles, this year, Chris Theodore (A.K.A "Father of the Ford GT") will host a Ford GT class celebrating the evolution of the iconic car throughout the years. Below, you'll find a handful of Ford GT's that Theodore has hand selected for the event.
The Ford GT Evolution Class depicts the racing development of the iconic Ford GT over five decades. The evolution begins with inspiration derived from the Lola GT Mk6 designed by Eric Broadley, to the Ford GT Mk I, 1966 Le Mans winning Mk II driven by Chris Amon and Bruce McLaren, and 1967 Mk IV Le Mans winner driven by Dan Gurney and A J Foyt. The second generation of racing Ford GTs are represented by the Matech FIA GT3 car, and Robertson Ford GT – the only husband and wife team to drive at Le Mans, let alone achieve a podium finish! Finally, the 2016 Ford GT celebrated the anniversary of the Ford GT's first Le Mans win, by placing 1st, 3rd and 4th in class 50 years later!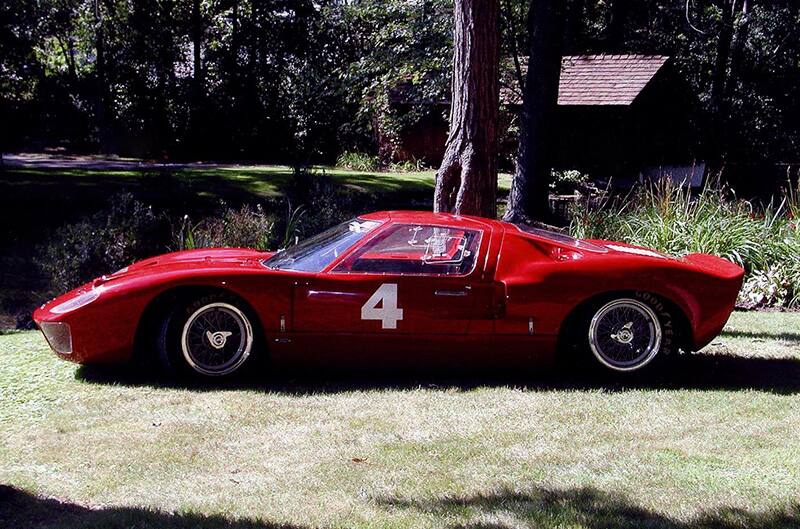 Lola GT Mk 6
This 1962 Lola GT Mk6 designed by Eric Broadley in anticipation of the new Group 4 rules.is powered by a 260 C.I. Ford V8. Introduced in January of 1963, it was the star of the London Racing car show. Ford was searching for a constructor to build a Ford GT to compete with Ferrari and hired Eric Broadley whose Lola Mk6 obviously provided inspiration. Retired from racing in1965, Allan Grant, Shelby welder and legendary racer, acquired this historic car and has owned it ever since!
1965 Ford GT Mk 1 Serial Number 1050
This Ford GT40 Mk1 was originally purchased for GM Corvette Chief Engineer, Zora Duntov for evaluation of a potential mid-engine Corvette . Jim Kinsler, a GM employee, convinced management not to scrap the car after evaluation was completed, and managed to purchase the vehicle on a sealed bid. Powered by a 289 Ford V8, it has been driven regularly by the owner for the last 55 years and remains an original example of this historic marque.
1966 Ford GT Mk I S/N 1062
This GT 40 is one of 30 original road cars built by Ford to meet homologation 1966 Le Mans homologation rules. It was originally sent to Ford headquarters in Dearborn, MI for use as a promotional vehicle around the country. Later converted to a race version and campaigned by Hans Hugenholtz, it is likely the winningest GT40 of the modern era. The owner has restored to the exact specification when it left the factory. It is the only GT40 painted Metallichrome Toledo Blue at Ford Advance Vehicles in Slough, England.
Replica 1966 Ford GT MK II Le Mans Winner - Ford vs. Ferrari Star Car
This Ford GT40 MkII is an exact replica of the 1966 Le Mans winner driven to victory by Chris Amon and Bruce McLaren as part of Ford's historic 1,2,3 revenge win over Ferrari – as featured in the movie Ford vs. Ferrari. The GT40 MkII used a 427CI V8 derived from Ford's NASCAR program. First and second place finishers were campaigned by Shelby American, while the 3rd place car was prepared by Holman & Moody.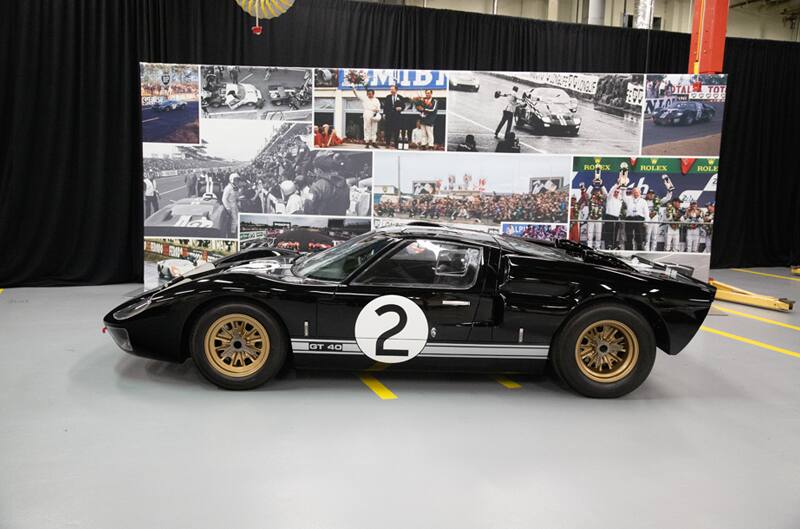 Replica 1967 Ford GT Mk IV Le Mans Winner
This 1967 Ford GT40 MkIV is an exacting replica constructed by Phil Hall of the 1967 Le Mans winning entry driving by Dan Gurney and AJ Foyt. The first and only all-American victors at Le Mans – car, team and drivers. Powered by a 427 V8 and campaigned by Shelby American it led all but the first 90 minutes of the race. Overall records broken: fastest, furthest, lap record, and the largest engine to win the Index of Thermal efficiency. Left Hand Drive is the only deviation of this replica from the original, so that it may be enjoyed on American roads.
2006 Matech Ford FIA GT1 #60
Matech had an agreement with Ford racing to develop the 2006 Ford GT for competition, and developed FIA GT1 and GT3 versions at their workshop in Mayen, Germany. This car #60 led the GT1 class at Le Mans 2010 for the first 8 hours of the race prior to being hit by a competitor. Matech vehicles competed in several national series, including the British GT Championship, GT3 Brazil, FIA GT3 European and FIA GT1 World championships. They claimed the GT3 Team Champion title in 2008 with these cars. This car recorded the most wins for Matech.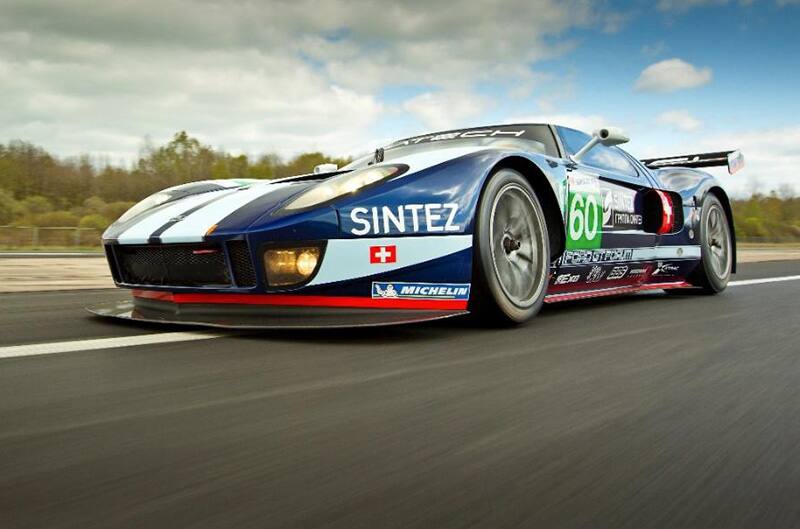 Robertson Racing 2011 Le Mans Podium Finisher
David and Andrea used their life savings to create the Roberson Racing Team as privateers, sharing many firsts. They were the First husband and wife team to enter and drive in the same car at Le Mans. In 2011 they finished the race in 3rd place in the GTE-Am class. Andrea became the first time a woman stand on the Le Mans podium since 1931. Sadly, David passed away in April of this year, but his contributions to the sport will not be forgotten.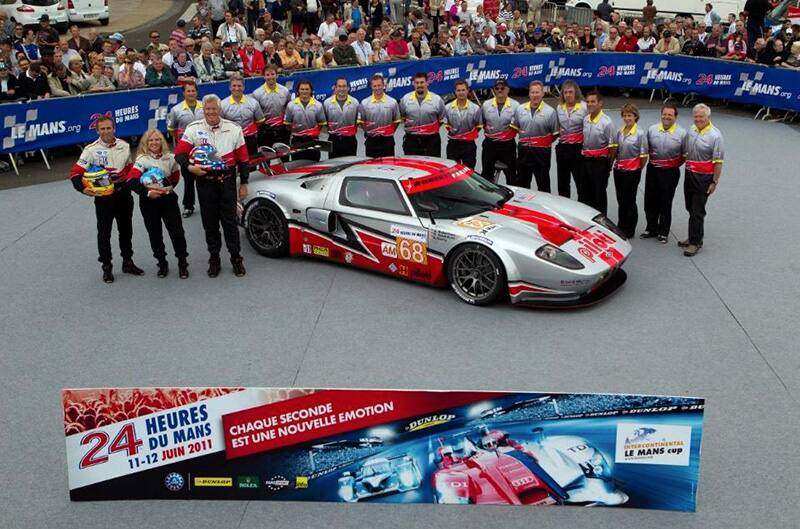 2016 Ford GT Le Mans #1,3 and 4th place in GT Class
History repeats itself: 2016 Ford GTs celebrated the Ford GT's first Le Mans win, by placing 1st, 3rd and 4th in the LMGTE Pro class exactly 50 years on from Ford's 1-2-3 victory at Le Mans in 1966. This car, no.66 finished 4th, driven by Billy Johnson, Stefan Mucke and Olivier Pla. The race cars were developed by Ford in cooperation with Multimatic and campaigned by Ford Chip Ganassi Team USA.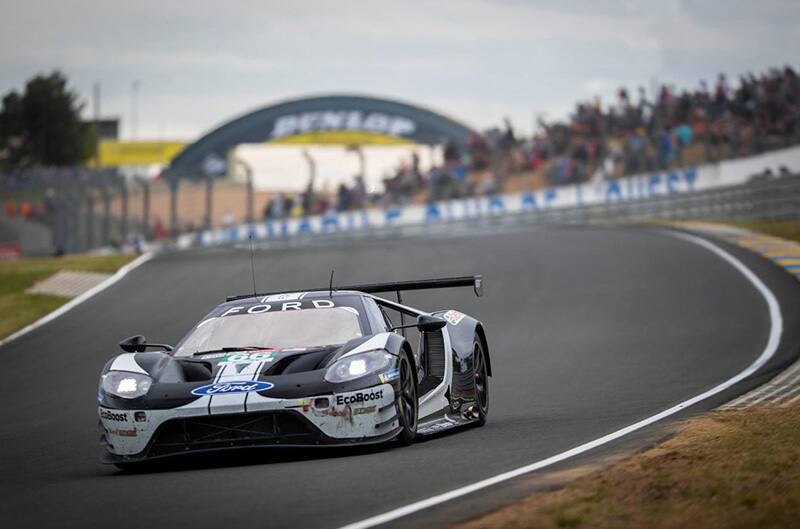 FORD PERFORMANCE PHOTOS / COURTESY JIM KINSLER, STEVEN NESTA, WILLIAM DEARY, & THE ROBERTSON FAMILY