DEARBORN, Mich. – Two American brands driven by the call of the wild are calling for more people to join them in the great outdoors this summer. Bronco®, the Ford outdoor brand of Built Wild and only-4x4 SUVs, and Marmot, an outdoor apparel and equipment brand, have collaborated to encourage adventure and exploration in the wondrous wilderness of America's State Parks.
The Bronco-Marmot collaboration marks the latest initiative driven by the Bronco Wild Fund, Bronco brand's endowment aimed at helping off-road enthusiasts enjoy the wilderness responsibly through preservation, education and access programs funded by a portion of the proceeds from every Bronco sold. After the Bronco Wild Fund debuted last fall, Bronco collaborated with rugged outdoor outfitter Filson to support the National Forest Foundation.
"With thousands of state parks across the country, you don't have to go far to experience nature and explore," said Jovina Young, Bronco Sport brand manager. "These are the types of experiences Bronco Sport was designed and engineered for – to get off the pavement and into nature. We're thrilled to team with a brand such as Marmot who shares that passion."
States of Adventure: 15 state parks in 30 days
The States of Adventure campaign launched earlier this week as rock climber Maiza Lima and adventure photographer Willie Woodward set out in a specially equipped Bronco Sport on a month-long camping trip that will include overnight stays at 15 of America's State Parks.
Departing from Chelsea, Michigan, Lima and Woodward are traveling in an upfitted 2021 Bronco Sport First Edition model. The vehicle's Cyber Orange Metallic Tri-Coat paint* wears a custom vinyl-wrapped livery that includes a large map of the United States on the hood on which the pair will chart the various state parks they visit.
The pair will leave Michigan and travel to the East Coast before winding their way across the continental United States for 30 days, completing their nearly 9,000-mile long trip in mid-August back in the Midwest. Along the way, Lima and Woodward will interact with fellow campers, participate in outdoor activities such as kayaking, rock climbing and mountain biking, and post about their experiences on their Instagram accounts – @maizalimarock and @wheretowillie.
As part of the campaign, Ford and Marmot are encouraging everybody to spend time this summer at state parks near and far, and to capture some of those special moments on social media with the hashtag #statesofadventure.
"What better way to showcase everything the state parks have to offer than with an epic adventure like this," Lima said. "Every corner of our country offers a unique outdoor experience, and I'm looking forward to hitting as many of them as we can."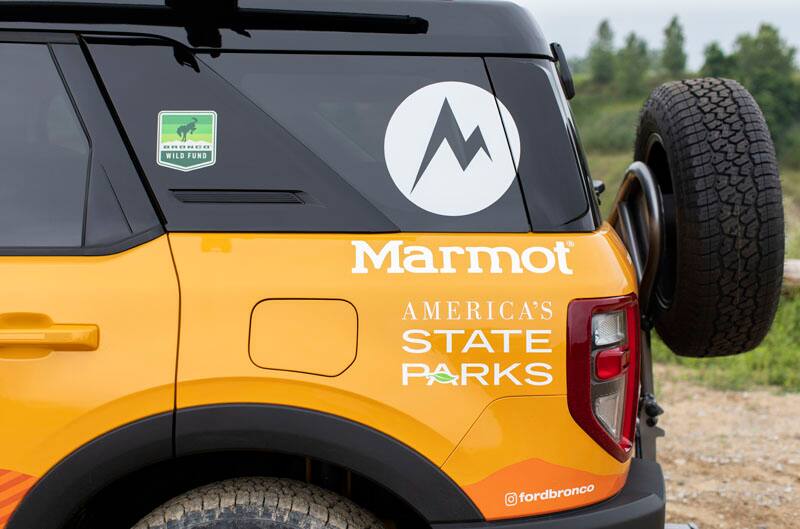 Bronco Sport accessorized and ready for a month on the road
Lima and Woodward are traveling in a 2021 Bronco Sport outfitted especially for on- and off-road needs. The vehicle rides on Falken Wildpeak all-terrain tires and aftermarket Black Rhino wheels and is outfitted with various accessories, many of which are part of the 100-plus Ford-backed accessories available to Bronco Sport customers at the time of vehicle purchase as part of uniquely designed lifestyle accessory bundles.
To make life on the road more convenient during their month-long journey, the vehicle is equipped with custom rock rails and swing-out spare tire carrier with cutting board by 4Wheel Parts, and a Yakima Skybox 16 cargo hauler with crossbars. An ARB Zero 47-quart slide-out fridge freezer with additional solar-powered battery storage sits behind the driver's seat and slides on rails from rear cargo area. The vehicle is also outfitted with a RoadShower onboard water storage solution. For off-road night driving and to help with basecamp setup after dark, the vehicle is equipped with a Rigid LED lightbar. A Coleman camp stove, Marmot tent and sleeping gear and Yakima SlimShady Awning will come in handy at the campsites.
Bronco Wild Fund to award $120,000 in state park grants
The campaign will culminate this fall when the Bronco Wild Fund awards $120,000 in grants to America's State Parks. Six grants of $20,000 each will support the responsible access to and preservation of the great American outdoors. Every state park across the country – there are more than 7,000 in all 50 states – are eligible for a grant, and one state park will be selected from each of six regions that make up the America's State Parks ecosystem. The parks can use the grant money to improve responsible park access.
"The outdoors is where people challenge themselves, get creative, relax, have fun, be with one another and escape from the routine of everyday life," said Jeff Brandon, Marmot brand and product marketing manager. "Together with Bronco, we want to ensure that all people have access to enjoy nature and take part in the fun activities that the outdoors have to offer."
In addition to the Bronco Wild Fund grants, Marmot will make a financial contribution to the America's State Park Foundation. Sales of limited-edition Marmot gear will support the campaign. The gear, made by Marmot and featuring the Bronco insignia, is available at the Ford merchandise store and Marmot's Website. The collection includes t-shirts, hoodies and caps and will expand to additional gear such as camping equipment in the coming months.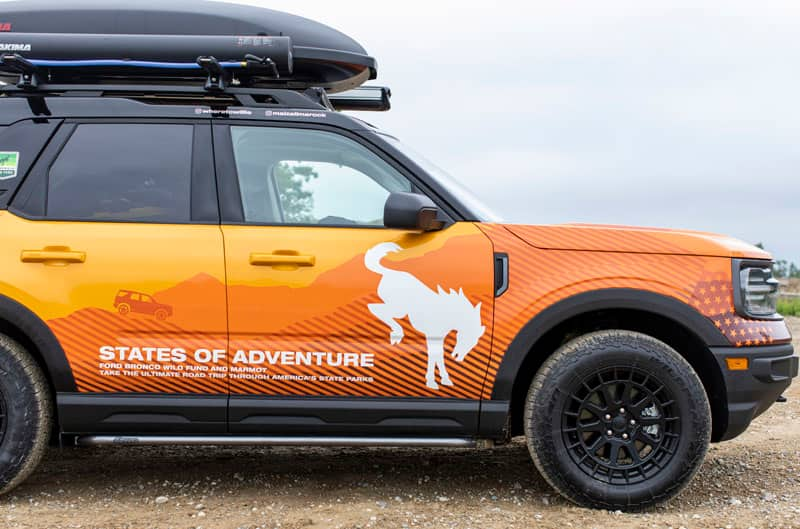 "America's 50 state park systems are a collection of stunning landscapes, natural wonders, cultural treasures and historic places with an abundance of outdoor recreation opportunities," said Lewis Ledford, executive director of the National Association of State Park Directors. "We are pleased to receive the support of Bronco and Marmot for state parks – areas both remote and resort — that are enjoyed by more than 800 million visitors annually."
This road trip comes at the perfect time as more and more people – led by Gen-X and Millennials – across North America have turned to the outdoors for entertainment since the Covid-19 pandemic and the trend is expected to continue. And increasingly, rugged adventure utility vehicles, such as Bronco and Bronco Sport, play an important role in adventurous lifestyles. According to Ford internal data, Gen-X buyers represented 23.7% of new vehicle sales in 2019, but they accounted for 39.3% of rugged adventure utility vehicles.
*Extra-cost paint