Editor's Note: It was with great sadness that the Ford community got word of the passing of Joe Macura on March 27, 2020, at the age of 91 due to declining health following a stroke. While the family will be planning a memorial service for a later date, our posting of some sort of obituary could not give full measure to the man who was known in Ford circles as "The Father of the 427," and as such, a key figure in Ford's historic victory at Le Mans. So instead, as our tribute to Joe Macura's life we are reposting the feature below written by Steve Ford entitled "Dyno Heard Round The World" that we ran back in December of 2016 chronicling his contribution to the legend of the Ford 427 V-8.
When three Ford GT40s led the overall class race at the 24 Hours of Le Mans and took victories of first, second and third as a team in 1966, they recorded one of the most epic moments in the history of international motorsports.
The destiny for that remarkable Le Mans victory for Ford Motor Company traces back to the risk-taking, mechanical ingenuity and endless curiosity from a cadre of teenage hot rodders who tinkered with V8 engines in Los Angeles during the 1930s.
Certainly the advanced engineering of the big-block Mark II 427 Ford engines in the winning GT40s was vastly beyond the visions of the teenage pioneers of horsepower experimenting with Flathead engines in their home garages. Yet few would question the relationship between the reliability of the lower-end crankshaft and connecting-rod integrity, to the flow and control of the gas charge through the intake, combustion chamber and exhaust pathways in those engines as being a reflection of the "tribal knowledge" derived from those L.A. hot rodders.
The eventual partnerships between the early dry-lake racers of Southern California and Detroit engineers collaborating on the mixing and matching of tricks and techniques to prevent detonation from shattering pistons past 4,000 rpm and escort crankshafts past 6,000 rpm, contributed to the eventual refinements of 1960s V8s. Of course, on that special day at Le Mans, all eyes were rightfully on the drama of that mid-1960s freeze frame.
STREET RACE OF THE TITANS
At the headline level for global news, the family-led Ford Motor Company in the USA demonstrated unquestionable dominance over the traditionally favored family-owned Ferraris of Italy. It was the automotive equivalent of Hollywood's "Rocky" movie with the best of raw determination and unlimited preparation to win -- backed by pure passion. For motorsports history buffs, the Ford win at Le Mans may bring back an easy memory of Henry Ford II's reported anger about Enzo Ferrari's reneging on the terms of a purchase offer in an earlier proposal from Ford to acquire Ferrari.
The Le Mans event might as well have been a showdown where Enzo Ferrari had flexed his autonomy to Henry Ford in a proposed business deal, and they ended up settling their differences in a street race. It could have as easily been compared to the idea of the two of them wrestling their machines next to each other on the famed Mulsanne Straight for that 24-hours, yet with the multi-million-dollar investments each of them made, they looked to the best race teams they could assemble. Egos were primary and money was secondary.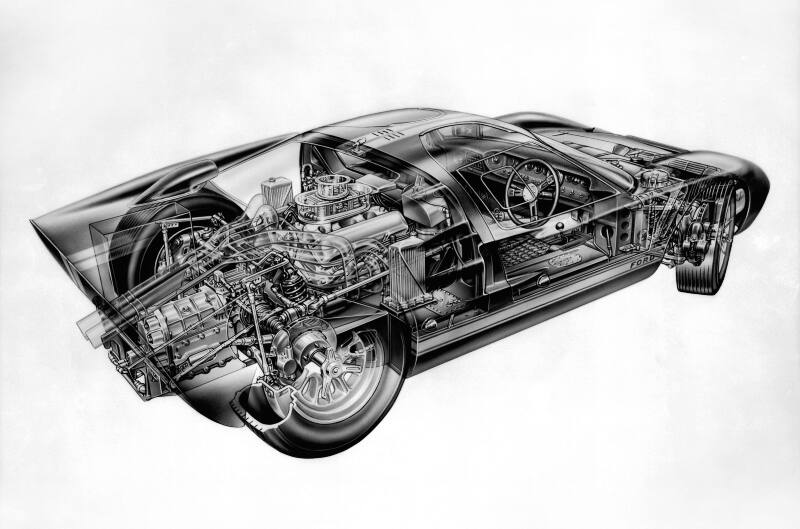 Who says engines can't have egos and quirky personalities, too? When an engine gives up the crankshaft or throws a rod, doesn't it usually occur in an argument with asphalt or some other surface at the other end of the driveline? In motorsports, even as the 'matador' in the racing arena includes a brilliant driver, chassis dynamics and aerodynamics, there is an inevitable margin where art and science merge with the unique temperament of an engineer's powerplant.
Through the inner circles of car culture and winding tighter inside the world of a network of earlier leaders of industry, I was fortunate to have met Howard Freers, retired chief car engineer for Ford Motor Company through the Muscle-Car era of the 1960s and 1970s. Reading about those formidable 427-inch Ford V8s prompted me to wonder what an accomplished engineer like him might have to say about such engines.
Freers' response to my inquiry was, "I'll do you one better. How would you like to speak with the actual Ford engineer who led the development of the 1966 Le Mans engines?" I can tell you I didn't have to think long to answer that question.
BRING AN ENGINEER TO MATCH THIS ENGINE
Within just another 24 hours, now half a century later, Freers arranged an introduction between me and one of Detroit's most celebrated yet obscure engineers -- and certainly one of Ford Motor Company's finest. When I first spoke with 88-year-old Joe Macura, I was as curious to ask about "how" he became such a uniquely qualified engineer as I was to ask "what" it was like to be right there when three GT40s (fitted with his 7.0-liter V8s) won Le Mans. Even as our conversation took us back more than 50 years, Macura welcomed my questions and readily took me back to his remarkable "future."
Joe Macura
Having been recruited to work for Ford Motor Company in 1956 after serving nine years at General Motors, Macura was already an accomplished mechanical engineer. He had paid his dues at G.M., and honored his engineering mentors who took him forward beyond his obtaining a B.S. in engineering from General Motors Institute. Macura valued his engineering role at G.M., yet saw where the offer he received from Ford would expand his range of experiences to work closer to his career specialties. One of his favorite skills was mechanical engineering analysis and in his transition to Ford, he was destined to shine quickly.
"Within ten days of being hired by Ford, I identified a design weakness for pushrod failures in the FE Ford engine," Macura said with enthusiasm. "Engineers had been experiencing pushrod wear that resulted in excessive clearances from the tappets. Even with improvements in the metallurgy and durability of the pushrods, they'd dislodge and fail too frequently," he said. "When I looked at simply starting over with the pushrod design, it occurred to me that the best pushrod-end material would have to be as tough as a ball bearing -- which is exactly what I decided to use in an experiment I did that led to the solution and a new patented pushrod for Ford Motor Company."
After Macura had taken his prototype "double ball-bearing" pushrod design through testing and production refinement for mainstream use in Ford V8s, this new industry standard from Macura also caught the attention of senior management at the Ford Motor Company. In his successive assignments during the early 1960s, he became the lead engineer on the FE V8 development team. As the FE displacement grew in parallel to the emerging horsepower wars of this next decade, by 1963, the engine had grown from the original 332 cubic inches in 1958 to 427 cubic inches, while Macura's career grew in parallel with it.
By 1961, the 390 c.i.d. version of the FE engine emerged as a respectable performer in motorsports. With a 4.05-inch bore and a 3.78-inch stroke, the 390 delivered a nasty punch in its over-square (i.e., bore dimension larger than stroke length) design, Macura and his team recognized the potential for even bigger "fists" in those bores. They designed the 427 c.i.d. to retain the same stroke at 3.78 and gain swept area by increasing the bore from 4.05-inches to 4.23-inches. "We knew we had enough structure in the FE block to allow that additional displacement through the larger bore diameter," Macura said. "It was also a valuable upgrade for the engine's competiveness in motorsports," he added.
"Upgrade" proved to be a bit of an understatement -- especially in NASCAR. While 427 Fords were lifting front wheels off the ground and leading in NHRA races at drag strips, the 427-powered Ford dominated NASCAR racing in both 1964 and 1965. Meanwhile, Ford had been stretching into attempts to campaign in world-class road racing with entries into the 1964 and 1965 24 Hours of Le Mans only to be checkered with failures.
JUST ONE WORD FROM THE 'CONTESSA'
Nevertheless, Ford Motor Company leader Henry Ford II is reported to have come home one fateful evening so convinced that his company had the best racing engine of any manufacturer that he couldn't wait to boast to his wife, Cristina, who was known as "the Contessa." "Did you ever hear of Henry's conversation about Ferrari and his engine with the Contessa back then?" Macura asked me. "The Contessa?" I questioned. "Oh yeah!" Macura implored. "You've got to hear that story!" he said with a laugh.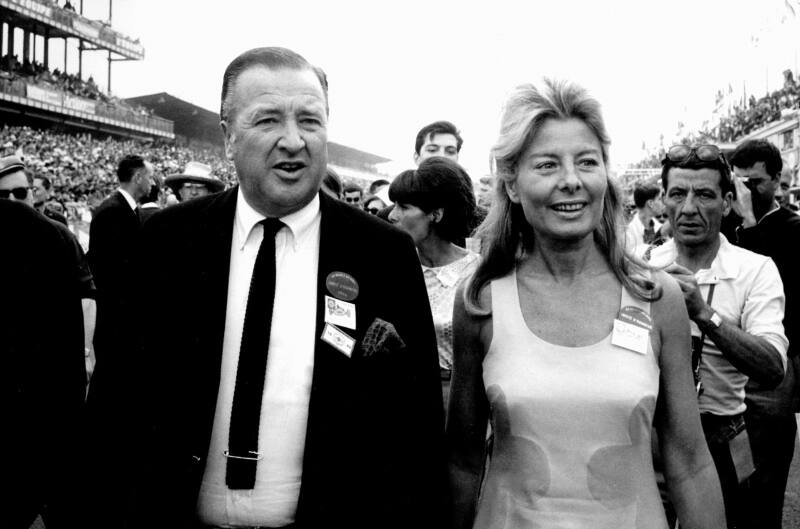 Henry Ford II and the Contessa at the 1966 24 Hours of Le Mans
Macura explained, "After a record of those prior two years of motorsports wins in the USA, one evening Mr. Ford had a memorable conversation with Cristina. He told her, 'I now have the best racing engine in the world.' To which the Contessa stated flatly back to him, 'No you don't, Henry. You can't say you have the best engine in the world until you beat Ferrari at Le Mans!' "
Henry II was a formidable presence to most. Yet there in front of the Contessa, as Macura described it, his celebration was deflated by a blunt force. Like a boy who had swelled with the pride of showing off the blue ribbon he'd won from winning a 50-yard dash at his school playground, his chest sunk that evening when he was effectively told that he still hadn't won the 100-yard dash. Henry II already had a gripe with Ferrari over Enzo's dismissal of Ford's purchase offer back in 1963. Now with just one word, the Contessa had set fire to a volatile fuel in Henry II's conscience with that one word, "until."
AN AMERICAN V8 -- FROM THE DRAGS & DAYTONA TO 'LE MANS'
When Macura first heard of Henry Ford II's decision to take on Ferrari at Le Mans, it was part of a grapevine channel of company news that he and other engineers heard had come as an initial challenge sourced to the Contessa. "She must have had some strong pull with Mr. Ford," he observed with a chuckle. "Anyway, I do know that a short time later we were on a management conference call in 1964 where I heard Mr. Ford explain that we were going forward with all our resources to win at Le Mans."
On the threshold of Ferrari's entering an unbroken streak of Le Mans victories, the company took first place in 1958. Then American driver Carroll Shelby with driving partner Roy Salvadori of England won the 1959 Le Mans running an Aston Martin DBR1. Meanwhile, in prior years of the 1950s, Ferrari had tangled with Jaguar dominating as the five-time Le Mans leader of that decade. Yet into 1960 Ferrari was destined to enter an unbroken streak of first-place victories that the company had held to 1965. With both mechanical beauty and race-horse-like breeding for ease at speed, Ferrari's newly developed double-overhead-cam V12 engines were ready for Le Mans while Ford prepared to show up at Le Mans with pushrod V8 engines.
By 1964, Macura was Manager of High Performance Development at Ford and considered the "Father of the 427" powerplant. He had been successful with his record of sound engineering decisions and improvements for the FE engine to that point, yet no single project could feel as intimidating as being assigned to build an engine to beat Ferrari.
On Jan. 27, 1965, Ford Motor Company arranged a press conference that was ultimately destined to test every aspect of Macura's engineering capabilities. Ford staged the press conference at Riverside Raceway in Southern California to announce that veteran racer and car builder Carroll Shelby would oversee all of Ford's GT-type racing and vehicle development. At the same time back in Dearborn, Michigan, a new rigor and intensity of discussions were going on in Ford's engineering department.
Given Macura's in-depth background as the company's leading engineer on the 427 engine, he had already helped lift the motor's performance to unprecedented fame in U.S. motorsports. Yet now shifting his focus to preparing for the race at Le Mans meant the start of a whole new adventure in R&D into unchartered territory: 24 hours of sustained endurance racing on the global stage.
As Shelby was moving forward on the GT40 project in Southern California, Macura and his team were ramping up in Detroit for the most serious dynamometer project of his career. "I had two engineering management charges for the Le Mans 427," Macura explained. "First, I was told that I needed to make the 427 race engine for Le Mans hold together. And second, I was to make it perform stronger."
The 427 V8 for the Le Mans program was based on the same fundamental FE block configuration that was under the hoods of a number of the most popular Ford models in dealer showrooms in the early 1960s. It was particularly well-known in production Galaxie models, though variations of the FE block went into models from the late 1950s into the 1960s with displacements up to 406 c.i.d. just prior to the 427 version.
The production Ford marketing "halo" with the brand's engineering reputation was an important consideration for Macura to keep in mind with his race engine development, too. "Mr. Ford was very clear with us that he wanted the hardware we used to make that 427 a better racing engine to mirror what people knew was under the hoods of Fords in American showrooms," Macura said. "Not that they could actually buy vehicles with the race engines, but that the Ford components and engineering were very similar," he added.
THE RELENTLESS 24 HOURS -- STRONGER FOR LONGER
Macura explained that no matter what other engineers in his department had tried to do, the 427 engine would not rev past a maximum of 5,900 rpm. He and his team knew they were operating at a fundamental RPM disadvantage against Ferrari, as the Italian engine builder ran overhead cam engines with lighter-weight valvetrains. His Ford 427s added the extra high-speed mass and resistance of the pushrod/rocker-arm components. Macura knew that in order to find new ways to advance engineering, it was the engineer's challenge to sometimes work to discover the obvious; to see what others may overlook. He explained that he needed to become a forensic "detective" as he questioned and examined the engineering of each component in every section of the engine's design.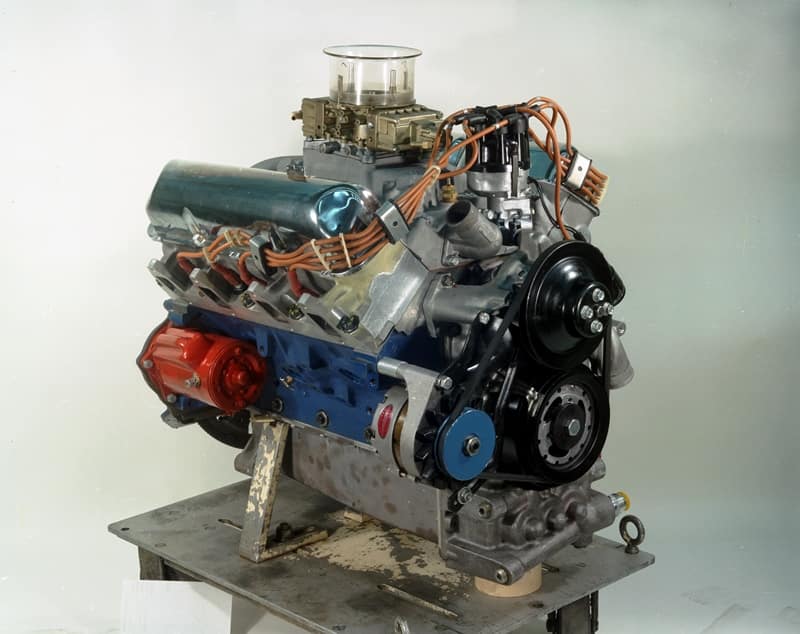 Macura started with the valve train: "One of my first questions was whether we needed to have the intake valves constructed in the same form as the exhaust valves," he explained. "While the exhaust valves relied on solid valve stems to conduct heat directly into the cylinder heads (for heat dissipation into the water jackets), the cooler intake valves didn't require the same solid-stem design -- as this meant a compromise of added weight."
After Macura experimented with hollowing out the valve stem cores to lighten all of the intake valves, the 427 had an instant speed breakthrough – and immediately revved past the earlier 5,900 rpm barrier. Of course, on the down side, Macura said, "Now that we had the 427 suddenly able to reach 7,000 rpm, this introduced us to a whole set of new challenges for the reliability of the engine. The intensity of forces, harmonics and vibration from the reciprocating mass at 7,000 rpm stressed the block and crank in ways no prior versions of the FE block faced." Therefore, Macura discovered all the ways 427 engines can come apart beyond the previously uncharted horizons above 6,500 and 7,000 rpm.
All the while, Macura was running the continually improved 427s to their limits on engine dynos that would test the engines day and night to failure. The unique design of the main bearing caps featured a "cross-bolt" design that Macura and his engineering team had first developed with earlier prototype versions of the FE block in a 406 c.i.d. version. But now he had to refine this design to even higher levels of durability for the 427 displacement.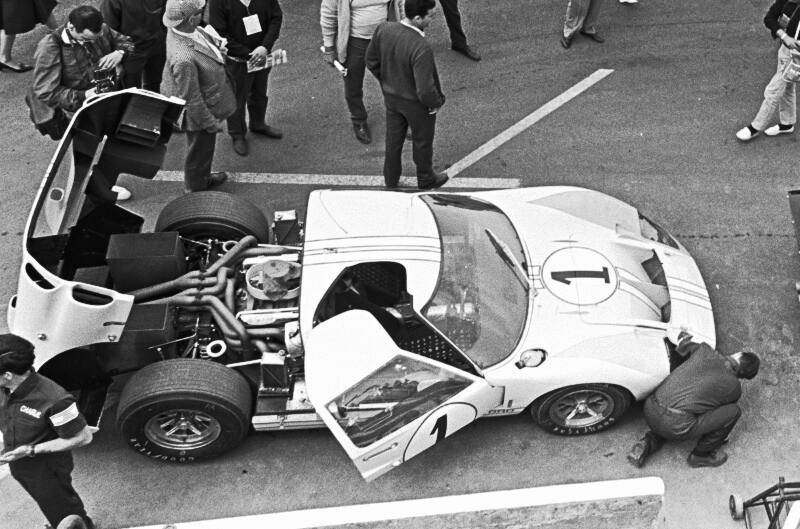 With two "vertical" bolts on each main cap and two additional "horizontal" bolts securing the main caps sideways through the skirt of the block, this arrangement helped reinforce block rigidity as the crank speed passed 7,000 rpm. Prior to Macura's incorporation of this cross-bolt design, the power and intensity the reciprocating mass of the 427 resulted in torque-distorted crankshaft positions, and caused main bearing failures when they overheated under strain.
HARMONICS OF FAILURE, 24 HOURS OF SUCCESS
One of the ironies of success is pushing to the next limit, and just as the crankshaft and lower-end durability allowed increased engine speed for Macura, other critical fixes were waiting just on the other side of 7,000 rpm. "We started experiencing catastrophic, almost explosive, piston shattering on dyno tests," Macura said. "And then it was difficult for us to conduct failure analysis of the piston and cylinder-wall damage because the pistons were so violently destroyed by the failures," he noted.
As it turned out, the intense nature of high-speed engine vibrations can be amplified dramatically into disaster when the engine "harmonics" become violent on approach to reaching 7,000 rpm. In the case of the full-floating piston pins in the 427 Le Mans engine, Macura and his team discovered that the improvement called for closing a margin of just one-thousandth of an inch. "We discovered that a one-thousandth-of-an-inch space between the piston pin and the internal snap ring that secured the pin needed to be eliminated to reduce a critical frequency in high-rpm harmonics."
As we wrapped up our conversation about being "the" Ford Motor Company lead engineer over the group of 427 race engines that won at Le Mans, one final question intrigued me. It was pretty obvious that he and his team needed to see that the 427s lasted at least 24 hours and beyond. I asked Macura just how many hours had they set as their "stretch goal" throughout all of those early engine-development tests to win at Le Mans.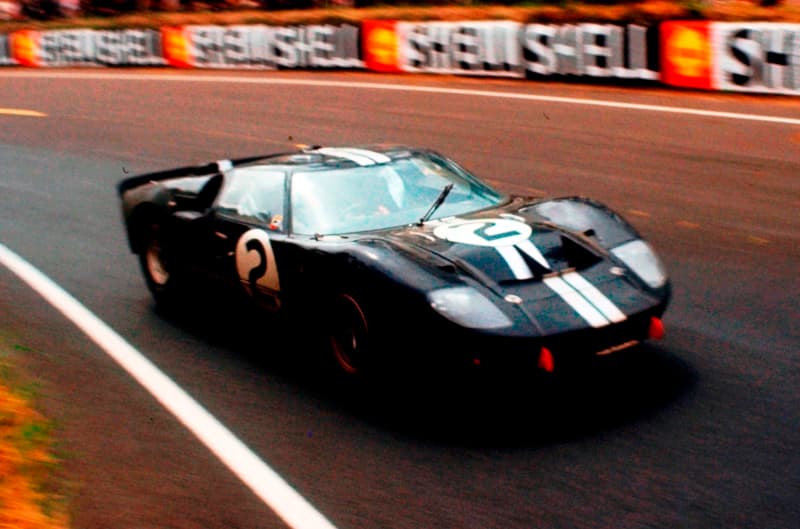 "We had prepared the dyno lab testing program for a target of reaching 48 hours of non-stop race-load demands of the engines with a simulated Le Mans track profile programmed into the cycles of the dyno," Macura said. "That meant pneumatic actuators creating all of the wide-open acceleration bursts, fast upshifts and downshifts, just as the engines were to encounter at the track," he explained with the tone of a rightfully proud engineer. "And the best we could reach within just weeks before shipping the engines and cars to France was just past 45 hours."
While Macura and his fellow Ford Motor Company engineers had produced more than 500 h.p. at 6,400 rpm. out of earlier versions of the 427 with 12.0:1 compression for stock car racing, they elected run 10.5:1 compression for the 24-hours of Le Mans. Sustained durability called for calculated decisions and their original target for the Le Mans configuration was 450 h.p. at 6,200 r.p.m. When the race-ready GT40s rolled onto the track at Le Mans on June 18, 1966, they arrived equipped with engines that averaged 485 h.p. at 6,400 r.p.m.
DETROIT IRON, PUSHRODS & THE GLOBAL STAGE
That Le Mans race was the ultimate showcase for the best of American V8 iron and steel cast and forged in Detroit. The success also proved to be an inevitable expression of the accumulated knowledge of every perfected technique to extract the absolute maximum amount of volumetric efficiency from every air and fuel molecule captured inside combustion chambers in the 1960s.
Advancements in today's modern computer-controlled engines provide dramatically more precise and efficient fuel and ignition control, as well as infinitely variable control of the gas charge. We now hear of production engine horsepower numbers that exceed 600, 700 and 1,000 horsepower. Certainly there are even new EVs that can outperform Muscle Cars of the 1960s and 1970s, as well.
Yet the reason many of us still can admire the more modest horsepower and performance ratings of cars produced half a century ago might be because they didn't have the significant advantage of mass computerization. The engineers in the 1960s still used slide rules, and many engine tuners adjusted fuel and ignition systems based on the color of electrodes on spark plugs and the sound of an engine's roar on the track rather than the readout from a digital display.
Sometimes we may just like the fact that building 500-plus horsepower engines back then simply wasn't easy. Like an American V-8 winning Le Mans in 1966… there's a captivating additional element of achievement when victory takes everything you've got.
If engines can be described as having any level of character, American performance V-8 engines of the 1960s and early 1970s were heroic and, every now and then -- even epic.
Author's Note: Special thanks to John Clinard of Ford Motor Company's Western Regional Office for assistance with both attention to details and facts of this story, as well as Ford Corporate Historian Bob Kreipke and Ford Film Producer Janine McFadden for the rare Le Mans photography. Additionally, while Joe Macura was grateful to be able to share the story of his unique role as a lead engineer over the 1966 GT40 MKII race-engine development, he requested that we also list the names of his Le Mans 427 engineering team, "Without whom I could never have achieved this success on my own," as Macura said. He expresses a grateful salute to his key staff of Ford Motor Company colleagues on this project: Hank Lennox, Al Rominski, Gus Scusell, Jerry Stoll, Bill Galgota, Jerry Schly, Norm Faustyn and Mose Nowland.
(This article originally appeared on LAcar.com)
* * * * *
Steve Ford -- The Car Guy® is a lifetime car enthusiast and student of car culture raised in Southern California and inspired by a five-year automotive industry internship living in Detroit. In ongoing professional work as a broadcast journalist and educator today, he is a certified ASE-Master Automotive Technician/Trainer and credentialed instructor with a Master of Arts degree in Education from MSU. In volunteer work he contributes to skilled-trades and youth-careers outreach programs as a part-time automotive technology instructor and career planning/motivational speaker to schools and at-risk youth programs: www.TheCarGuy.com.