DEARBORN - Shaun Day has had a passion for racing since he was a child and his father was at the helm of Ford's motorsports efforts. Now a Ford brand manager for global medium and sports cars, Day grew up going to the racetrack and became hooked on motorsports. A few decades later, he's still going to the racetrack, but now, it's behind the wheel of a 2011 Mustang GT.
Chris Paiva, Ford F-150 Raptor vehicle dynamics lead, is a third-generation Ford engineer who followed in the footsteps of his father and grandfather. Paiva not only handles vehicle dynamics for Raptor, he serves as its lead development driver, piloting the off-road pickup when it hits the track. Outside of that, Paiva races his 2012 Mustang GT.
The two met through Ford Performance working on the Mustang Shelby GT350 program. Day worked on the program management team while Paiva served as lynchpin for vehicle dynamics. A shared love for racing led to the development of their professional race teams.
"We can't get enough of cars during the day," said Day. "But that passion doesn't just end at 5 o'clock."
Road racing
Day and Paiva compete in the National Auto Sport Association Pro Racing Series for Stinger Motorsport. Most on the eight-member team, which was established in 2015 by Day, are Ford employees. Paiva started out helping with vehicle engineering and chassis setup for the Mustang GT, with Day as the driver.
Stinger Motorsport expanded from one car to two in 2017, with Paiva adding his Mustang GT. And the two are no slouches, compiling 22 wins in 40 races running up against Porsche 911s and BMW M3s, and they're doing it with a six-year-old Mustang.
So how exactly are they beating traditional European sports cars with a muscle car that uses the S197 chassis platform, which is more than a decade old?
The key is their knowledge and experience. Paiva brings his chassis and aerodynamics experience from Ford Performance to the team's vehicle dynamics work. While some teams develop their car with parts based off internet hype or auto forums, Paiva and Day use their knowledge of product development. And they aren't the only ones bringing individual knowledge and experience from Ford; other Ford employees are involved outside of work. Engineers with specialties in various areas offer advice and contributions to make Day's blue Mustang GT the best it can be.
"We took every tip and trick the Ford Performance team knew and put it all on one car," said Day. "It became kind of the office pet project, and since then, it's been untouchable."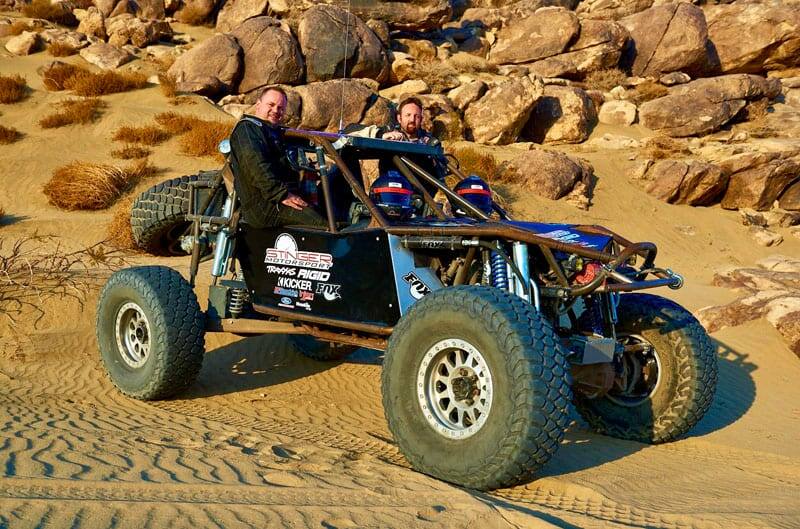 Off-road racing
When you think of F-150 Raptor, you think of off-roading. Considering Paiva built his own off-road truck in the parking lot of his college dorm, it only makes sense he now has a vehicle dynamics role at Ford Performance for Raptor. The 1999 Ford Ranger, modified to take on off-road terrains, ended up on the cover of Four Wheeler Magazine when Paiva was still an undergraduate.
Day's off-road experience covers a variety of ventures, including crewing for trophy trucks in the desert and working on a Bigfoot monster truck in college.
The two expanded their racing résumés after procuring an off-road race truck known as Ultra-4 to compete in events covering vast desert and treacherous rock climbing. They acquired the Ultra-4 while attending last year's King of the Hammers, and this year they're moving from the sidelines to the show to compete in the top class – 4400 Unlimited.
Paiva said after attending as spectators last year, the two had an epiphany moment and decided to take their off-roading experience and compete like they do in road racing.
Billed as "the world's most difficult single-day off-road event," King of the Hammers covers more than 200 miles stretching across California's Johnson Valley. Half includes high-speed Baja-style racing through open desert, where contestants get up to 120 mph. The other half involves climbing large rock hills, with some rocks the size of small cars. The race is so grueling, 80 percent to 85 percent of participants don't even complete it. To this Ford racing duo, it's their next challenge.
Day and Paiva will sit side-by-side in their purpose-built off-road race truck as they take on the 2018 King of the Hammers this week.