Recently at the Woodward Dream Cruise, Ford Performance Parts displayed its 2017 Marketing Mustang GT featuring its latest entry into the Aluminator crate engine series, the 5.2-liter Aluminator XS. Capable of producing 580 horsepower, the 5.2L Aluminator XS offers a high-performance aftermarket option for Mustang enthusiasts looking for enhanced powertrain options.
Matt Monroe, Ford Performance Parts Marketing Manager, recently talked about what makes this engine so special and how it came about.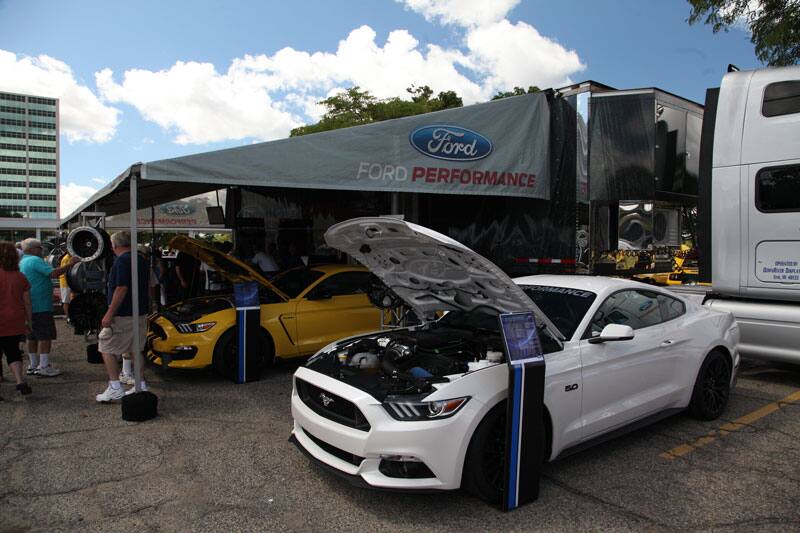 Why did Ford Performance develop the new 5.2L Aluminator XS and why now?
With the availability of high-performance production parts off the 5.2L came the opportunity for us to improve on the existing Aluminator XS.
How does the 5.2L Aluminator XS differ from the engine in the GT350?
Significantly. The Aluminator 5.2L XS combines all of the FPP highest-performing Coyote engine parts built since 2011 into one package:
Ford Performance Parts Cobra Jet 5.0L 4V intake manifold M-9424-M50CJ – Engineered for the Mustang Cobra Jet drag car and allows for an additional 20-25hp @ 8000 RPM
Ford Performance Parts 65-mm Cobra Jet billet aluminum throttle body M-9926-CJ65 – Dual 65mm throttle body that allows better flow over 5.0L or 5.2L throttle bodies
Ford Performance Parts fully CNC ported 5.2 cylinder heads with custom high lift (5.0L firing order) camshafts to allow better flow and correct timing for a cross plane crankshaft
High-performance timing chain tensioners
Custom H-beam connecting rods & forged crankshaft – a cross-plane crankshaft is used to keep GT350 exclusive with the flat-plane crankshaft
Includes 200amp alternator
Why didn't you simply add the Mustang Shelby GT350 engine as a part in the Ford Performance Parts catalog?
The high revving characteristics and unique sound of the Mustang Shelby GT350 engine are very special and we decided to preserve the exclusivity of the vehicle by not including the engine in our catalog. The Aluminator family of engines has proven to be a stout power plant and customers that decide to go with our new 5.2 based engine will not be disappointed.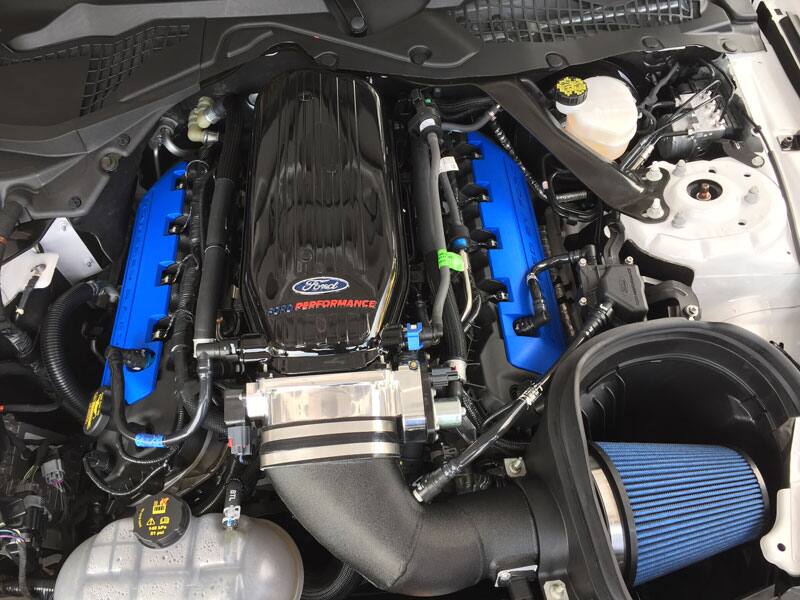 What do you see the intended use of this engine for Mustang enthusiasts?
This engine can be used as a crate engine in high-end resto-mod builds or used as an engine upgrade for customers building track-day cars.
How did Ford Performance go about developing the 5.2L Aluminator XS?
Ford Performance Parts is always developing new crate engines. In this particular case, we leveraged many of the high-performance production parts created for the GT350 production car. FPP engineers made slight modifications to work with the cross-plane crank. As a result, the Aluminator XS is a capable, high-revving aftermarket offering that we know our customers will appreciate.
What were some of the challenges in developing the 5.2L Aluminator XS?
One thing we set out to do with the new Aluminator was keep the flat-plane crankshaft exclusive to GT350. Doing that meant integrating a cross-plane crankshaft which was a challenge because it changes the firing order which impacts valve timing.
Is there anything particular that the team got really excited about in creating the 5.2L Aluminator XS?
There is a lot of excitement about the production CNC GT350 heads. The heads flow very well and subsequently have big power potential for Mustang enthusiasts with Mustang GTs that have the base Coyote. Wanting to leverage the high-performance GT350 cylinder heads, our team needed to develop custom cams. Now that we have a viable solution, Coyote owners have an excellent upgrade option for their vehicles.