DEARBORN - The 40th Annual "Shelby Spring Fling" is set for May 19-20 at the Brown County State Park in Nashville, Indiana. There's a Friday pony trails and welcome bash, plus a Saturday car show, chili picnic and evening awards banquet. You can check out how much fun we had the last time we were there HERE, and get all the details on the weekend getaway (open to ALL Mustangs and Hi-Po Fords) from Indiana SAAC.

Also happening this weekend is the 3rd national show for the upstart Mustang 6 Association, a club dedicated to all six-cylinder Mustangs. A pony trail and hospitality banquet is set for Friday May 19th with the "Mustangs In Music City Show" exclusively for six-cylinder Stangs the on Saturday at Two Rivers park in Nashville, Tennessee. There, the club it attempting to set a Guinness World Record for the most six-cylinder Mustangs at a car show – so if you own a six-banger Stang, head to Nashville this weekend to take part in a history making event! The club site has full information.
We've been invited to attend the 5th Annual Carroll Shelby Tribute and Car Show on May 20th at the Carroll Shelby International headquarters in Gardena, California, and you are invited, too! This year's one-day event includes new vehicle introductions, appearances by automotive celebs, a personal retrospect, competitions and a car show. Carroll Shelby Foundation, Shelby American, Carroll Shelby's Store and Team Shelby have all teamed up to throw the ultimate Southern California family-friendly event this weekend. Gates open to the public free-of-charge at 9 a.m., PDT. Shelby and Ford performance car owners interested in displaying their vehicles at the show can register on the Carroll Shelby Tribute website. Enthusiasts across the globe are also encouraged to join the "Rev Your Engine" salute at 1 p.m. PDT. To learn more about the Carroll Shelby Tribute and Car Show, check out our previous coverage or visit http://carrollshelbytribute.com.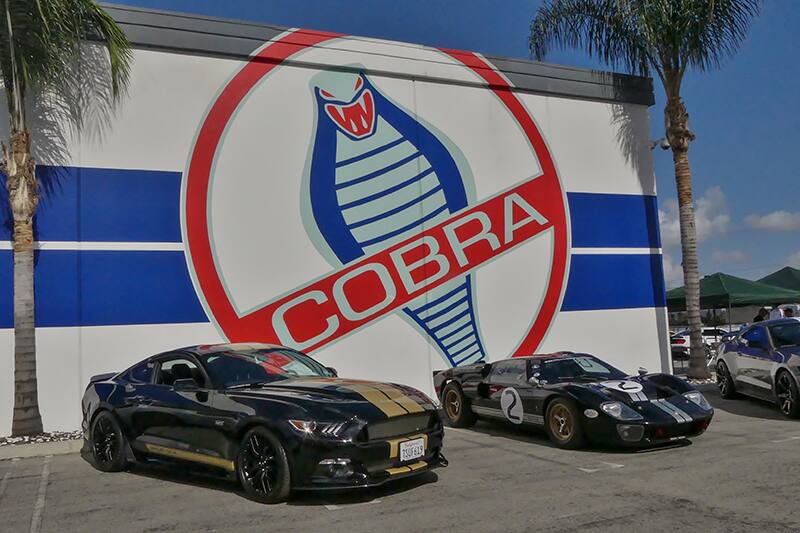 With the Mustang and classic Ford car show season now in full bloom, there's a good chance you can catch a big club show within a day's drive of where you live almost every weekend – and May 19-20-21 is no exception: You can attend the "33rd Annual Biggest Little Car Show" at Waterfront Harbor Plaza in Suisun City, CA, hosted by the Golden Hills Mustang Club; on Saturday the 20th or the "CSRA Mustang Club Annual Mustang and Ford Show" at Columbia County Exhibition Center in Grovetown, Georgia, hosted by the Central Savannah River Area Mustang Club.

That same day there's also the "24th Annual Heart of Carolina Mustang Club Car Show" at Cary Towne Center in Cary, North Carolina, hosted by the Heart of Carolina Mustang Club; plus the "Bob Moore Ford All Ford Car and Truck Show" at Bob Moore Ford in Oklahoma City, Oklahoma, put on by the Oklahoma Mustang Club; and the "6th Annual MCCNE All Wheels Cruise-In" at Solomon Pond Mall in Marlborough, Massachusetts, hosted by the Mustang Car Club of New England. Click on the club links for more info.
On Sunday, May 21st, you can also find the annual "Mustang and Ford Show" at Warner Center Park in Woodland Hills, California, hosted by the Mustang Owners Club of California; or the "35th Annual Wisconsin Early Mustangers All Ford Show & Swap," at Ewald's Venus Ford in Cudahy, Wisconsin, sponsored by the Wisconsin Early Mustangers; or the Southwest Metro Mustang Club; or the "Great Lakes Stampede -- All Ford and Mustang Car Show" at Birch Run Premium Outlets in Birch Run, Michigan, sponsored by the Mustang Club of Mid-Michigan; or the "Annual Spring Round-Up" at Healey Ford / Lincoln in Goshen, New York, sponsored by the Mustang Club of Orange County, NY; or the "34th Annual All Ford Spring Show" at Sheridan Ford in Wilmington, Delaware, sponsored by the First State Mustang and Ford Club; or the "8th Annual Mustang and FoMoCo Spring Dust Off" at Jack Byrne Ford in Mechanicville, New York, sponsored by the Adirondack Shelby-Mustang Regional Club. The clubs sites have all the details.

You don't have to be in a club to celebrate the first-ever national "Thunderbird Appreciation Day" on Sunday, May 21st, 2017. That's the day the three major Thunderbird clubs -- Classic Thunderbird Club International (CTCI), Vintage Thunderbird Club International (VTCI) and International Thunderbird Club (ITC) – are encouraging their members to take their cars out, individually or in groups, to places for the general-public to see, learn and enjoy.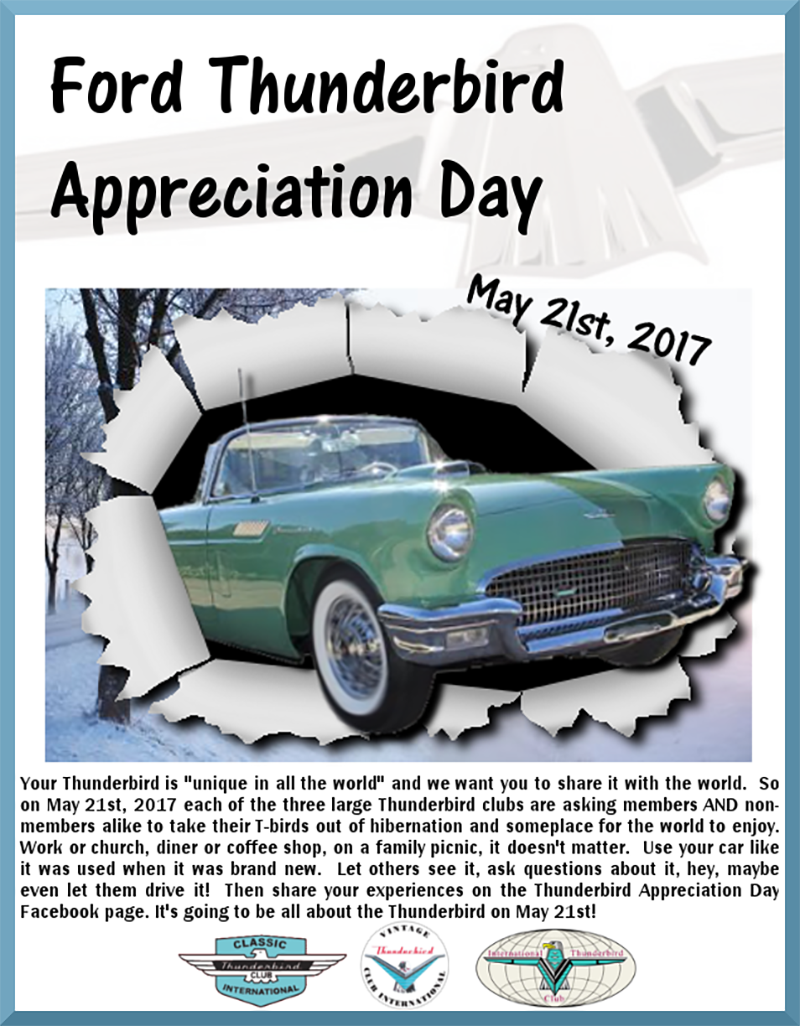 "This is not an organized car show or meet with dozens of classic makes and models of vehicles" said CTCI president Bill Long. "Rather, this day has been set aside for owners of Ford Thunderbirds, wherever they may be located, to drive their vehicles to a coffee shop, a diner or park, maybe even to church or to work. Just like these "personal luxury automobiles" were used originally."
"We want every Thunderbird owner to get their car out in public," adds VTCI president Rod Wake. "Sure, they can meet up with others. The important point is to get their Thunderbird out for others to look at, ask questions about and maybe bring back a memory or two! It is surprising how many folks say they remember riding in their parents or grandparents Thunderbird!"
It shouldn't be surprising, though, since the Thunderbird was produced over 50 years by Ford Motor Company, from 1955 through 2005. With over 4 million Thunderbirds produced during that time, it is still not all that common to see a Thunderbird on the road today – even the later models. This is the reason that the three Thunderbird clubs have agreed on May 21st as a day to appreciate the Thunderbird.
"We know that our club members will bring out their Thunderbirds", said ITC president Gerard Bartarsavich, "but we need to reach that Thunderbird owner that isn't a member of a club. They are just as welcome to bring their T-bird out. After all this isn't about clubs, it's about the cars and the owners!"

For more details, please refer to the Thunderbird Appreciation Day Facebook page, where T-Bird owners will be able to share pictures and comments they take during Thunderbird Appreciation Day.

Of course, you could always plan for a "Bucket List" trip: Fifty years after Shelby American and Ford Motor Company won Le Mans with the Ford GT40, Ford fans are returning to watch the most challenging endurance race in the world. You are officially invited to walk the same hallowed ground as Carroll Shelby and witness Ford's defense of its crown in the next-generation Ford GT during the inaugural "Team Shelby Le Mans VIP Experience" on June 16-18, 2017!

You can join Aaron Shelby and Ford Motor Company executives (including Henry Ford III) through a very special package available only through the club. Hosted by Aaron Shelby and Team Shelby, it includes race tickets, admission to an exclusive suite overlooking pit row, meals, special autograph sessions, motorsport celebrity appearances, limited-edition gifts and various other amenities.

There are options for hotel rooms and even a helicopter ride if you want to add even more fun to your trip. The Team Shelby Le Mans VIP Experience is truly a bucket-list event you won't want to miss and space is very limited, so don't delay – sign up today! Click HERE for info. We hope to see you at the finish line in Le Mans!
Before you go, are you looking to put that special show-quality touch on your Ford Performance or SVT vehicle? Ford Show Parts.com is now offering Ford Performance and SVT logo license plates and license-plate frames to proudly display your Ford Performance brand loyalty! Get online and check out our new, exclusive Ford Performance license plate frame, and for states that allow it, how about adding a custom logo plate up front as well? It's the perfect way to show your Ford Performance pride both coming and going!
And if you happen to be an owner or fan of vehicles built under our previous Ford Performance brand, we also have an SVT logo license plate frame as well as an SVT-logo license plate available.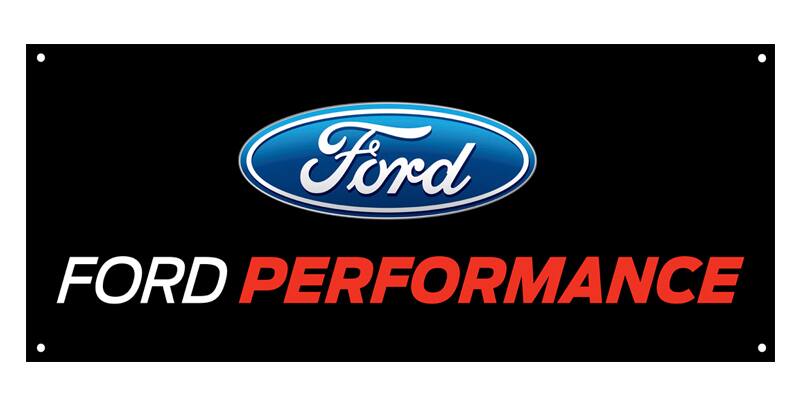 If you've been searching for the perfect item to hang on that big, blank spot on the wall in your garage or man cave, you simply must order our new, Ford Performance logo vinyl banner! It's a whopping 60 inches wide by 24 inches tall and comes with sturdy metal grommets in the corners for easy hanging. This banner also makes for a great gift for any Ford fan!
You can order these and many other exclusive items today from www.FordShowParts.com simply by clicking HERE or if you'd rather order by phone, you can call the Ford Performance Info Center at 1-800-FORD-788 during regular business hours.
Looking for other unique ways to showcase your Ford vehicle? Ford Show Parts also offers official Ford Motor Company "Certificates of Authenticity" for a wide variety of collectible high-performance Fords. All you need is your VIN and a valid credit card. Cost is $45, but members of any of the clubs listed on FordPerformance.com get a 15% discount if you call our Ford Performance Info Center to order. Don't delay – order today!
The great thing about owning a performance Ford is that – unlike with buying one of those "appliances" from the other automakers – when you buy a Ford, you buy into an entire enthusiast world! Ford cars and trucks have the kind of personality and style that forges a personal connection with their owners, who in turn celebrate ownership each year at hundreds of enthusiast events all over the country. Now's the time for you to start planning to attend some of the big-name annual events that have already set dates for next year. Here's our own "Top-10 List" of the biggest "can't-miss" Ford-based shows for 2017:
June 2-4: Carlisle Ford Nationals & 50th Anniversary of Shelby GT500 + Mercury Cougar (Carlisle, PA); June 8-10: SAAC42 @ Indianapolis Motor Speedway (Indianapolis, IN); June 14-18: Mid-America Ford & Shelby Nationals (Tulsa, OK); August 19: Mustang Alley @ Woodward Dream Cruise (Ferndale, MI); August 20: "Mustang Memories" MOCSEM Show @ Ford WHQ (Dearborn, MI); August 24-27: MCA Grand National (Overland Park, KS); Aug. 29-Sept. 3: Sturgis Mustang Rally (Sturgis, SD) and; September 4-10: Mustang Week (Myrtle Beach, SC).

And there are many more great shows coast-to-coast, as big events are also being planned for the Mercury Cougar 50th Anniversary at Ford WHQ June 9-12, the American Muscle annual Mustang show on August 12, plus plenty of other top-notch venues sponsored by various Ford enthusiast clubs! We'll get you all the details in "Fast News" each week plus provide the best coverage in our Enthusiasts Newsroom because like you, we're driving Ford passion!