If you hadn't yet planned a trip to Florida at the end of March, maybe this event news will send you packing: There are at least three big shows coming up in the Sunshine State where you can find a multitude of Mustangs over the March 25th weekend. First and foremost, the Mustang Club of America is proud to present its first MCA National show of the year in Pensacola, FL. The 38th Annual Gulf Coast National Mustang & All-Ford Show will be taking over the Pensacola Interstate Fairgrounds March 24-26, thanks to the efforts of the Gulf Coast Regional Mustang Club. Ford Performance will be there, so you should be, too.
Speaking of Ford Performance, that same weekend the Ford Performance Club of Florida (FPCF) is heading to the 5th Annual "Festivals of Speed" at Central Florida's Mission Inn Resort in Howey-in-the-Hills, FL. There, a variety of past and present Ford Performance vehicles will join a display of 200-plus exotic cars, motorcycles and luxury autos at the charity show to support the Tom & Kim Ruggie Family Foundation.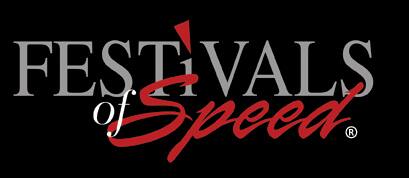 The FPCF plans to kick off the weekend on Saturday morning March 25th at 10 a.m. with inclusion in the Tour D 'Elegance. The FPCF, along with other participants, will tour the winding roads of beautiful Lake County in a variety of vintage and contemporary vehicles. The tour will include breakfast, lunch, a VIP gift bag and Tour ribbons for all cars that join in. In addition to the Tour D 'Elegance, the largest antique boat show in country will be on display just down the street from the Mission Inn.
On Sunday, March 26th, The FPCF will join some 200 other exotic cars, motorcycles, watercraft, and luxury vehicles that will be displayed on the pristine fairways of the resort. This elegant setting offers unsurpassed panoramic views of the lakes and rolling hills. Onsite cafes will offer exciting culinary creations available to all attendees. Automotive art, smooth jazz, cigar lounges, and luxury-brand displays will also be a part of the enjoyment.
"We could not be more pleased to continue our relationship with this exclusive property," said Festivals of Speed Founder Joe Sabatini. "We will have a fine selection of both vintage and contemporary cars and motorcycles for attendees to enjoy. The vintage and contemporary motorcycle display continues to grow as well. We invite everyone to register their car or motorcycle with us to share with our attendees."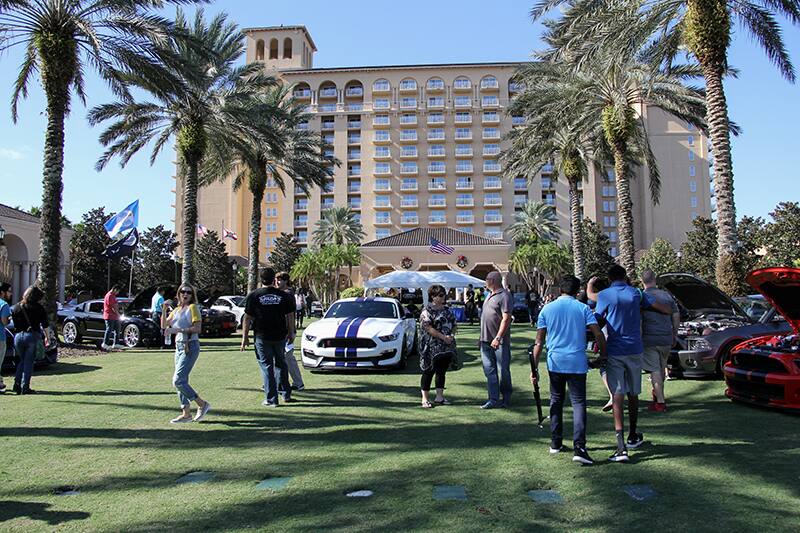 Festivals of Speed was founded in 2004 and is headquartered in Eustis, Florida, as a luxury showcase for discerning enthusiasts with a passion for all forms of transportation. The FPCF has been attending Festivals of Speed events in Orlando, Amelia Island, and Mission Inn since 2015. Two other Festival of Speed events are held in Miami and St. Petersburg. Festivals of Speed display top examples in automotive, aircraft, marine, and motorcycle transportation alongside the finest luxury brands. Tickets may be purchased at www.festivalsofspeed.com or by calling 352-385-9450. General admission is $20.
The Tom & Kim Ruggie Family Foundation is helping build "community" through support of local projects that strengthen the bond of families, improve the quality of people's lives and enhance opportunities for access to life-enriching services such as healthcare and education.
If you happen to be in the Jacksonville area that same weekend, you can take part in the "Rumble At The River," the Jacksonville Mustang Club's 15th Regional Mustang and Ford Show at the Jacksonville Landing.
Also happening on March 25 are big shows in South Carolina and Texas. The Eastern South Carolina Mustang Club is presenting its "5th Annual Pee Dee Roundup" at the Southeastern Institute of Manufacturing and Technology in Florence, South Carolina. And the Mustang Owner's Club of Austin, Texas, is hosting its "10th Annual Spring Open Car Show and Dell Diamond Open House" on March 25, at Dell Diamond in Round Rock, Texas. Just click on the club website links for info.
Before you go, are you looking to put that special show-quality touch on your Ford Performance or SVT vehicle? Ford Show Parts.com is now offering Ford Performance and SVT logo license plates and license-plate frames to proudly display your Ford Performance brand loyalty! Get online and check out our new, exclusive Ford Performance license plate frame, and for states that allow it, how about adding a custom logo plate up front as well? It's the perfect way to show your Ford Performance pride both coming and going!
And if you happen to be an owner or fan of vehicles built under our previous Ford Performance brand, we also have an SVT logo license plate frame as well as an SVT-logo license plate available.
If you've been searching for the perfect item to hang on that big, blank spot on the wall in your garage or man cave, you simply must order our new, Ford Performance logo vinyl banner! It's a whopping 60 inches wide by 24 inches tall and comes with sturdy metal grommets in the corners for easy hanging. This banner also makes for a great gift for any Ford fan!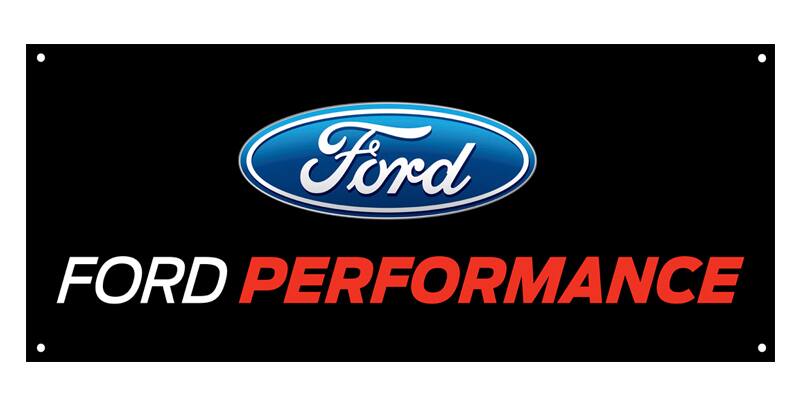 You can order these and many other exclusive items today from www.FordShowParts.com simply by clicking HERE or if you'd rather order by phone, you can call the Ford Performance Info Center at 1-800-FORD-788 during regular business hours.
Looking for other unique ways to showcase your Ford vehicle? Ford Show Parts also offers official Ford Motor Company "Certificates of Authenticity" for a wide variety of collectible high-performance Fords. All you need is your VIN and a valid credit card. Cost is $45, but members of any of the clubs listed on FordPerformance.com get a 15% discount if you call our Ford Performance Info Center to order. Don't delay – order today!
The great thing about owning a performance Ford is that – unlike with buying one of those "appliances" from the other automakers – when you buy a Ford, you buy into an entire enthusiast world! Ford cars and trucks have the kind of personality and style that forges a personal connection with their owners, who in turn celebrate ownership each year at hundreds of enthusiast events all over the country. Now's the time for you to start planning to attend some of the big-name annual events that have already set dates for next year. Here's our own "Top-10 List" of the biggest "can't-miss" Ford-based shows for 2017:
April 30: Fabulous Fords Forever @ Knott's Berry Farm (Buena Park, CA); May 4-6: Shelbyfest (Jefferson City, MO); May 12-14: "Hoofbeats In The Desert" MCA National show (Tucson, AZ); June 2-4: Carlisle Ford Nationals & 50th Anniversary of Shelby GT500 + Mercury Cougar (Carlisle, PA); June 8-10: SAAC42 @ Indianapolis Motor Speedway (Indianapolis, IN); June 14-18: Mid-America Ford & Shelby Nationals (Tulsa, OK); August 19: Mustang Alley @ Woodward Dream Cruise (Ferndale, MI); August 20: "Mustang Memories" MOCSEM Show @ Ford WHQ (Dearborn, MI); August 24-27: MCA Grand National (Overland Park, KS); Aug. 29-Sept. 3: Sturgis Mustang Rally (Sturgis, SD) and; September 4-10: Mustang Week (Myrtle Beach, SC).

And there are many more great shows coast-to-coast, as big events are also being planned for National Mustang Day on April 17, the Mercury Cougar 50th Anniversary at Ford WHQ June 9-12, the American Muscle annual Mustang show on August 12, plus plenty of other top-notch venues sponsored by various Ford enthusiast clubs! We'll get you all the details in "Fast News" each week plus provide the best coverage in our Enthusiasts Newsroom because like you, we're driving Ford passion!