SIMSBURY, Conn. – Ford Performance asked me if I would share with you a special journey that I've embarked upon that tells a story of a woman and a Mustang and a new beginning in life. So I'll begin this – the first of a three-part series for FordPerformance.com – by setting the scene for what you might expect from my 3,332-mile trip of a lifetime.

I'm Monica Katzen, and I set out on a journey taking me cross-country in my 1967 Ford Mustang Convertible, a car that has symbolized freedom and independence for me since purchasing it five years ago. (Truth be told, I traded in my 2-carat emerald-cut diamond wedding ring for it when my divorce was finalized.) I first began planning this cross-country drive while mentally preparing myself to face a milestone birthday with optimistic anticipation rather than trepidation. Originally, the trip was a metaphor for my own freedom and independence as a single, divorced woman – one defying convention among her peers, and occasionally embarrassing her children while rebelling against the mid-life mom stereotype. The trip was also to have incorporated varied meanings of the number 50: half a century; the number of states in our union; the shared age of Sally (my car) and me; all while, as a percentage, connoting "middle of the road," as in compromise, balance, intermingling . . . and a bit of uncertainty.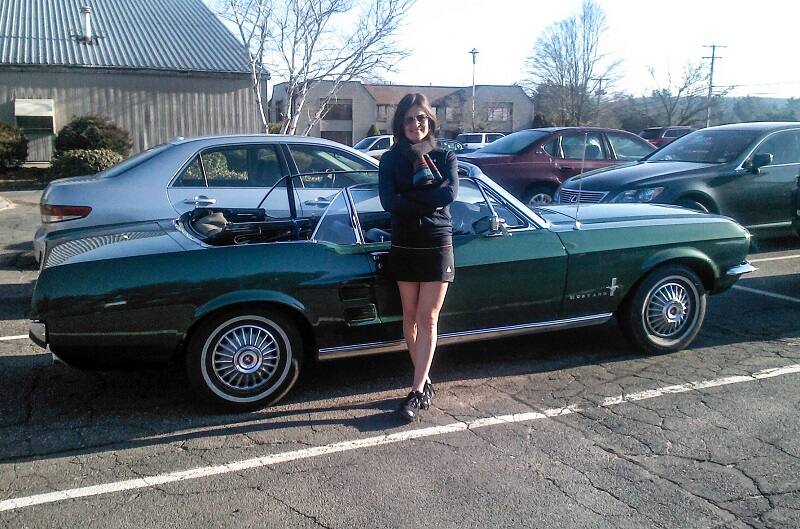 Much like life, the plan for this trip had gone through many changes; the scope had been refined over the past year. I went from wanting to tour the entire perimeter of the continental United States, having friends and family accompany me on various legs of the trip, to an abbreviated trek from my home in Connecticut to my birthplace of Seattle, Washington, where I had – up until two months ago – intended to move. But after meeting a remarkable man with whom I intend to share my life, who had enthusiastically agreed to be my travel companion (on the condition that I return to Connecticut at the end of the drive), the trip now represents an even deeper voyage; one in which I will become better acquainted with my country, myself and my new partner.

In short, what it still boils down to is a common (although a cliché) mantra of the adventurer: "It's all about the ride." It's about the connections formed and solidified, experiences shared with others, the discovery of places that make our country the rich and diverse place that we Americans call home. I look forward to the journey, and I am excited to share it with someone special, as well as with all of you. So come along for the ride…
Since I was a young girl, when I urged my parents to sign me up for riding lessons, I have been attracted to horses. I may not have known it at the age of 10, but it was the freedom, the strength, the confidence and the grace of the animal that attracted me; all I was cognizant of at that time was that they were beautiful creatures that you could perch on top of and guide around. Flash forward about four decades, while I searched within myself and looked for reasons to explain why my marriage didn't work, or what aspect of my own personality and composition prevented me from being an active participant. During this exploration I learned I was a Horse, in Chinese astrology, and soon began to identify even more with this majestic animal that is spirited and sociable, yet likes to run on its own.

I've been divorced for five years, and have two bright and adventurous children. I was born in Seattle, grew up in New Jersey and lived in Chicago for years before moving to Connecticut, where I now reside. My main interests are tennis, fitness, the outdoors, and travel. When the all-important 50th birthday was approaching (for myself and my car), I had an idea that I would traverse the 50 states, in 50 days, for my 50th birthday. Due to life getting in the way, I scaled down that original version to adapt to my new plan of using the trip as a mode of transportation to get me to Seattle, what I anticipated to be my new home (returning to my roots) beginning in my 50th year. That is, until I met a man who convinced me to stay in Connecticut. So now, the trip begins as a shared journey of two souls, the gratification of a long-time desire, a collection of new experiences, and an exploration of the wonders of the United States of America.
Like many Mustangs, my "Sally" has her own story; embedded within the steel body is not only an engine, but a collection of experiences acquired over the course of her own 50 years. The original owner was a man from Waterbury, Connecticut, who purchased her from a dealership in Thomaston, Connecticut, in 1966 for $3,000. (I still have the original invoice.) When the original owner passed away four or five decades later, it fell upon his widow to sell the car.
Meanwhile, in some other part of Connecticut, an avid car collector was instructed by his wife (feeling a bit left out while her husband enjoyed his "toys") to find her a classic red Mustang convertible. When he found the car, a classic Dark Moss Green, not red, he was convinced this would be the car to pacify his wife; he could always have the body painted. However, he was so touched by the widow's one condition upon selling the car – that he never change anything about it, including the color, because the car was her husband's pride and joy – that he could not bear to change the color. Upon returning home with the car, his disappointed wife proclaimed that she would not drive it unless it was red. The end result was the car being placed on his mechanic's lot with a "For Sale" sign. And this is how I found the car.
I came across my 1967 Mustang convertible while on my way to work one day in Bethany, Connecticut, a place where I visited only once a month. It was a sunny July day and I wanted to explore some side roads as I was a bit early for my meeting. After taking a turn that I wouldn't normally take, I found myself facing a beautiful, dark green 1967 Ford Mustang convertible on the lot of a service garage; I knew then that I had to have that car.
The timing was not perfect – I was in the midst of a challenging divorce and did not have the ability to control my own finances. Regardless of my current limitations, I pulled into the garage, introduced myself to the owner/mechanic, Joe, and inquired about the car – a car that I never even realized I yearned for until I set eyes on it. By the time I left the garage to head to my meeting, I had exchanged numbers with Joe, and left him with the final proclamation that I would someday return to buy the car, when I was able.
For the next few months, when work brought me down that same road, the anticipation of driving by the lot in hopes of seeing the car still donning its For Sale sign was enough to cause me to be one of the garage's most frequent visitors, without even being a paying customer. Eight months later, I went to family court and my divorce was finalized. I called Joe later that afternoon and – as by that time, he was accustomed to my frequent inquiries – he recognized my voice and in his canned response stated that, "Yes, Monica, the Mustang is still here."
I excitedly shared the news with him that, finally, I could come down and purchase the car. The dream of owning a classic Mustang, which had only recently become a conscious desire of mine, would now be fulfilled. She would be called – what else? – Sally.
Sally would soon become the perfect vehicle to transport me on my journey of a lifetime. (Look for that story to begin in Part Two of this Series.)
FORD PERFORMANCE PHOTOS / COURTESY MONICA KATZEN