GLENDALE, Calif. - Let's begin with the confession: the Vista Blue 2008 Shelby GT ragtop you see in these photos is my own personal car. I am not, for a second, going to say it's perfect; I can only tell you what it is, what it is not and what I've done to make it my own and I believe, a nicer car. My goal here is to be properly journalistic and transparent.

When the S197 Mustang came out for the 2005 model year, I immediately decided I had to have one. Ah, but which one? I didn't know, but decided to wait past the first model year, thinking that the convertible bodystyle would soon be on its way, along with a multi-year rollout of special and high-performance models. When Shelby got back into the Mustang business with the GT-H in 2006, I felt that may just be my ticket in; who doesn't love that black-and-gold Hertz-Shelby livery? And I've always wanted a Shelby Mustang. But that car was automatic-trans only, and I'm a stick-and-clutch kind of guy. Then along came the GT500, and I thought that might be the thing for me. Then the Mustang Bullitt edition for 2008. My dithering continued.

Shelby launched the GT model for 2007 as a development of that '06 GT-H, and I immediately liked the mix; a Shelby-built Mustang, naturally aspirated V-8, Ford Racing suspension, intake and exhaust, and enough additional content to be worthwhile – plus it was affordable. Initially, that car was offered in coupe form only (painted black, or white, with silver Shelby stripes), and I'd heard that a convertible version was on its way for 2008. It would also have a new color offering: Vista Blue Clearcoat Metallic. That package was just what I wanted; and with the black vinyl-covered sport bar in back, it reminded me of the '68 GT500KR convert that I'd long lusted over but could no longer afford. It was a new car that's a worthwhile collaboration between Carroll Shelby, Ford, and Ford Racing.

I was Executive Editor of Motor Trend magazine at the time, and my responsibilities included the selection and ordering of MT's fleet of long-term testers; these are the cars that the magazine borrows for a year, puts them into daily use – tracking fuel mileage, problem areas, and running costs, reporting the good, the bad, and the ugly in the magazine and online. In as much as the ragtop bodystyle and the Vista Blue color were new for 2008, and Shelby was looking for some press for this combo, then Shelby CEO Amy Boylan offered MT the use of just such a car for six months.

I spec'd-out the car with Shelby's then Vice President of "Sales, Customer Service, Nitrous Oxide, Burnouts and Fun" (now company president) Gary Patterson. He suggested we make this one "something a little special" by starting with a California Special, (GT/CS), with its unique two-tone gray-and-black leather interior treatment, and slightly different front and rear fascias compared to the regular Mustang GT. He said they'd done a couple this way which came out very well, so that's how Shelby built the MT car. It was completed in November of 2007, and I flew to Shelby in Las Vegas to pick up our new baby and drive it back to Los Angeles.
The car performed admirably in the hands of the Motor Trend editorial team, logging about 10,000 miles during its six-month tenure in the MT garage. Even the younger staffers, usually more into Evos and STIs, generally liked it – even if they didn't fully grasp the old-school muscle car thing. There were few problems with the car, save a faulty, rattling shock absorber, and big noise issues with the rear axle – all fixed under warranty. When the loan was I up, I asked Shelby about its plans for the car, and they said the company planned to sell it. I bought it directly from (then) Shelby Automobiles, Inc., on Memorial Day weekend, 2008.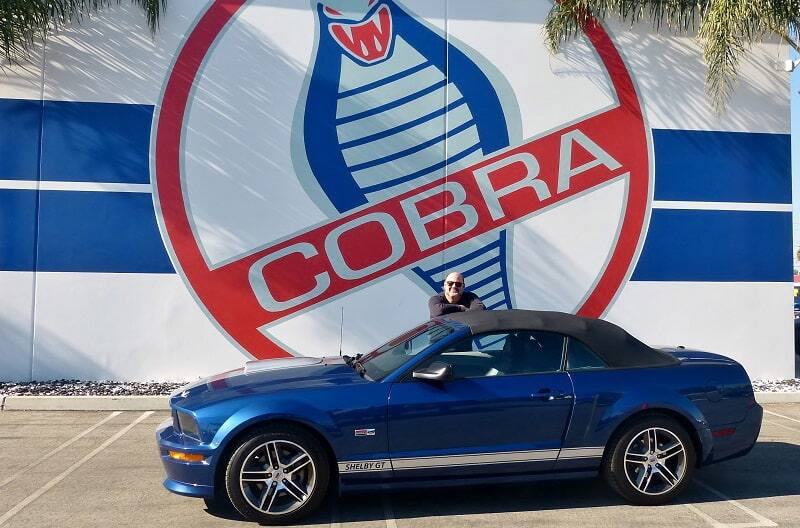 I generally prefer to keep my cars factory stock, but felt I could do a few things of a bolt-on nature to this one that would improve the looks and driving experience without sacrificing the car's originality. And of course any and every piece that came off of it would be saved for reinstallation should I desire to take the car back to dead stock. The Ford Racing-upgraded engine's performance, reliability and fuel mileage suited me fine, so no deep engine mods at this time, thank you. I lamented that the Shelby-installed billet grille did away with the stock GT's grille-mounted driving lights, as I always liked the look of the early '67 GT350 and GT500 with its fog lights mounted close together in the front grille. LateModelResto.com had the answer, in the form of a black, honeycomb-style grille that mimicked the look of the factory GT piece but without a running horse badge in the middle, plus the original driving lights remounted up front and center. Shelby sent me the car's original grille with its pair of NOS driving lights and factory wiring harness, and I swapped the grilles out, gaining the fog lamps back, and a bit of an old-school '67 Shelby vibe along with them.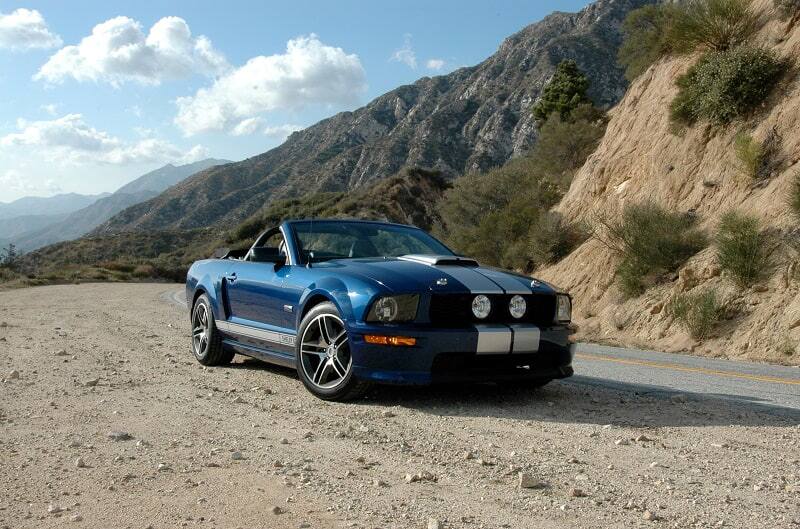 The next few little details were small, in the form of a bright red starter pushbutton (replacing the accessory power port socket in the middle of the center stack) and a black Hurst shifter ball, replacing the factory white ball. I also wanted to jazz up the engine bay a bit, without it looking like the car fell into a chrome-plating tank. I found the small measure of bling I was looking for as close as the Shelby Performance Parts Catalog in the form of SPP's billet aluminum accessory cap kit. It consists of a new set of racy, somewhat Ferrariesque-looking brushed-aluminum caps for the radiator, power steering pump, oil filler, dipstick handle and windshield washer tank. Not expensive, and no hassle to install.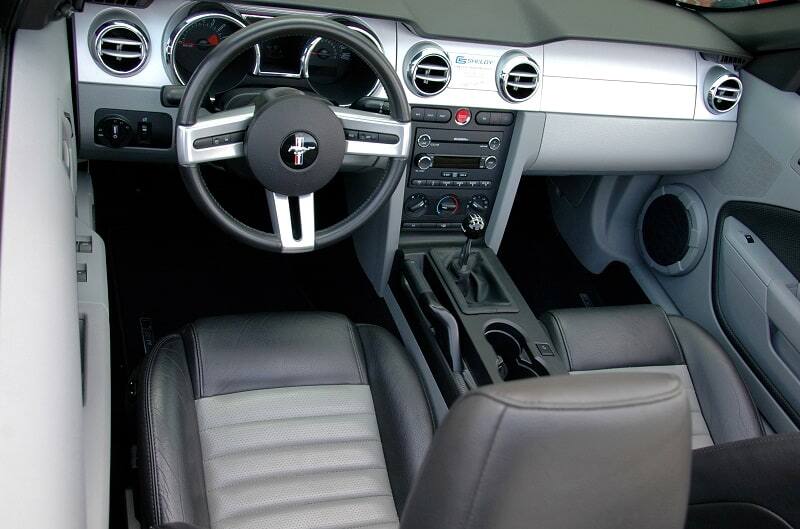 Next order of business was wheels and tires; even though the factory polished five-spoke18's looked great on the car, the wheels nor tires were very wide, and the Bridgestones' all-weather compound wasn't all that sticky. I experimented with a couple different sets of GT500 wheels before settling on this set of wide 18-inch GT500-style alloys from Ford Racing. They're the same pieces you'll find on a 2010-12 Shelby GT500 convertible running the same massive tires. The rears stuck out an inch or so proud of the fender well, so I screwed on a set of those neat, little black-plastic mud flap extensions from the GT500; inexpensive from the Ford dealership parts counter, and five minutes a side to install in factory pre-drilled holes.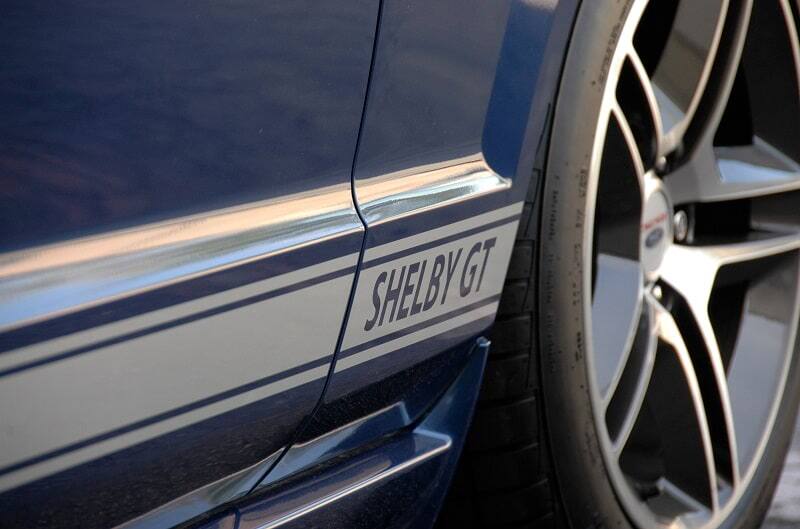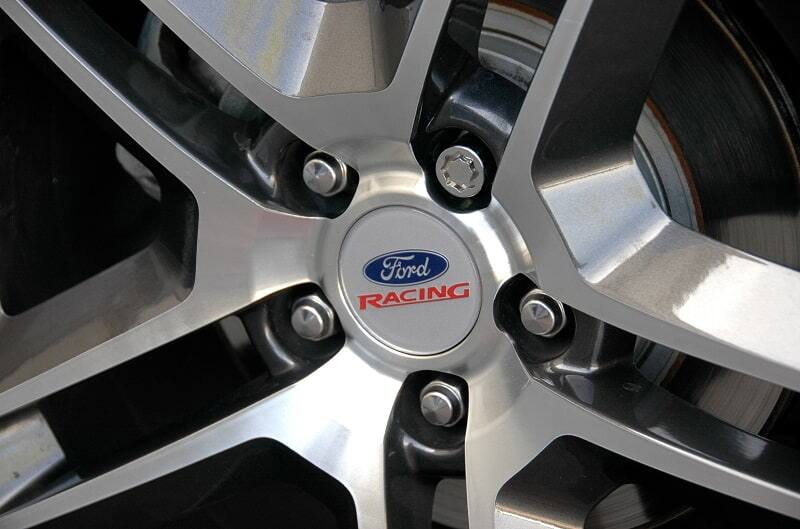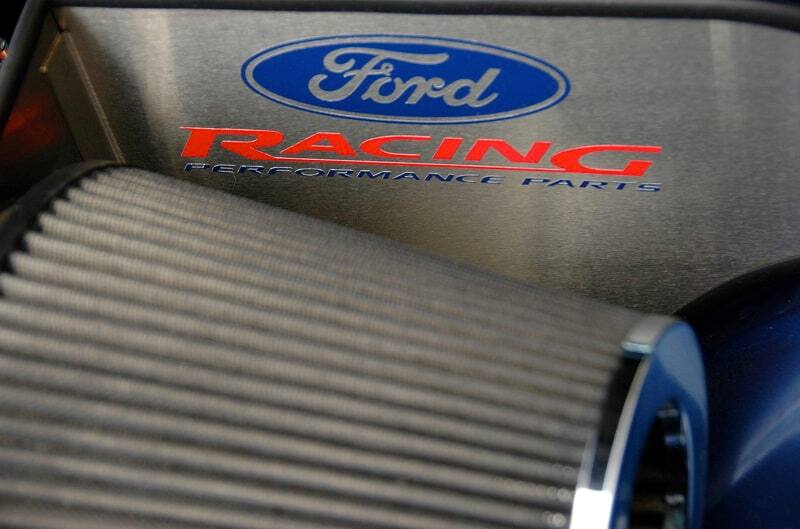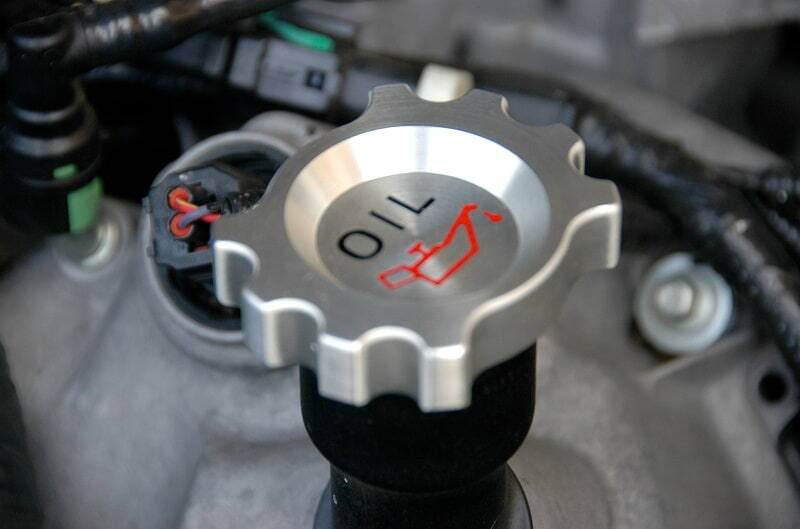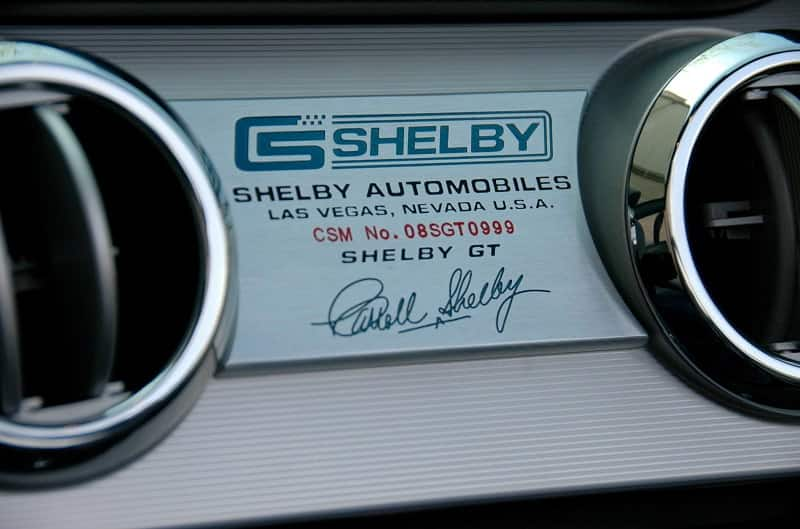 The massive meats fixed one problem . . . and created another. Recall that part of the GT's Shelbyfication includes a suspension upgrade comprised of stiffer shocks, springs and beefier anti-roll bars, all from Ford Racing. That setup with the stock tires gave a nice balance of ride and handling response. But given my swap to much lower-profile tires, the convertible's only so-so body rigidity was more compromised, and the ride got pretty harsh. So I struck out in search of more chassis/body rigidity needed to maintain good handling while quelling the body wiggles a skosh in the hopes of better ride.

So it was time for some serious weld-in subframe connectors; any good shop could have handled all this, but I decided to bring the car to Shelby in Las Vegas, as they had all the parts in stock and certainly knew the product. At Gary Patterson's and Gary Davis' recommendation, we also popped in a set of Maximum Motorsports fully adjustable front camber plates so that the front end could be more-precisely aligned. And Shelby Performance Parts' own adjustable Panhard bar to better locate the rear end during cornering. The job, plus a very precise alignment, took a day, and home I drove.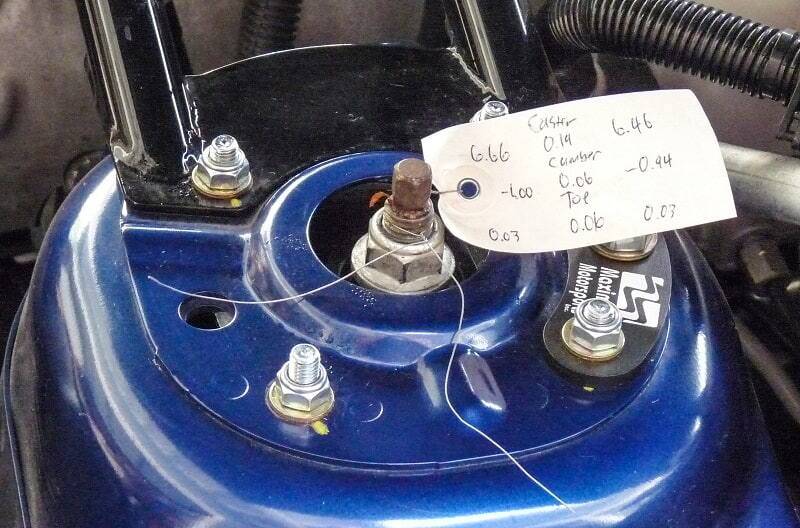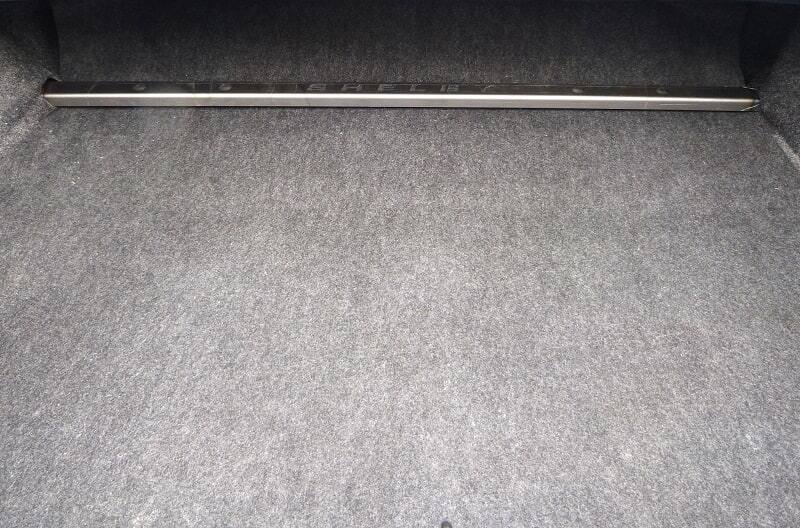 The improvements here proved worthwhile; the car rode better on LA's ruddily complected freeways. The subframe connectors really tightened up the somewhat jiggly chassis structure. For that final added measure of chassis rigidity, I've since installed a Shelby Performance Parts aluminum rear-shock tower brace, which mounts neatly in the trunk right at load-floor level so there's no compromise in terms of luggage capacity; Galpin Auto Sports installed the bolt-in piece in minutes; no need for a new one in the engine bay, as Shelby had already done that job when the car was built, with a very neat Ford Racing front shock tower brace.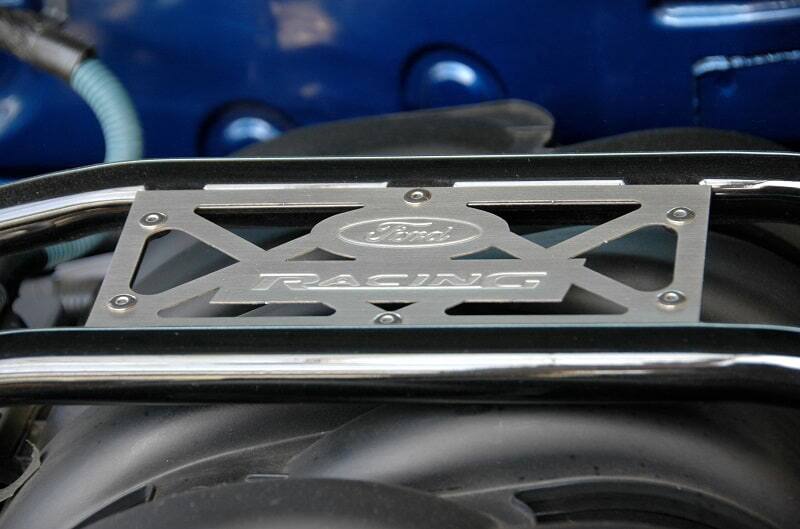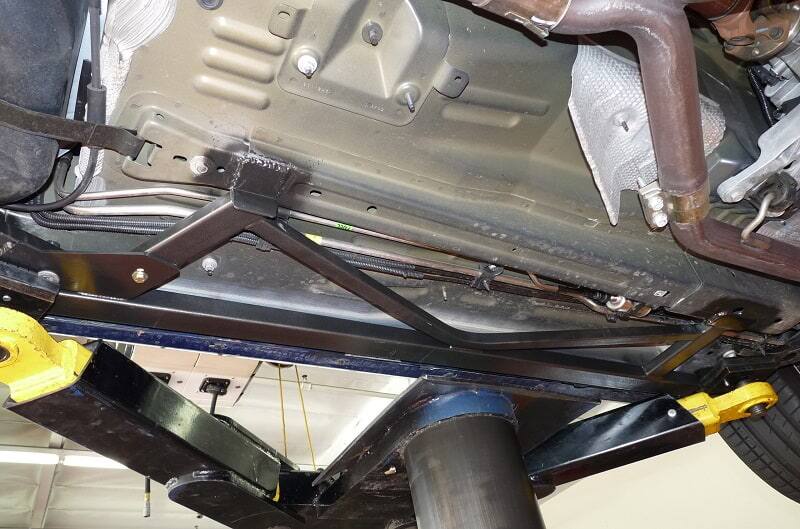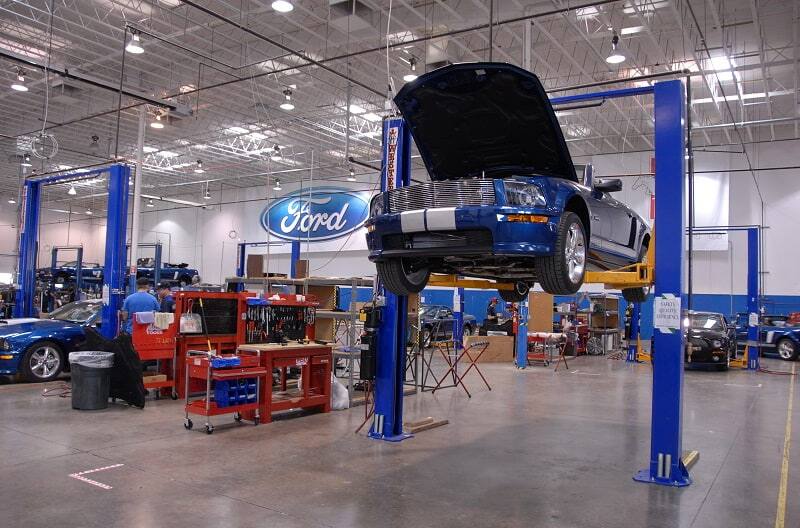 What's next? Not much, just lots and lots of miles with the top down. Actually, a couple items remain on my "to-do" list; my car came without the optional center stack-mounted three-gauge accessory cluster (oil temp, vacuum, and fuel pressure), which somewhat replicates the look of what Shelby installed on GT350s in 1965/66 – which I just gotta have. And I'll probably have the Shelby American shop pop in a set of underdrive pulleys just to free-up those few additional "free" horses. And maybe a higher-performance tune job while it's at Shelby for the above. Of course every time I see Gary Patterson, he has a supercharger in one hand and wrenches in the other – but I'm not going that route for now.
All said and done, I've done about $5,000 worth of upgrades that make the car feel more like a real Shelby Mustang, and a bit more unique at the same time.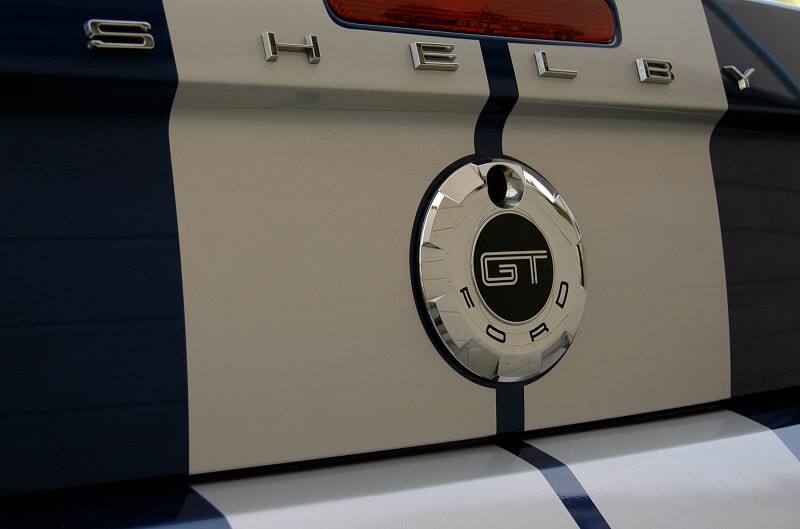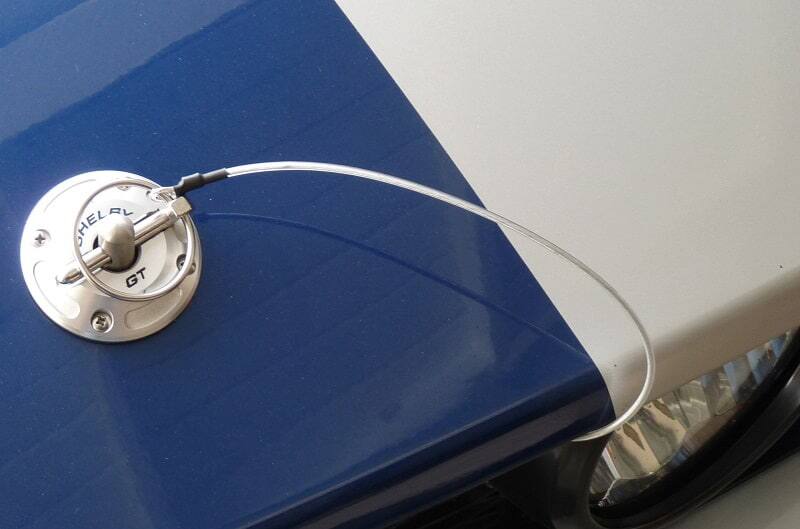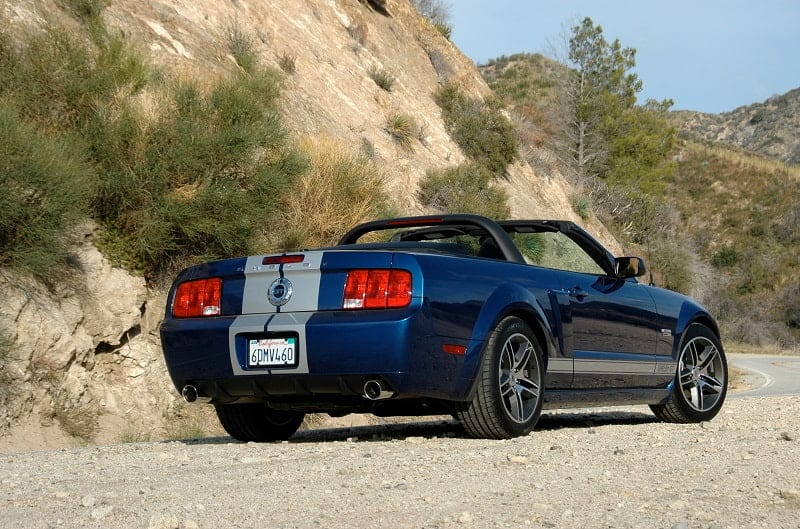 FORD PERFORMANCE PHOTOS COURTESY / MelStonePhoto.com and KIRK GERBRACHT