LAS VEGAS, Nev. – As an enthusiast, we know you've heard of the SEMA show – SEMA standing for Specialty Equipment Market Association, which was originally named the Speed Equipment Market Association. In summary, it's the ginormous industry trade show by and for the automotive aftermarket. The variety of vendors that display there is dizzying to say the least.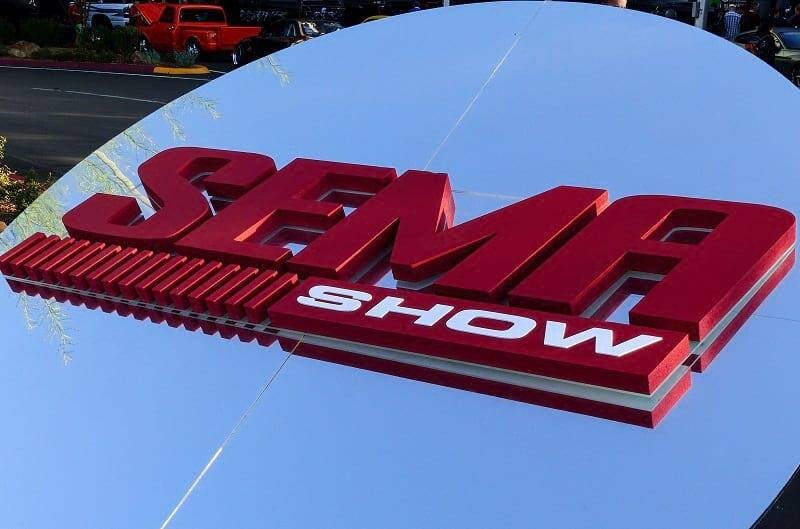 As you might expect, Ford and Ford Performance has a major presence at SEMA each year, with a large, expansive convention-style indoor display field (calling it a "booth" doesn't accurately describe it). And that goes for most other major carmakers – and that goes for every aftermarket performance company you can name (and many you can't). Every tire company, wheelmaker, exhaust system outfit, and shops and parts you never knew existed is there too, in one way or another. No matter if your company is looking for bulbs, tires, and superchargers for big-blocks, paint, or the next hot widget, there's a vendor at SEMA that makes or distributes it. And it all takes place each fall at the Las Vegas Convention and Events Center.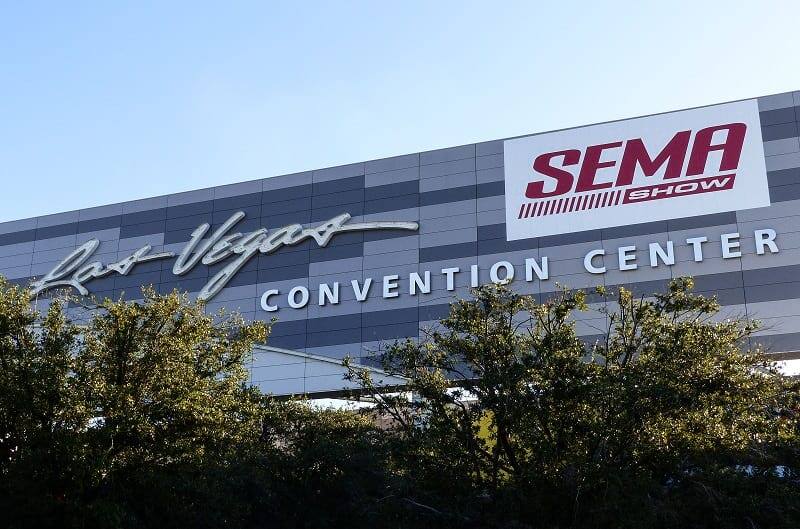 The stats from this annual automotive extravaganza are impressive:
140,000 attendees (which is a lot, since SEMA isn't an open-to-the-public show; attendance is limited to manufacturers, buyers, distributors, dealers, body shops, speed shops, builders and media only.)
Representing a total of about 2,500 different companies
Attendees from more than 140 countries outside the U.S.
Filling 1.2 million net square feet of exhibit space, and an additional 1.5 million square feet of features, events and attractions throughout the Las Vegas Convention Center and the neighboring Westgate Hotel
More than 1,500 feature and "project" vehicles in exhibitors' booth spaces and throughout the event
All happening over five very full, and truly action-packed days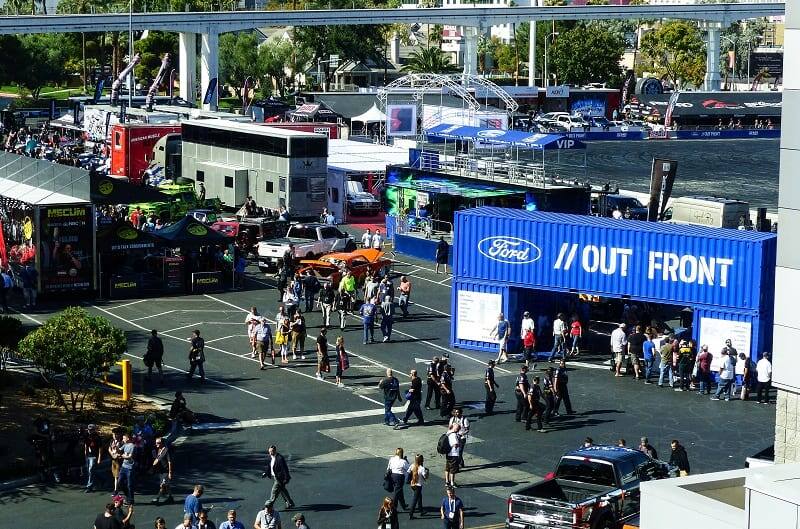 Ford's SEMA 2017 display drew massive crowds and a ton of attention for a variety of reasons – two of them being its 24 Hours of Le Mans-winning centerpieces: the actual Ford GT Mk IV driven by Dan Gurney and AJ Foyt to the overall Le Mans victory in 1967, plus a matching, equally red street version of the new Ford GT. Filling the rest of Ford's booth were more than a dozen aftermarket-built Mustangs, trucks and various Focus models amped to the gills with eye-catching redesigns.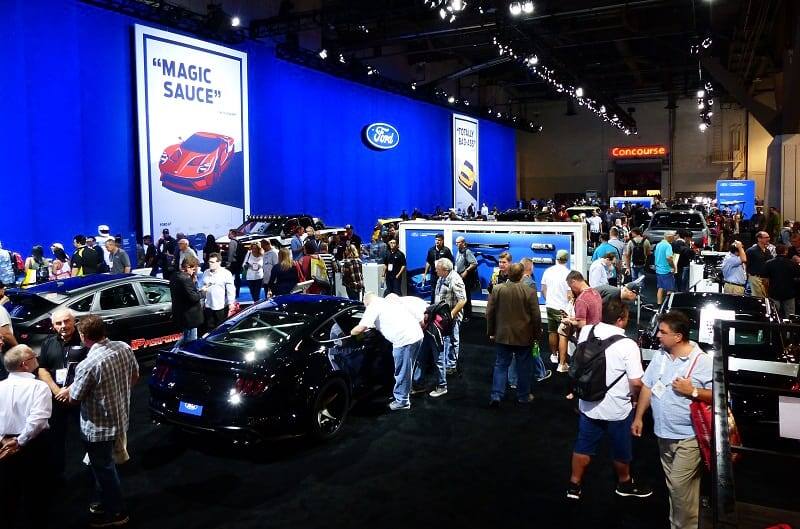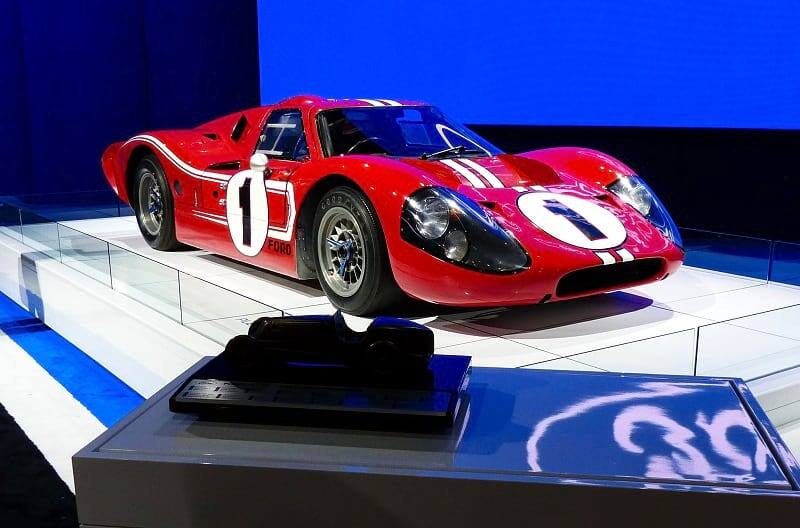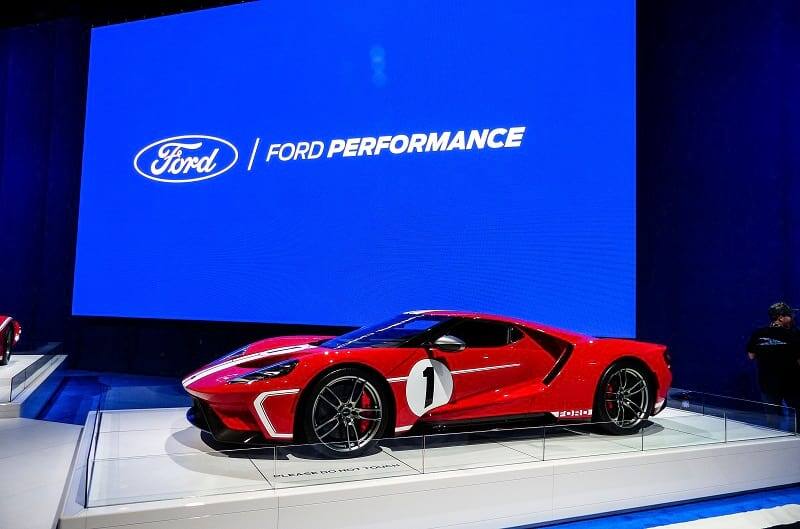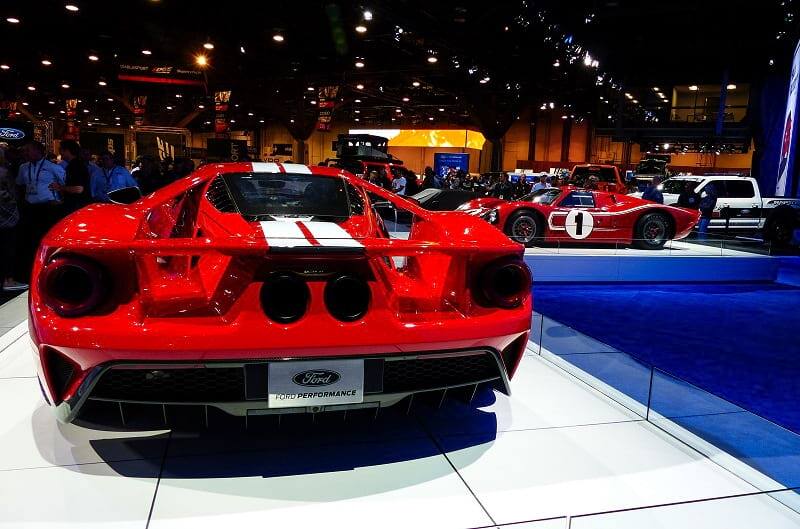 These SEMA show cars come about after Ford partners with a variety of different design and build companies to develop unique approaches to each model. The themes vary greatly, from road-racer style, to rally, to over-the-top off-road, to speedster/roadster style convertibles. We really liked the Police Interceptor-style Mustang built by DRAGG (Drag Racing Against Gangs and Graffiti) that looked for all the world like a 2018 version of the Special Service Package (SSP) Mustangs used by various Highway Patrol departments in the early 1990's.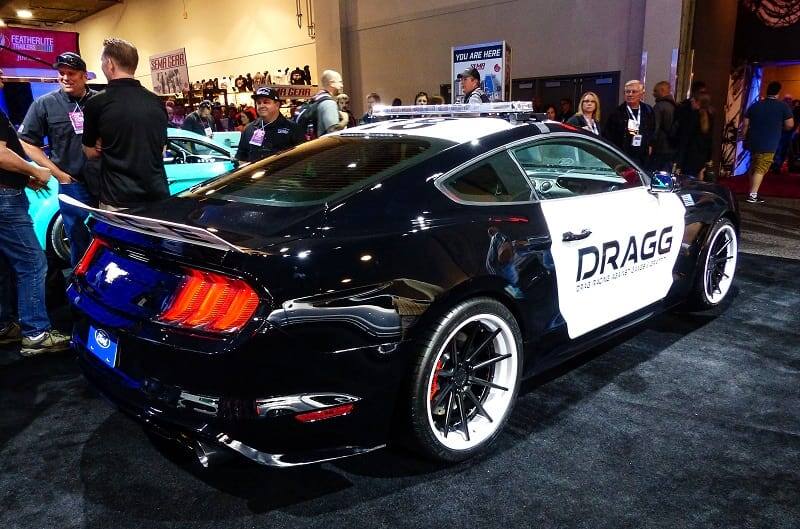 Ford Performance Director Dave Pericak (just recently named Ford's Engineering Director of North American Unibody Applications) lead Ford's press conference by announcing that all of Ford's various performance models – including the F-150 Raptor, Ford GT, Shelby GT350 Mustang, and Focus RS – were completely sold out for 2017, with many of them already spoken for for next year as well. Can't do any better than that.
Shelby American occupied ground in Ford's campus as well, with a few new toys and announcements of its own. Shelby American president Gary Patterson was on hand to show off Shelby's newest 2018 concept version of the dazzling Widebody SuperSnake Mustang, encompassing updated body bits and even more horsepower over the original 2017 Widebody 50th Anniversary SuperSnake concept. Of particular interest to Mustang fanatics is a new Shelby grille design that will carry over to all 2018 Shelby American-built Mustangs, as well as updated and much more OEM-looking lighting clusters featuring more plug-and-play wiring, not to mention much cleaner fit and more uniform body gaps than in the past. Shelby still calls the car a "concept" but we anticipate a production announcement imminently.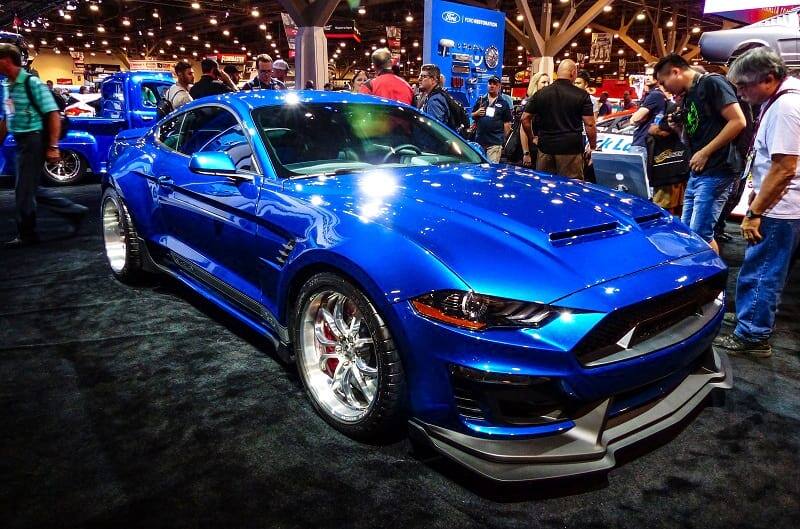 Shelby's other important bit of "retrofuturistic" news is the new run of 1965 Shelby GT350 Competition models being produced by a group called the Original Venice Crew (OVC), which in fact does comprise a handful of the hot-rodders, fabricators and racers that built the original GT350R models with Carroll more than 50 years ago. OVC begins with a genuine K-code fastback (just as Shelby did back then, so that it's a real Mustang underneath, with a registerable VIN), tearing it down to the last nut and grommet. They then strip and refinish the entire body/chassis, and rebuild it up to highly authentic GT350 R-model spec, including a new Shelby Engine Company comp-spec small-block V-8 and a proper Borg Warner T-10 four-speed manual transmission.
Even the vented rear window is a near-duplicate of the original. The entire car is finished to absolute concours-quality levels of fit and finish inside, out and underneath, yet is turn-key track ready – and even comes with its own hard-cover Build book and video documentation of its assembly at Shelby Los Angeles. Perhaps the OVC GT350 Comp's most unique feature is an independent rear suspension, produced from drawings dating prior to the Mustang's original mid-1964 introduction that were eventually used as the basic layout for the GT40. The design was named "T-5" but of course never made it into production back in the day. Or you can have a regular live axle out back if you prefer. And the whole project is built at, and by, Shelby American while being officially licensed by Ford.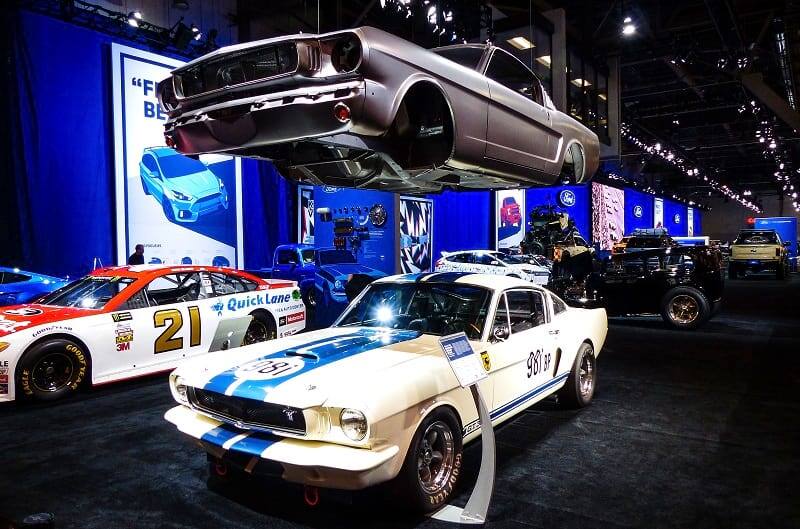 The rest of the SEMA show was filled with more hot Fords than you could count. SEMA hands out lots of awards at its big show every year, and dubbed the Focus as the "Hottest Hot Hatch" of SEMA 2017. We attempted to count the number of built Mustangs, F-150s, SuperDutys, old Broncos, Transit vans, hot rods and other highly modified Fords around the grounds, but that proved an impossible task with the Mustangs and Ford trucks each quickly topping 100 examples. And that's not to mention countless Lincolns, Mercurys and otherwise Ford-powered or -related machines on display at SEMA.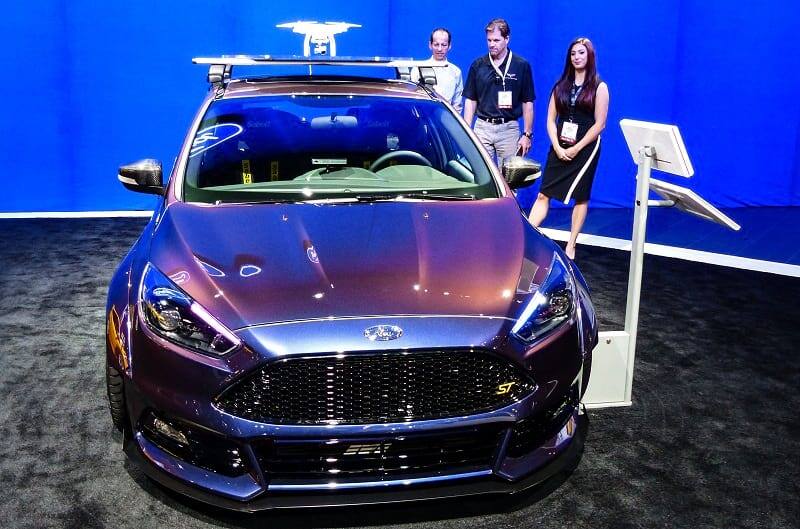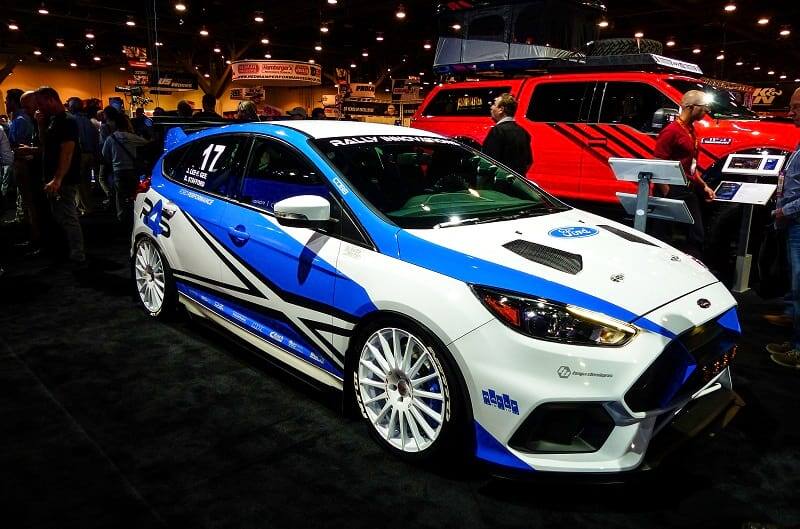 And if it would be possible to get bored of all the action going on inside every day, you only needed to step outside to the massive parking lot, which Ford and SEMA turned into its very own drifting track (appropriately named "Ford Out Front), where attendees could hitch a ride in a tire-melting SuperFormance Cobra tribute racer or a hot Roush Mustang, and walk away with their own GoPro video just to prove their experience. Nice!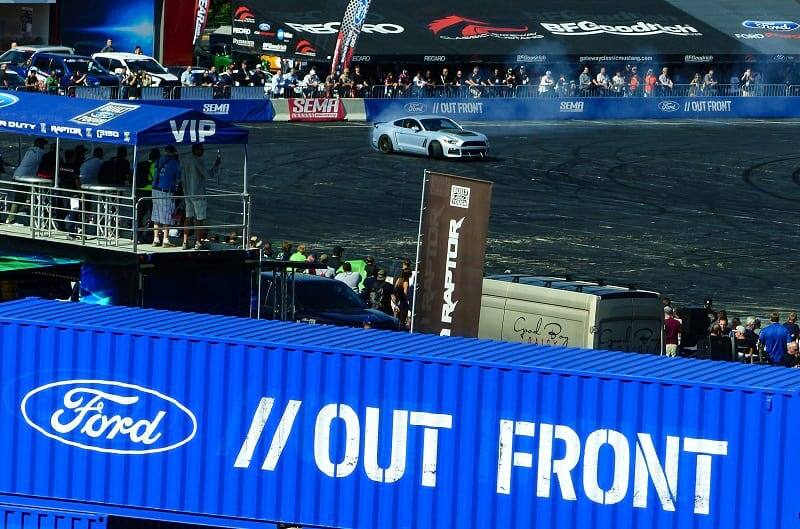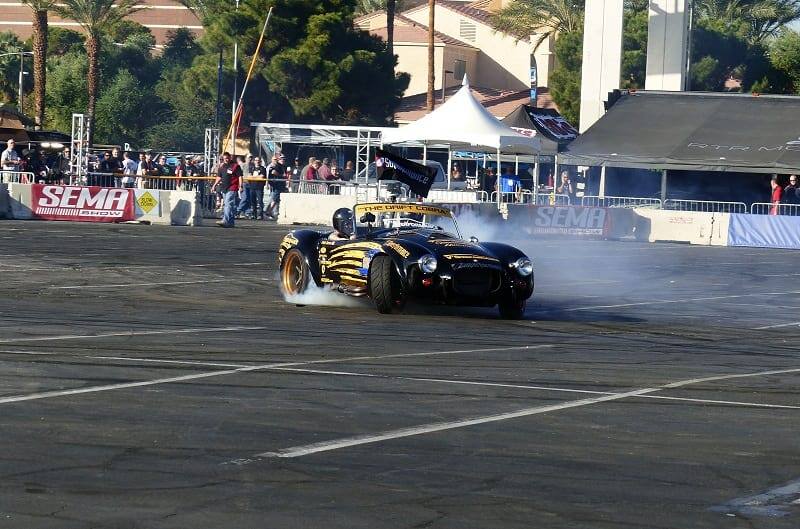 The SEMA Trade Show – perhaps more than anything else – evidences that automotive enthusiasm is as healthy today as it could be, and is still strongly supported by a vibrant global aftermarket. What's more, it shows that automotive performance, design and build individuality is pumping lots of Ford Blue these days. Next year's show is already being planned for November 2018, and you can bet that Ford and Ford Performance will be there in a big way.
FORD PERFORMANCE PHOTOS COURTESY MATT STONE / INSPIRED COMMUNICATIONS