DEARBORN, Mich. - With the purchase of every Focus RS comes an once-in-a-lifetime driving experience at the RS Adrenaline Academy at Utah Motorsports Campus. While hundreds of hot-hatch enthusiasts have made the trip to the Ford Performance Racing School, Focus RS owner Shane Heid took things to the next level by planning a 1,500-mile journey from Wisconsin to Utah taking his Focus RS to some of the coolest driving destinations in country including: a 14,120-foot hike across the Rockies; trail riding at the famous Moab off-road parks; and speed runs at Bonneville's famous salt flats. We talked with Shane about his cross-country adventure, his love of his Focus RS, and his experience at the RS Adrenaline Academy:
What made you decide to turn the RS Adrenaline Academy trip into a cross-country adventure?
Well, originally I was going to drive out there in a day and take the class and drive home, but the closer it got, the more that seemed like it would be really difficult to do with it being 22 hours one way. So my fiancé Torie suggested we just both take the week off and make our way down there together at a relaxed pace. We both needed some time away from work anyway, so it seemed like a great idea.
How long was the trip out west?
We left Saturday the 22nd of July and got back early Saturday the 28th. So a week and a day.
How did you go about selecting your destinations?
We set out with only one hard destination, the hotel in Tooele, Utah, for Monday evening. Other than that, we just agreed to see whatever we could and take a different route home than we took there to go through as many states as we could. On the way there, we went through Iowa, Nebraska, Colorado, and Utah. On the trip home, we went through Wyoming, South Dakota and Minnesota. Everything else was just by the seat of our pants.
Did you tackle any more destinations on the way home or just straight back through to Wisconsin?
On the way, back we stopped at Mount Rushmore, crazy horse, visited Wall Drug, and drove through the badlands scenic byway.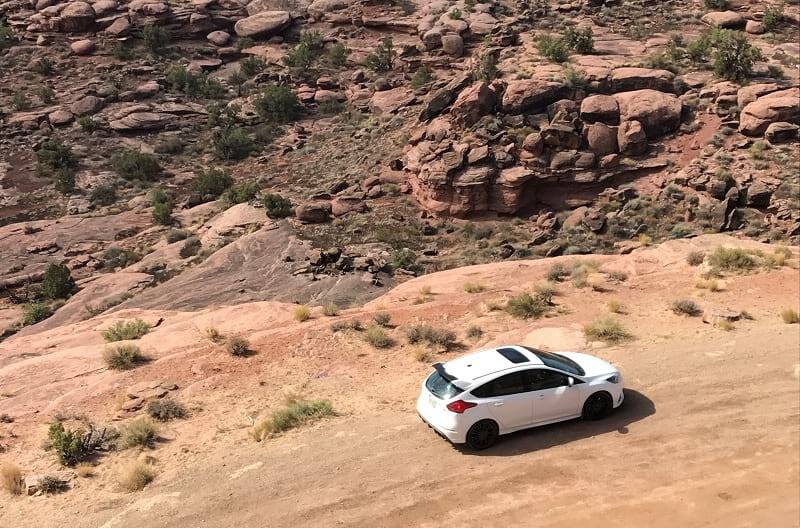 You tackled a wide range of terrains; how did the Focus RS hold up?
It held up fantastic! Actually, on the way home while thinking about it all I was just so astonished with how torturous all the environments we visited were to a car and that we had no backup plan if the car failed at any point and we were stranded. However, it just tackled everything, and that was really what struck me to reach out to you guys to show you that there are people who will torture this machine and that you built one hell of a car to take it all in stride. Anyway, we started with endless highway miles until Colorado then came the mountains, we climbed the Mt. Evans scenic byway up to 14,200 or so feet on a very narrow mountain road, and the only thing I noticed was that peak boost dropped to about 15 psi – but it still felt strong. Even though I was struggling a bit at that altitude, the ride down was epic with the switchbacks and strong brakes. The next day we burned on to Utah and headed a bit south to visit Moab. I had to see it as it's so renowned for its awesome off-roading. We drove down miles of rutted and rocky trails, some were like gravel roads and some made me so nervous that I got in over my head. But again, no problems whatsoever. I'm shocked how well the tires held up, especially being so far out of their intended purpose. Never once had we experienced any traction issues or warning lights. On Thursday, we ventured over to the Salt Flats and specifically Bonneville. I did some flat-out speed runs but it had rained that morning so the salt was very wet and slick. I managed about 135 mph, which was awesome.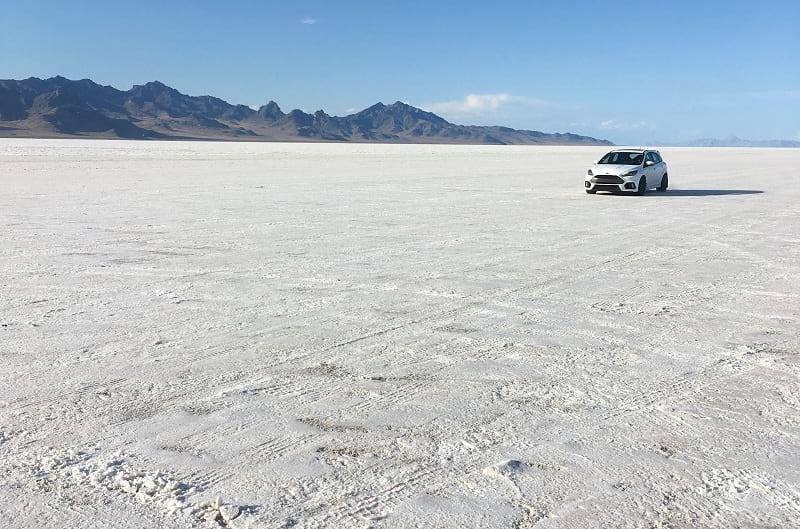 You said you've previously taken your Focus RS out on some frozen lakes. How did the Salt Flats compare to driving on ice?
I live in northern Wisconsin, so after I bought the car (and a big reason I went for an AWD car at all) I wanted to have some fun on the ice. My previous car was a Subaru BRZ, and being light and RWD it never saw anything near brutal in winter. So yeah, as soon as I started getting good ice reports I ventured out there and had about as much fun as you can have in a fast car on a barren wasteland with no rules or speed limits. After that first time, I went out probably a dozen more times that winter in all kinds of conditions and was blown away by the traction. I could not get this thing stuck! As for the Salt Flats, at first it seemed incredibly surreal and alien as I drove out further from the road. However, it immediately became familiar; it looked and felt exactly like a frozen lake before the first big snow. Even the traction was remarkably similar – the slight crunch of the salt and the somewhere-between-gravel-and-tarmac feel of the handling. By far, it was one of the coolest things I have ever done.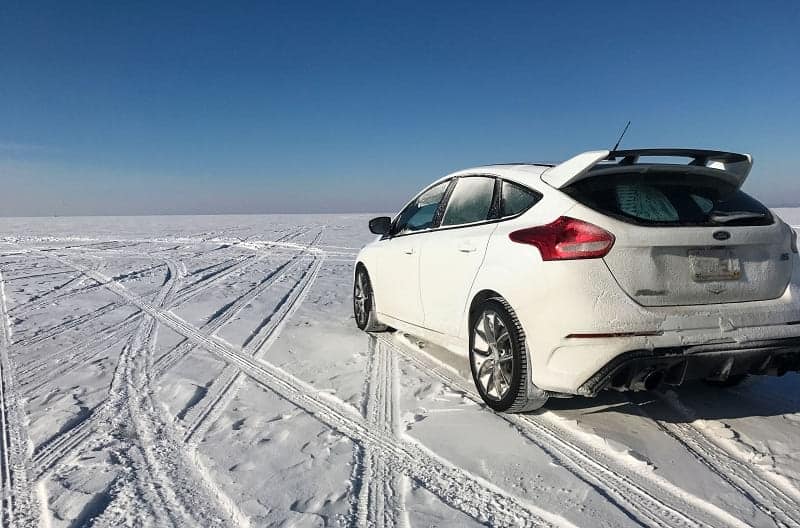 What was your favorite moment from the trip?
Singularly it was the Salt Flats, just because of the wild do-anything-at-full-throttle-always nature of the wide-open space. But as a whole my favorite thing was the Adrenaline Academy. Everything about it was just so well put-together. To pack a lot of different scenarios into one day without it ever feeling rushed or just thrown together was really impressive. The road course at UMC was my first experience on a real racetrack with this car, other than some auto crossing, and it blew me away. The car's speed is limited only by bravery, I'm convinced. The fact that they use the same unmodified version of the car that I have was great, and never once did the brakes fade or any warning lights come up or did heat ever become an issue.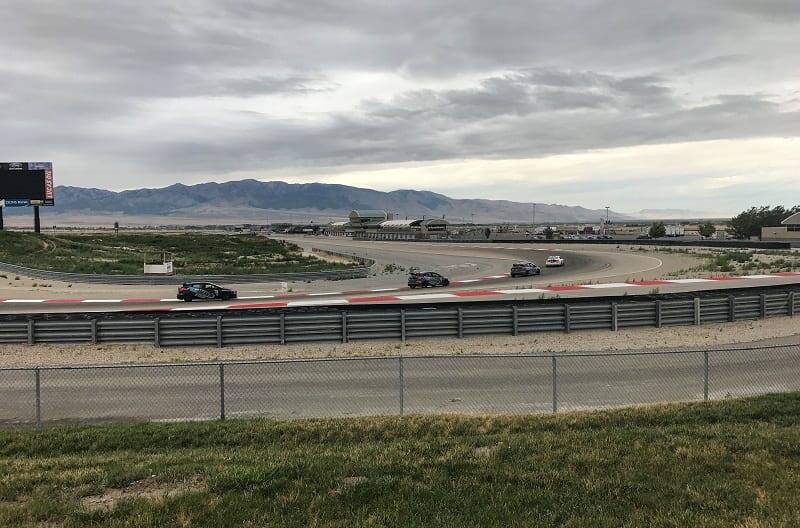 If you had to pick one destination to recommend to your fellow RS owners, which would you pick?
If you want scenery then it's Moab; it's beautiful. But for pure fun definitely the Salt Flats! Just wash it good after, as salt gets literally everywhere.
What was your experience with the RS Academy?
Top notch. The instructors were all fantastic, the layout is well-managed and they do such a good job really teaching you what the car can do. They really coach speed and smoothness well by starting with the lead/follow then to the instructor ride-along and finally letting us just lap. And the pace quickens with every lap. Most importantly, they don't make it too serious; the emphasis is always on fun, yet it's safe and laid-back. The atmosphere makes it easy not to get too nervous.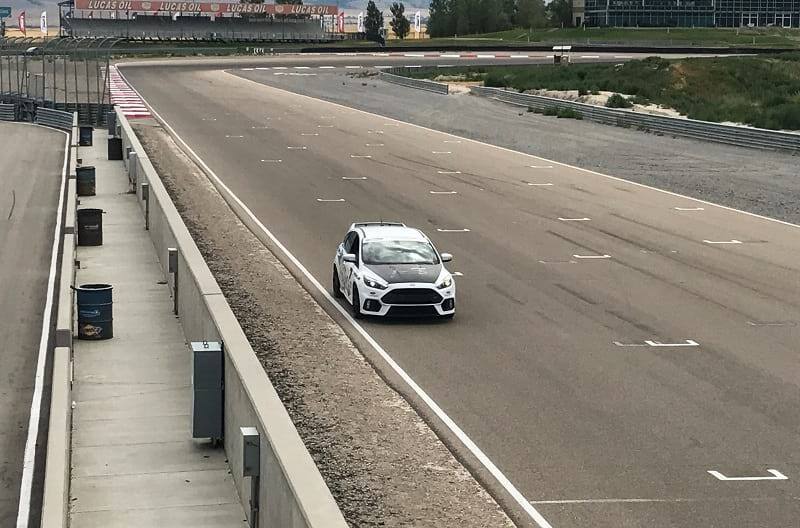 How do you feel about your Focus RS now that you've completed your adventure and the RS Academy?
Like almost everyone I meet who hasn't tracked the car or doesn't really push it, I once thought I needed to just jump into the modding scene, and start adding bits and pieces and buy a tune. I don't now – at least not anymore. Anyone who thinks this car needs any improving needs to take the class and be coached on-track. The instructor hot lap let me know there is a lot left to be had, too. The car is so astonishingly capable! I had to remind myself that the car I was lapping was the same machine that I drive every day to and from work, get groceries with, and carry my kayak around. It's so unbelievably rounded and versatile.
FORD PERFORMANCE PHOTOS / COURTESY SHANE HEID