DEARBORN - Some consider themselves lucky to see one on the road, while others who have had the privilege of driving this car consider it to be a highlight of their year. Jim Dunham, Ford technical leader, has not just driven a Ford GT, he lives and breathes the car. In the last two decades, he has built from scratch a GT40 Mark I chassis, restored an original GT40 Mark II, and completed two custom 2005 GTs.
Dunham remembers first discovering a love for the GT40 as an eight-year-old sitting on the floor reading "Ford GT40: An Anglo-American Classic," by David Hodges.
"I remember how cool and technically advanced the car was," he said. "A steel monocoque race car with flow-through ventilation, doors that cut into the roof, and pedals and steering that adjusted to the drive were all way ahead of their time."
A passion for the car was unmistakable, but learning how to build one was entirely different.
Dunham's dad worked on airplanes – a mode of transportation with components similar to an automobile. Dunham also learned about building cars from a handful of mentors he had growing up and attending the University of Michigan-Dearborn. He picked up more mechanical skills volunteering on race teams and hanging around those who worked for companies like Roush and McLaren.
After graduating with a mechanical engineering degree, Dunham joined Ford in 1985 as a Ford College Graduate in truck operations. He went on to hold various roles in design and release, development and powertrain planning. He also worked on the 2017 GT program and now serves as vehicle architecture technical leader.
On the outskirts of Metro Detroit, Dunham has a barn in Plymouth, Michigan, and that's where the GT magic all began. From the outside, it looks like your typical large storage barn, but inside is a car lover's paradise filled with multiple chassis, classic Porsches and, of course, various GT projects.
The first one kicked off in 1997, with Dunham setting out to build a steel GT40 Mark I chassis from scratch. Through his involvement in a tightknit Ford GT community, Dunham was able to find the parts and blueprints needed to finish the chassis in 2005. Along the way, he met some great people, many from Ford, who shared his enthusiasm for the GT and helped him grow his network to make his multiple other car projects happen.
After selling the GT40 Mark I chassis, Dunham moved on to his second project – an original restoration of one of the 1966 Ford GT40 Mark IIs that raced to a 1-2-3 sweep at the historic 1966 Le Mans event. The project required the help of many Ford engineers and retirees. Working with key members Mose Nowland, Paul Osborn and Adam Christian, Dunham named the project "1032" – a reference to the vehicle identification number for the GT40 chassis.
"It had been sitting in the Indianapolis Motor Speedway Museum since about 1967, so it was non-running and in rough condition," he said.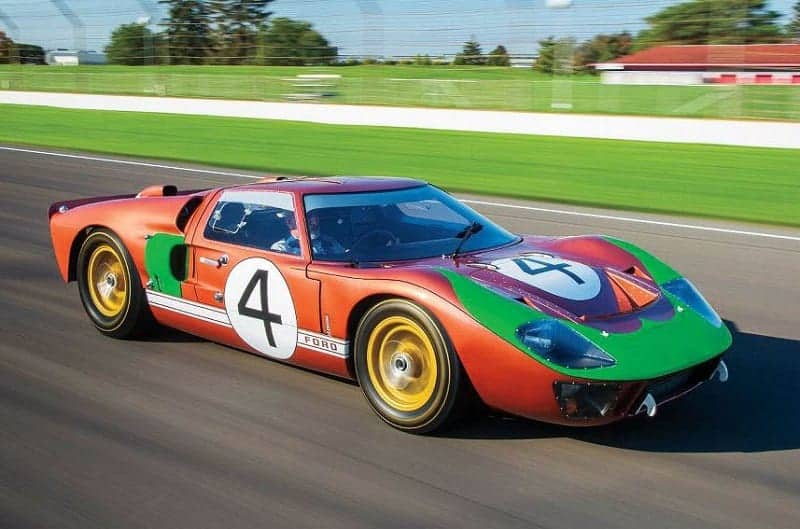 The volunteer project went from 2006 to 2011, and in that time the car was restored to its original glory – complete with Emberglo and Day-Glo Green paint featured in the 1966 Le Mans race. After winning awards at the annual St. John's Concours d'Elegance in 2011, the car is now on display at Indianapolis Motor Speedway Museum.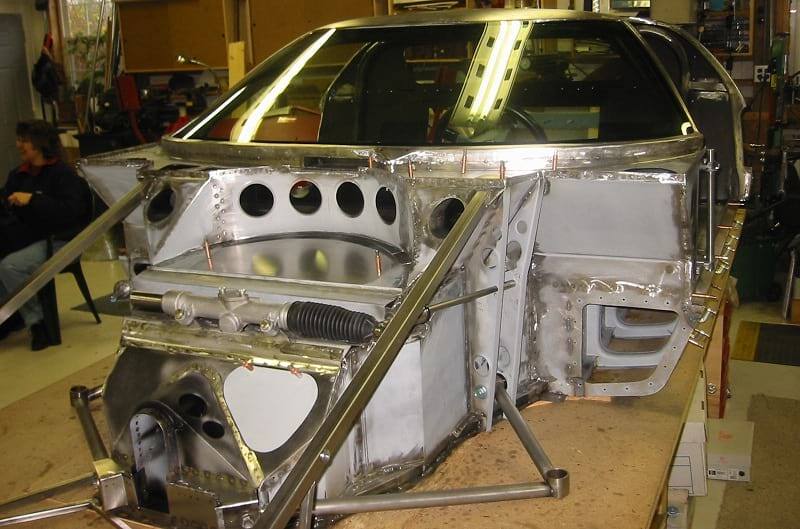 The next two cars Dunham worked on were 2005 GTs – one labeled a Ford GT street car, the other a track car. The street car was an original GT with a mangled exterior due to an accident. Dunham replaced damaged body parts (bonded aluminum and Henrob riveted panels) and repainted it 2010 Mustang Grabber Blue. The 5.4-liter supercharged V8 engine remained intact. Dunham finished in about a year, drove the car for a few years, then sold it.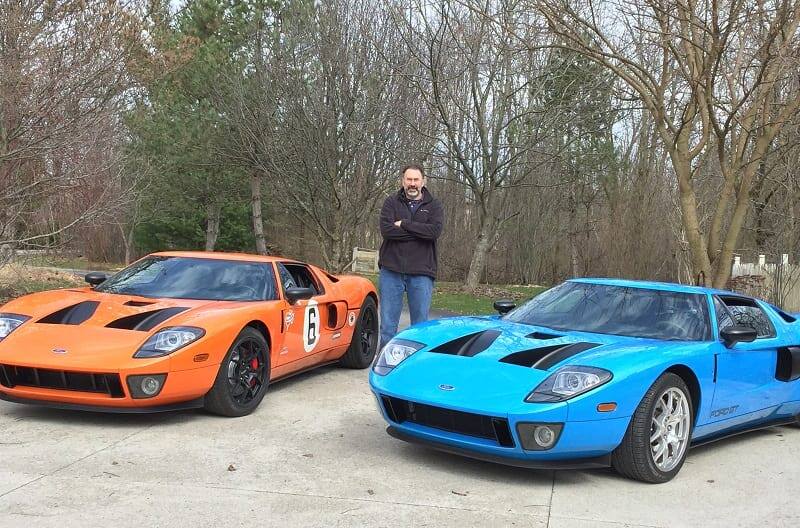 Built from scratch, the track car was equipped with many used parts based on a Ford service chassis, but it still needed many other parts and work to complete. Dunham dropped a 2011 Boss intake 302 5.0-liter V8 under the rear clamshell and installed a Ricardo six-speed manual gearbox/cable shift. The car produces about 435 horsepower, is 650 pounds lighter than the factory version, and is painted Ford Gulf Heritage Orange with matching roundels encompassing a black No. 6. Dunham wanted to pay homage to the old GT40 while also honoring the 2005 Signature Series of Camilo Pardo, design chief of the Ford GT.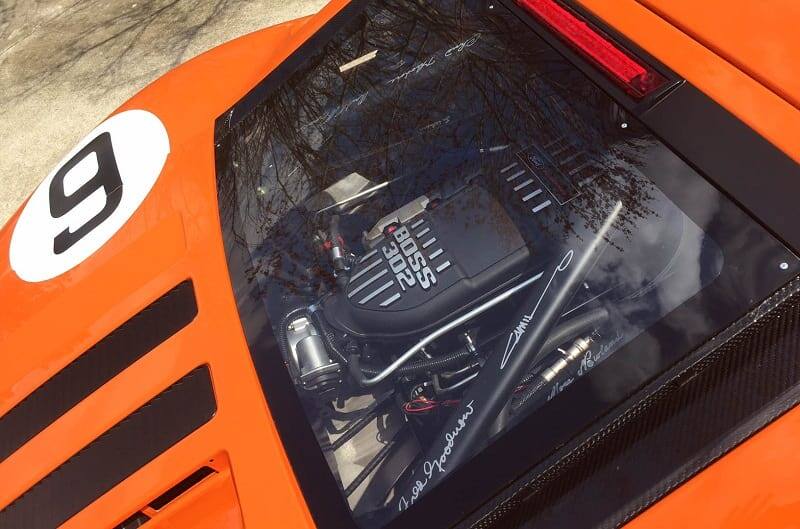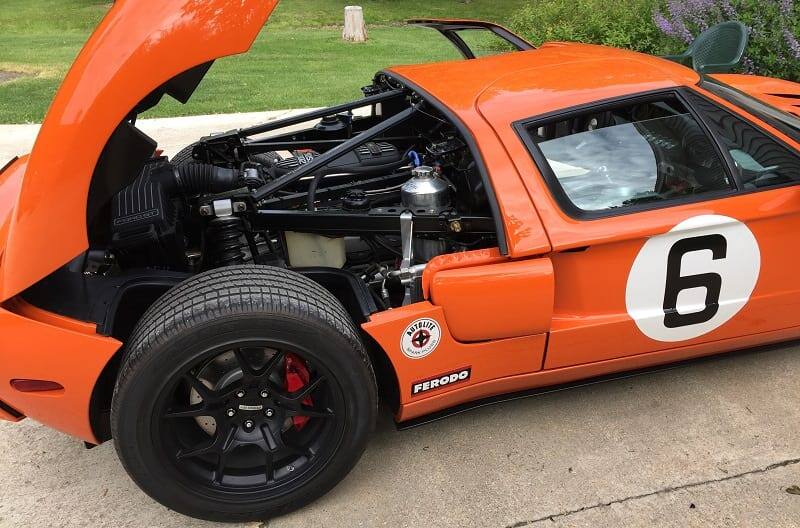 Dunham just finished the 2005 GT track car in the last year, and is now working on another GT project that is still in frame-build stage. He enjoys sharing the experience and his craft with young Ford engineers looking to complete their own projects.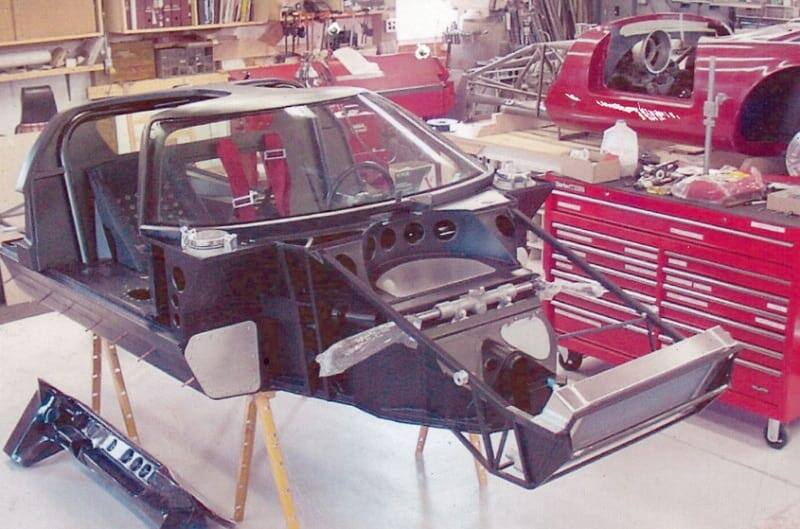 "Hands-on experiences like this really help me apply a bit more real-world point of view when engineering and architecting Ford vehicles," he said.