LOS ANGELES, CA – Retromobile in Paris, England's NEC Classic Motor Show, Techno Classica Essen in Germany; these are just a few of the great indoor European classic and collector car shows that take place during the winter months when the seasons usually make outdoor show and concours less feasible. These are grand, massive events held at giant convention halls, offering lots of something for everyone; car club displays, dealer cars for sale, new product vendors, speakers, programs and films, book sellers and a swap meet. American enthusiasts who have attended these events in France, Great Britain, Germany, Italy or Australia often wonder, "Why don't we have happenings like this in the United States?" Well . . . now we do!
A group involved in putting on such an event in England recently conspired with a few like-minded folks in America to present the first (and hopefully annual) Classic Auto Show LA2017, held January 27, 28, and 29 at the Los Angeles Convention Center. Discovery Channel's speed-driven Velocity Network was also a co-presenter. The idea was to assemble a great "something-for-everyone" 600-car show, and arrange it indoors, handily filling but not overstuffing the Convention Center's South Hall's eight acres of climate-controlled floor space under one roof. Plus vendors of all type and stripe, collector and classic cars for sale, and a Celebrity Theater featuring panel discussion and Q-and-A sessions with a pantheon of Velocity Network automotive TV stars and show hosts.
As you can imagine, car clubs and club members were scouted heavily in order to fill the hall with great cars – in other words, it wasn't all museum machines nor those of big-name, high-buck collectors (although there were lots of those, too), and a heaping spoonful of Ford and Ford-related car clubs answered the call with great participation and many dozens – if not hundreds – of cars. If it had a Ford badge on it or ran a Ford engine, it was welcome. The variety was spectacular: show-quality restored, uber stock, pristine show cars from the Model T to the current Shelby GT350. Race cars, trucks (and lots of them). Lincolns and Mercurys. Panteras and Cobras. Rat rods and flatheads. And more Mustangs and Thunderbirds than you could shake a torque wrench at.
Many club members parked together, while there was also a variety of single Mustangs and T-Birds sprinkled around the show. Uber enthusiast collector Bruce Meyer was the show's grand marshal, and brought several of his fabulous cars, including a menacing chopped-and-channeled '32 Ford 3-window coupe, plus CSX2001, the first production Shelby Cobra – both ultra-wicked in the shiniest of black paint.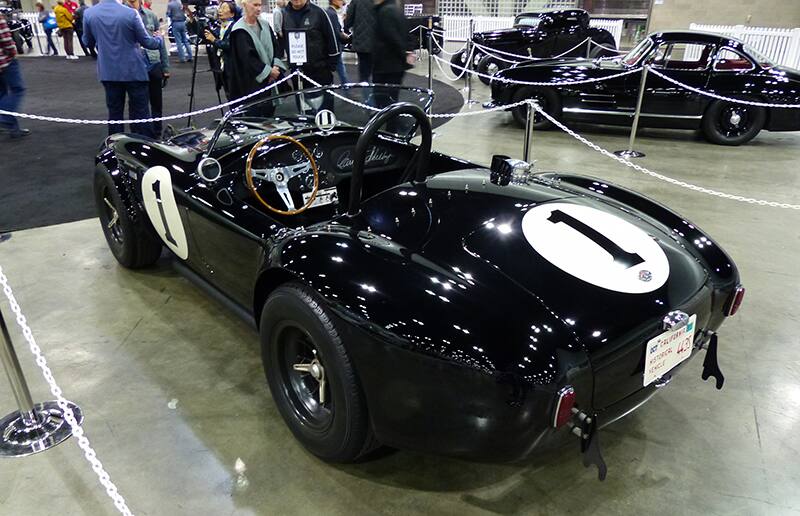 "I was uncertain on what to expect since it was the inaugural show," admitted Tom Przedwojewski, who is the International Thunderbird Club's North West District Advisor and the President of the Northwest Vintage Thunderbird Club. "I thought it was cool that the ITC, the Classic Thunderbird Club International (CTCI) and Vintage Thunderbird Club International (VTCI) could come together at the same event just to promote the model, and that is exactly what we were able to do. We had seven Thunderbirds (1955, 1956, two 1957's, a 1964, 1966 and a 1987) as well as reps from all the clubs at our booth.

"We talked with dozens of folks," he continued. "Some had specific questions about a part or how something was supposed to work in their T-Bird, while others just wanted to reminisce about their experiences in a Thunderbird. Our goal was to use the show to help get people going with a project car they may have in their garage, or to give them information about parts or shops that they did not know about, or just to show them that there are other people out there that share their same interest in Thunderbirds. It was great!"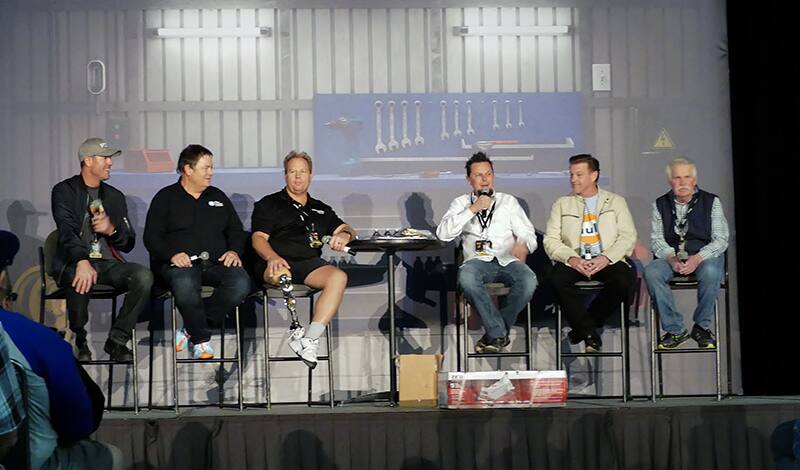 The panel talks at the Celebrity Theater were well-received and highly attended; the group included Overhaulin host Chris Jacobs, Overhaulin kingpin Chip Foose (who displayed his fabulously overhauled '56 Ford F-100, which also was his first car), Wheeler Dealer Mike Brewer; detailing expert Mike Phillips (who gave detail clinics at his booth); Bitchin Rides' Dave Kindig; and Mr. Chasing Classic Cars himself, Wayne Carini. What made this aspect of the event so outstanding is that these gents were there for most of the three days with their production crews filming their programs, and strolling the show and hanging out with the crowds and fans. They signed autographs, posed for selfies, shook hands, smiled and made everyone feel welcome and part of the deal. Nice guys each, and down-to-earth and friendly one and all.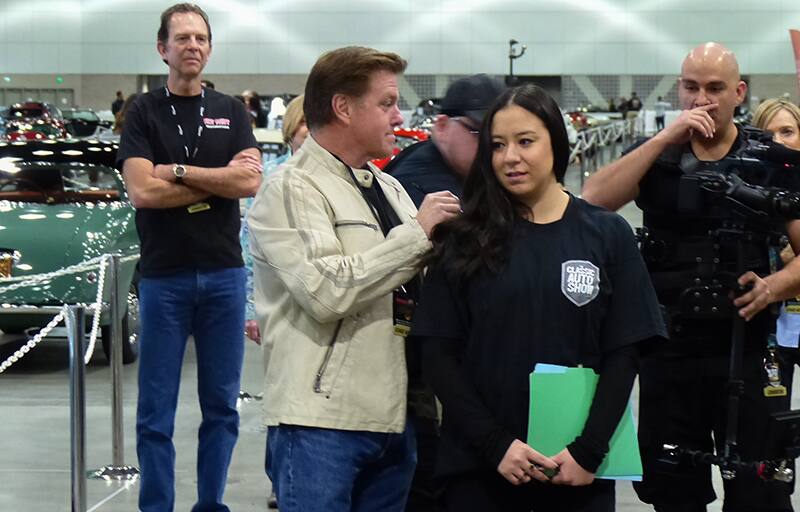 One of the things that make the big European shows like this so successful is that they each incorporate massive swap meets – if you need a magneto for your '37 Bugatti, you can likely cruise the halls of Retromobile and find one that some guy has had in his barn since WWII – or from when he owned his '37 Bugatti. This aspect was missing from CASLA; perhaps it was just too much to bite off for a first-time effort. But there is already much talk of a CASLA2018, so maybe with time and planning, a proper autojumble can be organized and assembled.

On balance, CASLA2017 was a success, as everyone who attended said they'll be back if there's a next year for this event, and the organizers have indicated that March 2-4 have been reserved for 2018. If the Second Annual Classic Auto Show LA comes to pass, you can bet we'll be there with cars next time. Stay tuned at www.theclassicautoshow.com
FORD PERFORMANCE PHOTOS / COURTESY MATT STONE and KIRK GERBRACHT