HERSHEY, PA – It was one of those sticky summer-in-the-mid-Atlantic-states days, when the mercury climbs past 90 and the air breathes like day-old soup. By 9 a.m., sweat already clung thickly to my upper lip, and my sunglasses intermittently fogged over. At least the front portico of the AACA Museum offered some shade, and a clear view down Museum Drive to out to Highway 39. That's where the Thunderbirds would turn in.

Occasionally – way too occasionally – a cooling breeze would blow, and it was during one of these micro-moments of minimal relief that the first of the Thunderbirds appeared: a yellow '02, then a gray '04. Then a lovely '61 Convertible, nautically Aquamarine, with wide whitewalls and a white canvas top. But the first car to draw us out of the shade for a closer look was a red '57, hauling a red '57 baby-bird pedal car on an elaborately homemade trailer. Rumor has is that the owner bought the pedal car first, then went looking for a full-scale '57 to match it. Within an hour nearly 40 Thunderbirds had flocked to the museum lawn, ranging from Katy Wilson's Raven Black '55 to more than a dozen '02-05 Retros.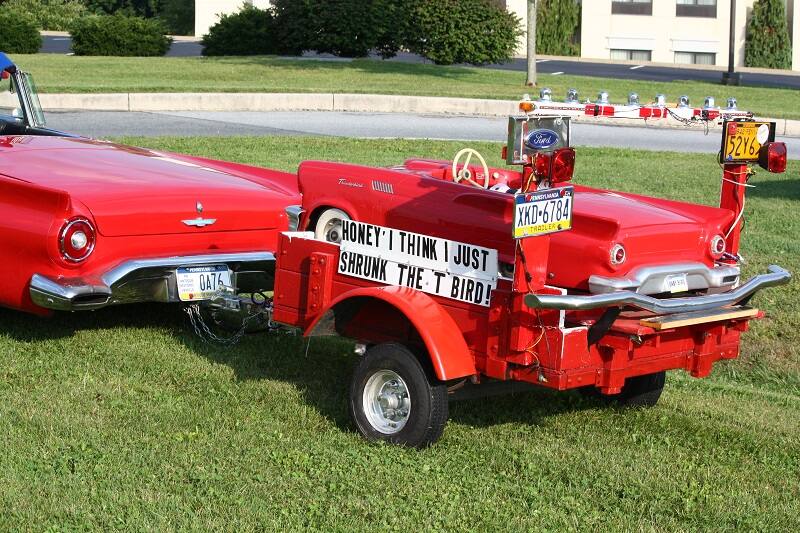 This was our third official outing with the International Thunderbird Club (ITC), and both the cars and their owners were becoming familiar friends. One perennial people magnet is Gene Martini's '67 Apollo, one of five Thunderbird Landaus outfitted as mobile executive offices for Abercrombie & Fitch (and one of only three to survive). And then there's Richard Stuck's "Battlebird," a recreation of one of two extensively modified race cars that Chuck Daigh, Peter DePaolo, and Danny Eames campaigned at the 1957 Daytona Speed Weeks.
New to our eyes, however, was Rod and Nancy Coots' Lady in Red, a moderately customized '97 LX, languidly lounging in lush metallic paintwork called "Kandy Brandywine over Cinder Red," its 4.6-liter V8 fortified by a Vortec supercharger. The Coots have owned it since new; their pride was palpable.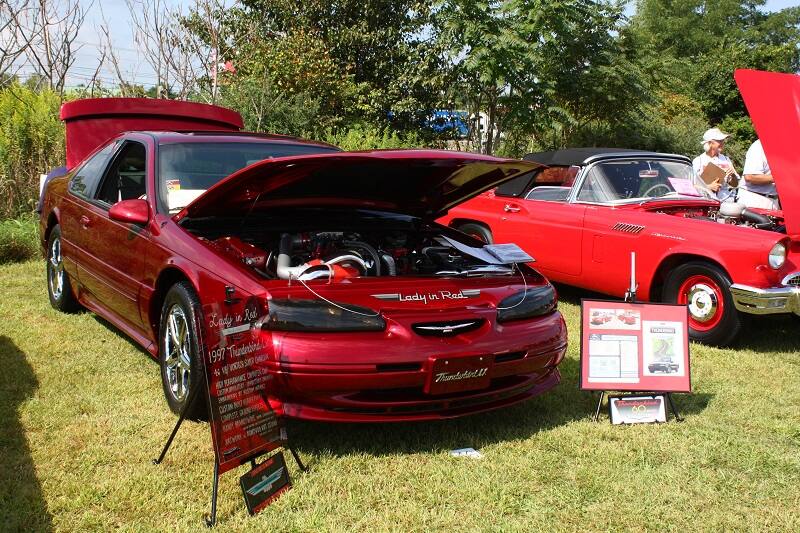 They had all come for the 23rd annual convention of the ITC – albeit the first in Hershey, Pennsylvania, home of the Antique Automobile Club of America, and of the AACA's Smithsonian-affiliated museum. Members from as far away as Utah, Texas, and Alabama began arriving at the Best Western in nearby Harrisburg on Tuesday night, September 6, 2016. Wednesday was reserved for a tour of the Gettysburg Battlefield, just 45 miles to the Southwest.
We met up with the group Thursday morning for a guided tour of the museum (which can display about 100 cars at time) and its outbuildings (where the rest of the collection is housed). The Thunderbirders seemed especially interested in the museum's relatively new Tucker Collection, which includes three complete cars, an early test chassis, several engines, engineering drawings, documents, posters, sales literature and more – all donated by the late Tucker aficionado Dave Cammack.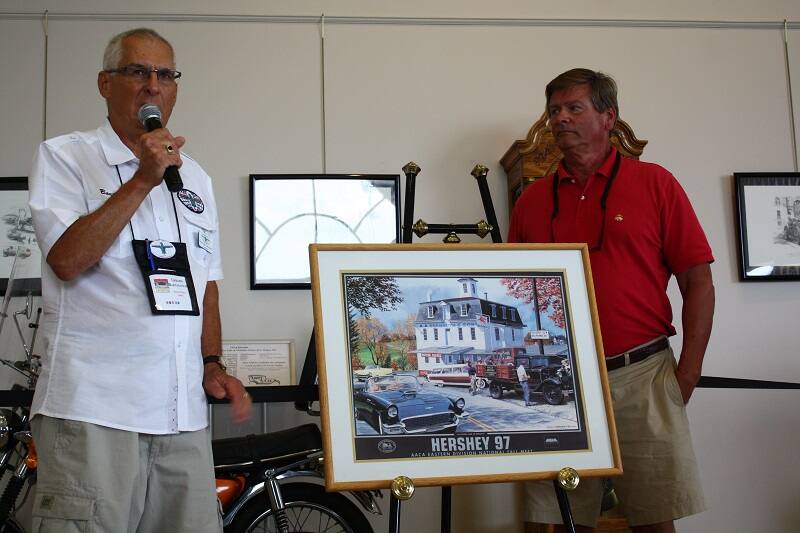 During the luncheon after the tour, ITC President Gerard "Bart" Bartasavich unveiled a print of a Ken Eberts poster commemorating the 1997 AACA Eastern Division National Fall Meet – and featuring a 1957 Thunderbird, among other Ford vehicles. Dean Weber, manager of Ford's North American archives, had pulled the framed print out of the old Ford Archives building as the last piece of decorative artwork to leave before Archives had moved to its permanent new state-of-the art home in the former Ford Engineering Laboratory (FEL). Now being remodeled as the home for Electrification Engineering at Ford, FEL is a once-shuttered historic landmark on Ford's Dearborn campus designed by famed Detroit architect Albert Kahn that was opened in December of 1924 as one of the largest open office spaces in the world. Weber had given the print to John Clor, enthusiast communications manager for Ford Performance, in the hope that he would find a proper new home for it. Clor donated the nearly 20-year-old print to Bart in the ITC tent at the Carlisle Ford National last summer, and now Bart asked Museum Board President Hank Hallowell to accept it as a permanent loan to the museum.

The next stop on our tour was Hank's private collection, which occupies most of the upper floors of a barn-like building, built as a Ford agency in 1916, and which was still selling Pontiacs as late as 1972. Hank treasures low-mileage, original-condition cars, and his eclectic taste encompasses Studebaker Hawks from '57 and '62; a '62 Pontiac Grand Prix; a '61 Chrysler New Yorker convertible, four-door Imperials from '55 and '59, a '59 Ford "Country Sedan" (i.e. station wagon), and, oh, yes, a '57 Thunderbird.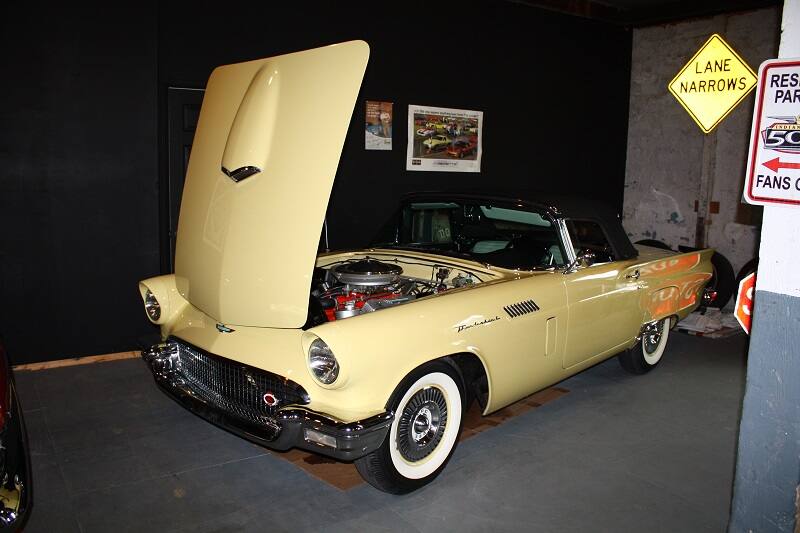 Climaxing the week was Saturday's official – that is, judged – Thunderbird show back at the Best Western. If anything, the weather was hotter, but the merciful hoteliers allowed the club to set up on a lawn to the south of the parking lot, so at least we weren't double-baking on blacktop. Bob Mench, longtime collector of all things Thunderbird, opened up his motor home and laid out table after table of T-Bird toys, literature, and promotional items.
Saturday's show drew a few cars we hadn't seen on Thursday. Of particular interest was Bill Clark's "F-code" '57: supercharged, stick-shifted and blazing in Torch Red. Little is known about its original owner, or their intended use of the car; but whoever they were, they skipped nearly every option. It has a heater/defroster but no power-anything; no fender skirts or wheel covers, either – not even reversing lights. According to Clark, noted Baby Bird specialist Amos Minter of Dallas restored the car in the early 1980s, used it as his personal vehicle for 18 years, and then restored it again in 2008 for Michael Gordon, then part-owner of the Boston Red Sox and now President of the Fenway Sports Group. Gordon let the car go through an RM Auction in Scottsdale in January 2014, and that's where Clark acquired it.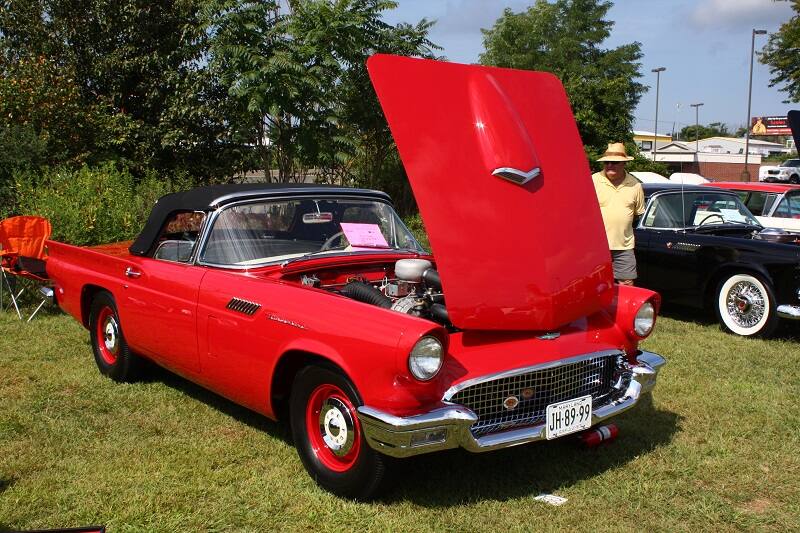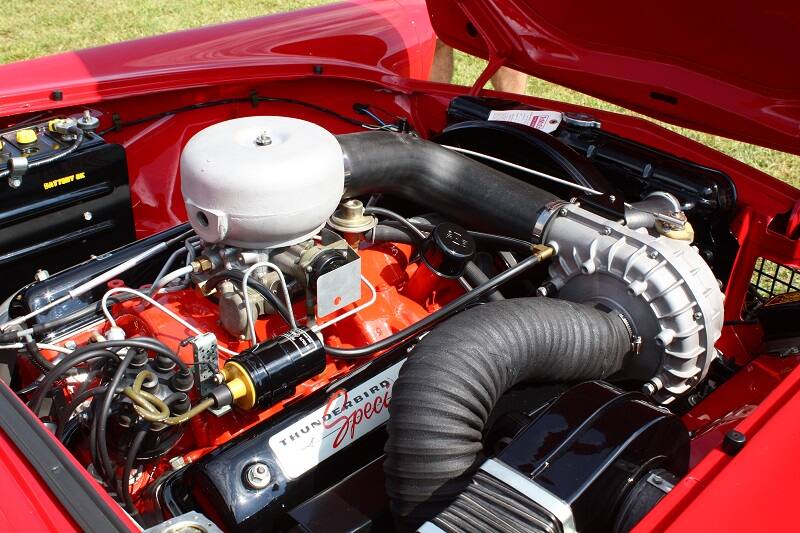 "It represents the pinnacle of Thunderbird performance," Clark pointed out proudly – at least for that era and for some time afterward. "And most of the F-code cars that have survived are highly-optioned examples that were never raced."

As I've noted at previous ITC gatherings, the 2002-05 Retro-birds accounted for about half the field, with classic '55-57 "Little Birds" comprising the second-largest group. The unit-body four-seaters from '58-66 enjoy a loyal following as well; as do the Fox-chassis cars, nearly bookended in Hershey by Jerome & Suzanne Bibb's silver '82 and Bob & Kay Free's white '88 Turbo Coupe. The Coots' "Lady in Red" stood alone on this field as the sole MN12, but we've seen more of her generation at other meets.

ITC show cars are judged against a points system. Touring Class (i.e. stock condition, street-driven) and Touring Modified cars are judged on a 200-point scale, while concours-grade Formal cars compete against a 350-point standard. Cars that have previously won a Formal First can compete in the Formal Senior Class.
At Hershey, Bill Clark's F-Bird took home a Formal First, as did Jim Emery's black '55. Two former Senior Formal winners were honored as Senior Participants: John and Cathy Rowe's 1966 Convertible, and Harold and Fran Burkholder's 1960 Hardtop. A total of 25 Firsts were distributed between the Touring and Touring Modified classes – which says something about the overall quality of the field.
"That's why people come to the convention," said Bart, "to have their cars judged by ITC rules."
Before the meet ended, Mark and Allison Jackson agreed to loan their '64 Thunderbird convertible to the AACA Museum for one year. Affectionately nicknamed "Margaret" by the Jacksons, this particular Desert Tan beauty has been thoroughly documented as one of the more than 100 Ford Motor Company convertibles that were mounted on Disney's Magic Skyway ride at the 1964 New York World's Fair. Margaret is now proudly displayed on one of the twin turntables just inside the museum entrance.


FORD PERFORMANCE PHOTOS / COURTESY JOHN F. KATZ