In honor of the 100th anniversary of Carroll Shelby's birth, Shelby American has created a small run of special edition Shelby Mustangs based on the spectacular 2023 Ford Mustang GT. Only 100 of these new supercharged Carroll Shelby Centennial Edition Mustangs will be built by Shelby American in Las Vegas (with a handful transformed by official international mod shops) – and you could win one for yourself! Simply ender the Shelby American Automobile Club (SAAC) sweepstakes and you could win Number 100 of the 100-car limited production run!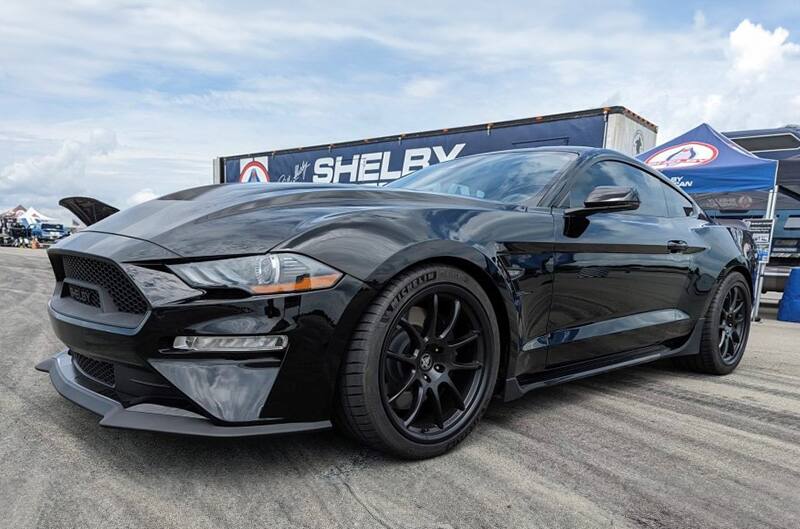 This Carroll Shelby Centennial Edition Mustang is a well-balanced car that features far more than just a horsepower upgrade. The Shelby team also sharpened the handling and enhanced the styling of the world-class 5.0L V8 Mustang GT. The package includes a black Stetson hat and copy of the Shelby Centennial Book published by Team Shelby.
"Properly celebrating Carroll Shelby's many achievements required us to build a vehicle that could allow a driver to dominate on both the street and track," said Gary Patterson, Shelby American President. "Our new Carroll Shelby Centennial Edition Mustang is a well-balanced car designed with that mission in mind. We're so confident that he'd approve of the car that we are throwing in a black Stetson like the one he wore, with each one."
The SAAC sweepstakes is the perfect way to get a truly one-of-a-kind car that's destined to become a collector's favorite. Just make a donation to the Shelby American Automobile Club and you will be automatically entered into the drawing for a chance to own this car. This is a fundraiser to support the Shelby American Automobile Club, a 501(c)(3) nonprofit dedicated to preserving the history and achievements of Carroll Shelby and cars created at Shelby American from 1962 to 1970. For full information and entry info, visit the sweeps website HERE.
Enter to Win a 1-of-1 Mustang Dark Horse Convertible and Help Support JDRF!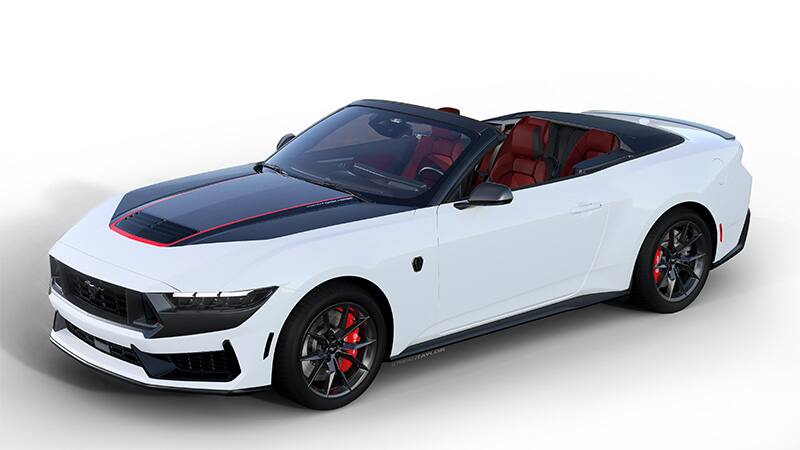 If there's a new car that Ford enthusiasts can't wait to get their hands on, it's the 2024 Mustang Dark Horse – the latest performance model to come out of Ford's pony car stable. While this new Fastback Coupe is a hot commodity right now, what if you could find one that's even hotter? You can, but only if you enter today to win a one-of-a-kind 2024 Mustang Dark Horse Convertible – all while supporting JDRF. That's right, your donation to the Juvenile Diabetes Research Foundation (JDRF) not only gives you an opportunity to win this one-of-a-kind Mustang Convertible, but it also helps JDRF in its mission to improve lives today and tomorrow by accelerating life-changing breakthroughs to cure, prevent and treat Type One diabetes and its complications.

This year, Ford and JDRF celebrate 25 years of partnership. Since 1998 Ford Motor Company has supported JDRF in its goal of turning Type One diabetes into Type None. No other company has had a greater impact on funding JDRF research than Ford, a prestigious honor the company holds in high esteem. To celebrate this milestone, this will be the one and only convertible produced in the 2024 Mustang Dark Horse line-up.
The 1-of-1 Mustang Dark Horse Convertible will feature the same unique Dark Horse V-8 engine and 10-speed automatic transmission as the Dark Horse Coupe, only in a Convertible body. It will come with an Oxford White exterior and custom-painted graphics, a convertible rear blade spoiler, a Carmine Red interior with Dark Horse Black Alley accents, unique Red accent stripes and badge details, plus the base Dark Horse Tires and Wheels with GT red calipers.
Entries start at just $10. Click on this special link to get all the details on how to make a donation and enter to win the Dark Horse Convertible. But don't put it off. The closing date is December 10, 2023, at 11;59 p.m. EST, and the drawing date is December 18, 2023, at 1 p.m. EST, so get online now to enter. It's the only way you can make this Dark Horse Convertible a dream come true!
Here's Why You Need to Register your Club or Facebook Group with Ford Performance Club Connect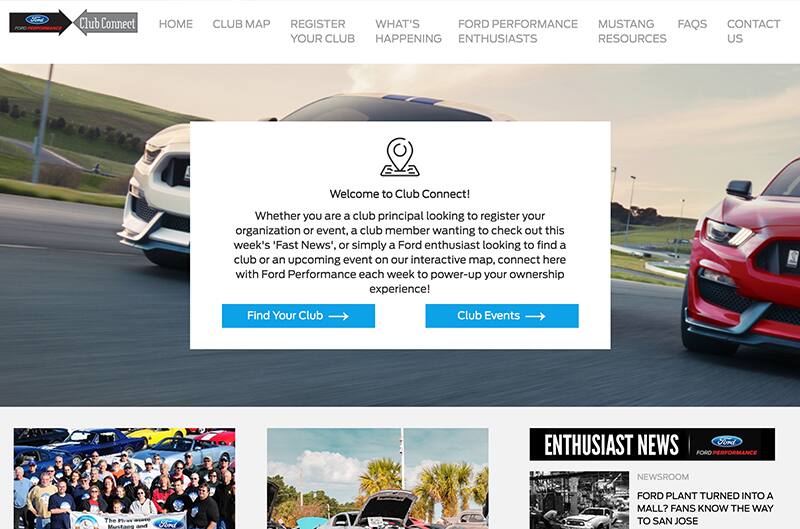 By now you must have heard about a Ford Performance program called "Club Connect" that can help all Ford and Mustang enthusiasts get connected with both Ford Motor Company and each other. Only those clubs who register with the program are eligible for no-cost promotion and support from Ford Performance, so you owe it to members of your Mustang or Ford vehicle club or online forum to register and appear on our Ford enthusiast club map. All it takes is a visit to www.FordPerformanceClubConnect.com and a single click on the "Register Your Club" link. Once you fill out the form and hit "Submit," you'll be notified within just a few days of your acceptance in Ford Performance Club Connect -- it's that simple, and it's FREE!
The primary goal of our Ford Performance Club Connect program is to get everyone to register their club – at no cost – and get themselves on our Ford enthusiast group map so that we can all connect with each other. Once there, you'll be able to see all of the other clubs and groups who have registered in your region – not just Mustang clubs, but ALL Ford vehicle organizations. And we want to include all of you who are part of any Ford vehicle Facebook Group to register with Club Connect, too. Why? Because connecting your Facebook Group with more owners and fans makes your group more worthwhile – and registering with Club Connect will link your online group with participants who may never have known that your group exists.

The value in all of this is that whenever you plan a club or group activity, you can see what other clubs and groups are in your area that you may wish to contact and ask to join you at a show or event. It also allows Ford Performance to see all the clubs and groups in a certain area, so that when we are coming to town or planning a special Ford event in your city or state, you and your club members can be contacted to participate.

It takes only a few minutes for a club principal or board member to register your club and establish a direct link for your members to Ford Performance. And now, you can also register your group and logo with Ford Brand Licensing all in the same process. Have a product or parts question that you want answered? Wish you could get some free club event promotion in our weekly "Fast News" e-blast that goes out to some quarter-million Ford fans each Thursday? Looking for event coverage for your show in the Enthusiasts section of FordPerformance.com? Hoping you could find a cool Ford goodie-bag or door-prize item, or a banquet guest speaker? Individual requests are reviewed on a case-by-case basis, but they can ONLY be awarded to clubs who are registered.

So go to www.FordPerformanceClubConnect.com right now and click on the "Find Your Club" link to see if you are on the map. If not, then register your Ford-based club or Facebook Group today so that you can join this special program -- all backed and supported by a real enthusiasts at Ford Performance. If you have questions or want more info, you and your members can always email us at ClubHub@Ford.com, or can simply call our Ford Performance Info Center, toll-free during regular business hours, at 1-800-FORD-788 (800-367-3788).

So what are you waiting for? Get online and make sure you're connected. Then plan to enjoy your performance Ford later this year so that you can discover the fun and all of the friendly people involved in the world of Ford Performance. We're sure that being connected with each other and with Ford will make your ownership experience even more enjoyable!


Want to Be Noticed on Ford Performance.com? Get You and Your Car(s) in Our 'Ford Fan Spotlight'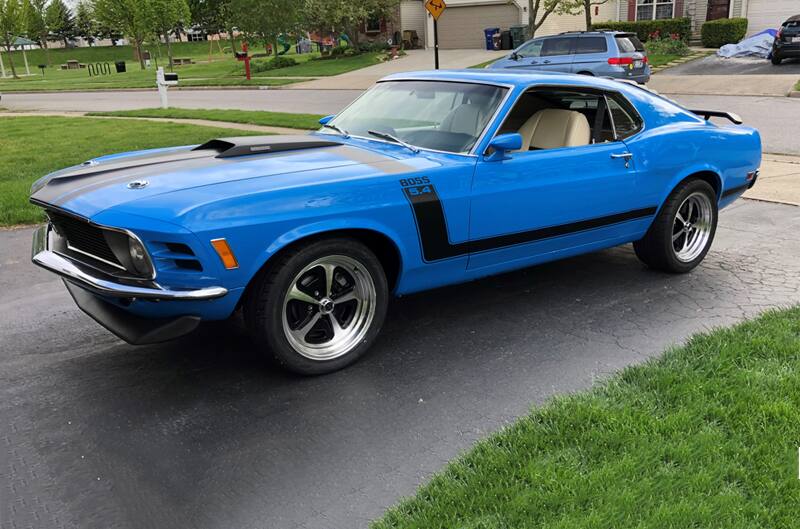 For more than a decade now, one of the most popular features on FordPerformance.com and in our Fast News e-newsletter continues to be "Ford Fan Spotlight," where readers can send in their own reasons why they're fans of Ford Motor Company. You know who they are: Ford "superfans;" grassroots Ford racers; unique Ford vehicle owners; loyal Ford enthusiasts; notable Ford club people; special Ford families; and/or any avid supporter of Ford, Ford vehicles, Ford motorsports or Ford Performance who deserves a little bit of special recognition.

All you need to do to get you, your car or candidate considered is to send in a brief description (200-500 words or less) and a few photos (in .jpeg format, preferably 1 mb) of a person (full name and hometown, please) and vehicle that you think Ford Performance should feature (and why) in the "Ford Fan Spotlight" for an upcoming installment of Fast News and posting on FordPerformance.com. Then email it to: ClubHub@Ford.com. (Your submission grants us your permission for us to use your copy and photos on our website and other Ford media outlets, edited as necessary.) We'll choose one submission to be featured online every three weeks. We hope to see YOU and your collectible Ford in our Fan Spotlight soon!
Miss 'Fast News' in Your Inbox? Get Weekly Enthusiast News on Ford Performance Club Connect.com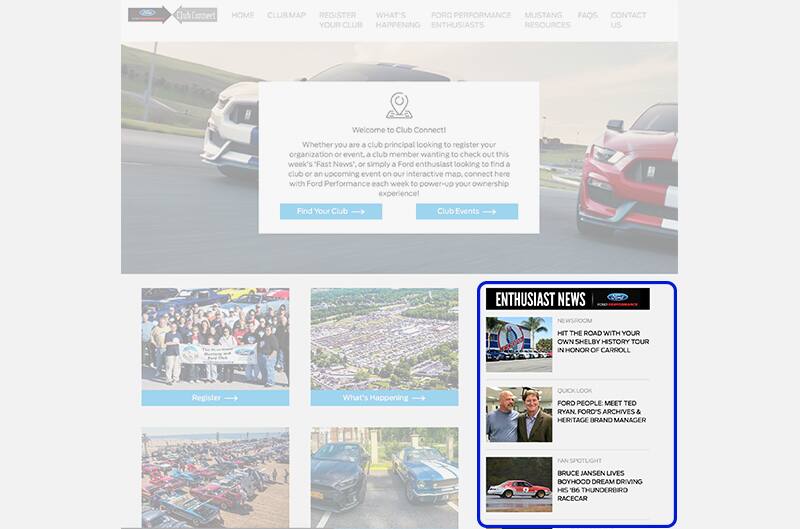 One race – one win – was all it took for Henry Ford to generate enough buzz and belief in his engineering among investors to secure funding and launch the Ford Motor Company now 120 years ago. At Ford Performance, we have never forgotten where it all began. So we've been honoring our heritage, our products and our relentless competitive spirit by shining a light on motorsports and the Ford enthusiast world each week with our "Fast News" e-newsletter.
From news on our hottest cars and trucks or performance parts to the latest scoop on all the must-see Ford enthusiast events and shows, our weekly Fast News email has been your ticket to stay connected to the company that put the world on wheels. But trying to keep up with emails has left some of you in the dust. So that's why Ford Performance is now posting our weekly Enthusiast News directly on www.FordPerformanceClubConnect.com -- so you can check it out the next time you're online -- without sorting through your email inbox. Read it and share it with your club or group or even include it in your newsletters. So put our FordPerformanceClubConnect.com website on your Favorites list, and then hop-in, buckle-up and hang-on each and every week for our Enthusiast News, because like you and all of us in the Ford enthusiast world, we'll be driving Ford passion!