Ever wish you could listen to some interesting weekly car content that would be a perfect fit for any Mustang owner's podcast playlist? Well, you can stop wishing and start listening! Introducing the Mustang Owner's Podcast available now on Spotify. The new podcast series is produced weekly by Steve Hall, the Executive Director of the Mustang Owner's Museum in Concord, North Carolina, with bi-weekly "Inside Ford Performance" episodes produced by Mustang author and columnist John Clor, the Enthusiast Communications Manager for Ford Performance. John is joined by co-host Mike Rey, president of the Mustang Club of SouthEastern Michigan (MOCSEM), to help bring the Mustang club member's perspective into each Ford Performance installment every other week. There are already more than two dozen episodes ready for your listening pleasure, covering notable Mustangs and Mustang owners as well as personalities in the Mustang world, from the likes of Donald Farr, Ron Bramlett, Rob Kinnan and Lee Holman, to Ford's own Jack Telnack, Emeline King and Dave Pericak – not to mention all the hot topics and Ford info you won't want to miss. Just search on Spotify or Apple for the "Mustang Owner's Podcast" to download and listen to your favorite episodes. And make sure to subscribe so that you can catch the latest buzz in the Mustang enthusiast community when it best fits your personal schedule.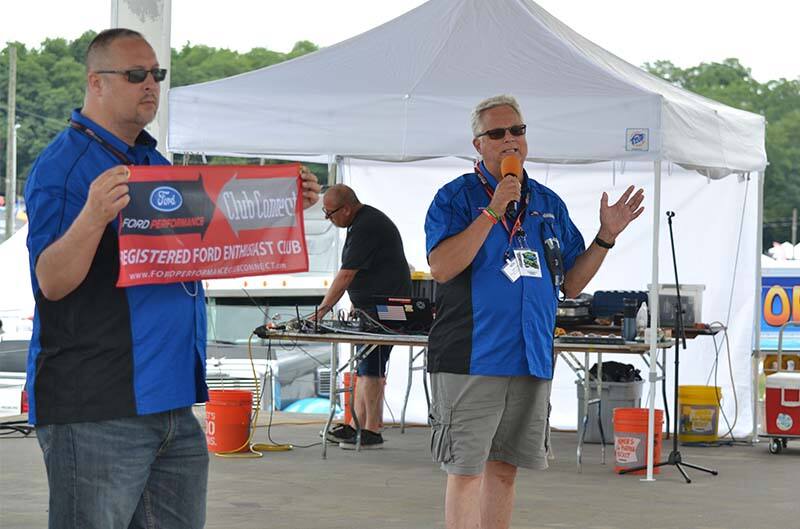 Use Our Promo Code for Your Chance to Win a 2022 GT500 Heritage Edition Plus $25K in Cash!
Are you hoping to make 2022 much more memorable than 2021? Well here's your chance! All you need to do is enter the Shelby American Collection sweepstakes by making a donation for your chance to win a 2022 Ford Shelby GT500 Heritage Edition Mustang plus $25,000 in Cash! This could be your ticket to win a rare 760-horsepower 2022 Shelby GT500 Heritage Edition customized by Ford – a true collector's car! This particular Shelby GT500 Heritage, in stunning Brittany Blue, is loaded with all the GT500 performance features -- including the Carbon Fiber Track Package with exposed carbon fiber wheels, GT4 track wing and Michelin Pilot Cup Sport 2 tires. Other options include the Technology Package and painted "Over-the-Top" white stripes customized by Ford with red painted pinstripes. With 760 horses and 625 foot-pounds of torque, it's equipped to outrun the competition at the track, without sacrificing the luxury and comfort that you want for your next road trip. The winner also receives $25,000 for taxes and to attend the GT500 Track Attack experience at Ford's Performance Racing School.

"With its supercar-level powertrain, the all-new Shelby GT500 takes the sixth-generation Mustang to a performance level once reserved only for exotics," said Hermann Salenbauch, global director, Ford Performance vehicle programs. Indeed, this Shelby GT500 is designed to be the ultimate driver's car, ready to attack on all fronts – on the drag strip, via its first-in-class dual-clutch transmission with launch control, and on the track, with its race-bred chassis, Ford Performance-spec Michelin Pilot tires, massive Brembo brakes and performance aerodynamics.
Proceeds from the sweepstakes benefit the Shelby American Collection, a not-for-profit museum located in Boulder, Colorado, which aims to preserve Carroll Shelby's legacy with some truly amazing cars, race records, photographs, and memorabilia from the legend's glory days in the 1960s. And here's your bonus: Fast News readers get 25 percent MORE entries by using the promo code FASTNEWS25. Check out their site Shelby American Collection. The more you donate, the more bonus entries you receive. This sweepstakes is scheduled to end on September 3rd, 2022, at which time a winner will be chosen. We hope it's YOU!
Gift the Gift That Keep On Giving the Whole Year Through – Membership in a Ford Enthusiast Club!
With the holiday shopping season upon us, we're faced with the annual challenge of what gift to get for our favorite car guy (or gal) who seems to already have everything. Beyond the cool Stuff being offered by the Ford Performance Info Center (800-FORD-788) – including a FREE Ford Performance 2022 Calendar for every order of $50 or above – you'll never go wrong buying the car person in your life a full year's membership in a Ford vehicle club. Owning a performance Ford goes well beyond just driving one – there's a whole world of new friends, information and activities that await those who join a Ford enthusiast organization. And a membership in one or more of them makes a GREAT gift that will be appreciated the whole year through!

No matter what kind of classic or collectible Ford you might own on be interested in, there's a club out there dedicated to it! Check out our Ford Performance Club Connect website for info on some of the enthusiast organizations that we support and promote. After you find a club of interest on our map, click on their web link or contact info to arrange for purchasing a membership; just make sure you have your recipient's full address. Membership in long-standing, established clubs usually costs around $50 a year or less and can pay for itself the very first time you get advice from members or attend a club event. And the friends you make last a lifetime. So find a Ford club and sign up an enthusiast you know for a year full of Ford vehicle fun! Whichever club membership you choose, you'll be giving much more than just a gift – you'll be offering a whole Ford enthusiast lifestyle!
Winter Wonderland: Experience the Holiday Lights Spectacular at Michigan's Gilmore Car Museum through New Year's
If you live in or will be visiting the Midwest this holiday season and were hoping to find an auto-themed holiday attraction to attend, Michigan's Gilmore Car Museum may just have the hot ticket for you. The Gilmore Car Museum invites you to take a stroll and a drive through its nighttime lights display on its campus for the holidays. The full Winter Wonderland experience includes a motoring tour through the museum grounds -- complete with lights, decorations, music and more -- while a visit inside the museum shows off the decorated Festival of Trees among the facility's hundreds of classic cars and vehicles. Of course, no holiday spectacular would be complete without Santa Claus. Josh Russell, the museum's executive director, told Hemmings Motor News that, "At the Gilmore Car Museum, we celebrate both cars and history on an exceptionally beautiful 90-acre campus in the Michigan countryside, so it's truly the perfect place to host a drive-thru and walk-through holiday lights experience for our community. This spectacular Christmas and holiday lights show will bring our Michigan Winter Wonderland to life and create lasting holiday memories for our guests both inside the family car and inside the museum." Hemmings says you should expect to see more than 25 themed displays, historic barns aglow with lights, and vintage-era dealerships in full holiday décor. The museum will serve hot chocolate, adult drinks, and holiday-themed food and treats, and it'll have a one-of-a-kind maze of holiday inflatables that ends at an LED wall with virtual reindeer. Located in Hickory Corners, Michigan (near Kalamazoo), the Gilmore's Winter Wonderland will run from November 24, 2021, through January 9, 2022. For more information, check out the Gilmore Car Museum.
Still Looking for a Great Gift? Give Inspiration with a New Book By Emeline King, Ford's 1st Black Female Designer
Some well-read Mustang enthusiasts may have heard of Emeline King, as she was the primary designer on the fourth-generation SN-95 Mustang's swoopy dual-cockpit interior. But what most people likely do not know is that Emeline was the first black female Transportation Designer in Ford Motor Company's history. She went on to design a variety of components on other Fords, including the Thunderbird, during her nearly 25 years at the Blue Oval. And now she's written an inspirational 366-page softcover book entitled. "What Do You Mean A Black Girl Can't Design Cars? Emeline King, She Did It!" It's on sale now across the book world, but we recommend you order your copy via her website, It's an insightful read and would make a great gift for any auto enthusiast – young or old – or for anyone who's ever dreamed about designing cars.
Time to Register your Club or Ford Fan Facebook Group with Ford Performance Club Connect

By now you should have heard about a cool Ford Performance initiative called "Club Connect" that can help all Ford and Mustang enthusiasts get connected with both Ford Motor Company and each other. Only those clubs who register with the program are eligible for no-cost promotion and support from Ford Performance, so you owe it to members of your Mustang or Ford vehicle club or online forum to register and appear on our Ford enthusiast club map. All it takes is a visit to Ford Performnce Club Connect and a single click on the "Register Your Club" link. Once you fill out the form and hit "Submit," you'll be notified within just a few days of your acceptance in Ford Performance Club Connect -- it's that simple, and it's FREE!

The primary goal of our Ford Performance Club Connect program is to get everyone to register their club – at no cost – and get themselves on our Ford enthusiast group map so that we can all connect with each other. Once there, you'll be able to see all of the other clubs and groups who have registered in your region – not just Mustang clubs, but ALL Ford vehicle organizations. And now we'd like to invite all of you who are part of any Ford vehicle Facebook Group to register with Club Connect, too. Why? Because connecting your Facebook Group with more owners and fans makes your group more worthwhile – and registering with Club Connect will link your online group with participants who may never have known that your group exists.

The value in all of this is that whenever you plan a club or group activity, you can see what other clubs and groups are in your area that you may wish to contact and ask to join you at a show or event. It also allows Ford Performance to see all the clubs and groups in a certain area, so that when we are coming to town or planning a special Ford event in your city or state, you and your club members can be contacted to participate.

It takes only a few minutes for a club principal or board member to register your club and establish a direct link for your members to Ford Performance. And now, you can also register your group and logo with Ford Brand Licensing all in the same process. Have a product or parts question that you want answered? Wish you could get some free club event promotion in our weekly "Fast News" e-blast that goes out to more than a quarter-million Ford fans each Thursday? Looking for event coverage for your show in the Enthusiasts section of FordPerformance.com? Hoping you could find a cool Ford goodie-bag or door-prize item, or a banquet guest speaker? How about requesting on-site show support with an appearance by our Ford Performance Meet & Greet tent, along with FREE Mustang poster giveaways for all show attendees? Individual requests are reviewed on a case-by-case basis, but they can ONLY be awarded to clubs who are registered.

So go to Ford Performance Club Connect and click on the "Find Your Club" link to see if you are on the map. If not, then act now to register your Ford-based club or Facebook Group so that you can join this special program -- all backed and supported by a real enthusiast staff managed by Ford Performance. If you have questions or want more info, you and your members can always email us at ClubHub@Ford.com, or can simply call our Ford Performance Info Center, toll-free during regular business hours, at 1-800-FORD-788 (800-367-3788).

So what are you waiting for? Get online and make sure you're connected. Then plan to enjoy your performance Ford later this year so that you can discover the fun and all of the friendly people involved in the world of Ford Performance. We're sure that being connected with each other and with Ford will make your ownership experience even more enjoyable!
Here's How Easy It Is to Get You and Your Car(s) Featured in Our Weekly 'Ford Fan Spotlight'
For the past decade, one of the most popular features on Ford Performance. and in our Fast News e-newsletter continues to be "Ford Fan Spotlight," where readers can send in their own reasons why they're fans of Ford Motor Company. You know who they are: Ford "superfans;" grassroots Ford racers; unique Ford vehicle owners; loyal Ford enthusiasts; notable Ford club people; special Ford families; and/or any avid supporter of Ford, Ford vehicles, Ford motorsports or Ford Performance who deserves a little bit of special recognition.

All you need to do to get you, your car or candidate considered is to send in a brief description (200-500 words or less) and a few photos (in .jpeg format, preferably 1 mb) of a person (full name and hometown, please) and vehicle that you think Ford Performance should feature (and why) in the "Ford Fan Spotlight" for an upcoming installment of Fast News and posting on FordPerformance.com. Then email it to: ClubHub@Ford.com. (Your submission grants us your permission for us to use your copy and photos on our website and other Ford media outlets, edited as necessary.) We'll choose one submission to be featured each week. We hope to see YOU and your collectible Ford in our Fan Spotlight soon!
Now Read Our Enthusiasts News Each Week on Ford Performance Club Connect
One race – one win – was all it took for Henry Ford to generate enough buzz and belief in his engineering among investors to secure funding and launch the Ford Motor Company. At Ford Performance, we have never forgotten where it all began. So we've been honoring our heritage, our products and our relentless competitive spirit by shining a light on motorsports and the Ford enthusiast world each week with our Fast News e-newsletter.
From news on our hottest cars and trucks or performance parts to the latest scoop on all the must-see Ford enthusiast events and shows, our weekly Fast News email has been your ticket to stay connected to the company that put the world on wheels. But trying to keep up with emails has left some of you in the dust. So that's why Ford Performance is now posting our weekly Enthusiast News directly on Ford Performance Club Connect -- so you can check it out the next time you're online without sorting through your email inbox. So put our FordPerformanceClubConnect.com website on your Favorites list, and then hop-in, buckle-up and hang-on each and every week for our Enthusiast News, because like you and all of us in the Ford enthusiast world, we'll be driving Ford passion!