CHARLOTTE, N.C. – Earlier this year Ford recharged a nameplate that lay dormant for some 17 years. A natural moniker for the hauler of the future, the F-150 Lightning quickly became the standard-bearer for the company's electric aspirations. Long before that moment, however, the thunder began rumbling back in 1993 with the Ford SVT F-150 Lightning high-performance pickup.
Born of the legendary Special Vehicle Team, these souped-up sport trucks were built over the course of two generations known to fans as Gen 1 (1993-1995) and Gen 2 (1994-2004). With the former powered by a naturally aspirated 351 Windsor and the latter propelled by a supercharged 5.4-liter modular engine, these trucks quickly garnered a dedicated following.
Exemplifying that passion is an annual gathering hosted by the Southeastern Lightnings And Harley Trucks group, which is spearheaded by Blue Oval dealership veteran Thomas "Tommy" McGee, who club members lovingly christened, "El Presidente." Since he took over, the once-small gatherings have blossomed into huge undertakings involving multiple days and activities.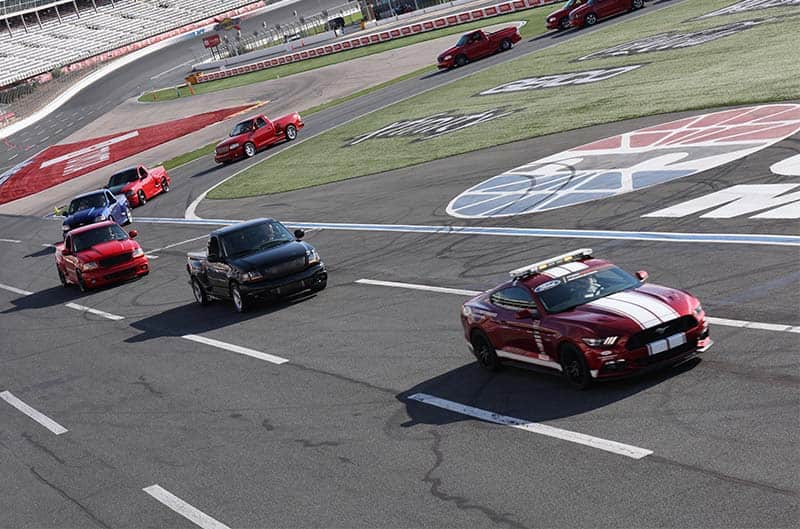 "Truth be told, I believe the interest in the SVT Lightning has been going through a new phase," McGee said. "New owners are coming in, spicing it up a little bit more, and I believe they are giving a shot in the arm to the old generation of owners that have kept their trucks and now are looking to get back into it.

"Had it dipped? Of course, just like everything else. But if you put together something like this kind of event, you are going to get people who want to come out, who want to work on their trucks, and who enjoy meeting new people. The biggest thing that I love seeing is getting messages and calls from community members telling me, 'Hey, a couple of the guys I met at the meet and I are all getting together and going on vacation or doing a cruise or mod party!' That is what makes me smile. That is what it is all about."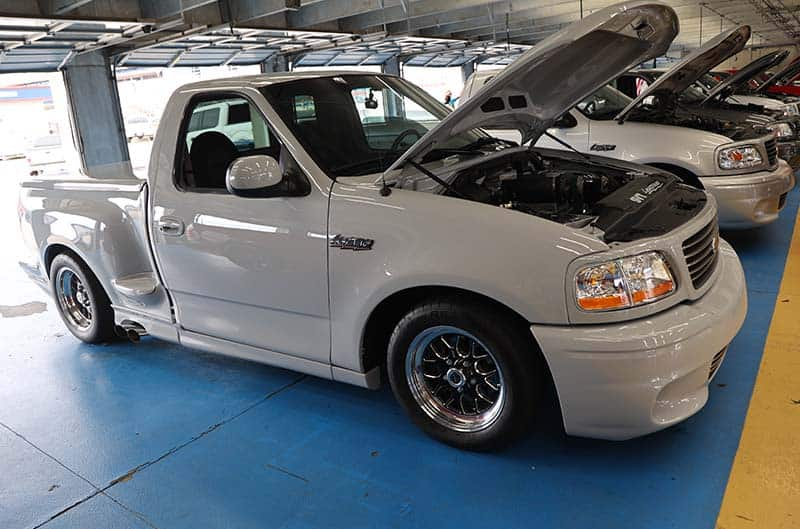 This year's Lightning Meet 2021 took place in Charlotte, North Carolina, from August 19-21, 2021, and it drew a wide range of trucks from across the United States. While Gen 2 trucks dominated the ranks, there were a few Gen 1 trucks on hand as well.
"We had members from Texas, Alabama, Florida, Illinois, Oklahoma, New Jersey, New York, Mississippi -- even had Scott Cedergreen coming from Seattle, Washington, with his Full Effect Gen 1 truck!" McGee said. "Sadly, a health emergency kept him from attending, but, how cool is that? He was really bummed, but had told me that he will be at the next one…"
In addition to camaraderie at the host hotel, attendees were treated to a gathering in the NASCAR garage at Charlotte Motor Speedway. They were also able to make laps around the same track route utilized by the Ford Performance Racing School. During those laps, the drivers left a gap at the front of the line in remembrance of a fallen friend.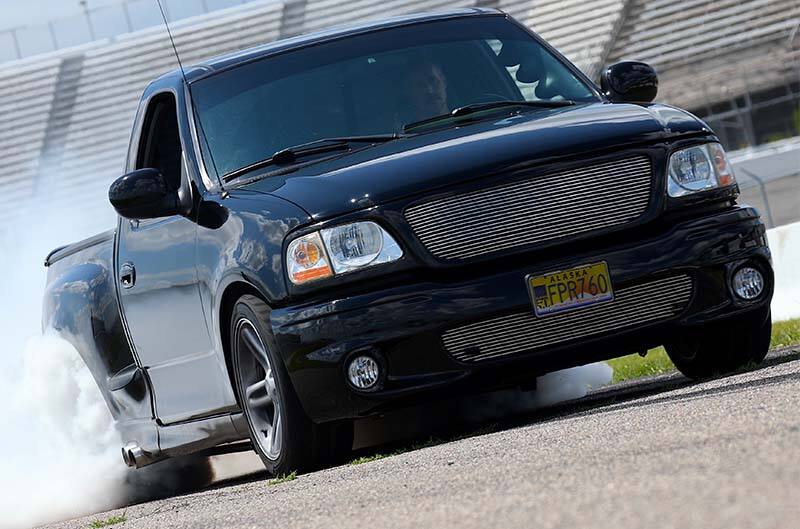 "It was for Raymond Douglas 'Doug' Winterstine, born June 6, 1955, and who passed away on July 12, 2019," McGee explained. "He was extremely passionate about Fords since owning a Sean Hyland Bullitt, while helping his sons, Brian and Andrew, with their SVT Lightnings and Cobras. Andrew was no longer in the car scene, so Doug sold the Bullitt and took over the Lightning. He was always around the community -- helping, sharing stories, and just being a great man all the way around. He passed before Mustang Week, and we wanted to give him one last ride in Charlotte with his son next to him in his Lightning."
Additionally, the track accommodated the Lightnings for plenty of photos, and the following day the group ventured to the legendary Holman & Moody shop. There, Lee Holman (son of John, the company's famed CEO who helped Ford develop so many winning race programs), gave attendees an oral history of the company's exploits and answered questions from the crowd.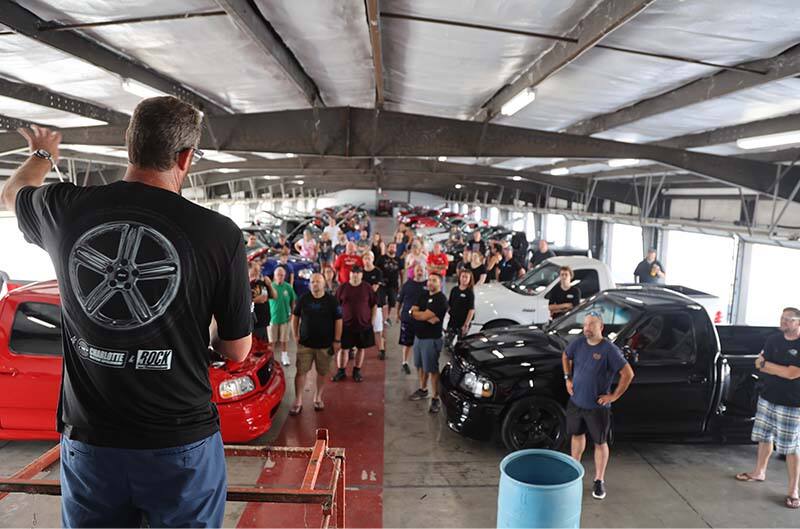 From there, drivers saddled up for an hour-long cruise out to Rockingham Speedway, where they once again convened in a race-car garage before heading out to the infield for a few burnouts. They wrapped things up by gathering all the trucks that made the trip on the oval for massive group photos. Before the action began, however, there was a special moment in the garage, as Brian Veltri proposed marriage to Karen Kuczynski . . . and she said 'Yes!'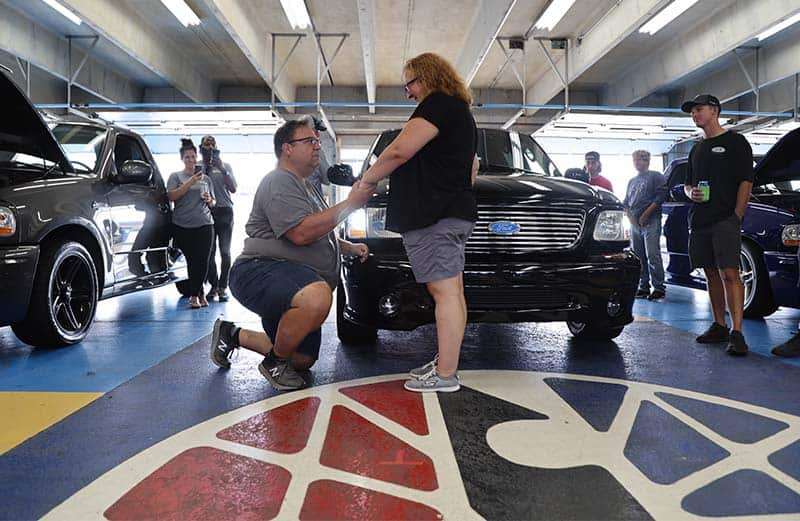 Some 92 trucks preregistered for the festivities, but a few fell out due to health or mechanical issues, and a total 76 participated. In the end, a great time was had by all, and it was impressive to see so many of these now-rare Ford SVT performance trucks in one spot being appreciated by true fans.
"I was taken aback by all the positive vibes from everyone before, during, and after the event," McGee told us. "I made sure of that as I ran around a lot to see everyone's face as they drove off the track and onto pit lane. The smiles, the laughter and the stories they shared about how they kicked it up on the banking and who went faster than who -- that was awesome! It was a once-in-a-lifetime experience for them, and memories that none of us will ever forget. I don't think I saw one person without a smile the whole time."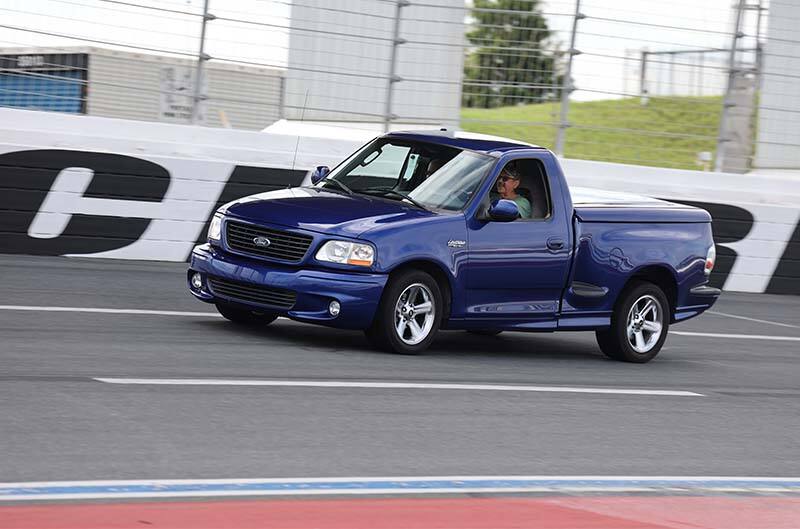 While it is a foregone conclusion that McGee will organize another Lightning Meet in 2022 designed to top this year's gathering, he hasn't started working on that quite yet. These events are massive undertakings, and even a Lightning guy needs to recharge.
"I will probably start working on next year's event around December time and see what I can drum up," McGee concluded. "I will say this: Every year it gets bigger and better, so I am sure it will be even bigger and better than Charlotte."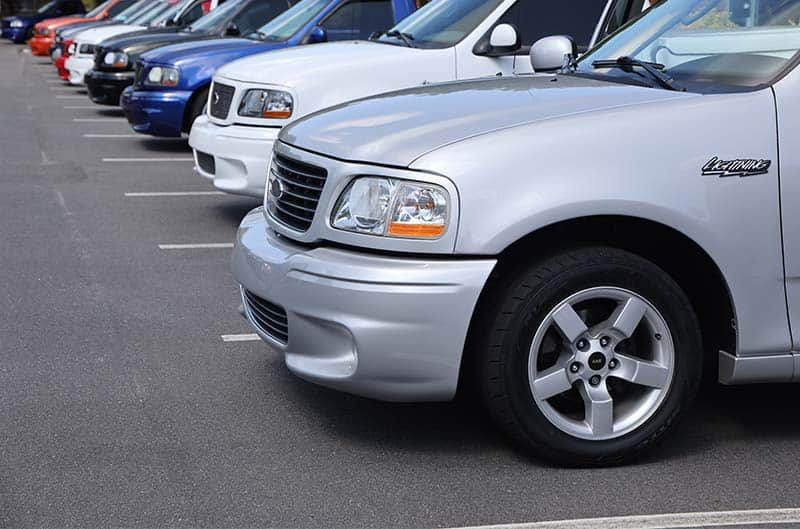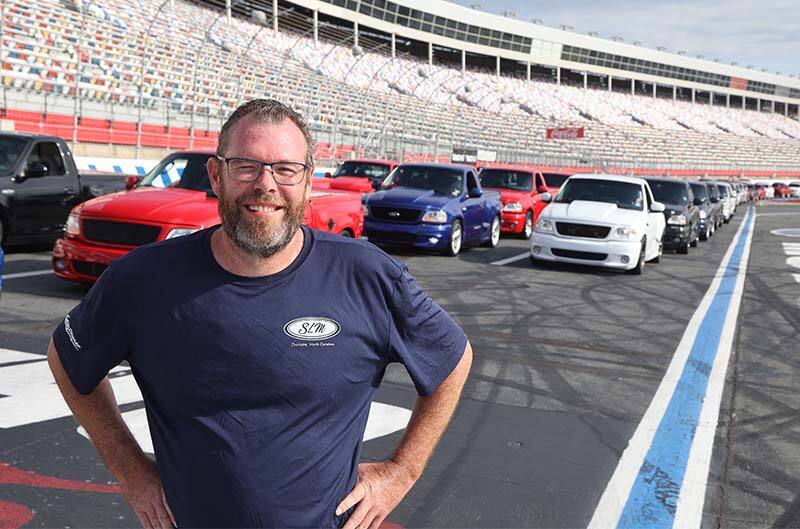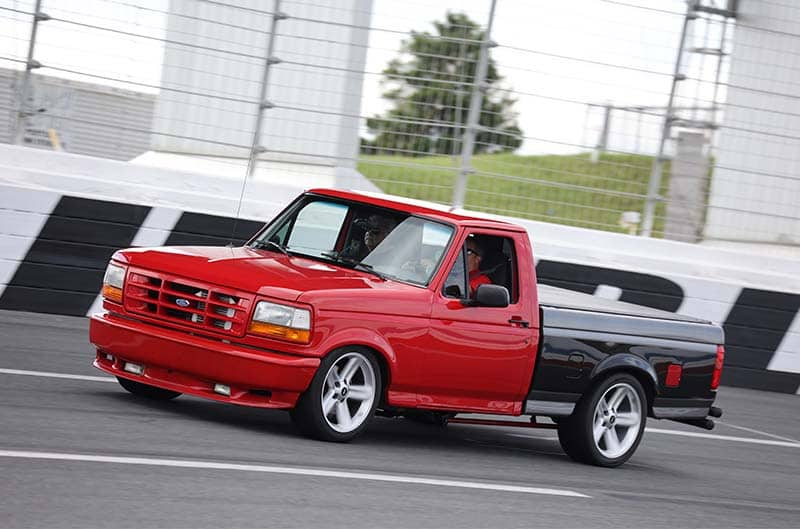 To join the group or to keep tabs on next year's event, head over to the Southeastern Lightnings And Harley Trucks at www.facebook.com/groups/1699401153665187/
And check out some other important links here: Charlotte Flyover Video: https://youtu.be/U9hNLzLSyUo Charlotte Laps: https://youtu.be/Tsz-GlD_xsI 2021 Meet Coverage: https://performance.ford.com/enthusiasts/what-s-happening/2021/06/lightning-meet-2021.html 2019 Meet Coverage: https://performance.ford.com/enthusiasts/newsroom/2019/07/lightnings-hit-daytona.html
FORD PERFORMANCE PHOTOS / COURTESY STEVE TURNER