DEARBORN, Mich. -- For the second year in a row, uncertainty surrounding the pandemic pushed the Mustang Owners Club of SouthEastern Michigan (MOCSEM) to revive its Mustang Memories Road Tour event format to serve as its annual show after its inaugural creation in 2020. MOCSEM has been well-known for its annual Mustang Memories mega-show held behind Ford World Headquarters the day after the Woodward Dream Cruise, but restrictions on large gatherings had forced the club to rethink its annual headliner event. If you haven't participated in this kind of Road Tour event before, the main requirement is to enjoy cruising in your beloved Mustang as you work your way through the area, visiting secret locations that are only revealed once you arrive at each successive destination.
Rising bright and early, the kick off point of MOCSEM's 2021 Road Tour was the Ford's Garage restaurant located in Dearborn, Michigan. This Ford's Garage franchise opened at this location back in July of 2017 and has quickly become a staple in the metro Detroit Area. With a menu full of specialty burgers, sandwiches and craft beers, Ford's Garage will easily trick you into believing that you were eating in a 1920's-era service station featuring vintage Ford vehicles, gas pumps and historic automotive fixtures.
From Ford's Garage, the field of participants got spread out and sent to four different locations. The closest to the kick off point was just down the road in Dearborn, at the Henry Ford Estate known as Fair Lane. This historic site was the estate of Ford Motor Company founder Henry Ford and his wife, Clara. It was built between 1915-1918, and while the grounds are currently still open, the home has been closed for a complete restoration. These grounds were the home base for Ford Performance, who rolled in with its Club Connect Transit van and set up its popular Meet & Greet tent featuring a free Mustang poster giveaway. Road Tour cruisers had the opportunity to take photos of their Mustangs in front of the Estate and recreate famous photos of Henry coming home to Clara in his Model T. Included at this stop was the MOCSEM raffle tent, Ford's Airbag Recall Team, the Ford Performance Special Vehicle Registry tent, as well as club sponsors including Gateway Classic Cars and The SVT Store.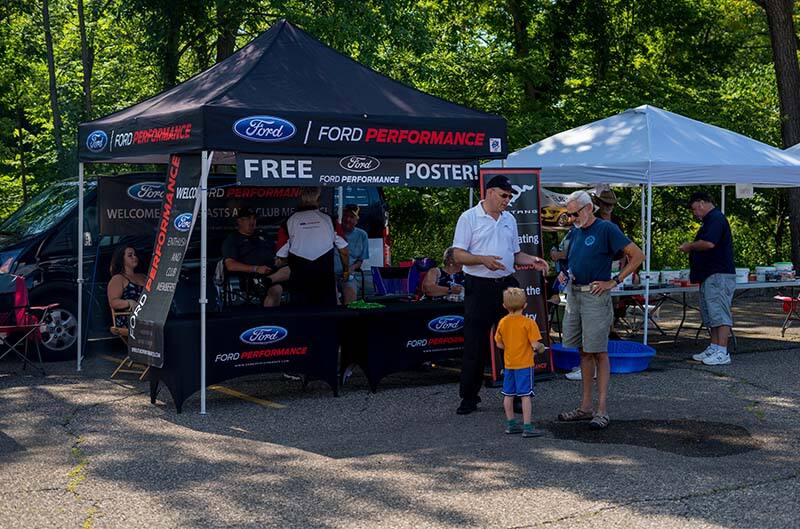 For our leg of the tour, next came a brief jog down Michigan Avenue to Wayne, Michigan, to Jack Demmer Ford. Jack Demmer is one of Ford's premier dealerships in Southeast Michigan, located directly across the street from the Michigan Truck Plant – home of the new Ford Bronco. The family owned dealership was initially approved by the Ford Motor Company in 1957 as the Spitler-Demmer Edsel dealership. Taking up residence in a former gas station with a single-vehicle showroom at the corner of Glenwood and Wayne Road, it wasn't until 1969 that the dealership moved to its current location and expanded to offer the full line of Ford vehicles. Demmer's modern, 12-car showroom featured a special display of both new and old Bronco, and for many on the tour, it was the first opportunity to check out Ford's newest SUV. Once the mini show assembled on the Demmer lot and checked out the food trucks and hot new models, we were off to the next location.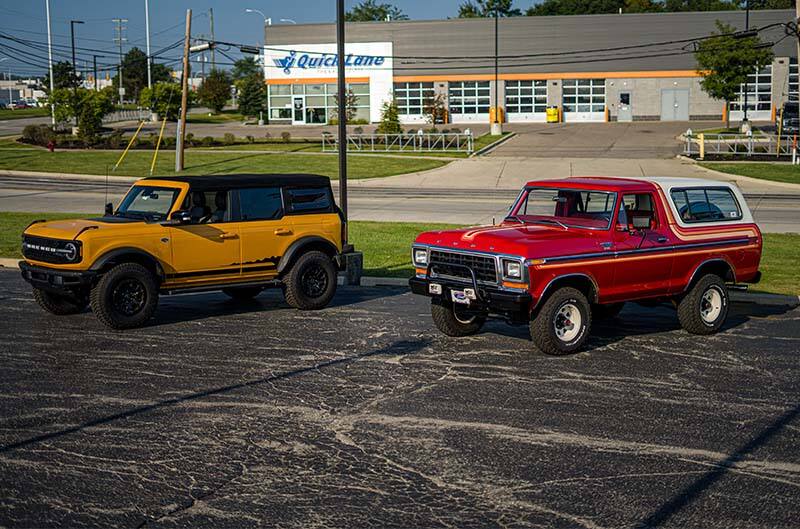 The next location offered a real treat at the Willow Run Airport, located further west of Wayne near Ypsilanti, Michigan. That's because it's the home of the Yankee Air Museum. Although the museum was founded in 1981, its roots at Willow Run date all the way back to 1941 when it was a factory building for manufacturing B-24 Bombers used in WWII. Ford history buffs know that Willow Run was originally a farm that was owned by Henry Ford, who later contracted with the U.S. Government to use the property to build a massive factory that used Ford's assembly line process to build bomber aircraft that helped win Would War II. As a celebration of Detroit's "Arsenal of Democracy" the museum grew in popularly once it began to acquire its flyable aircraft, including a B-17 Flying Fortress, a B-25 Mitchell Bomber, and a C-47 Skytrain – giving the public an opportunity to ride in some of America's most iconic aircraft. In 2004, the museum experienced a fire that destroyed its original World War II building, along with most artifacts and aircraft inside. A foundation was set up to help the museum acquire almost 150,000 square feet of the original Ford bomber plant to house the museum. After getting wrapped up in the history of the planes, this location had yet another group of tour cars to see, as well as visits with more club vendors, including Shelby American, as well as Cruise For A Cause and Duncan Brothers Customs. Then it was time to head off to our final destination.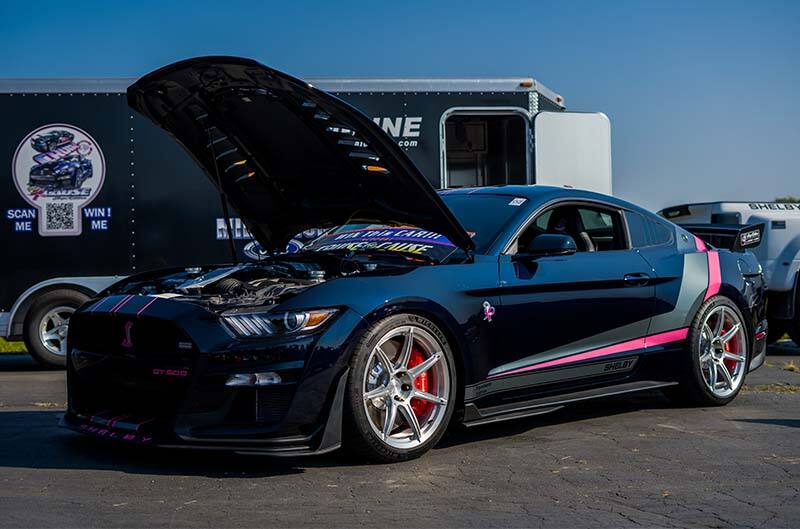 Although The Roush Automotive Collection is one of the most well-known Ford-centric collections in the area, its publicity doesn't outshine the cars that are on display here. Located in a small industrial park in Livonia, Michigan, this Roush museum is housed in 30,000 square-foot building that includes a wide variety of displays, multi-media exhibits, automotive artifacts, and memorabilia -- all in addition to 110-plus vehicles on display here, dedicated to the preservation of the heritage of Roush Enterprises. From NASCAR racers to concept vehicles that never made it to production, the collection contains educational exhibits of products and processes from Roush as a supplier of technological services to the automotive, aviation and automotive product manufacturing industries. In addition to taking the time to check out all of the unique Fords here, who got the chance to visit with other Road Tour cruisers, as well more cool vendors such as the Millennial Mustang Registry and Detail Garage Detroit.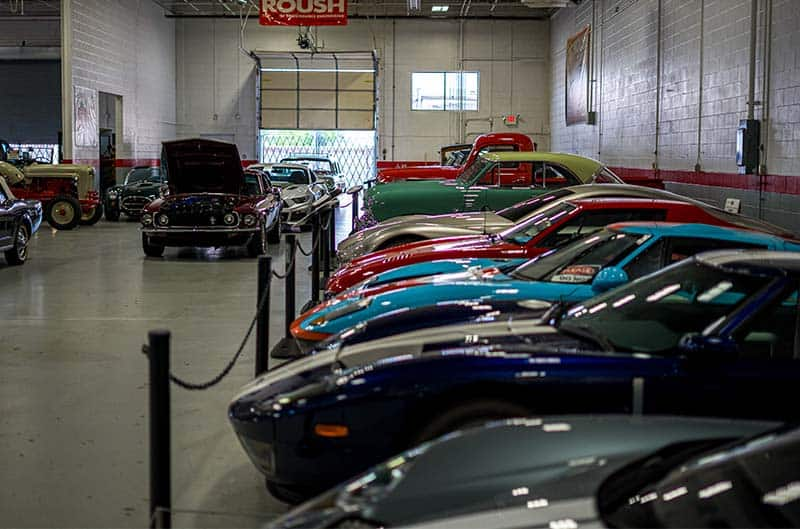 In what seemed like spending a far less time than at a typical single-location car show, we were headed back to Ford's Garage to get our tour prize. Each driver was given a punch card to use as proof they attended each location, and once verified, MOCSEM provided a custom goodie bag chock full of cool gifts, including Mach 1 and Bronco tees. As expected, MOCSEM went above and beyond for their Road Tour, just as they do for their massive Mustang Memories show. And while club board members indicated that the "Glass House" show will likely be back on for '22, it's also quite possible they will adopt some kind of club Road Tour as yet another event on the MOCSEM calendar. Not only did the Road Tour give participants an opportunity to visit some special locations in Metro Detroit they may not have known even existed, but just being able to cruise in our Mustangs while seeing different cars and new faces at every stop made the experience one to remember.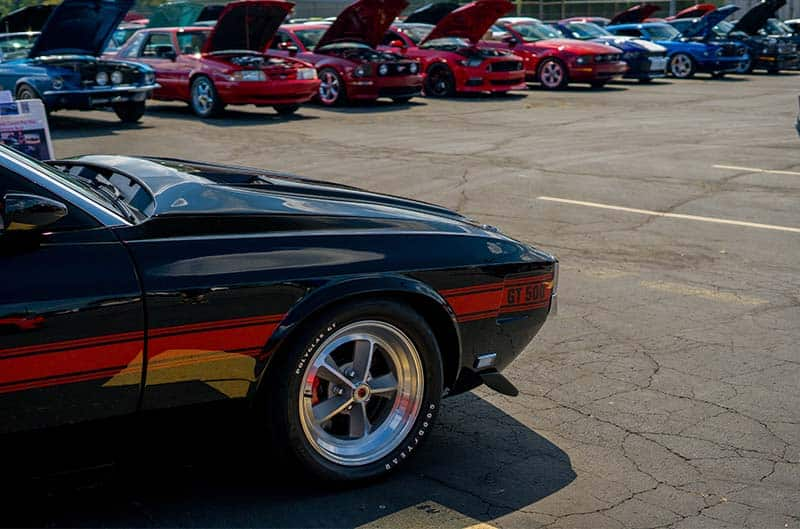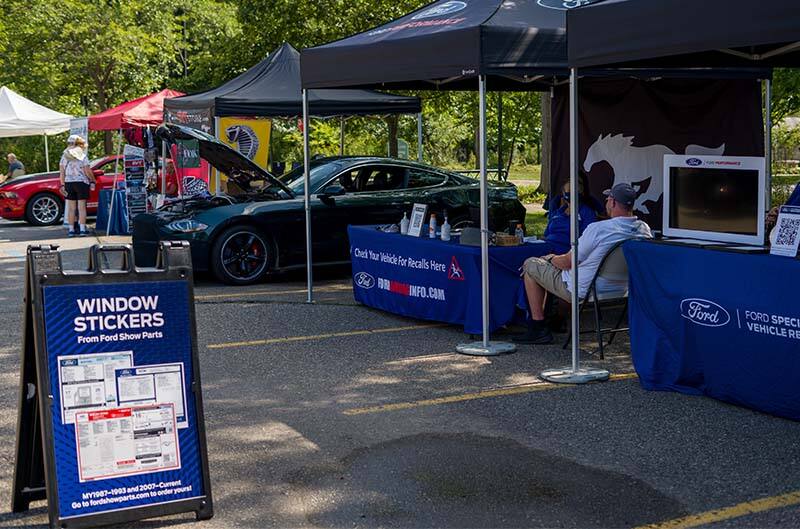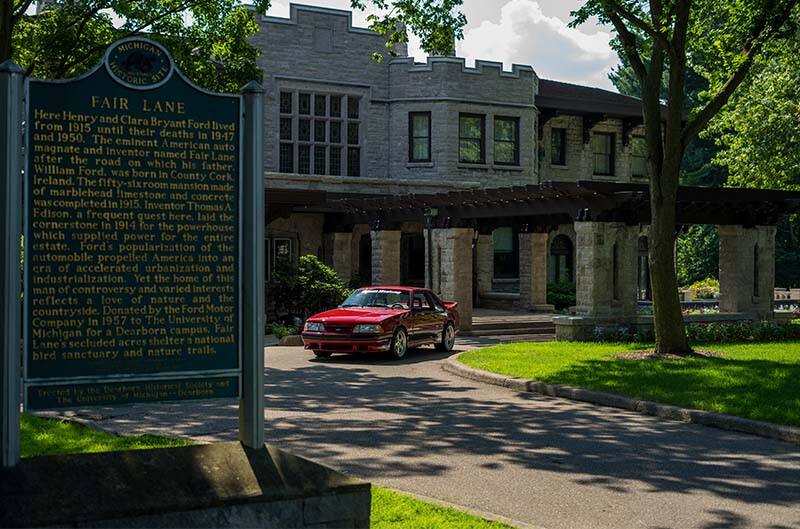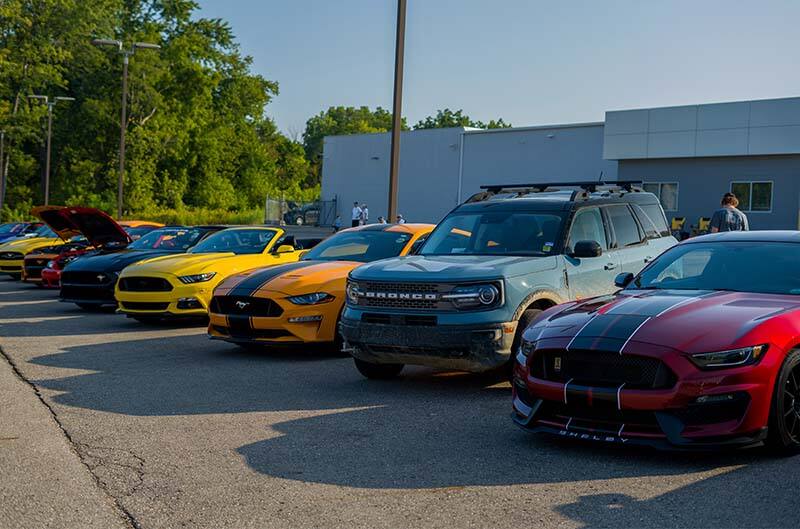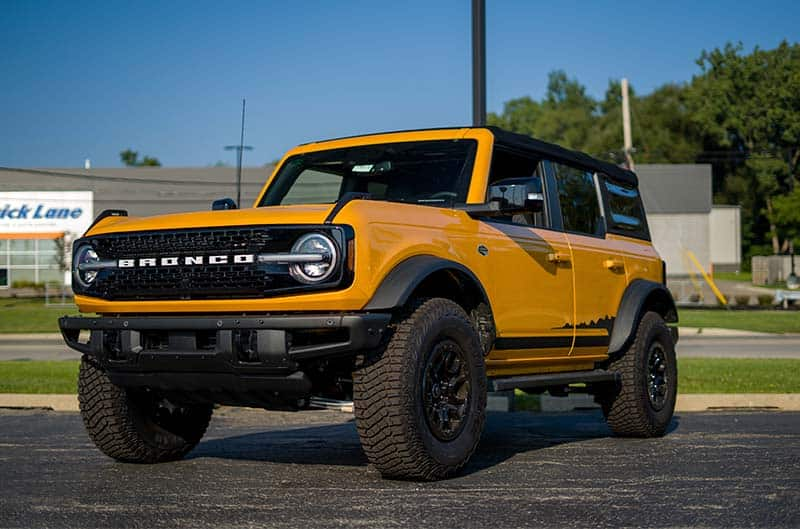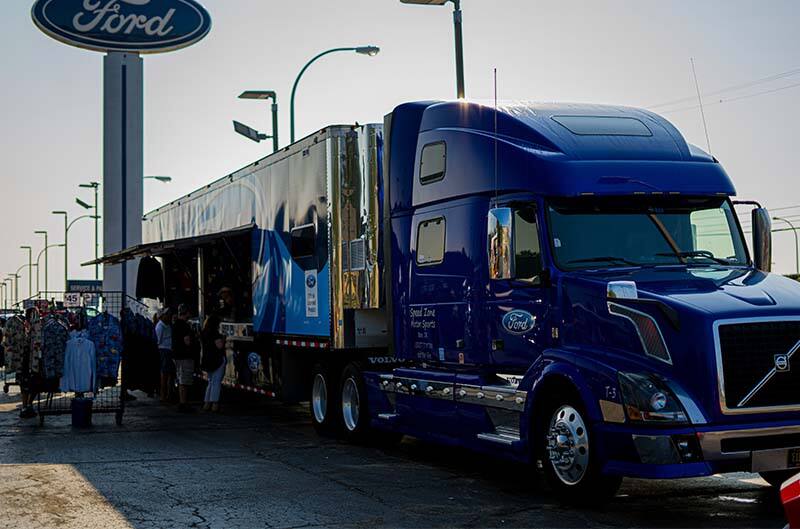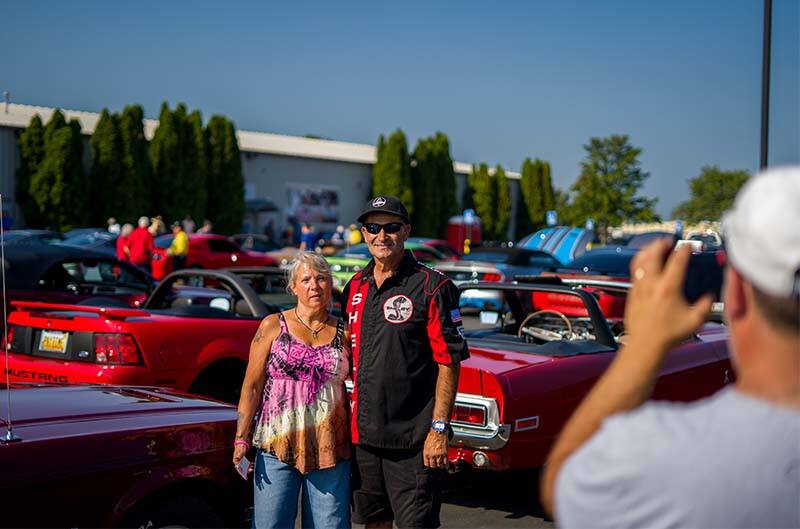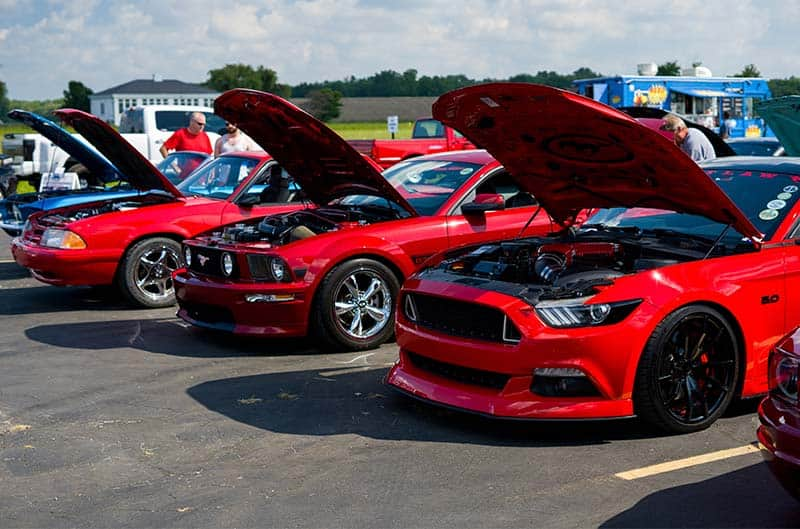 FORD PEFORMANCE PHOTOS / COURTESY JOE DELADVITCH