What helps make the Ford Mustang so collectible is the myriad of so-called "Special Editions" that have been produced over the years. We've covered many of them here on FordPerformance.com – from the well-known California Special to rare regional models such as the Heat Edition Mustang and even aftermarket efforts like the Black Widow Mustang. With the World Series going on right now, we thought it'd be a good time to tell you about an interesting inquiry that we've had in our files about the Yankees Edition Mustang, but we've hit a snag trying to find good photos of one, or even a current owner willing to part with some pics we can use for our upcoming feature.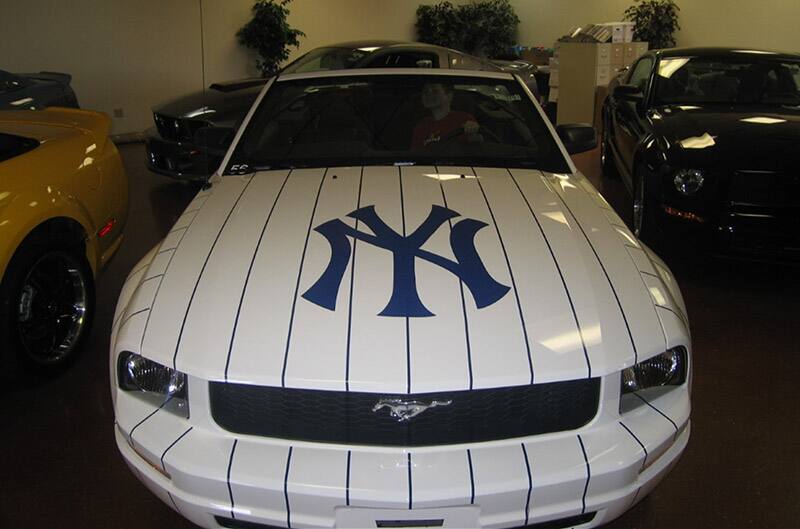 In case you've never seen one or even heard of it, the Yankees Edition Mustang was a regional New York Yankees tribute car offered in 2005 to each of the 60 Ford Dealers in the Tri-State area. They were all White Mustang Convertibles emblazoned with the famed "NY" logo and covered in classic blue Yankees pinstriping, and all were autographed by different Yankees players. (Yes, we know that a one-off 2010 version was made to mark the baseball team's move to a new Yankee Stadium, but we're looking for the 2005's that wound up in the hands of fans and collectors.)
We've asked you for your help before, from trying to locate a real W-Code-on-the-VIN plate 427 Mustang to identifying some Mustang mid-engine mystery photos that we unearthed from Ford Archives. No, none of you could help us find a true W-Code-on-the-VIN-plate car. But then again, nobody ever has. And while we were flooded with your responses on the mid-engine Mustang photos, an auto website had contacted Ford Public Affairs about it, who then asked Ford Archives to shed light on the mystery for them before all of your input could be assembled, essentially spoiling our fun and interaction in the process. (No worries – we still plan to run both the story that was revealed as well as your responses plus our own findings in the coming weeks, so stay tuned.) This time around, we figure this Yankees Edition Mustang photo search should be easier.
So if you know of a current 2005 Yankees Edition Mustang owner or the whereabouts of an '05 Yankees Edition Mustang we can photograph, or just help us get some good photos that we'll have permission to include in our intriguing feature story on these cars, send the info in an email to: ClubHub@Ford.com. For your efforts, we'll mail out a "thank you" prize to whoever helps us first or best. Here's your chance to become "Mr. (or Ms.) October" and help us hit another cool Mustang feature story out of the park for you. We know you can do it … thanks in advance for steeping up to the pale for us!
FORD PERFORMANCE PHOTO / COURTESY DENNIS HEALEY