PITTSBURGH, Pa. – Richard Kaplan claims he has "the rarest car here," referring to his survivor six-cylinder Mustang from 1966. He's only half-serious, of course, 'cause we're standing within shouting distance of a mostly original '75 Bronco 302, and a 1928 dirt-track racer that was clearly once a Model A. And slithering about are various repro and continuation Cobras, including a stunning Factory Five Daytona Coupe.

With an estimated 3,000 cars on display on this hot July 24, 2021, it's truly an exceptional year for the entire weekend car-show segment of the 39th Pittsburgh International Vintage Festival. Executive Director Dan DelBianco reported record crowds as well. "Normally we have around 2,500 cars," noted Mark Morrow, Captain of the American Car Show. A Festival volunteer since 1989, Morrow has seen this dazzling, sprawling circus maximus of auto enthusiasm grow to its present scale from its more modest origins in 1983, as a weekend of small-bore vintage racing in Pittsburgh's scenic Schenley Park. According to Morrow, the event was conceived by racing enthusiasts Art McGovern and Mary Beth Gmitter.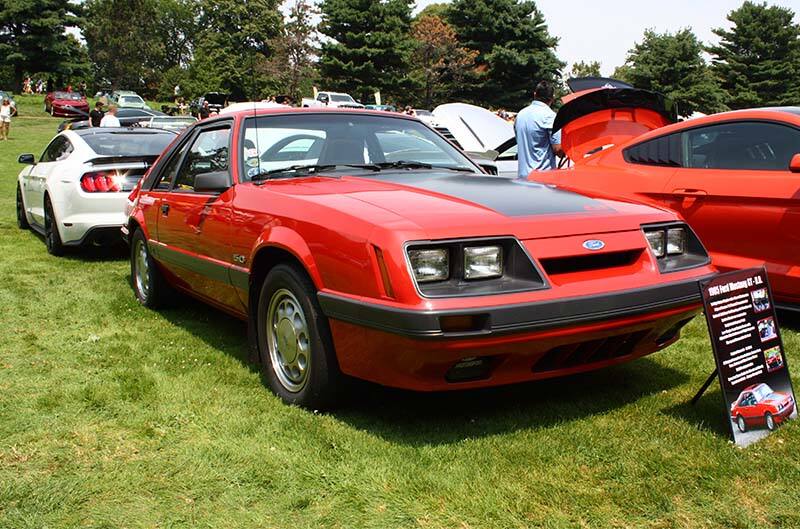 "The first meetings were held in 1982, in racer Alan Patterson's garage in Shadyside," he said. Also involved were sportscaster Myron Cope, Dan Torisky of The Autism Society of Pittsburgh, and Rege Champ of the Allegheny Valley School for adults with intellectual and developmental disabilities. "In order to close city streets and use a city park, they had to have a charitable purpose," Morrow added. "That's when Mayor Richard Caliguiri got behind it." Only a few years after the racing started, various car clubs -- some organized by marque, others by national origin -- began meeting on the Schenley Park golf course just north of the temporary circuit. And then a whole host of auto-related activities sprung up as a prelude to the weekend.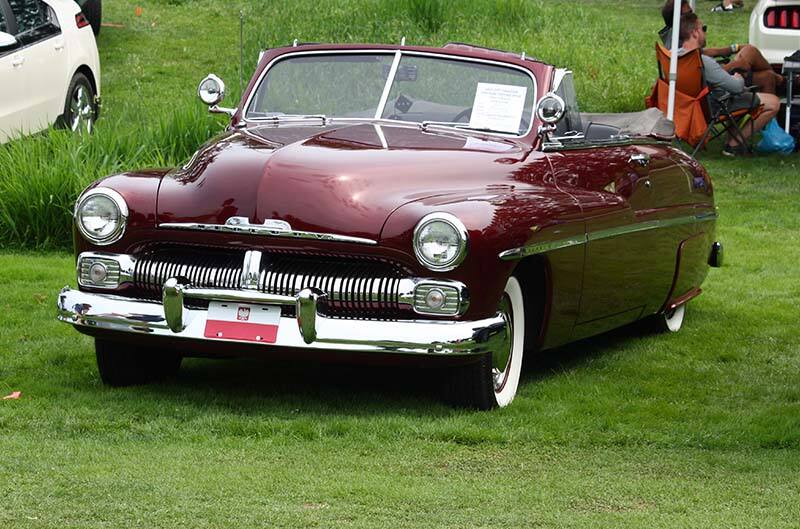 "The first one that blossomed was the invitational car show on Monday in Shadyside." Morrow recounted. "Then in the late '80's we added a downtown show, where we took over some of the office-building plazas." A decade later, the much larger Pittsburgh International Race Complex – with its 2.78 miles of track, located just 42 miles north of Pittsburgh in Wampum --began hosting competitions for larger vintage cars on the weekend before the Schenley Park event. "And we've expanded even more since 2000," Morrow told us. "With the exception of Thursday, we have something going every day of the week," including a Tuesday-night waterfront cruise that regularly draws over 750 vehicles.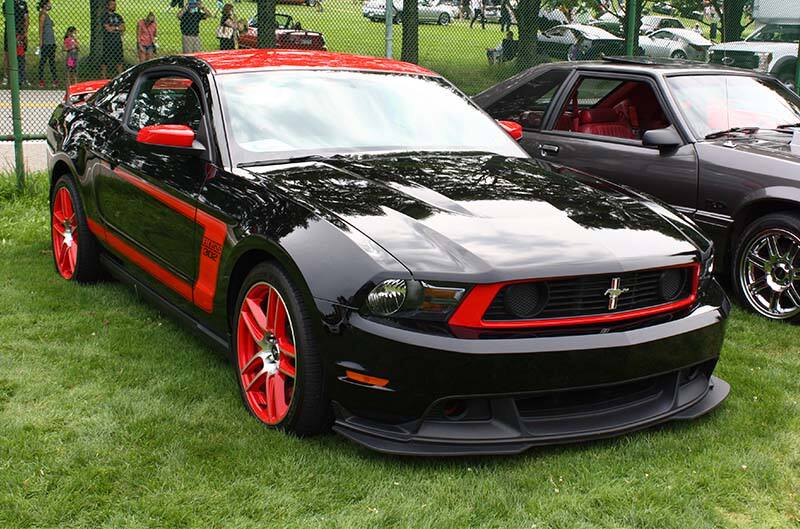 "USA Today has listed us as one of the 10-best car events in the country," he noted, "and Ford has been a huge supporter for years now. Local Ford dealers publicize the Festival in their showrooms. And a lot of the dealers own collectible cars, and they bring them out for the show." Of course, it's the Fords we had come to see – and we were not disappointed. Even though 2021's featured marque was a particular plastic product from The Other Guys, Dearborn devotees brought about 120 Blue Oval collectibles to the American Car Show, where they staked out a contiguous territory just south of Schenley Drive, and not far from the main entrance to the whole affair. About half of the Fords were Mustangs, and while we didn't actually count, we'd guesstimate that half of the rest were Thunderbirds -- most of them two-seaters from the beginning and end of production. The roughly 30 remaining vehicles encompassed a wonderfully broad sampling of the extended Ford family. The 1928 racer may have been the oldest Ford on-site, followed closely by two 1930 Model A's: Joe Acker's bright red pickup, and Jack & Cathy Dernorsek's green "Tudor" sedan. The latter wore conspicuous magnetic signs advertising the 3 River Region Model A Restorers Club. Parked beside the Dernorsek's "A," Jim Arnold's 1940 Deluxe convertible demonstrated just how far Fords advanced during the Depression decade.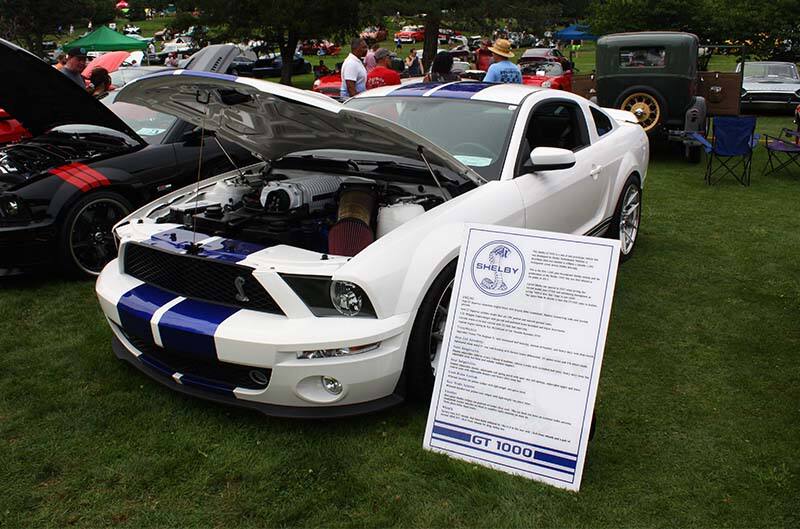 Thunderbirds were last featured at Schenley in 2015 (and were covered that year in a July 19 FordPerformance.com post titled, T-Birds Celebrate 60 Years at Pittsburgh Vintage Grand Prix). "But the local club, the Pitt Birds, puts on a really great display every year," Morrow emphasized -- and 2021 was no exception. Who could resist the charm of Barbara Uziel's brilliant red '55; or of the white '56 owned by Carol Tsudis, with its chromed wire wheels and turquoise interior? Standing out among the four-seaters was Michael Blissman's '63 Sports Roadster, one of only 37 delivered with the triple-carb "M-code" engine; and Bill and Nancy Mueller's '65 hardtop. Later models were well-represented by Ed and Debbie Kaczkowski's '67 Landau, and a the nicely preserved '79 of Ron & Patricia Hopkinson. Probably a half-dozen '02-05 Retros bookended the early 'Birds.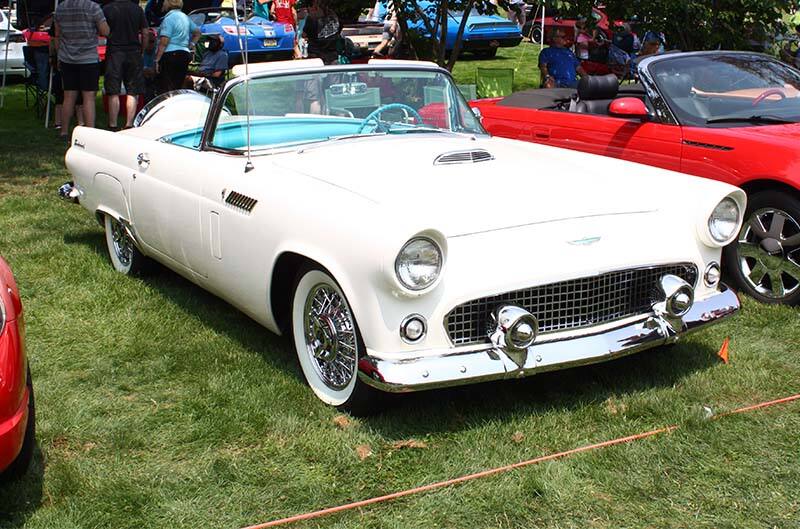 The Cobra Daytona shown by V. Mickus is, in fact, a Factory Five Gen 1 Coupe, probably assembled in late 2000, although not titled until 2003. Power is provided by a 427 stroker from Keith Craft Performance of Arkadelphia, Arkansas. Jason Uhler's silver 427 roadster was built by ERA as a replica of 1966 Sebring winner CSX3016 (driven by Bob Grossman and Pittsburgh's own Ed Lowther), but the dashboard is authentically autographed by Carroll Shelby.
Carly McCoy's Bronco has been in her family since '94, which is about when Carly was first old enough to drive it. She believes it was originally green, but it had already been painted dark blue when her folks acquired it. Otherwise it's original, "a survivor," she declared, proudly. We thought it looked particularly good parked next to Ryan Fox's modified '71; together, they made a striking pair.
Some higher-capacity haulers included Al Maze's glowingly yellow 1960 hot rod panel truck, and Gary Ianzalotto's more mildly modified '65 F-100.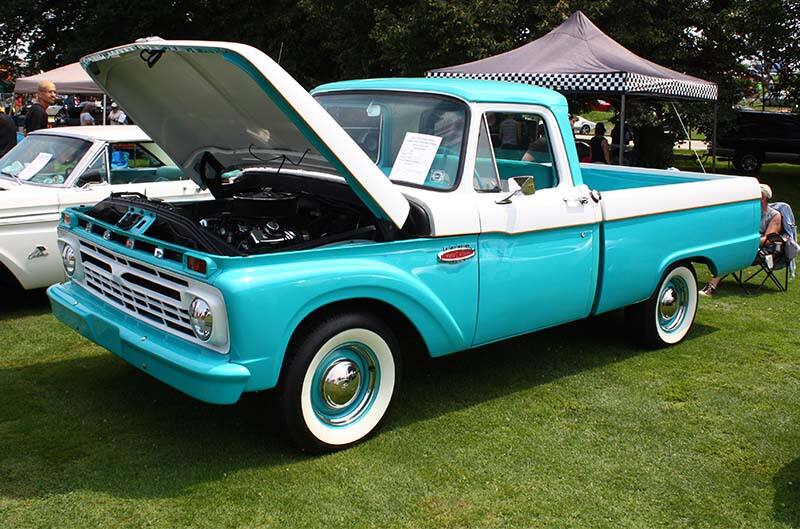 Of Torinos we counted precisely two: Thomas John Scott's 1970 GT, and the somewhat grander '73 Gran Torino Sport of H. F. DiPasquale.
The Mercury manifest was brief but eye-catching, including a pair of Aero-era Cougars -- Raymond Dickter's '83, and Tim Clark's '87, bracketing the path between them like two silver-metallic lions guarding a library. Rob Gregor brought a very nicely modified '64 Comet, and Dan Potlas displayed his '85 bubble-back Capri. Can't remember the last time we saw one of those. But perhaps our favorite car in whole crowd was David Kwiatkowski's 1950 Merc convertible, still coyly curvaceous and sensuously slinky after 71 years.
Mustangs have been featured at the Festival three times (see Mustangs, Shelbys Bring the Heat at Pittsburgh Vintage Grand Prix, August 29, 2019.) The 60 or so 'Stangs in attendance this year ranged from the proverbial mild to wild, and from classic cool to the hottest S550's. The newest model we spotted was Dennis Lane's orange-juice orange 2019 fastback. Bruce Campbell brought the prototype Shelby GT 1000 from 2008, its aluminum block and heads borrowed from a Ford GT, fortified by Manley rods and pistons and a Bryant billet crank, all pressurized for performance by a 4.5-liter Whipple supercharger. Richard Fricke displayed a strikingly red-striped Boss 302 from 2012, C. LeDonne brought a police Mustang from 1988, and Andrew Oshnock reminded us just how radical the turbo-boosted SVO looked back in '85. Standouts among the classic years included David Jozwiak's red '65 hardtop, and Mark Morrow's own, and very early (assembled in May '64), convertible.
And of course there was Kaplan's six-banger '66, which he bought in 2012 as a "rust bucket" on eBay. "I ended up having to replace the entire undercarriage," Richard recalled, and he traded the original "gold-green" paint for a more attractive Arcadian Blue. The engine block had cracked (although Richard still has it); so power is currently provided by a slightly later six salvaged from a Maverick. "Almost everything else is original" -- almost, except for the inconspicuous Tremec T5 tranny, which "means it can get up to 65 comfortably without the engine straining or whining." Like the Festival itself, Mustangs have come a long way.
One final note: Although the official 38th Festival was canceled in 2020, a few individual car clubs still managed to raise money for the Autism Society and the Allegheny Valley School. "That's our entire mission," said Morrow.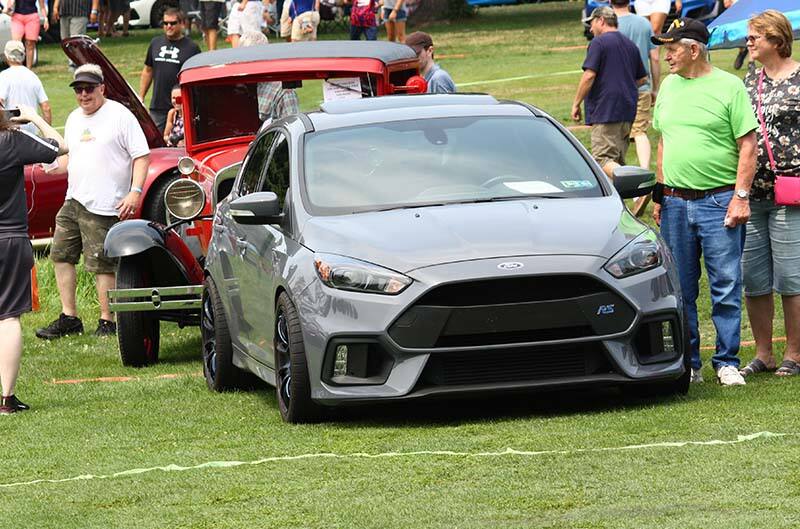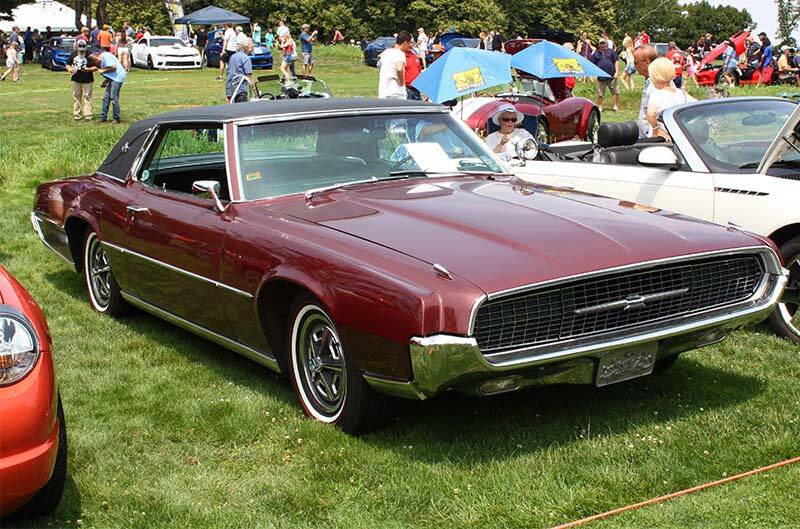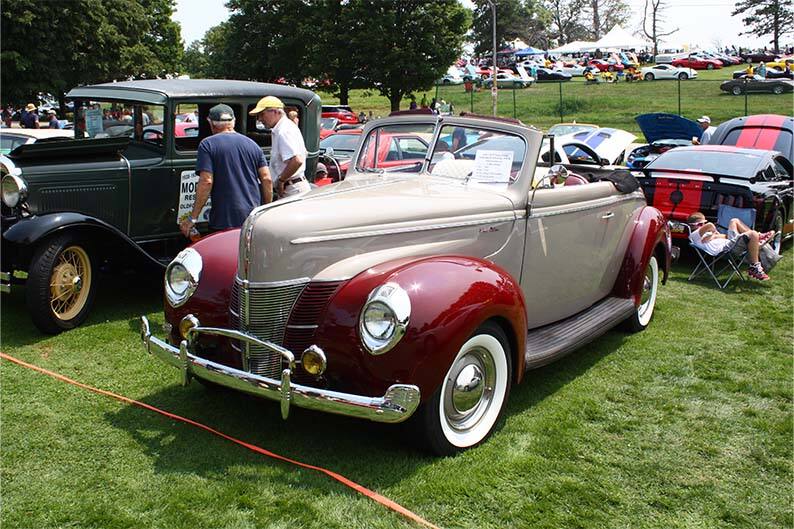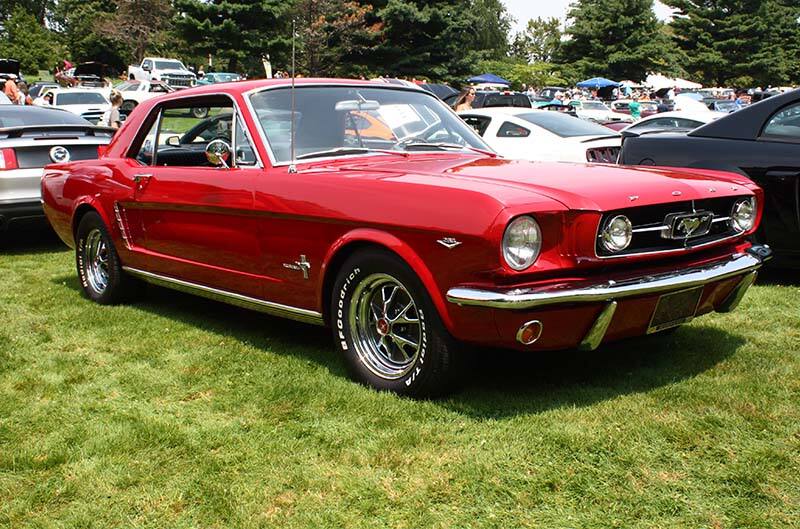 FORD PERFORMANCE PHOTOS / COURTESY JOHN F. KATZ