DEARBORN, Mi. – FordPerformance.com readers will recall that last year at this time we ran another in our series of interactive Ford product mystery stories that called on you – Ford enthusiasts – to help us solve a Mustang history question. We know that Ford's product history is stored in your garages, and that owners of classic Fords often know more about their cars than many of the so-called "experts." So we regularly tap into our reader knowledge base to help us shed light on long-unanswered questions or little-known Mustang product anomalies.
Because Ford Performance serves as the online home for Blue Oval enthusiasts both inside and outside of Ford Motor Company, our vehicle interests range from everything preserved in the Ford Archives to everything that's appeared in Ford dealer showrooms – in the past, now, and in the future. And because we connect with enthusiast owners from across the globe every day, there's little we haven't seen or heard about, especially for those of us who've logged many years of service at Ford. But every once and a while we come across something that we can't readily find out, so we ask for your input. That's been the case with us trying to find a Yankees Edition Mustang, or a Black Widow Mustang, or a real W-Code Mustang – and not just a 427 installed in a first-gen Mustang, but one from the factory with an actual "W" (and not a "S") in the VIN.
While your responses have not always provided exactly what we were looking for, they have always been both enlightening and entertaining. And that was certainly the case last April when we asked your help to identify a mid-engine 1966 Mustang project car that was captured in four Ford Design Studio photos taken on May 2, 1966. When we couldn't find a definitive answer, we not only asked you to send your insights to ClubHub@Ford.com, but also made a little contest out of it by offering up a special prize for the person who supplied the best info to help unlock this mystery for us.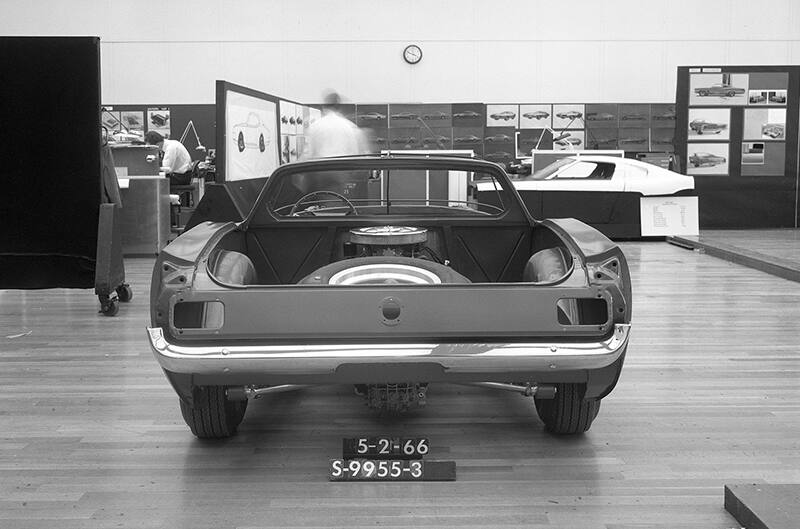 We got a Ford Performance mini-flag ready to mail out to the person sending us the best clue -- except that just as your responses were starting to come in, the answer came in – and from a totally unexpected source. Turns out that an automotive media website writer saw our mid-engine Mustang mystery story and decided to contact Ford Public Affairs to see if they could find the answer and post it on their site before Ford Performance reader responses could even be tallied. The writer was put in touch with Ted Ryan, Ford's Archives and Heritage Brand Manager, to see if Ryan could shed light on the old Ford Design Studio photos. Consequently, in the same week that our story first appeared, that auto website posted a piece entitled, "Ford Solves The Mystery Of The Mid-Motor Mustang,"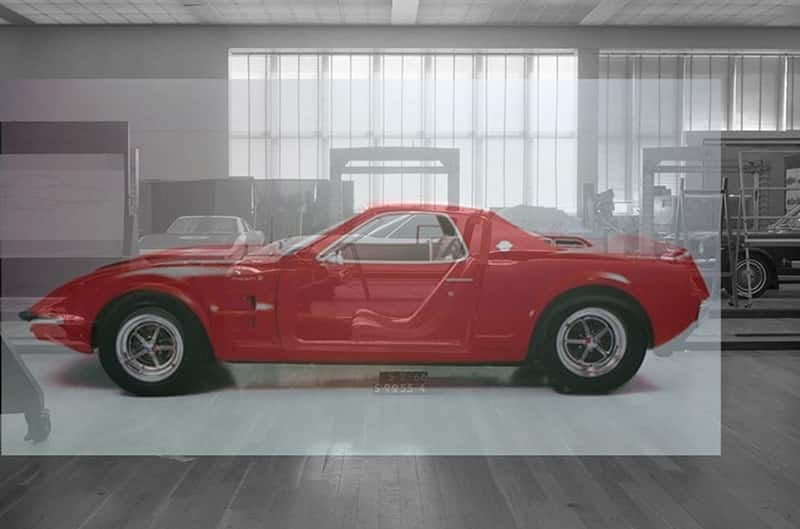 The web reporter wrote: "Ted [Ryan] revealed to me a key bit of information about these pictures, and others like it; they're referred to as styling negs, for negatives, because, traditionally, these pictures of design works-in-progress were stored as negatives. Every day starting in the early 1950s, in the design studio, active projects were photographed and categorized with an S-XXXX number."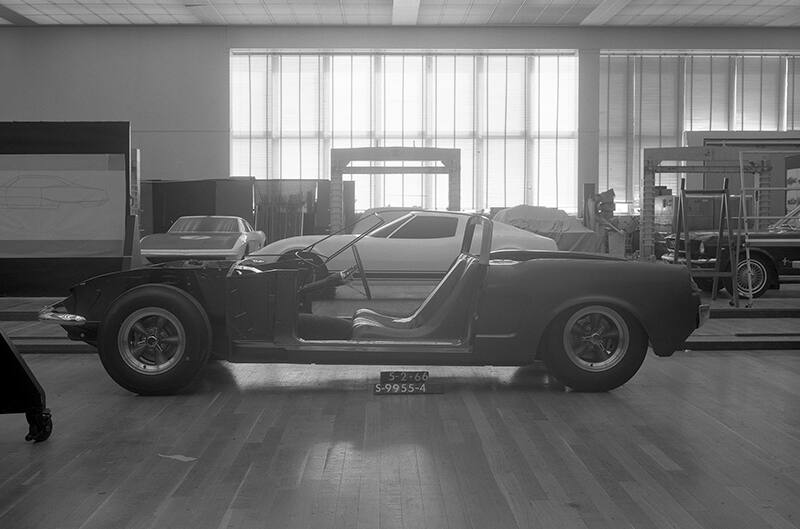 With that number clearly seen in the mystery photos, Ryan told the writer that the number indicated "we're dealing with the S-9955 series, of which there are multiple negs, this one being the first. The S-neg collection has over 350,000 negatives, over 50,000 of which have been scanned. The original inventory was destroyed in a flood, but there's still a huge collection available."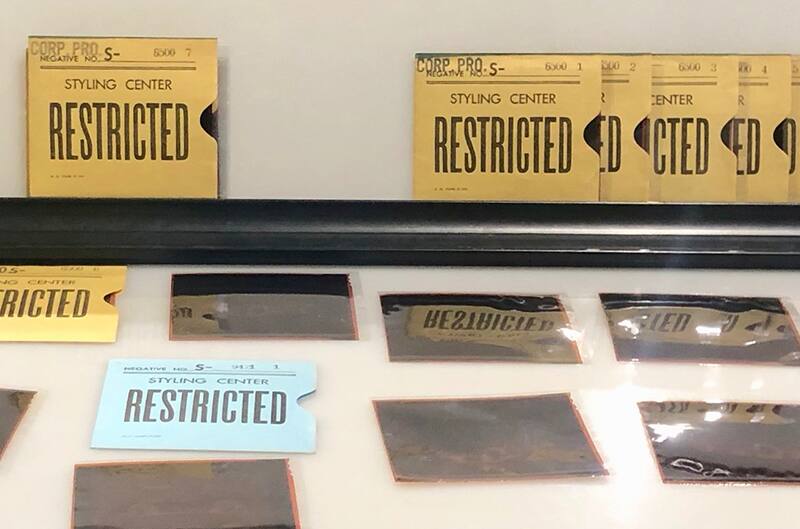 From there, Ryan was said to have reached out to Jim Farrell, who has written a book about the Ford Design Department, to get his input. Farrell reportedly sent the photos to 13 designers or clay modelers that were at Ford in 1966. One of the retired designers, Bud Magaldi (yes, the same Bud Magaldi who was responsible for the design of the SN-95-era Mustang), responded that he believed the photos were of an engineering project car that eventually became the Mustang Mach 2 concept car (that Magaldi himself had sketched).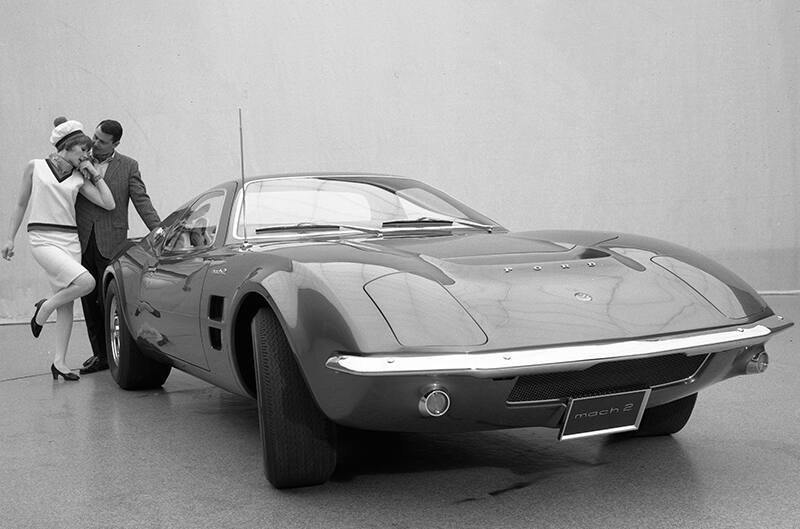 The website story concluded that, "what we see in these photos is for the Mach 2, but it didn't originate in the styling department. This was a mockup that was started in engineering as a packaging study, then sent over to design once the basic packaging issues were worked out. It's likely that this mockup frame could have provided the proportions for, or maybe actually be the actual base of the Mach 2 clay model. So, the takeaway here is this mystery Mustang was an engineering packaging study for what would become the 1967 Mach 2 concept car."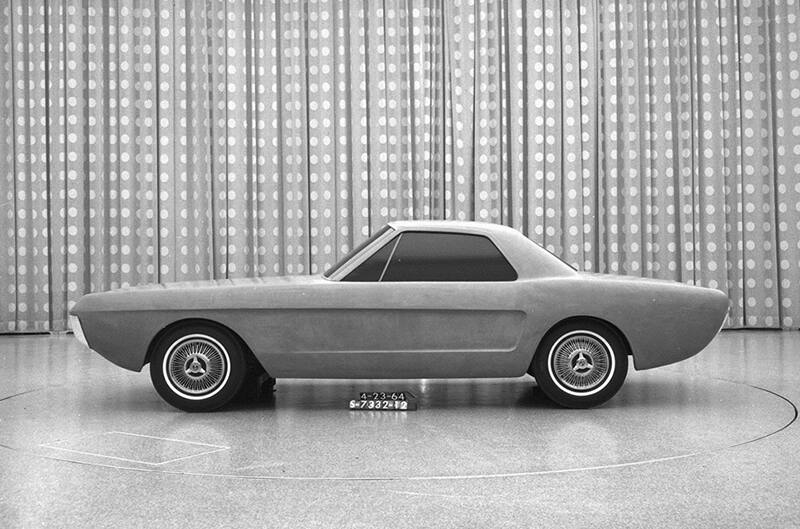 The post ended by saying, "So, there you go, Ford Performance. Now you can sleep at night." But in reality, that post declaring the mystery was solved while we were just beginning to receive the more than 100 emails about the mystery from Mustang people all over the world was quite unsettling. Worse, it cut short our little "guess what these photos are?" contest, spoiling it for those who wanted to claim our Ford Performance mini-flag "prize."
Regardless, we had no choice but to wait until all of your responses came in as planned, and then catalog them all. Then, we took the best clues among them (which identified the project as involving then-Ford contractor Kar-Kraft – the shop that worked on the GT-40, Boss 429 Mustang and a variety of Ford prototypes and concepts) and sent it -- along with much of your input -- to Charlie Henry. He's the author of the award-winning 2017 hardcover book, "Kar-Kraft: Race Cars, Prototypes and Muscle Cars of Ford's Specialty Vehicle Activity Program."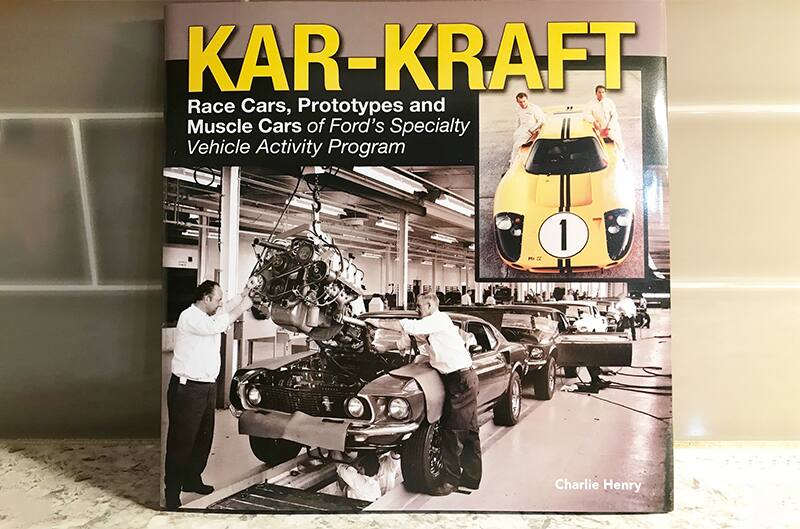 Our thought was, now that the Ford info was out, was there any more that we could learn from those photos from the enthusiast side of things? Since Charlie Henry literally "wrote the book" on Kar-Kraft, we asked him if he could use our reader info to do a deep-dive story on the Mach 2 protoypes that Kar-Kraft had worked on for Ford. We'll have his full investigative report in the Enthusiasts section of FordPerformance.com in the coming weeks, so stay tuned. In the meantime, we've gone back and reviewed all of the reader responses sent to ClubHub@Ford.com to our original mid-engine mystery story to see if we could identify which one, or ones, could be considered the "winner" of our Ford Performance mini-flag prize for the best clues. It wasn't an easy task.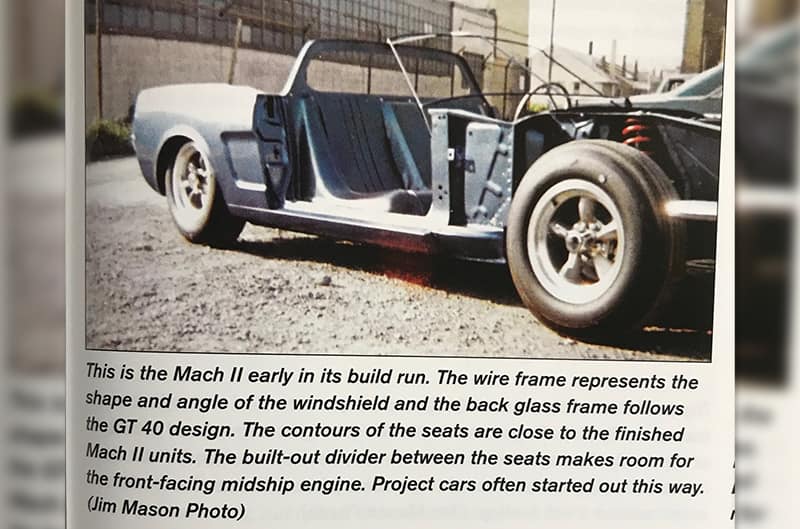 Among the scores of emails we received, more than half weren't guesses at all – but rather tips on the names of people who were said to be involved with the project and or who we might want to contact to try and find out more information. Many of the tips came from folks in the Ford community – either employees, retirees, writers, historians or Ford club members and enthusiasts. Both Jeff Jacobucci, Team Shelby's Mountain Region Director, and Joe Dietz of the Denver Mustang Club, suggested that we get in touch with Bill Riley, whose father, Bob, worked on the prototype at Kar-Kraft. So we hooked them up with Charlie Henry, who had himself weighed in as it being a Mach 2 precursor pilot car. SAAC-MCR club founder-turned-FordPerformance.com photojournalist Jeff Burgy flagged it as a Mach 2 Concept prototype, as did author Marty Schorr, as well as Ford retiree/historian Wayne Ferens. Noted auto journalist/authors Matt Stone and Paul Newitt offered kudos on brining the story to light – all while more than a half-dozen North American auto media outlets picked up the piece with stories of their own.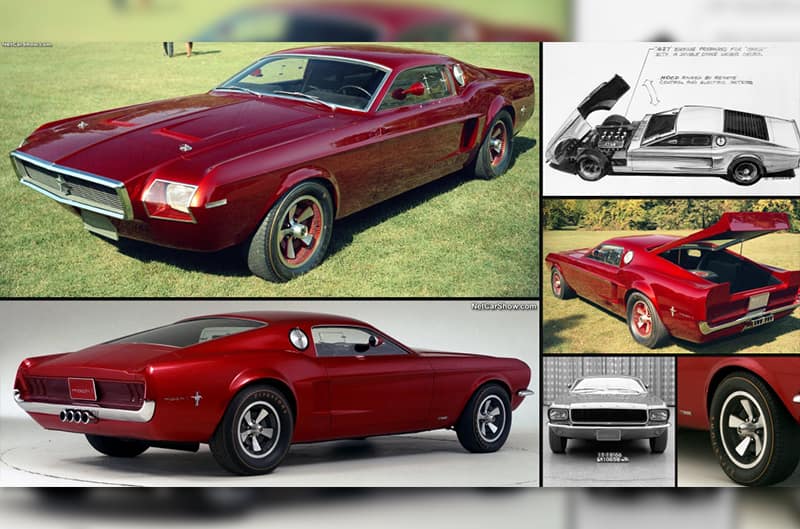 Roughly 25 percent of the responses correctly guessed that the mystery photos were either related to a Mach 2 feasibility project or the 1967 Mach 2 Concept car itself. Among them were Ford fans and journalists from across the globe, including auto writer Karl Ludvigsen of the UK (who actually drove the Mach 2 Concept back for a press event back in the day), Jean-Pierre Habash of Quebec, Lóránd Tegzes of Hungary, Sergio J. Cabrera, the editor of Motor News in Spain, Marek Bednar of Novinky.cz / AutoMoto (the most-visited news website in the Czech Republic), plus Adelbert Engler from The Mustang Garage and Yeelen Möller, editor of AutoWereld/AutoGids, out of Belgium. Talk about a Ford enthusiast story with global reach!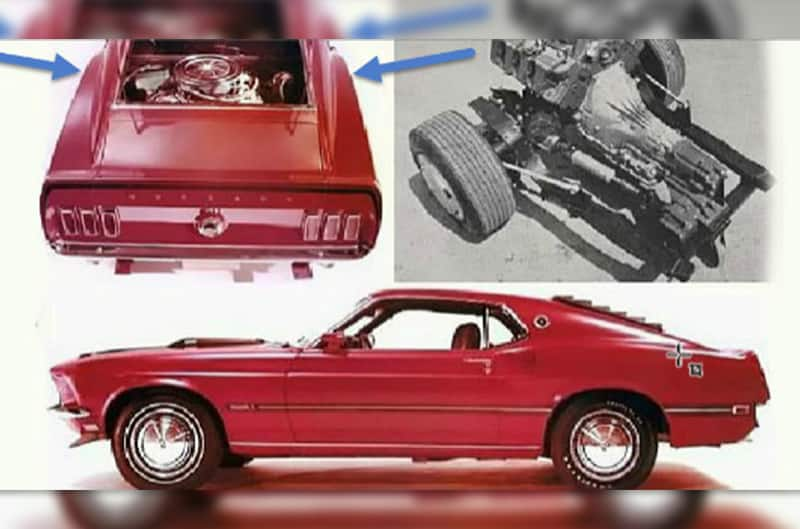 But of all the responses we received, our favorites were the guesses that had nothing to do with the Mach II concept. Carlos Javier Marqués, a historian in Spain, believed the photos we from a stillborn Lola-Ford project, and another Ford enthusiast, Nathan Locke, guessed it was prototype for the Lotus Europa S1. A couple of fans suggested it was a prototype for the first Mercury Cougar, while a half-dozen more said it was either a DeTomaso Pantera or Mangusta prototype chassis. Almost as many more each made guesses as the Mustang 1 Concept, the mid-engine Boss 429 project, the Mach 1 Concept, the Pegasus Concept or the "Shorty" Mustang III, while still that many more said it was a secret Shelby-Ford project for either a new Cobra, Daytona or a GT-40 sports car. A couple of entries claimed they'd even seen the completed car – one in a display at the University of Wisconsin and another at a car show in Alabama. But Bill Warner, Founder and Chairman of the Amelia Island Concours d'Elegance Foundation, told us that he and retired Ford exec Chris Theodore "have been looking for this car for many years, to no avail. We are still trying to find it before anyone else does -- Ha!"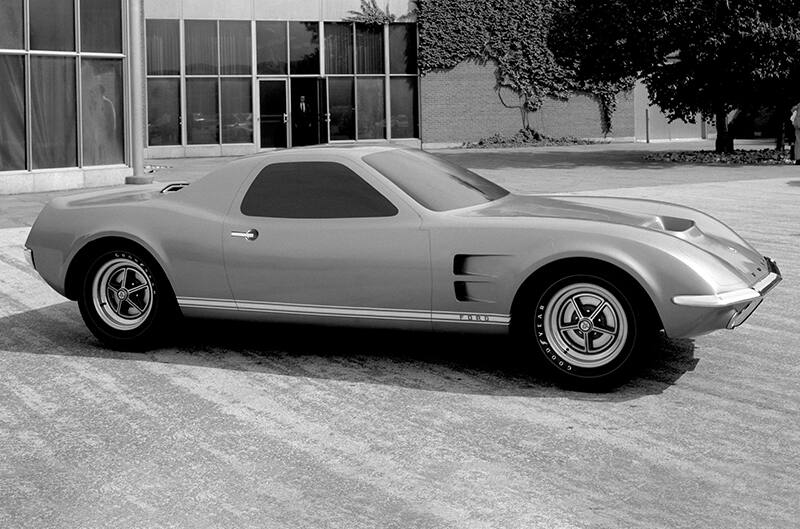 The two most eye-opening responses had to be these: The first came from Ford retiree Steve Hermann, who old us that, "Years back, while working in Chassis Controls under Len Brown (manager), I sat next to a gentlemen named Rodney Jordan. He claims that he found a discarded mid-engine Mustang in a junk yard and bought it. He was hoping to restore it someday. I have not had contact with Rodney, another Ford retiree, for probably 20 years . . ." The other was the author of this next email, who I'll refrain from identifying: "Referring to the information you are looking for about that mid-engine car ... you will not find it. It's because this car does not belong to your universe -- but to mine, I got that car in the 60's and sold it to a farmer at that time. I do not want it to be news and give explanations of parallel worlds, I just want to give you this information. I have been in your world for more than 80 years in anonymity, and thus I want to remain." Even after reading that twice, all we could say was . . .Wow!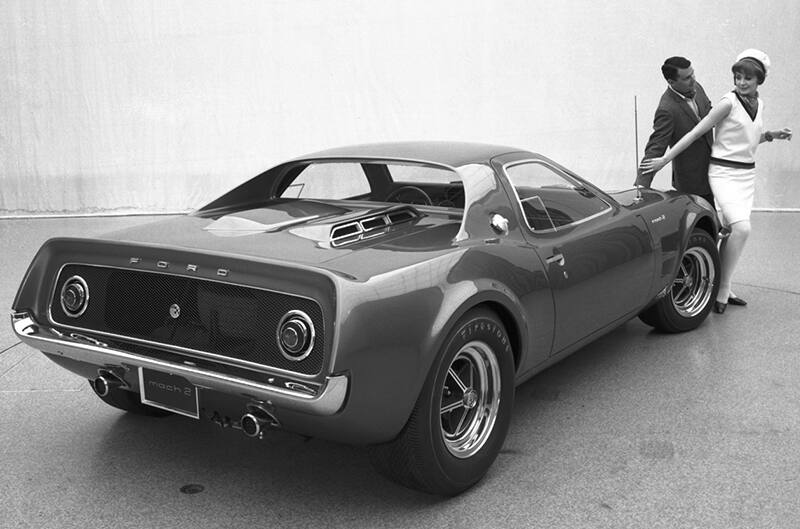 But now for the serious stuff: We've calculated that no less than four people responding to our original story correctly identified the car in our mystery photos as being the same Mach 2 feasibility project car that was spotted in a photo on page 145 of Charlie Henry's Kar-Kraft book. Joe Ziomek, Allen Butcher and Lowell Otter (of the West Michigan Mustang Club) all deserve a Ford Performance mini-flag for their detective work. But what of that fourth person? Well, that was Michael Serebrennikov, who also included a photo of that mystery car as it appeared in the Kar-Kraft book as "proof" of his guess. For that, we'll send Michael a Ford Performance vinyl banner. Amazingly enough, we won't have to send it very far; it turns out that he works at Ford Performance as a Ford F-150 Raptor engineer.
For this mystery story heard 'round the world, perhaps it's only fitting the answers were right here in Dearborn all along. Don't forget to check back for Charley Henry's Mach 2 retrospective coming up next . . . and then keep following FordPerformance.com for another big "Mustang Mystery" that we'll be sending your way in the coming weeks. Who knows? Your answers could land you a Ford Performance mini-flag after all!
FORD PERFORMANCE PHOTOS / COURTESY FORD ARCHIVES and READER SUBMISSIONS