Editor's Note: We've often said that when you buy a Ford, you're not just buying a vehicle -- you're buying an entire lifestyle. After all these years, we've never seen a better example of that than the Young family, now centered in North Carolina. And while we've often told the stories of some Ford owners whose Blue Oval lineage has been passed down through one, two and even three generations – we've never before been able to tell a tale of a family of Ford fanatics that dates back six generations – more than 100 years! But that's exactly the case here with the Young family's incredible tale of Ford fanaticism which, when we heard it, were so intrigued that we knew we just had to share it with our fellow enthusiasts here on FordPerformance.com. So we've asked the family's current keeper of the Ford flame, active Mustang hobbyist Mark Young, to put together the more than a century of his family's Blue Oval legacy. So buckle up and ride along for this journey with Part One of our three-part series below:
CHARLOTTE, NC – The legacy of Ford, and more recently the Mustang, goes far beyond the cars themselves. Perhaps more than any other iconic vehicle, Mustang is as much about its legions of owners, fans and followers than it is about sheet metal, chassis and engines. My name is Mark Young, and I am a Mustang and Ford addict. I was born in 1965, right in the middle of the original Mustang craze. I've been a member of the Carolina Regional Mustang Club (CRMC) in Charlotte, North Carolina, for 25 years, Board Member for 10 years, and proudly one of the Past Presidents from 2013-2015. The CRMC is a medium-sized MCA Regional club founded in 1978, with about 200 primary members and 400 total family members.

Some may recognize the club name with regard to past Mustang Anniversary or Birthday celebrations. That's because the CRMC had the distinct honor of being the Mustang Club of America's "Host Club" for the Mustang 30th Anniversary event in 1994, the 35th event in 1999, and the eastern location for the Mustang 50th Birthday Celebration in 2014. We also assisted with the Mustang 55th coinciding with the Grand Opening of the Mustang Owners Museum in 2019. Most recently, we hosted our own 40th Annual Mustang & All Ford Show in September of 2020 at our local dealership sponsor, Crossroads Ford of Indian Trail, NC.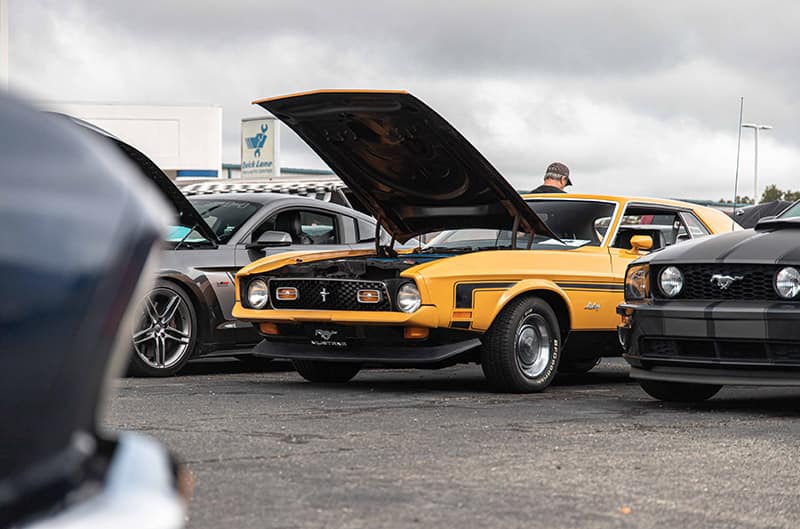 In my case, I was fortunate to have grown up with a long lineage of Mustangs and Fords in the Young family. These are Youngs that were pretty much Ford brand loyalists going back three Generations before me, and over 100 years to date.
The patriarch of the family that spawned the interest in these new mechanical motor-driven marvels was my Great Grandfather, C.H. Young -- or Homer to his friends. Homer was an Auto Agent and Proprietor of one of the earliest Ford dealerships in the Northeast, quaintly called Young Motor Cars. It was established around 1909, possibly sooner, in the small community of Springville, Pennsylvania, located along the Northern Tier of central PA in the Susquehanna River Valley. He operated out of a 24-foot-by-48-foot, two-story building that included a service area for automobile repair and general maintenance, and limited showroom space for autos and accessories. He was a true entrepreneur at the time, as he also offered the luxury brand Maxwell, and several years later, a Sport model called Harroun (as developed by fellow Pennsylvanian Ray Harroun, the first Indy 500 winner in 1911, and the Maxwell Race Team manager before WWI).

Like Ray, Homer was way ahead of his time, as these were most likely his Lincolns and Mustangs of the day. Who knows -- maybe he and Ray were car buddies! Prior to Homer's involvement with the automobile, he most likely had a bicycle repair shop of sorts, as far as our family can tell. He was granted a U.S. Patent, #589,521, for a Bicycle Saddle on Sept. 7, 1897. Which if you knew him is not surprising . . .
In the fall of 1912, along came my grandfather, Carl T -- or "Grampie." For his birth announcement in the local paper, Homer referred to him as "a Maxwell Special, the very best to be had at any price, with all the latest improvements and fully equipped." Talking about laying the groundwork for a 2nd Generation future car guy! Homer ran a successful dealership along with the opening of an automotive service station somewhere along the way. Unfortunately, Homer was shot and killed during a "stick-up" one night at the service station in the early 1930's. The crime was never solved. Had it not been for this life-changing occurrence, I'd most likely be either Servicing or Selling Henry's finest today, in one of the family's centennial businesses.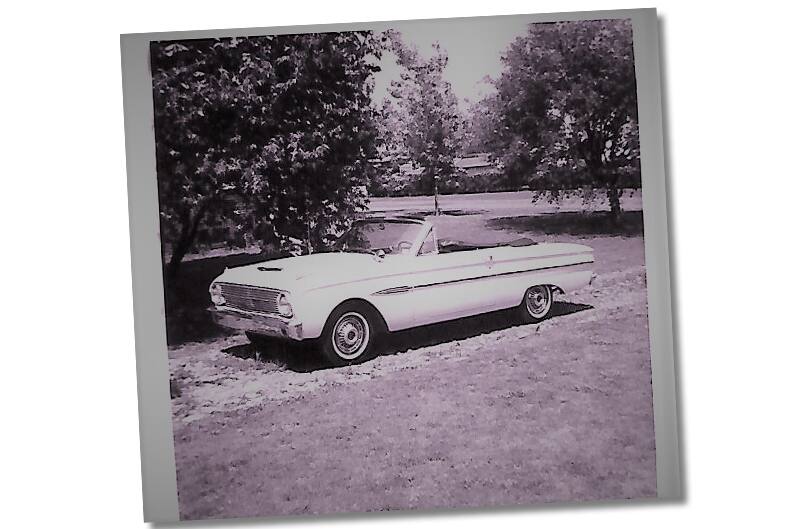 Fortunately, Carl T. inherited Homer's ingenuity gene as well. He pursued a somewhat different, yet challenging, career as an "Inventor" with IBM. That may possibly have been due to his father's untimely death, but we're unsure. He started with IBM in 1933 at the Endicott, New York, facility (and yes, Inventor was his actual title!). He was, however, still a 2nd Generation car guy and always drove nothing but Fords and Mercurys. That was maybe out of respect for his father, but mostly because he loved them! We are not exactly sure what he drove specifically in the late '30's and into the 1940's, but in the 1950's and '60's he was upgrading the daily drivers frequently. Some of these were: a '51 Ford 2-door Hardtop in Powder Blue with a White Top; a '51 Ford Convertible in Light Green with a Black soft top (this was Nana's); a '53 Mercury 2-door Hardtop, Red with a Black Top (my Dad first learned to drive in this); a '54 Ford Convertible in Yellow with a Black soft Top (upgrade for Nana); a '62 Galaxie 2-door Hardtop in Chestnut (Carl T's first new car!) -- traded for another new '64 Galaxie 2-door Hardtop in White; a '64 Falcon Futura Convertible in Yellow with a Black soft top (another upgrade for Nana); a '66 Mustang coupe in White; a '67 Fairlane 500 2-door Hardtop in Medium Blue with a Black vinyl top; and a '74 Maverick in a two-tone Light Blue over Dark Blue. You'd think we still had a family car business with as many Fords that were in the driveway through the years. (These didn't include dad's projects that both he and Al were both working on as teenagers – but more about that later.)
As years passed, the 3rd Generation of Youngs came along. Although there were five kids in all, the car guys were my father, Robert L. in 1940, and my uncle Al a couple years later. (More about these two to follow.) Fast-forward to the early 1960's, and other than his daily drivers, Carl T's coolest car to date was a '31 Ford Model A Deluxe Roadster with Dual Side Mounts (Spares). He and my uncle Al restored it from the ground up, starting with a local rust-free barn find that they rescued from one of the neighbor's garages after decades of forgotten storage. (My dad used to sneak in to play in that car as a kid!) My grandmother even helped with the interior and soft top, sewing it by hand and using the originals as a template. As much as he loved restoring and driving the Model A, his all-time favorite car to-date was a 1955 Thunderbird. He'd been enamored with them since they first came out, nearly 10 years prior, and he'd hoped one day to own one.
Well, as luck or fate would have it, he and Nana were out for a weekend drive in the Model A when the president of the local Model A club saw them (possibly at their favorite ice cream stand.) After looking it over, the guy decided he had to try and buy it for his own collection.
"It's not for sale" my grandfather said, "but I'd consider an even trade for a '55 Thunderbird in like-new condition."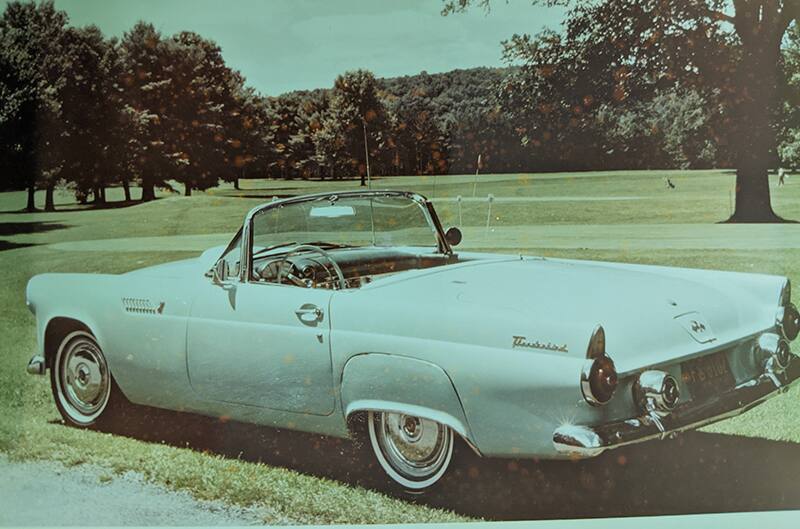 That was it, as far as Grampie was concerned. They exchanged information, and off they went. Several months later, the gentleman showed back up in a low-mileage Thunderbird Blue '55 T-Bird, a 1-owner car that belonged to his sister. Hoping this would be satisfactory to consummate the pending deal, he offered it for trade. So Carl T, being savvy like his father, nitpicked the car, stating "the tires and convertible top show some wear, and there's an exhaust leak. You fix those and we've got a deal." A couple of weeks later, he brought the car back with the repairs made, and they traded even-up. A restored '31 Model A Roadster for a now like-new '55 Thunderbird. Check that one off Grampie's Bucket List!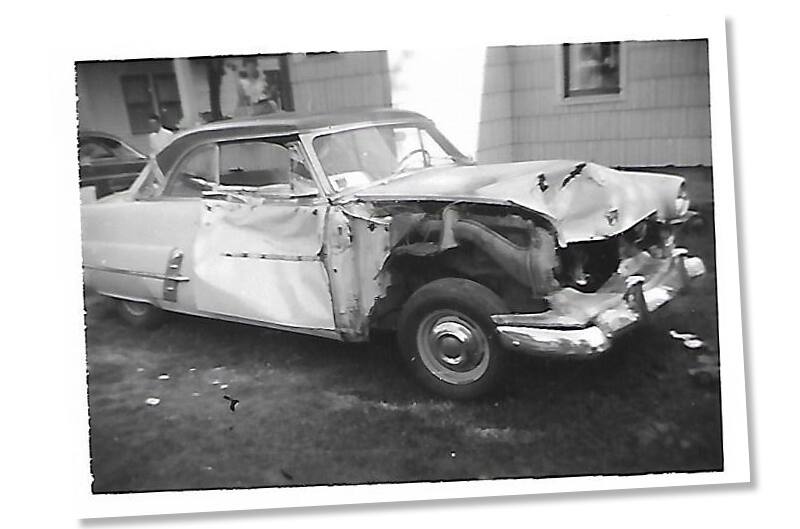 My father, Robert L. -- or just "Bob" -- got that car guy gene also, only on steroids! Being born in 1940 and raised in the automotive heyday of the 1950's, he was building hot rods throughout his teenage and high-school years. After learning to drive in Grampie's '53 Merc, he got his first car, a '51 Ford Club Coupe. To make it all his own, he proceeded to nose and deck the front, and install a Mercury Grille, followed by a slick, new Maroon paint job. Now this got the attention of everyone in his high school and he quickly became the go-to guy for light customizing and paint work.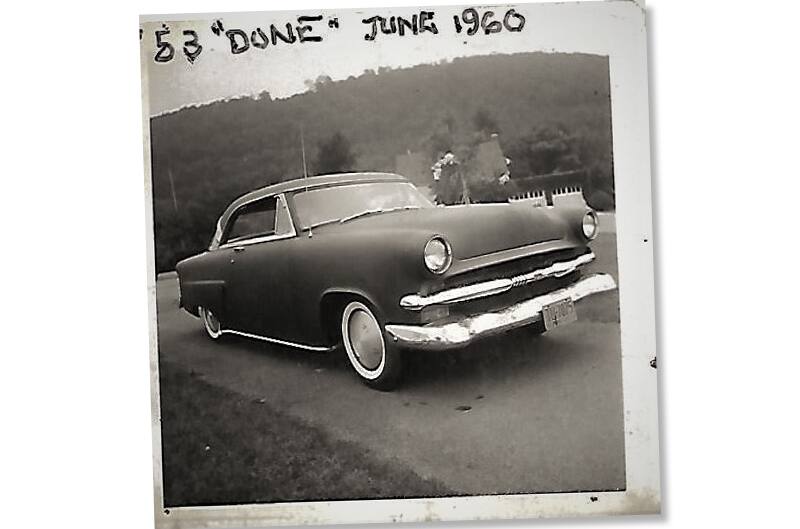 He built and maintained many of his buddies' cool cars in Grampie's old cinder-block detached two-car garage. Work included custom paint jobs, with a little Frenching of the head and taillights, as well as numerous drivetrain swaps. He remembers painting cars in the middle of winter, with the potbellied stove glowing cherry red, and the air so thick with paint fumes that you could hardly see, much less breathe. It's a miracle he didn't blow the roof clean off the garage!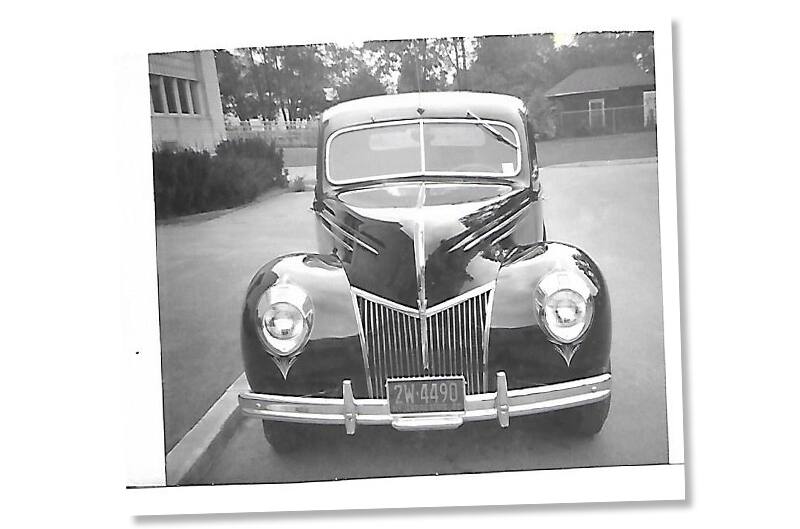 Dad sold the '51 Ford for a '53 Ford Victoria. He nosed and decked this one as well, added Lake Pipes, but left it in primer for the old-school look. One of his early favorites was a '39 Ford Deluxe Coupe with a dropped front axle. He Frenched the lights and rolled the wheel-well openings using brazed-in copper tubing with a lead finish, for added wheel and steering clearance. He painted this one a Midnight Black and finished it off with another set of Lake Pipes. I believe this was the final straw for Grampie, not being able to use his garage for weeks on end. As a result, dad got kicked out of the garage and had to find someplace else to work on his and his friend's cars.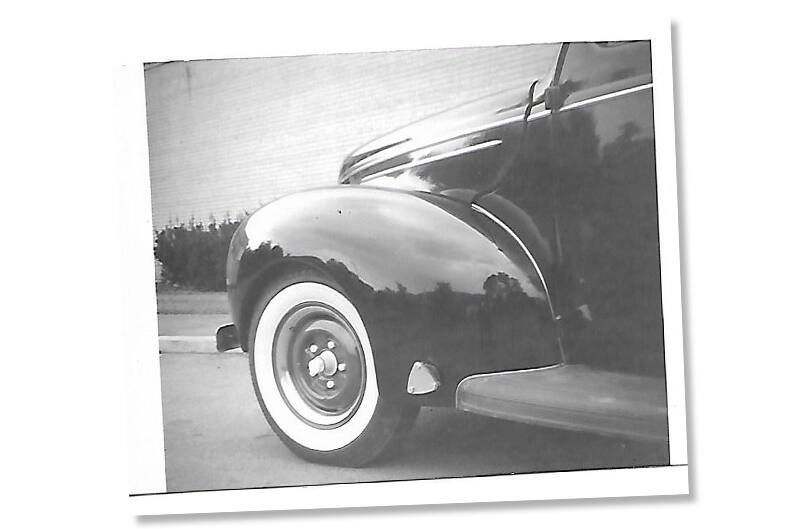 After his high school graduation in 1958, dad completed two years of Junior College at Broome Tech and then four years as an Airman in the U.S. Air Force. He was stationed at Eglin AFB in Ft. Walton Beach, Florida, from 1960-64. The car scene was still in full swing and the base was fortunately loaded with gearheads and their cool cars! They had a full machine and fab shop on-base, to build or modify whatever car they wanted when off duty. For Dad, this was a dream come true.
As a result, about every minute not working or sleeping was spent tinkering with his and his new Air Force buddies' cars. With such a collective following of the car culture on-base, including several ranking officers, it wasn't long before they were able to convince the Base Commander to let them open a sanctioned drag strip on one of the decommissioned runways. Street and drag cars came out of the woodwork to grudge-race their buddies at this little-known Florida Panhandle Drag Way!
With uncle Al being only two years younger than dad, they looked a lot alike. Al came down for a visit from Binghamton, to check out the scene that dad had been raving about. Well, he looked so much like my dad that he stayed in the barracks, ate in the mess hall and basically impersonated my dad for everything but actual work. By this time all his buddies included Al as one of the gang. Dad had been working nights, so it worked out until . . . The Master Sergeant saw them both one weekend walking down the stairs together. Needless to say, that extended visit came to an abrupt end for Al, with emergency leave for my dad to drive him back to New York. Fortunately, only a stern reprimand was all he returned to -- though fully expecting a Court Martial.
Besides the year-round beautiful weather and a dragstrip at their disposal, there was also some of the country's most beautiful beaches are right there in Florida (Fort Walton, Destin, San Destin, etc.). It was during this stay at Eglin AFB that he first met my mother -- and at the beach, of course! Unfortunately, timing wasn't the best as it was the summer of '64 and he was about to complete his four-year stint in the service, and then head back to New York. To complicate things slightly, my mother's father, Major Col. Edwin S. Day, was a decorated WWII B-17 bomber pilot with the 8th Air Force, and a career officer. He wanted absolutely nothing to do with his daughter dating a non-commissioned lowly Airman, and actually had forbidden it!
Well, after several weeks of sneaking around, they announced their intentions with or without the major colonel's blessing! I guess my dad was convincing enough, as they were married a short time later with his soon-to-be in-laws' full support, and off to upstate New York they went. After a pleasant fall, and long, cold winter (my mother's first experience with snow), I arrived the next summer in late July of 1965, "with a wrench in one hand and a Hot Rod Magazine in the other" as my dad said.
Now with mom and dad living back in upstate New York, he started his new career working for Corning Glass Works, in Corning, NY. Coincidentally, uncle Al was also working for Corning, but at a different factory in another part of town -- the brothers again reunite! Al had also gotten married and had a son, Douglas, about six months prior to my birth. Now the stage is set, and the 4th Generation of car guys in the Young family is taking shape.
Again, that car-guy gene got passed down to its next generation, fully intact and raring to go. Dad built a detached two-car garage behind their first house to continue with his car-building hobby. He decided that there was more money to be made rebuilding wrecks, than in light customizing of local cars. With all that going on, it seemed like every single day involved something to do with cars. As a toddler, I'd carry around hubcaps or loose tools. One time I filled a friend of my dad's gas tank with water while playing Gas Station Man with the garden hose! It wouldn't surprise me if ole Great Grandpa Homer was looking down and smiling!
My dad had many cool cars throughout my early childhood, but I was too young to remember. Most were wrecks he rebuilt and sold, with the proceeds to put towards their nest egg for the next chapter. I do have a brief memory of my mom's first car, a Black 1964 Mercury Comet. I shut my finger in the door when I was 3 or 4 years old and it was my first kid trauma of sorts! I forgot to mention that the stork brought me a little brother, Christopher, in the summer of '68. Now it was time for a bigger home. Dad put enough money aside building and selling wrecks that they were able to move out to the country, into a modest story-and-a-half Cape Cod home with some acreage. Now he had his own private Idaho, without neighbors complaining about the beating and banging going on in the garage!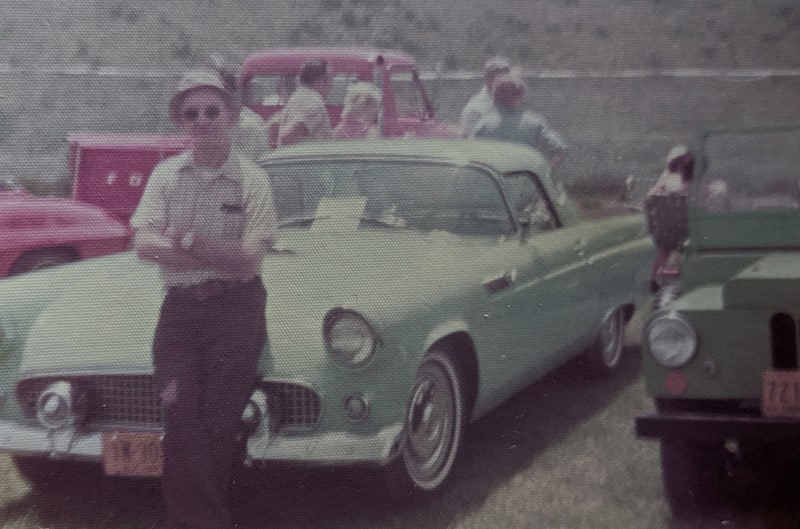 By the time the early 1970's rolled around, Grampie retired from IBM after 40 years of dedicated service. Some IBM Technology that he contributed to and/or received patents for included the Vehicle Data Travel Recorder that mapped turn-by-turn and distance-tracking on a linear seismic type sheet data recorder, put in use by the military in remote desert operations. He also developed the technology for Industrial IBM Time Clocks to remain synchronized with the World Atomic Clocks, through Radio Frequency Modulation signals. There were many other things he did involving patents, but one of his final projects was the IBM High Speed Printers and Typewriters utilizing the golf-ball sized floating printer head with type-embossed characters. That idea had revolutionized both industries overnight.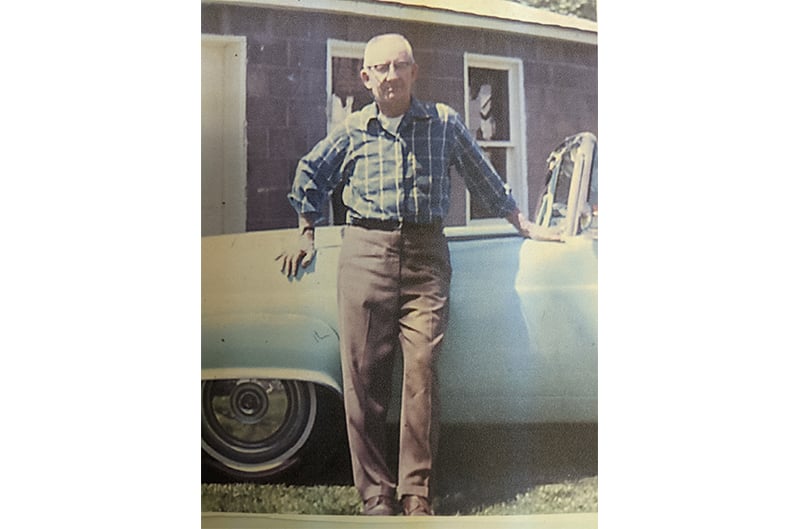 He still had his '55 dream car and life could not be better for he and Nana. There were still Fords in the driveway, just as there always have been over the years. But fortunately no more clunkers like dad and Al would drag home. The '60's had come and gone, all the kids were grown with their own families, and the 4th Generation was well on its way. Grampie stayed busy with his HAM Radio hobby in his Radio Room, and meticulously caring for his '55 Bird. Over the next few years, he attended numerous local car shows with his Thunderbird, proudly showing it off. My dad and I, and sometimes uncle Al and my cousin Dougie, would also be there in support, and to check out all the cool cars. Doug and I were less than a year apart and definitely being groomed as the next round of car guys in the Young family.
In early Feb. of 1976, Carl T. passed away unexpectedly. He had just arranged for safe transport of a Base Crew and some civilians from the earthquake-ravaged country of Guatemala. All the communications were knocked out, but through his international Ham Radio contacts he was able to make the necessary arrangements. He was interviewed by the local news affiliates, and on the CBS Evening News that night. But unfortunately, he never got to see it. Apparently, his heart couldn't handle all the excitement; he was 63. At the time, Doug was 11 and I was 10, and we were all devastated, to say the least. But, as time would show, he left a lasting legacy behind, just like his patriarch car guy father, Homer! Even after Grampie's passing, Nana still loved her Fords and drove another Maverick -- and later a fully optioned Crown Victoria.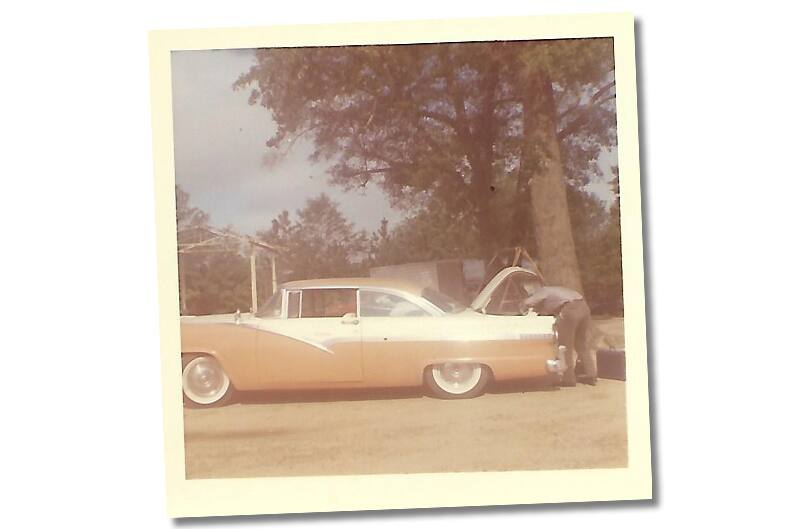 My uncle Al got the '55 after Grampie had passed and my dad stored it at our house until he was ready for it. I remember sneaking out as a young teen and secretly starting it up and pulling it in and out of the building when my dad was still at work. I guess it was technically the first car I ever got behind the wheel and drove – though it was only for 30 feet or so! Al finally came and got it about 1990, when dad's car business (R.L. Young Auto Sales) was in full swing, and I had just purchased my first and only new car back in North Carolina -- a Bright Red 1990 Mustang GT. But that was a whole new beginning for this car guy . . .
FORD PERFORMANCE PHOTOS / COURTESY THE YOUNG FAMILY