HERSHEY, Pa. – On any ordinary day, the AACA Museum in Hershey, Pennsylvania, provides more than 70,000 square feet for comfortably relaxed contemplation of the 150-or-so historic vehicles on display at any given time. But this particular Sunday was no ordinary day. From the museum's basement to the cupola, pulsing throngs of die-cast enthusiasts packed the available floor space as they swarmed more than 90 jam-packed display tables. On them, open bins brim-full of ancient, love-worn toys jostled against neatly stacked boxes of still factory-sealed collectibles, and dozens of eager vendors sold, swapped and reminisced with the buyers and browsers.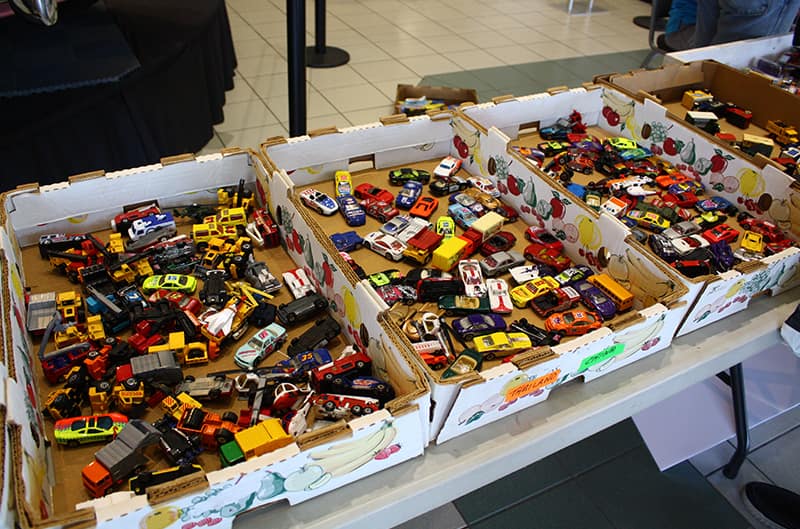 This show simply bedazzled the throngs of spectators who came to re-live or even re-ignite a cherished childhood passion. It was the museum's 10th Annual Matchbox Collector's Show, and by every account, this miniature-car event was scored as a full-scale success.

"It's a good marriage, one that's worked for ten years," commented the museum's Executive Director, Jeff Bliemeister. "We always have the real cars here, but there are a lot of people who collect models and miniatures. Not everyone has the resources to restore and maintain an antique automobile. Miniatures are a whole different aspect of the hobby, another way to get involved. They bring new people in the door -- and you can't lose with something like that."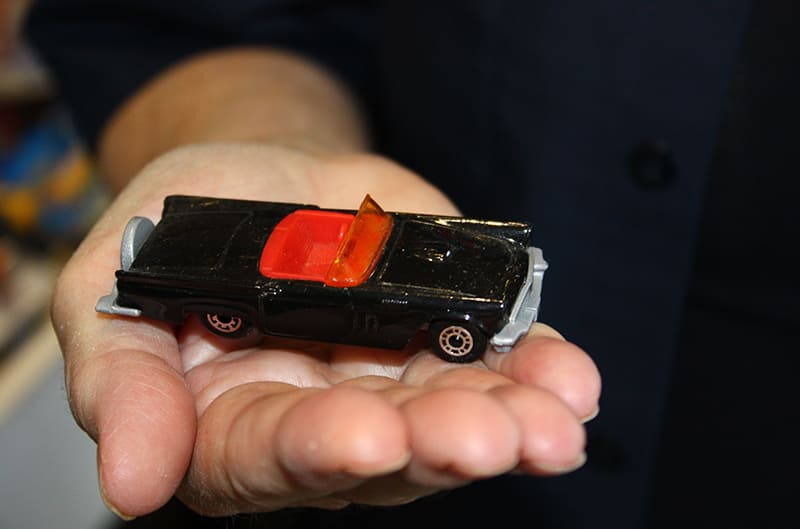 Actually, the show dates back more than 10 years, to the early 2000's, when Wayne Laughman and Ron Slyder, co-owners of the Diecast Toy Exchange, launched a "Matchbox Convention" at the nearby Hershey Lodge.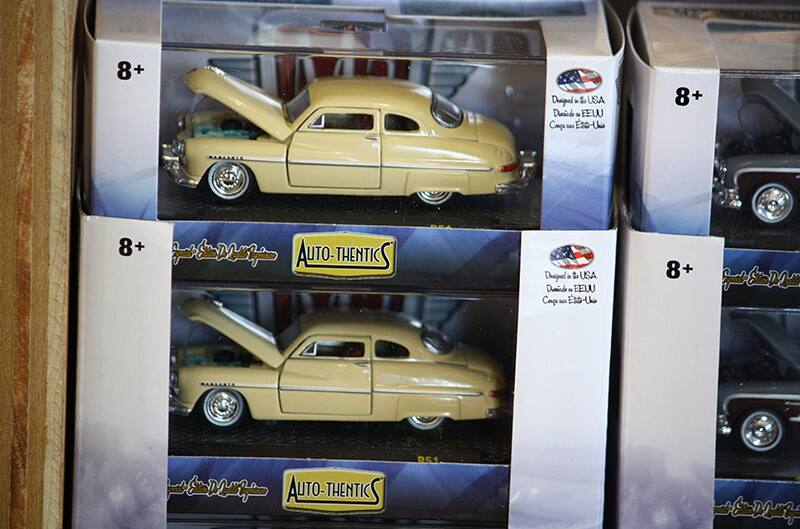 "But that venue just got too expensive," Laughman recalled. "So we approached the museum, and it just clicked. It's somewhat restricted in space, but otherwise it's ideal. And the vendors just love it. Everyone who comes here wants to come back again the next year."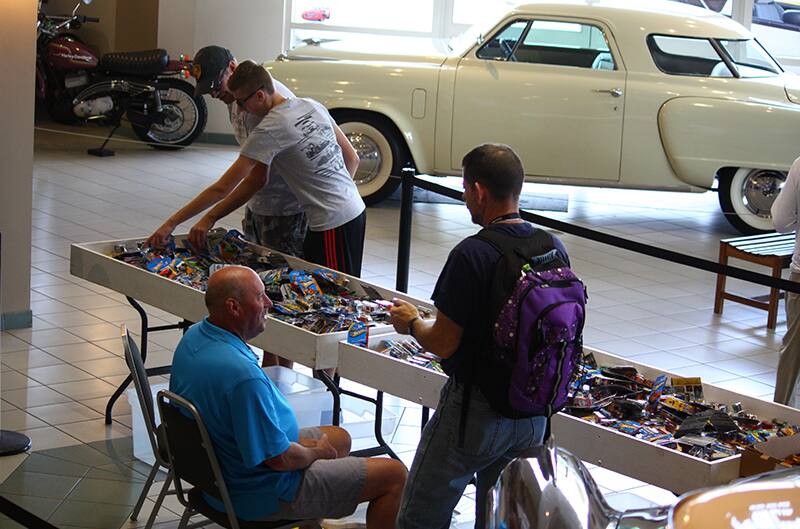 And despite the "Matchbox" name in its title, the show encompasses many more die-cast brands, including Corgi, Hot Wheels, Johnny Lightning, M2 Machines, Greenlight, Revell, and others too numerous to mention -- jumbled with several generations of more anonymous antique toys. But it was Matchbox that was born with the Baby Boomers, and that grew up alongside of them.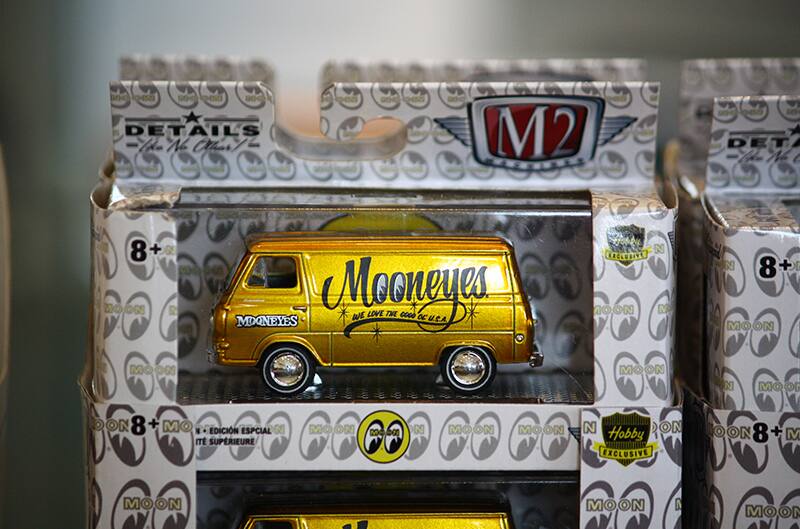 Leslie Smith and Rodney Smith (who were not related) founded Lesney Products in London in 1947 to manufacture industrial die castings. Engineer Jack O'Dell pushed the Smiths into the toy market a year later, and in the summer of '53 Lesney scored a million-sale hit with a die-cast miniature of Queen Elizabeth II's coronation coach. O'Dell also conceived the iconic Matchbox name because (legend has it) his daughter's school permitted toys if they were small enough to fit into a match box.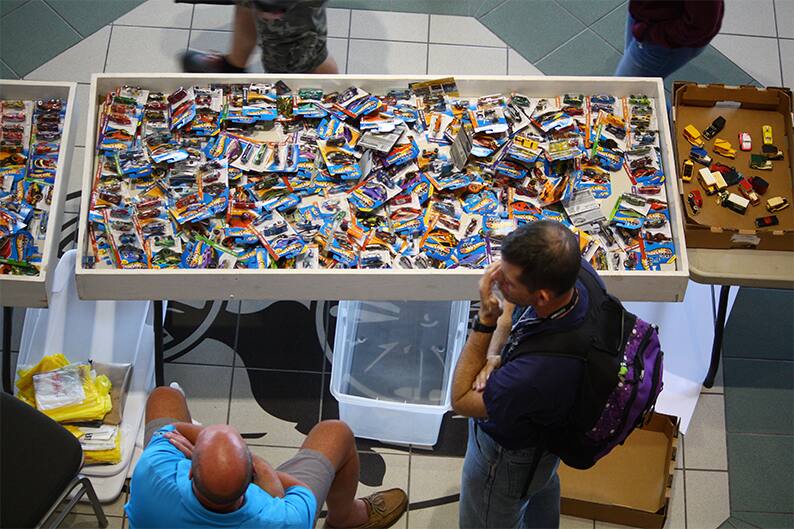 O'Dell scaled down another popular Lesney toy, a die-cast diesel road-roller, and, as if to make a point, marketed it in a replica match box. That one product quickly became 75, and by the mid-1960's Matchbox was the most popular brand of die-cast cars on the planet, manufacturing more than 1 million miniature vehicles every week.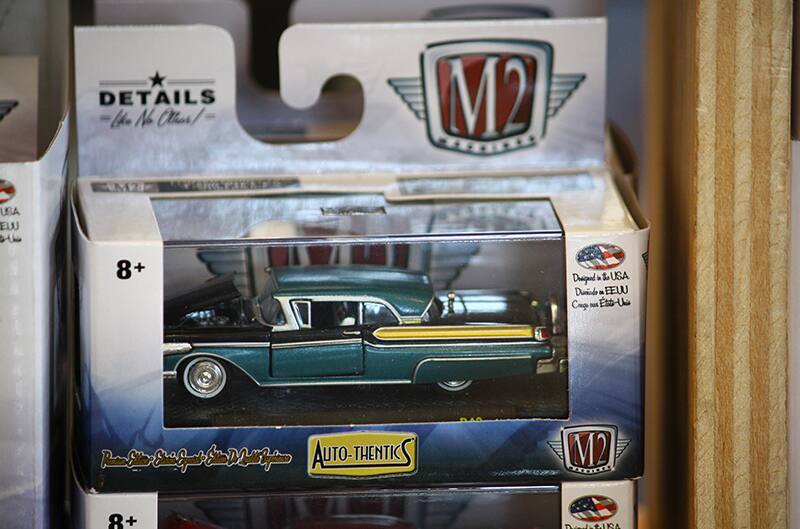 As it turned out, however, Matchbox' dominance was glorious but brief -- especially in the U.S., where Lesney's lineup of little-known imports were quickly overshadowed by more familiar muscle cars and imaginative hot rods from Hot Wheels and Johnny Lightning. Those brands also offered easier-rolling chassis and dedicated race-track kits. Matchbox responded with some larger-scale products, the faster-rolling Superfast series, and even its own tracks, but still slipped into receivership in the late 1970s. The London factory closed in 1985, and in 1997 what remained of Matchbox was purchased by Hot Wheels parent company Mattel.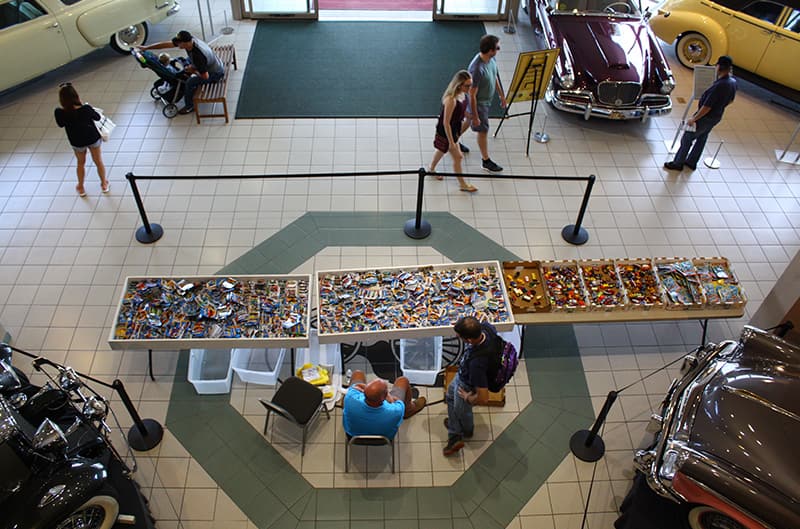 None of which has dimmed the enthusiasm of Matchbox collectors today. Mitch Kyle sells die-cast cars and other collectibles from his 1,400-square-foot store in Baltimore, but this was his first outing in Hershey.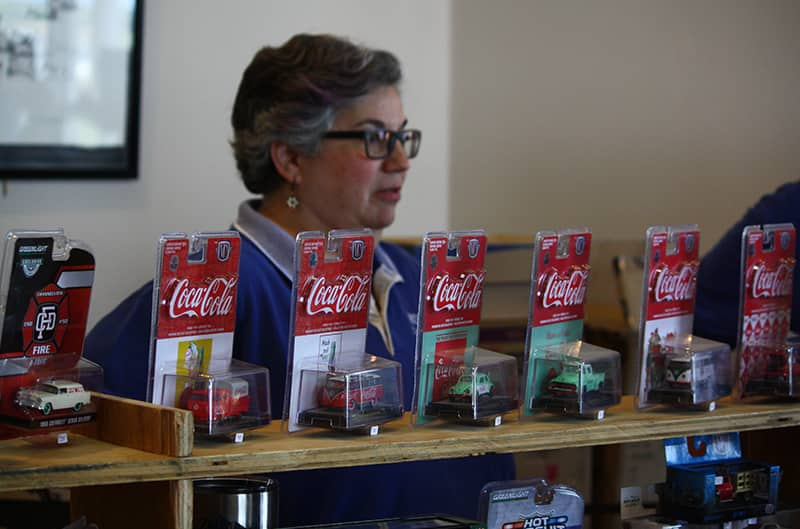 "So many of my customers come here, and then they come to my store and tell me they dropped $300 or $400," Kyle said. "And I said to myself, 'I need to be here'."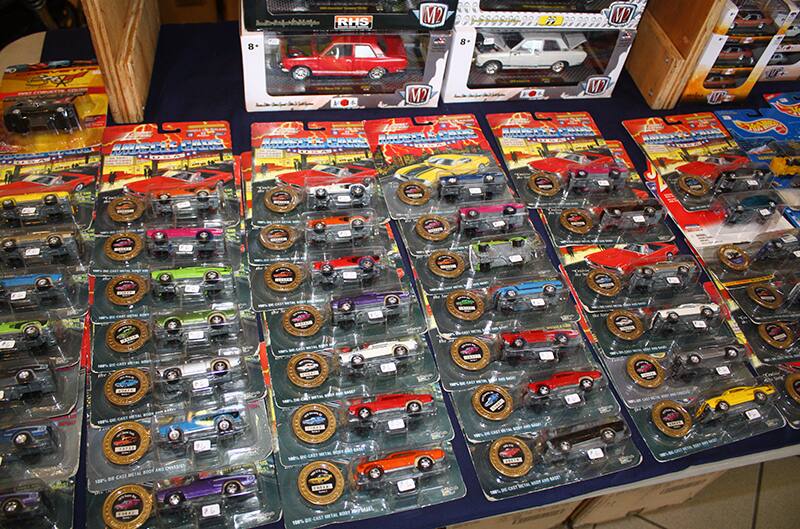 Craig Holler told us he's "known Wayne and Ron for 30 years," and has been selling at the museum "since the beginning . . . But this year has been better."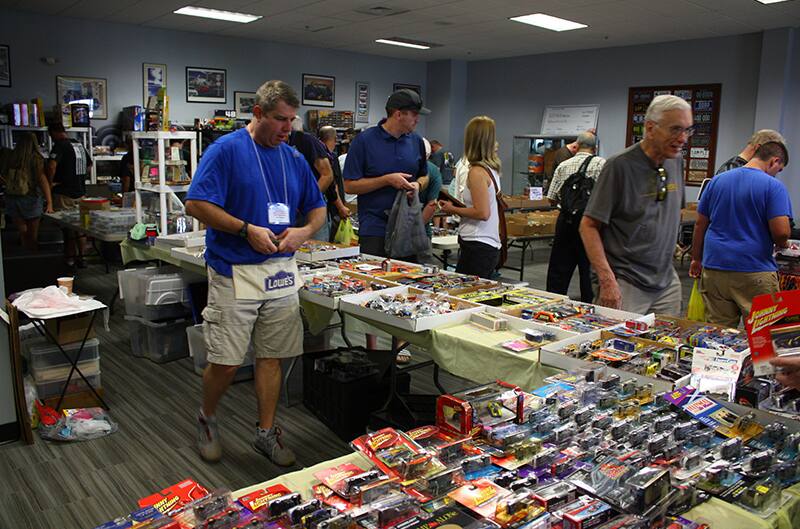 Mattel/Matchbox itself commemorated the event with a very-limited-edition c.1976 Porsche 911 Turbo, liveried in lemon yellow with red-and-blue X's (for "10") and "Matchbox Toy Show Hershey 2019" in red-and-blue lettering. Collectors prize unusual color and lettering combinations, unreleased prototypes and specially liveried products given away as promotions; some of these can fetch upward of $1,000. But the vast majority sell for far, far less.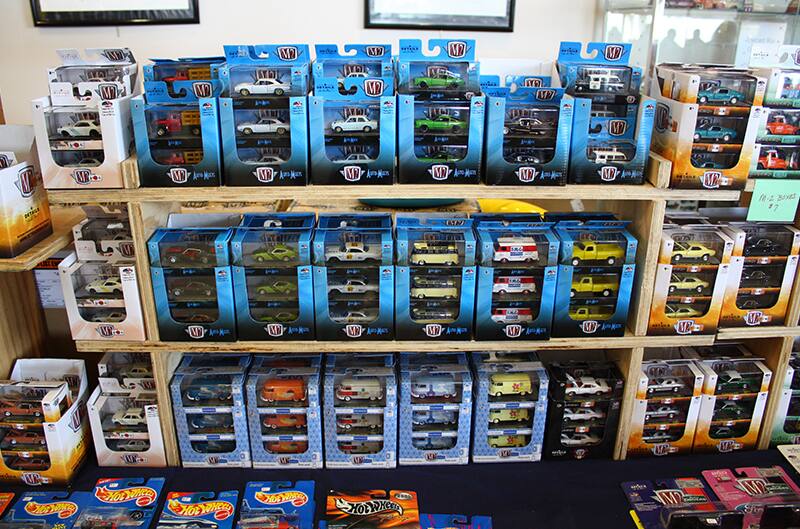 We, of course, set out to hunt miniature Fords -- and we found plenty, from a scruffy '56 Thunderbird languishing in an open bin, to multiple mint-in-box '49 Mercurys from M2 Machines. In fact, M2 (a product of Castline, Inc. of Azusa, California) seems to have produced a disproportionate share of Blue Oval products, especially commercial vehicles. First-generation Econolines were available in a variety of liveries, including a metal flake-gold Mooneyes model. A line of Coca-Cola-themed M2's included a '56 F-100, a '70 Boss 302, and, yes, another early Econoline. And does anyone remember that gloriously space-intoxicated artifact of the Atomic Age, the 1957 Mercury Turnpike Cruiser? M2 did, and in a variety of colors, too.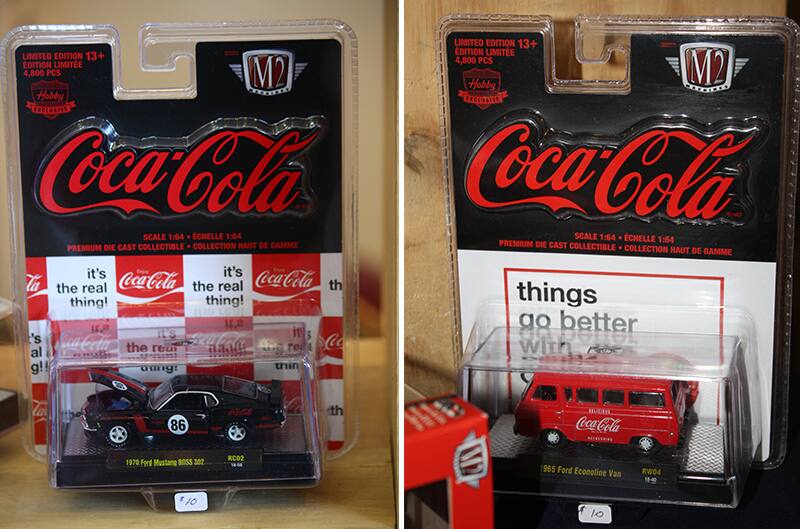 Want more? From Hot Wheels we found a '72 Gran Torino Sport (green, like Clint Eastwood's); a '37 Ford Gas coupe, race-ready for the Nostalgia Drags; and a '69 Mustang with modern Pro Touring tires. A Matchbox "King Size" '67 Cougar loomed large over its smaller siblings. Greenlight offered a '65 GT-350R, lettered as one of the three maintained by the Carroll Shelby School of High Performance Driving. Johnny Lightning packaged an '05 Ford GT with a '70 Boss Mustang, both sporting Gulf-Wyer colors.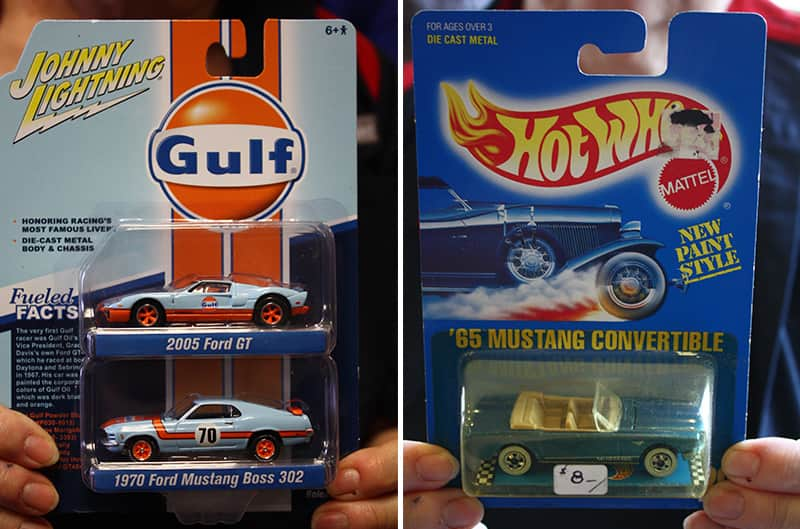 Surely among the more unusual finds was a fairly large-scale 1930 Ford touring car, apparently made from scratch; and a 1:18 replica of "The Blue Wonder," the Mercedes-Benz high-speed race-car transporter of 1954, rendered in exquisite detail by CMC of Germany. (Currently out of production, we found examples listed online for $250-$430.) On its ramps, some die-hard Dearborn devotee had placed an appropriately scaled Cobra 427.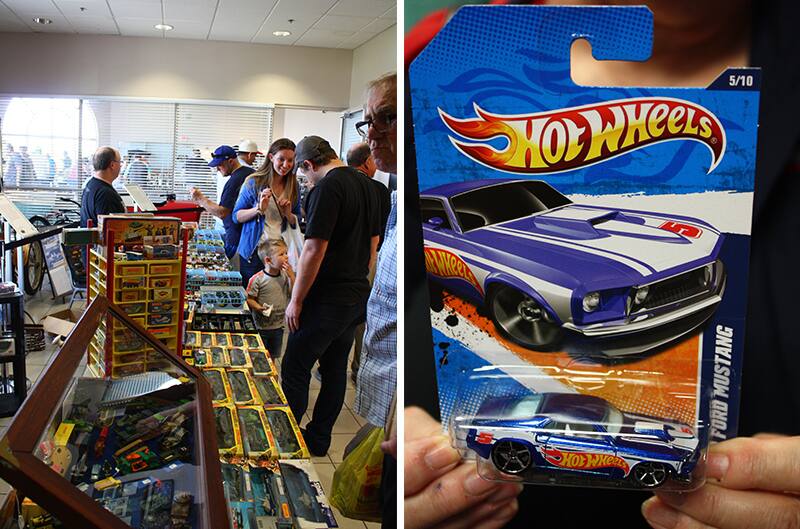 It was all fun, fun, fun, until someone with a quicker draw to their wallet pocket took the T-Bird we wanted away.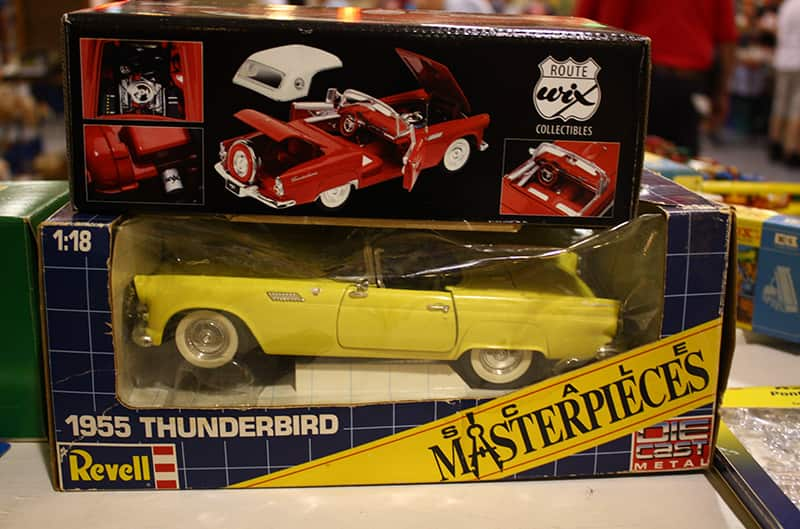 Well, there's always the 11th annual gathering to look forward to, even as this show that took place September 22, 2019, will be remembered as a tough one to top. "It was phenomenal," Laughman concluded. "It couldn't have been any better."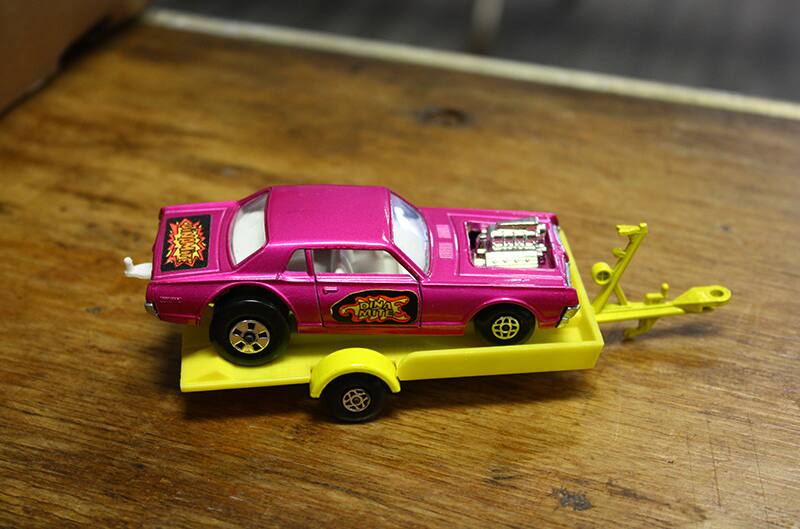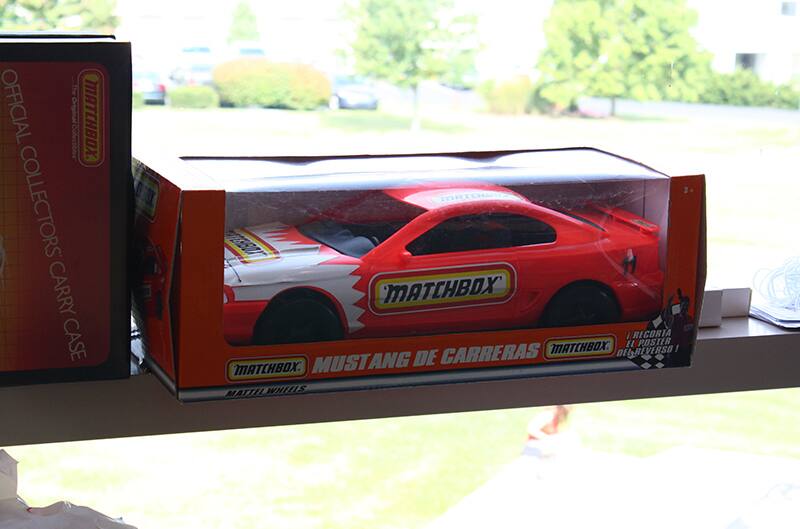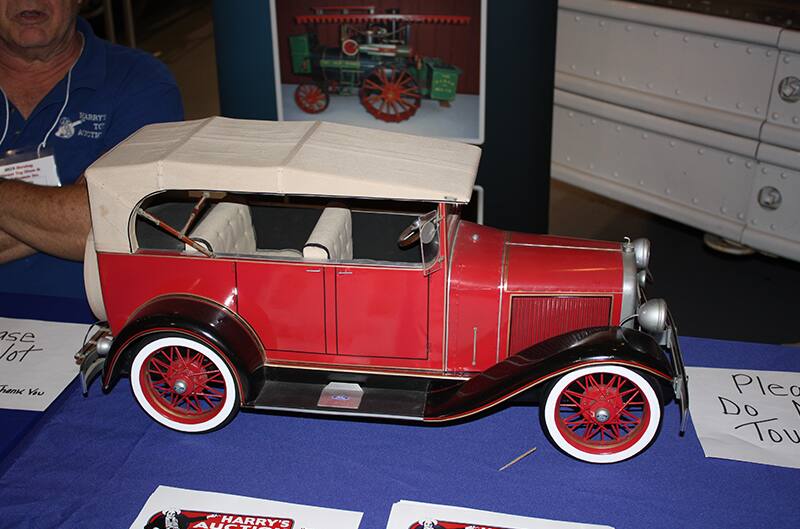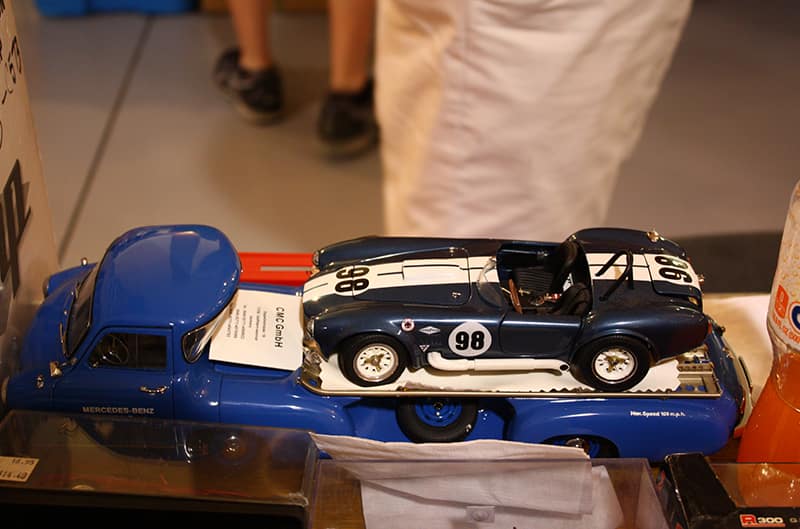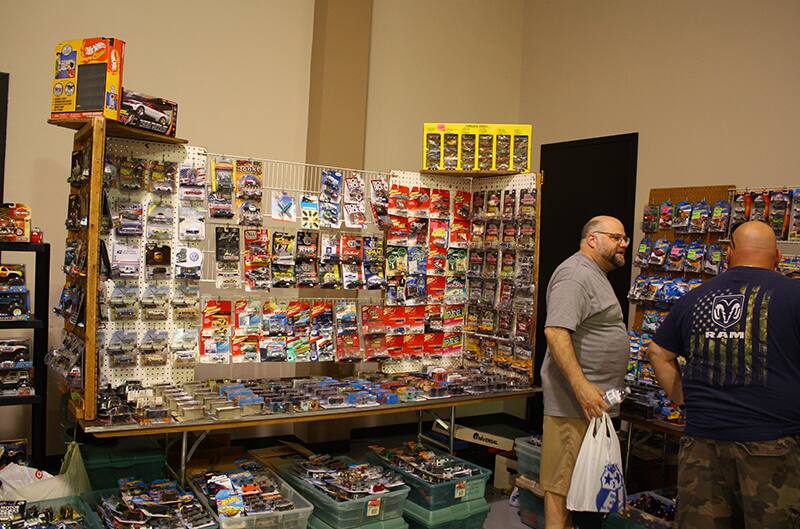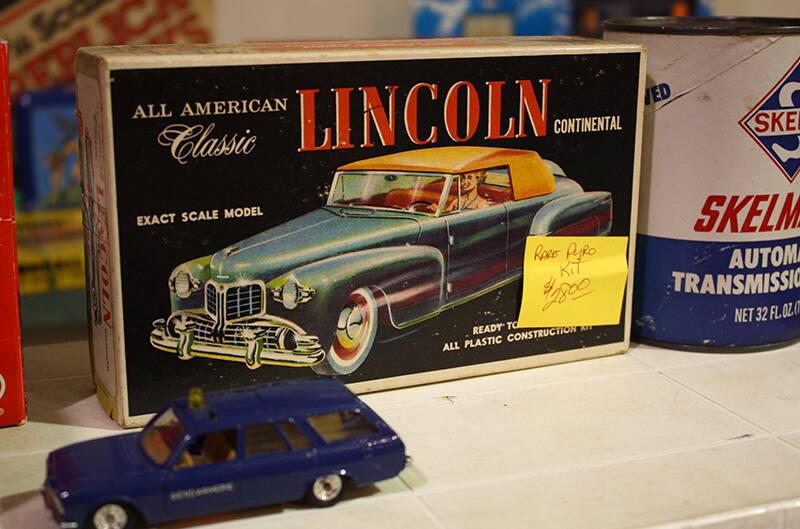 FORD PERFORMANCE PHOTOS / COURTESY JOHN F. KATZ