PRINCETON, N.J. – What were the odds? A total 14 automobiles were presented for judging at the 2019 convention of the Vintage Thunderbird Club International (VCTI), in Princeton, New Jersey this past summer. That's a small turnout for this 50-year-old organization, which boasts some 1,100 members.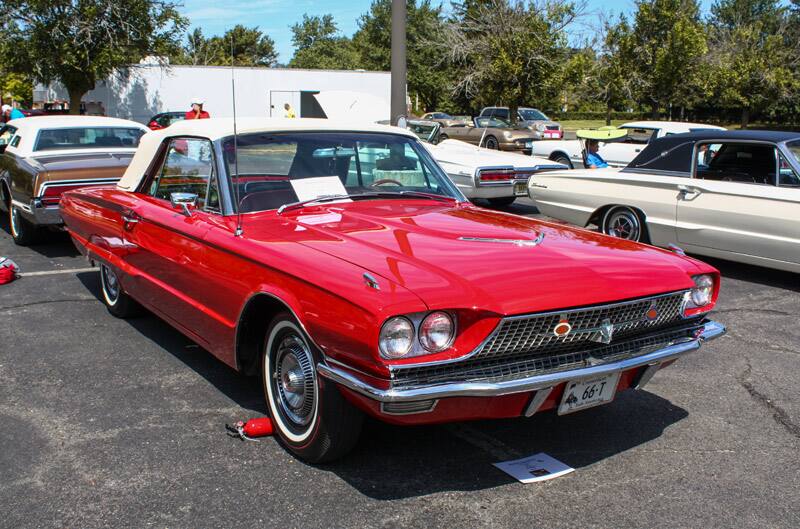 But of those 14 Thunderbirds, several were rare, or at least unusual. One was almost certainly unique. Nearly half had traveled impressive distances: While eight cars hailed from the relatively close cluster of Connecticut, New York, New Jersey, Delaware and Maryland, one came from Texas, two from Minnesota and two more from Canada. Perhaps even more remarkably, those 14 cars nearly spanned the full 51 years of Thunderbird history, from Baby Birds to behemoths and back again.
And we do mean behemoths: One rarely encounters any member of the 1972-76 generation at any Thunderbird meet, and yet here were three of them, looming long and large among their sportier ancestors and more fuel-efficient descendants. These biggest 'Birds ever span a 120-inch wheelbase, share a body shell with the Continental Mark IV, and weigh close to 5,000 pounds.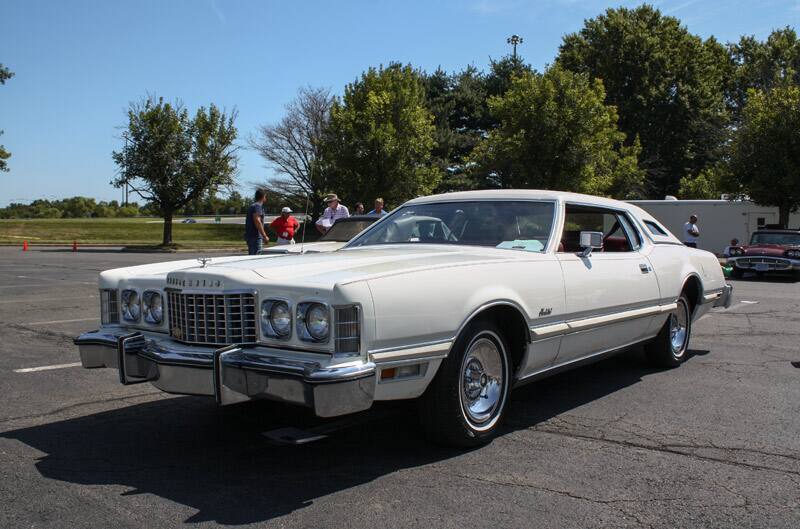 Elliott and Frani Weiner's all-original '76, affectionately nicknamed "Big Bird," boasts nearly every conceivable option, including an 8-track tape player and Quadrophonic sound (hey, it was the '70s). Special-edition cream-and-gold paintwork is complemented by matching two-tone leather, and gold highlights dazzle inside and out. Originally delivered to San Diego, Big Bird now nests on Long Island. She appeared briefly in the 2007 film American Gangster, "but if you blinked, you missed her," said Weiner. Better appreciated in Princeton, Big Bird earned a second place in the Touring class.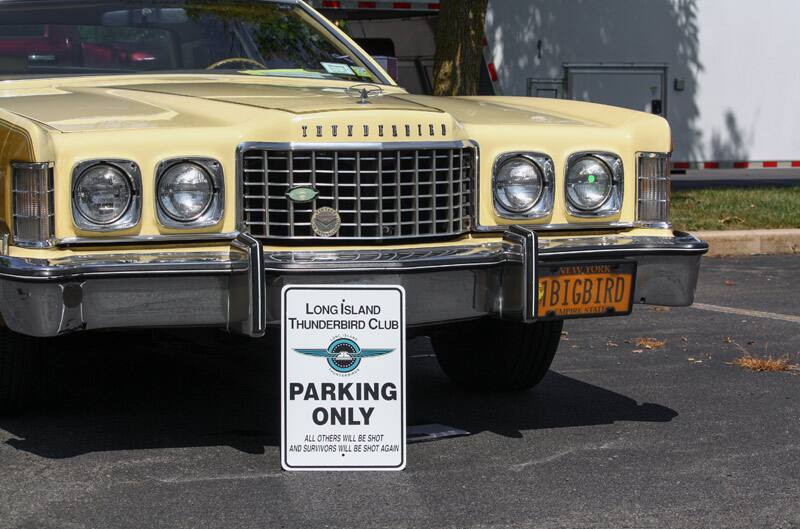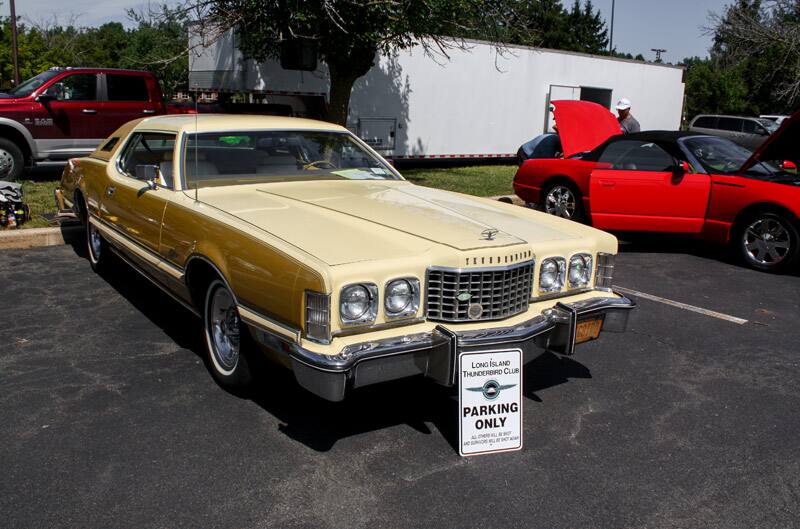 Another somewhat rara avis is a 1960 hardtop with a sliding steel sunroof. Ford built just 2,536 units – less than 3 percent of 1960's total T-Bird production – with this $212 option. Paul Wilson purchased his '60 sunroof hardtop in 1981. Since then he's repainted it and replaced its leather interior, but mechanically it remains original; it scored a second in the Senior class at Princeton. Incidentally, Ford didn't offer a sunroof Thunderbird again until 1969.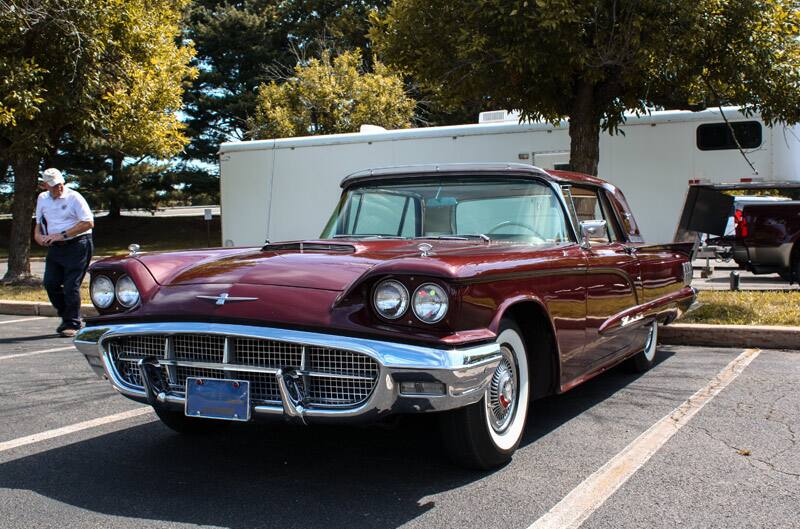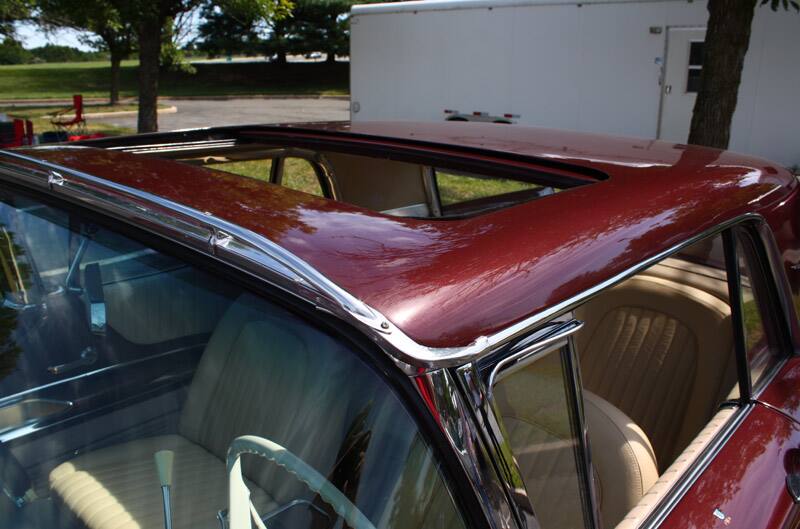 Even less popular (at the time) was the Sports Roadster of 1962-63, an ersatz two-seat convertible created by concealing the rear bench with a removable fiberglass tonneau cover. After just 455 sales in '63, Ford ditched the Sports Roadster as a distinct model, but offered a re-styled tonneau cover as a $269 option for all '64 soft-tops. Sales flopped to fewer than 50, but one of those was delivered to the father of Jane Durgom-Powers, who still has the factory invoice to prove it. Jane brought the all-original convertible to Princeton, where it achieved a second in the Primary class, and qualified for a Wixom Preservation Award.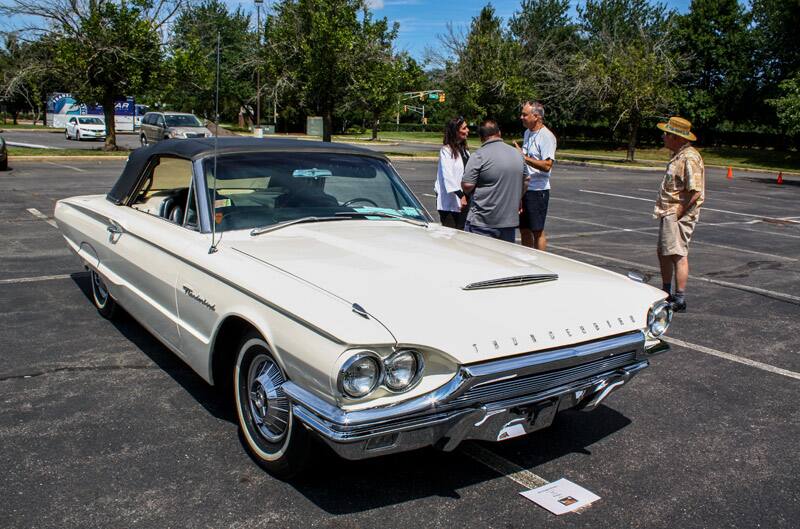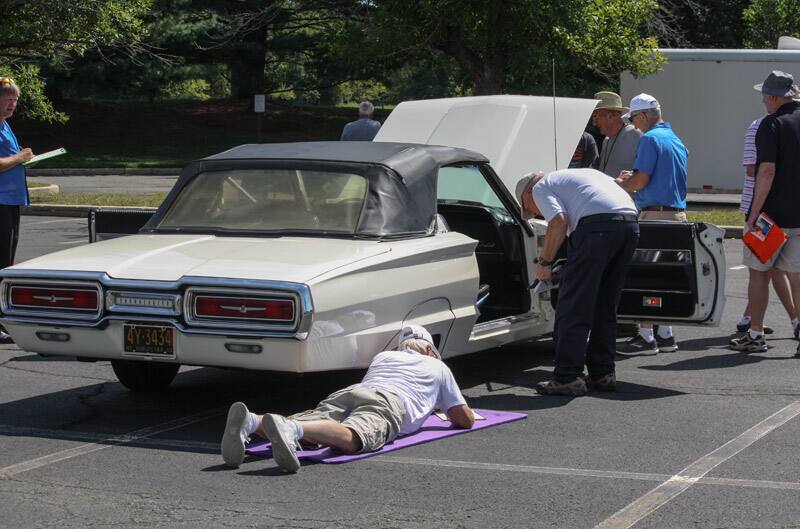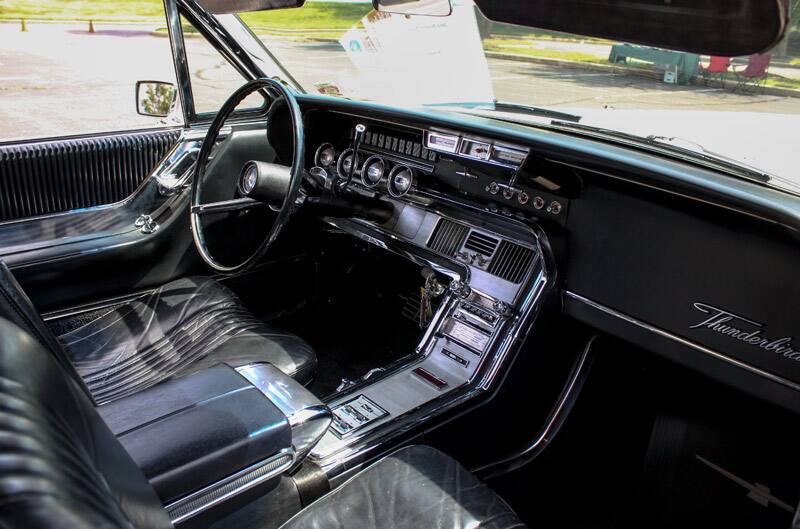 We've encountered Bill Clark's Torch Red '57 before, most notably at the International Thunderbird Club's 2016 convention in Hershey, Pennsylvania (see ITC Annual Meet in Hershey, PA: T-Birds Land in the Sweet Spot, Oct. 26, 2016). Unfortunately, Bill knows little more about the car's early history now than he did two years ago.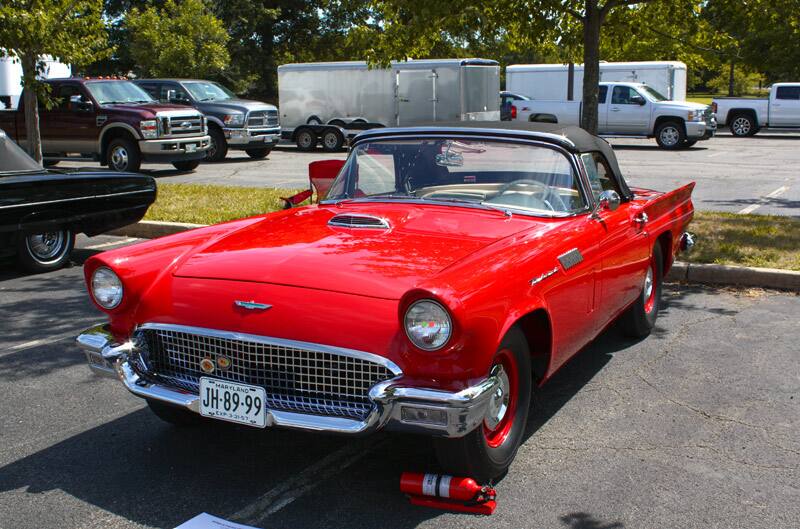 "It was delivered in Minneapolis with a supercharger and a heater/defroster," he told us, "and in Minneapolis you'd need one of those." But there are no other options on the car -- no fender skirts, no wheel covers, no reverse lights. It's tempting to believe it was ordered as a race car, but according to Bill, "There's no sign of it, no history of it." Maybe the first owner simply wanted the fastest stock T-Bird possible, and in the process, ordered a rare one. "Ford built 211 supercharged '57 Thunderbirds," Bill added, "including the prototypes. Of those, 17 had a three-speed manual with no overdrive." And here in Princeton was one of those 17, collecting a first-place score in the Senior class.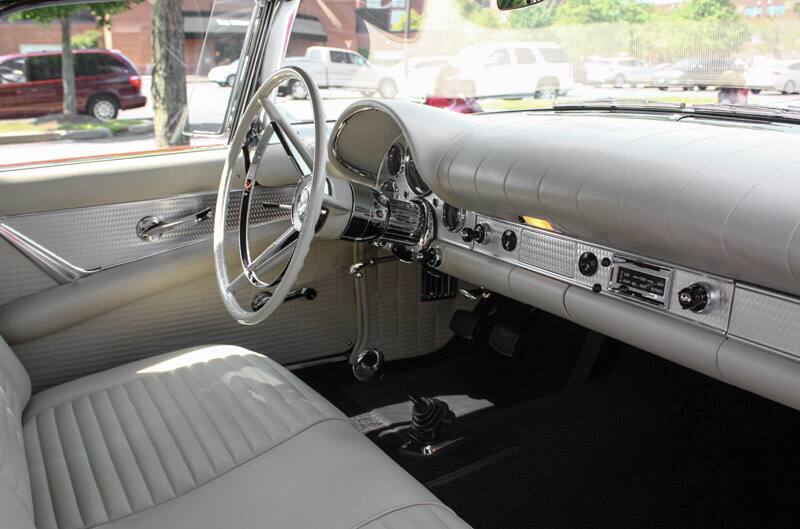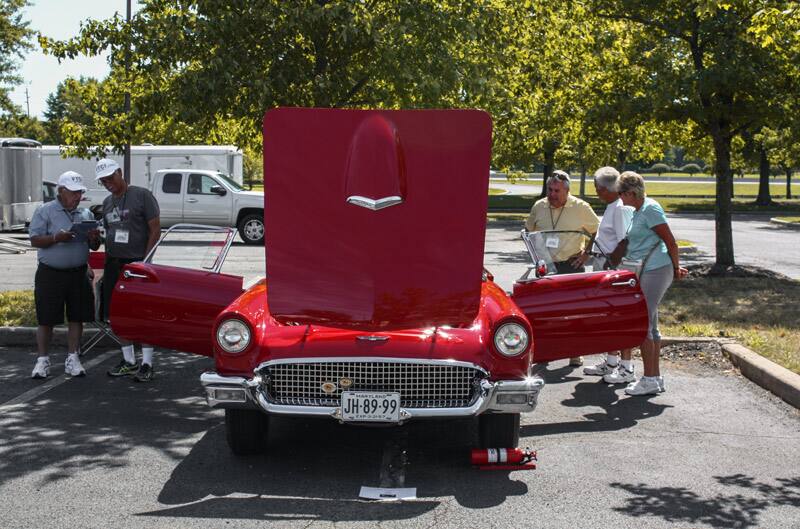 Yet perhaps the rarest car on the field was the only other Baby Bird, a '56 that Thomas Mirro bought from its original owner some 45 years ago. Powered by the optional 312 cubic-inch V-8, driving through a three-speed manual transmission with overdrive, this AACA Grand National Senior and CTCI Gold Medallion winner also features power steering, power brakes, power windows, bumper-mounted driving lights, and a full safety package including padded dash, padded sun visors and seat belts. It is also one of only 5 percent of '56 T-Birds carrying an "S" paint code, indicating a custom-order color.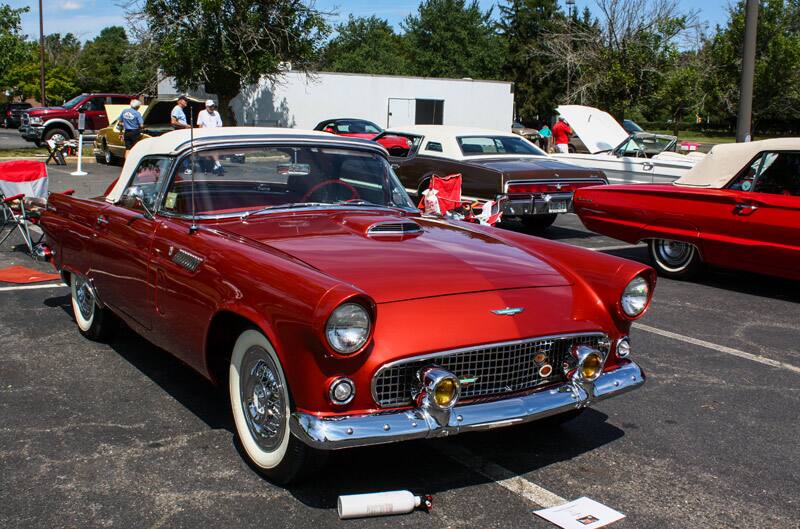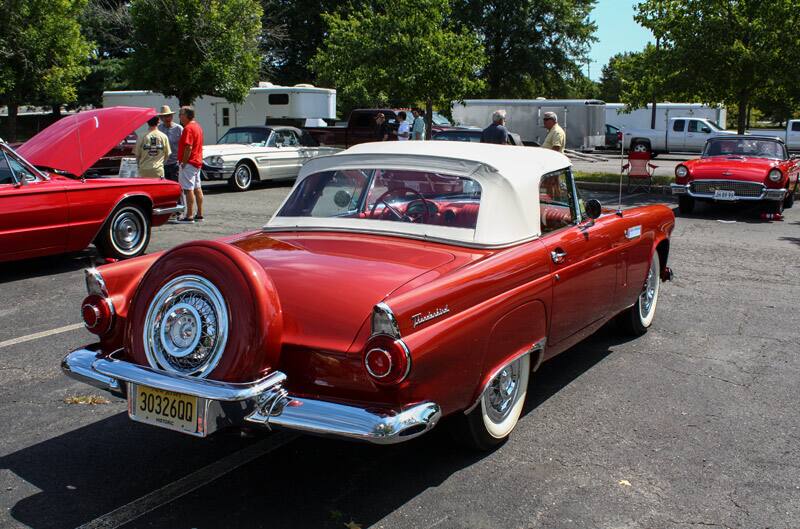 Its original owner chose "Cinnamon" from the '56 Lincoln pallet, and Tom repainted the car that same hue when he restored it himself. As far as he knows, it is the only Cinnamon '56 Thunderbird in existence. Tom and wife Susan received a first at Princeton, moving their car up to the Senior class.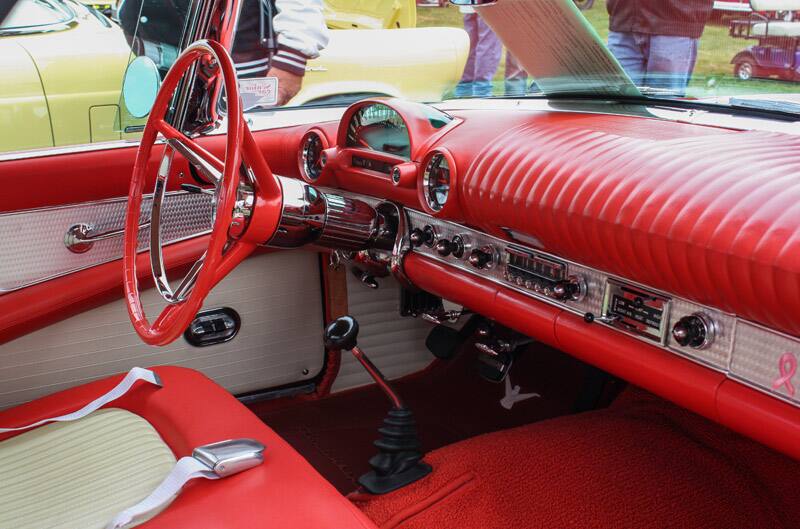 Official club historian Dan Likar recalled the origins of the VTCI, which began with a chance meeting of two Squarebird owners in Tulsa, Oklahoma – possibly at the parts counter of Fred Jones Ford. Don Brix and Don Harris both felt their four-seat cars deserved recognition, but the Classic Thunderbird Club International (CTCI) was (and is) only interested in the early two-seaters. So Brix and Harris ran newspaper ads seeking other 1958-60 Squarebird owners in the Tulsa area, found five more like-minded souls, and on September 17, 1968, established "The Vintage Thunderbird Club of America, the Squarebird Society." A second chapter formed in Dearborn in January 1972, and that August the Club held its first judged car show in Springfield, Illinois.
In 1977, VCTA dropped "Squarebird Society" from its name and embraced all of the unit-bodied 'Birds from 1958-66. Membership continued to expand, and along the way the Vintage Thunderbird Club of America became the Vintage Thunderbird Club International. In 1994, VCTI voted to recognize all Thunderbirds except the early two-seaters, which were finally accepted in 1999.
Which brings us back to this year's judging on August 10, in the parking lot of the Westin Hotel, about five miles east of the historic Princeton campus. As Club Vice President Ed Elzinga explained, VCTI rules pit members' cars against a 300-point standard, not against each other. A car competes in the Primary class until it scores 288 points, after which it contends as a Senior. Separate Touring and Driver classes top out at 285 and 200 points, respectively, allowing street-driven cars to earn awards without having to meet as high a standard as a car that's mostly trailered. Retros are judged separately on a 100-point scale, and there's a Display class for owners who don't want to compete.

Wallace and Lorraine Kent's '64 Convertible, which they trailered 700 miles from Burlington, Ontario, Canada, has scored a perfect 300 before, and garnered another Senior first at Princeton. Fellow Canadians Tom and Maureen Mills traveled the greatest distance of all – more than 2,700 miles from Tyndall, Manitoba – and also took home a Senior first with their 1965 Convertible.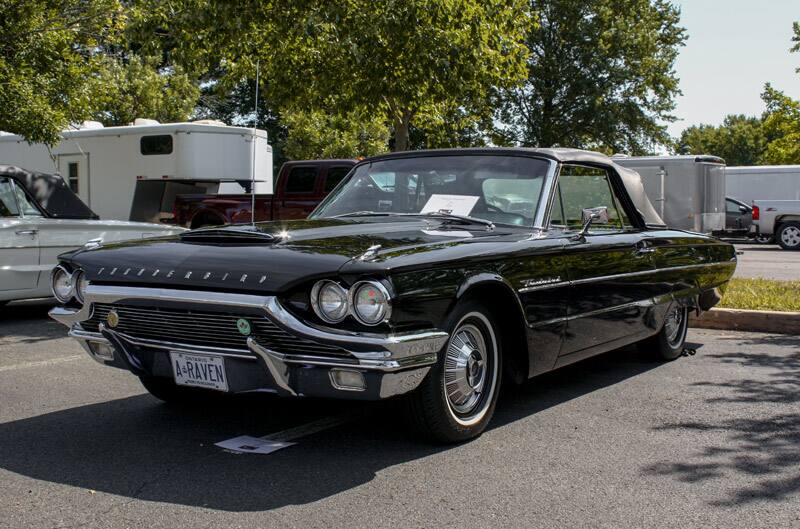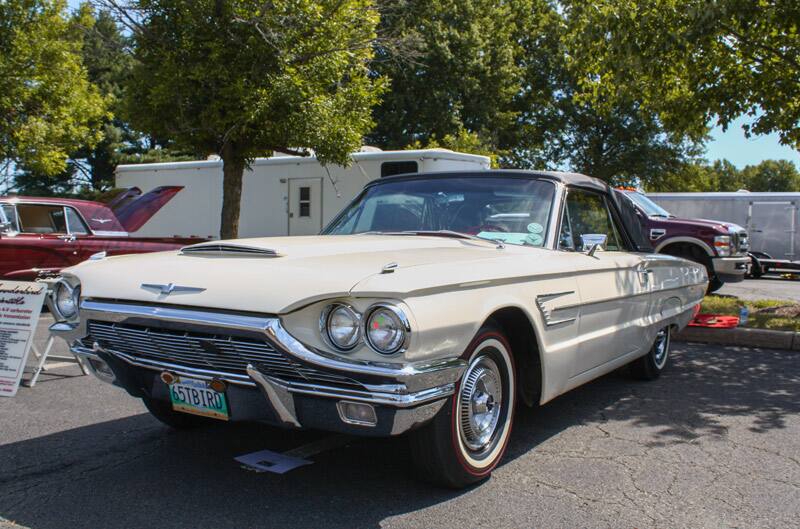 Joining Durgom-Powers in the Primary class were Kenneth and Jane Uhaze, whose '66 Landau packs the optional "Q-Code" 428 cubic-inch V-8, with its 10.5:1 compression ratio and 345 horsepower. We believe the car's black fabric interior is also unusual, as we're more used to finding vinyl or leather in pre-1967 Thunderbirds. The Uhazes earned a second; while Michael and Linda Behrens scored their first "first," moving them up to Senior status. Their red '66 Convertible, which graced the cover of Hemmings Classic Car in June 2017, is original except for its top and paint, and has also earned an AACA Grand National Senior badge.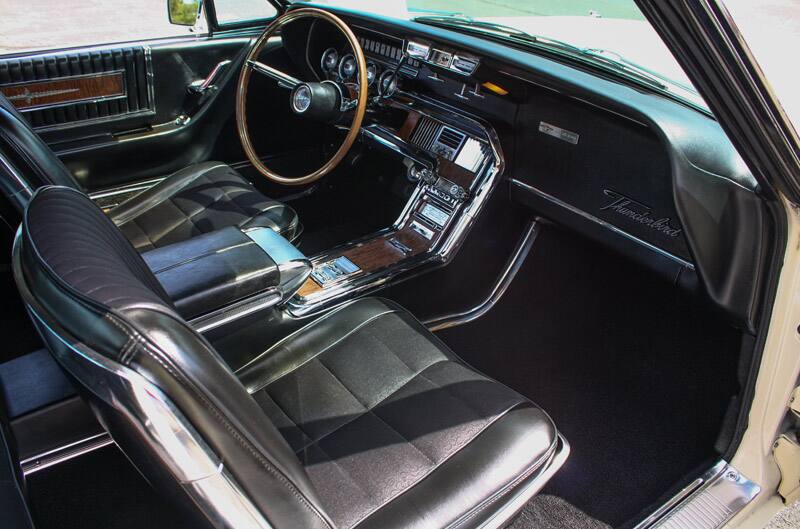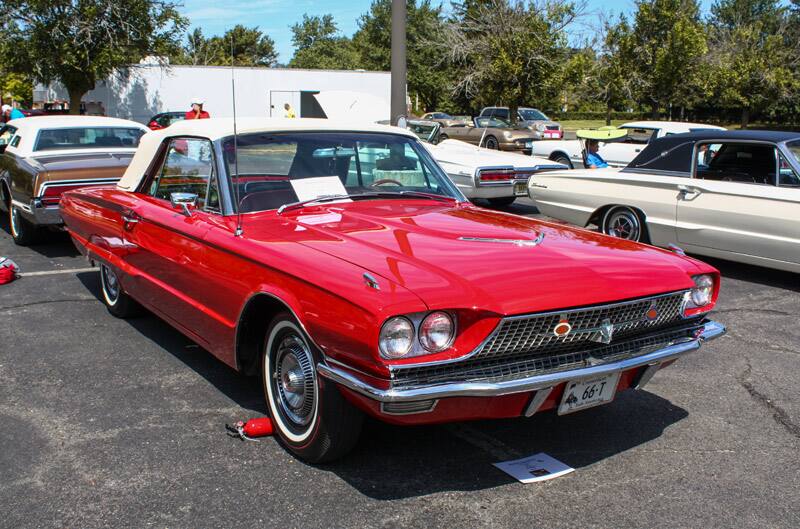 The judges awarded three second-place scores in the Driver Class. Ray and Pat Koski purchased their Dark Gold Metallic '73 in the late 1990's, with just 1,243 miles on the clock. "It's been touched up a bit," said Ray, but otherwise it's all-original. John and Maryalice Duffy's white '76, and Carl Giambrone's white '66 Convertible rounded out the class. Brian and Marilyn Carron earned a Retro first for their red 2002.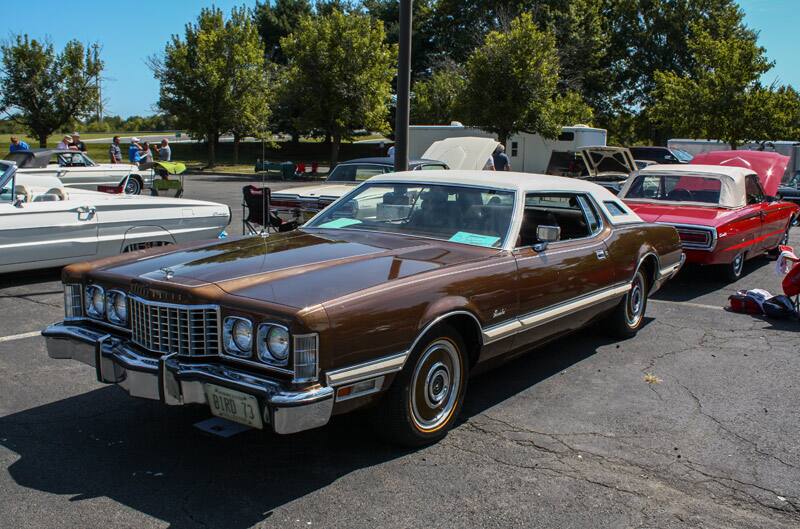 Traditionally two Best of Show Awards are presented, one for 1955-57 models and the other for '58 and later cars. But this year the Mirro '56 and Clark '57 tied for the honor in the early two-seater era; and the Kent's '64 out-shone all others among the later 'Birds.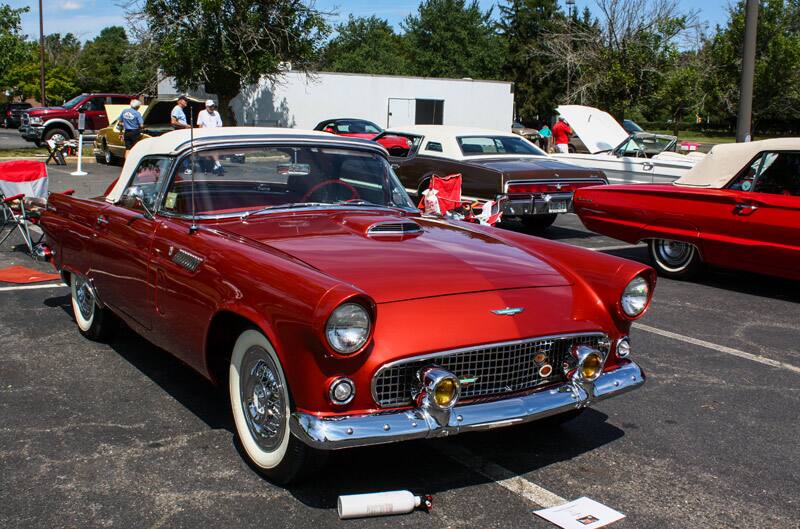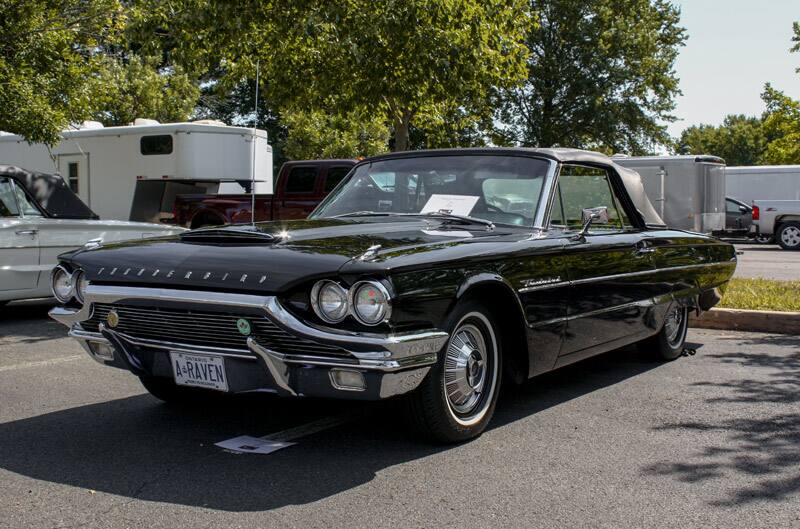 Alone in the Display class, Randy and Cindy Mattson came over 1,200 miles from Forest Lake, Minnesota, with their mildly customized '05. "It was an Avis rent-a-car," said Randy, "one year old, with 11,000 miles when I bought it. It's the only car I've ever owned where I took one test drive and knew this is my car."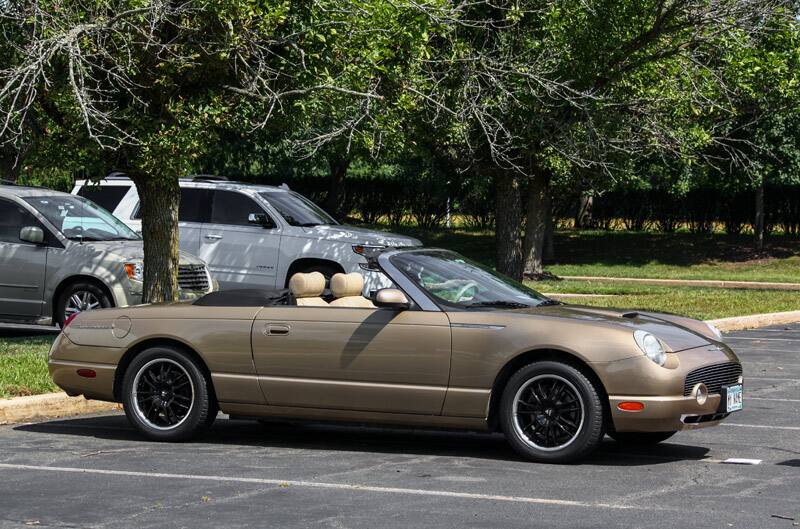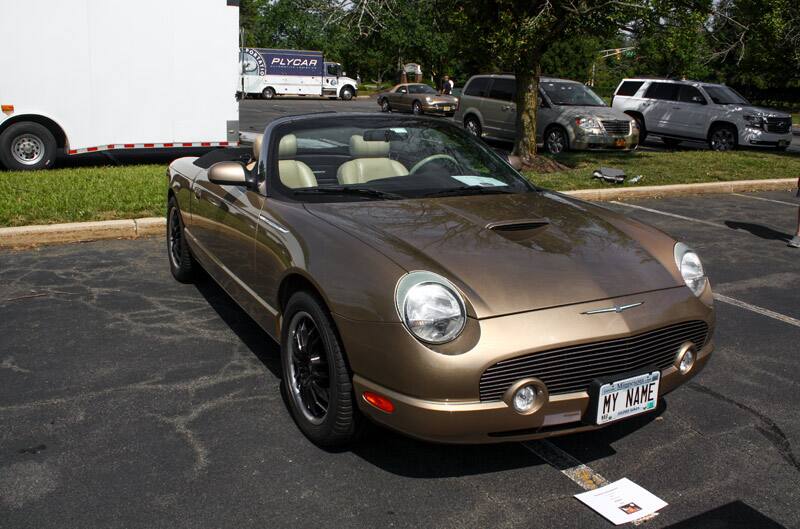 FORD PERFORMANCE PHOTOS / COURTESY JOHN F. KATZ