KANNAPOLIS, NC – So what do you get when you invite hundreds of Fox Body-era Mustangers to an extended weekend of fun and frolic in the middle of October to celebrate Ford's third-generation Pony Cars? You get "Foxtoberfest" – a three-day, all-Fox Body Mustang fall festival held at Intimidators Stadium in Kannapolis, North Carolina, just outside of Charlotte.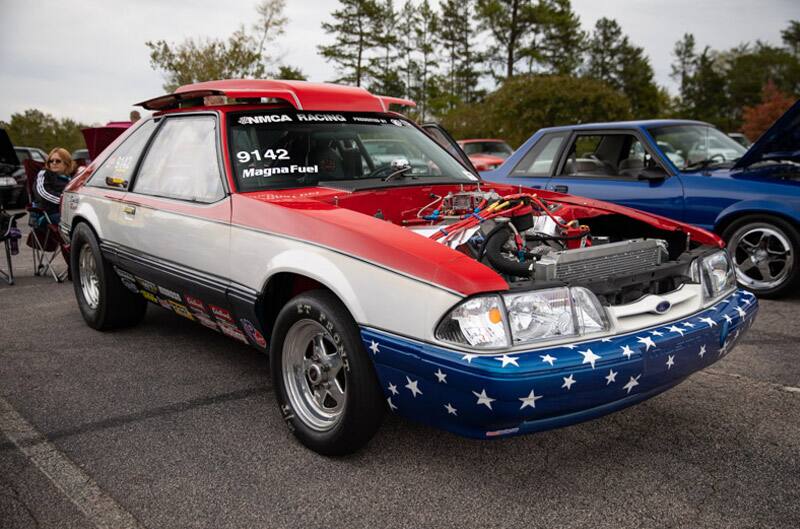 This 9th annual Foxtoberfest event, hosted by Fox Mustang Restoration of nearby Locust, NC, again welcomed every type of 1979 to 1993 Mustang -- whether it's perfectly restored, a daily driver or literally a rolling chassis. As long as it's on a Fox Body platform, it's welcome here – and that includes non-Mustang Fox-chassis Fords and even non-Ford powered Foxes. Oh sure, you can bring other year Mustangs to this event – except that you will be directed to spectator parking, as only Fox Body cars are allowed on the show field.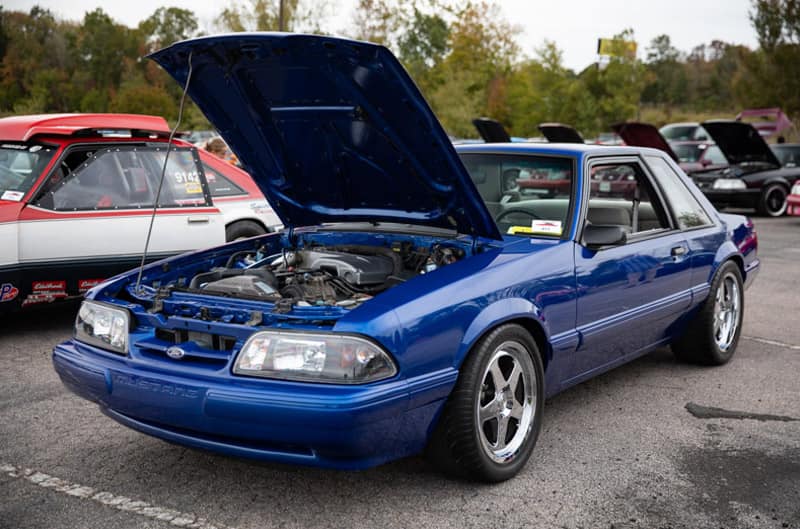 The folks at Fox Mustang Restoration have worked hard to grow this annual event, steadily adding more activities and expanding the calendar each year. For the 2019 edition of Foxtoberfest, which ran from Thursday, October 17 through Saturday, October 19, organizers had hoped to surpass 500 Fox Body Mustangs registered for the show field. Unfortunately, with the threat of rain lurking for much of the weekend, they officially logged 414 Fox Mustangs registered -- still a lot of cars when you're targeting a specific model run such as the Fox Body.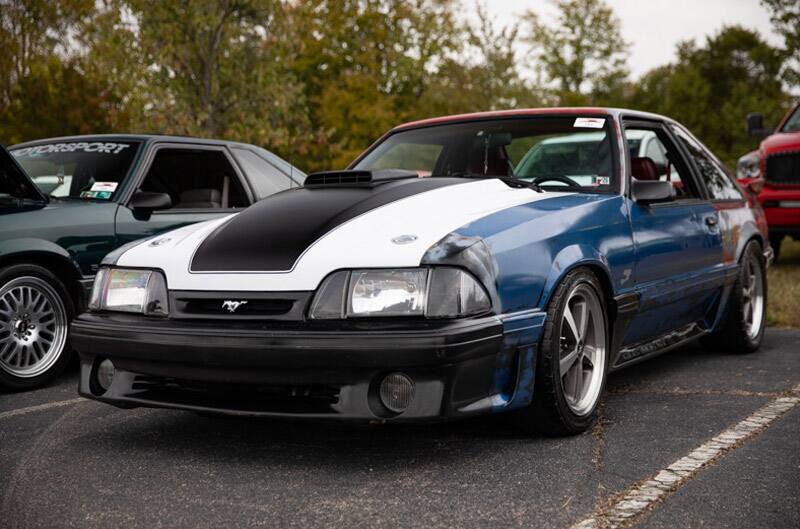 The fun began on Thursday, when Foxtoberfest took over the "Test & Tune" night at nearby Mooresville (NC) Dragway. Participants could sign up to see what their Fox can do on the strip or just hang out as a spectator and watch the action from the stands. In addition to a new Burnout Contest at the dragway, also new this year was the "Fox Hunt" -- a self-guided driving event in the form of a poker run. Those who collected enough cards over the two-day run to form a poker hand got chances to win special prizes handed out the Foxtoberfest awards ceremony on Saturday afternoon.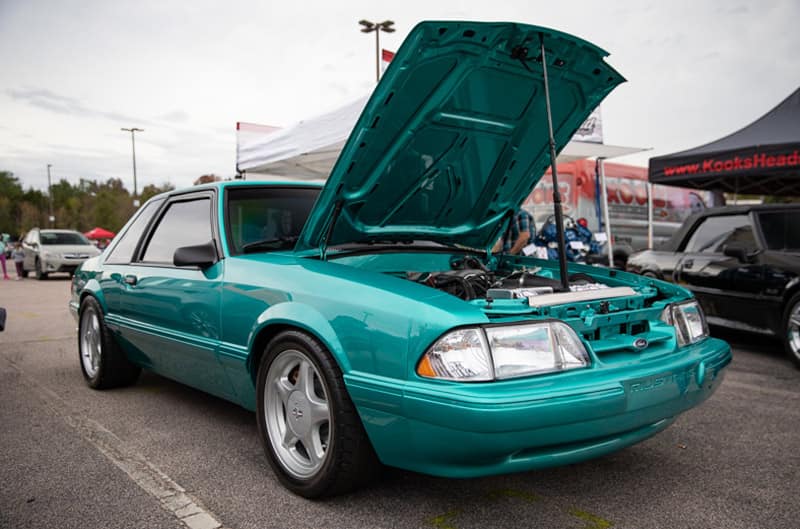 Also new for the 2019 show was a VIP Experience package that you could purchase during registration. It included a limited-edition "Foxtoberfest" jacket, a commemorative decal, access to the VIP tent, a catered lunch, a pair of VIP parking spaces for your Fox Body and early access to the car show parking area. It also secured your VIP parking spot for the new Friday night Foxtoberfest Kickoff Party held at the stadium. Along with the party – which was a low-key cruise-in type event with food trucks, a DJ and fire pits – attendees could also browse the All-Fox Swap Meet area, including the "Foxes For Sale" section.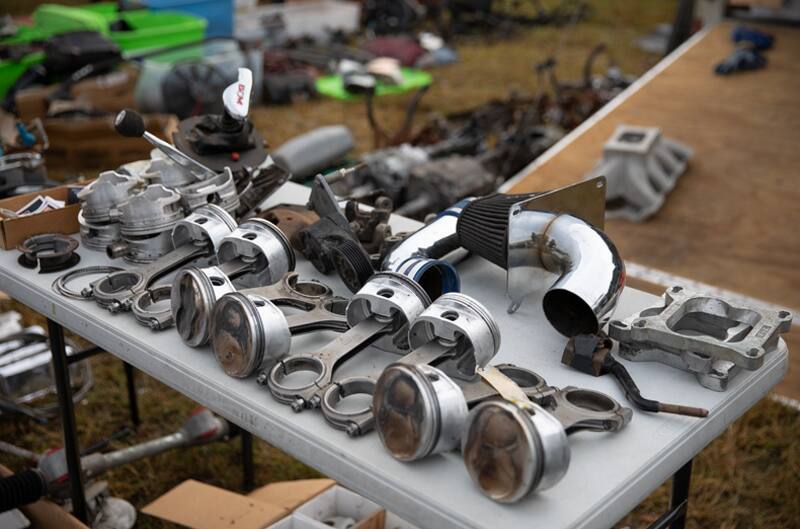 Of course, the big draw is the Foxtoberfest show on Saturday, where any and all Fox Bodies are welcome regardless of their condition, restoration stage or lack thereof. Here you'll find beautiful low-mileage show cars and heavily modded rides, right next to multi-colored projects and even a few rusted out rollers -- and that's the way they like it here.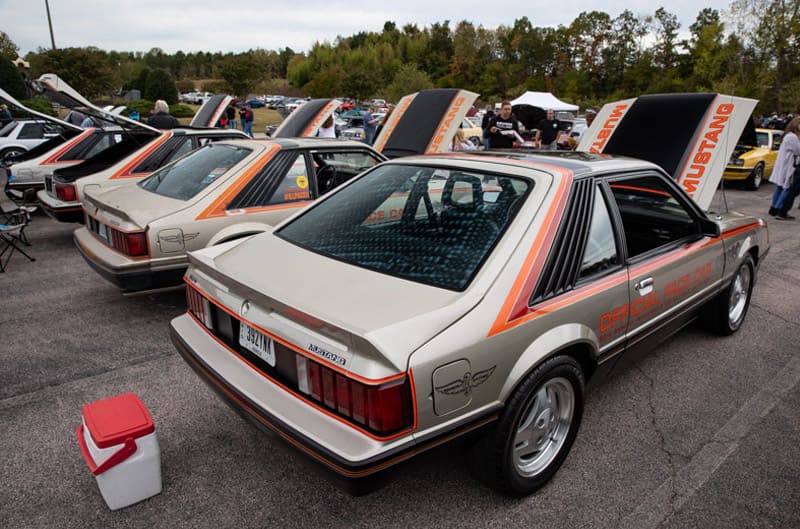 If there was one show where those who might feel that their Mustang wasn't "show worthy" enough to attend before would feel good about registering, it's Foxtoberfest. A cruise-in type atmosphere makes this an event where Fox owners and fans can come together and experience a sense of community regardless of the condition of their cars. The show features a popular-vote format where registered show participants decide who receives the coveted trophies for classes for everything from "1987-93 Best Original" to "Most In Need of Upholstery," the latter for Fox Mustang Restoration to help out – a cool idea.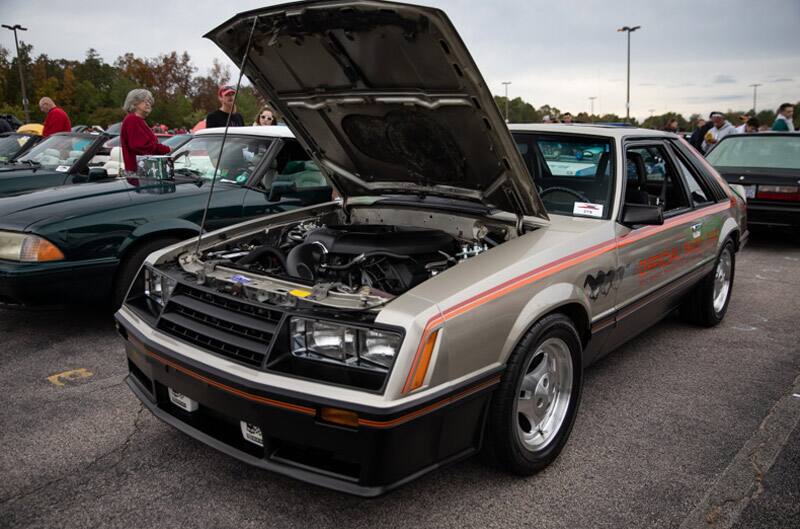 For those looking for an after-party, bar and restaurant owners in nearby downtown Harrisburg, North Carolina, welcomed Foxtoberfest attendees with their own "Harrisburg All-Ford Cruise-In" on Saturday night for one last look at all the Fox Body beauties.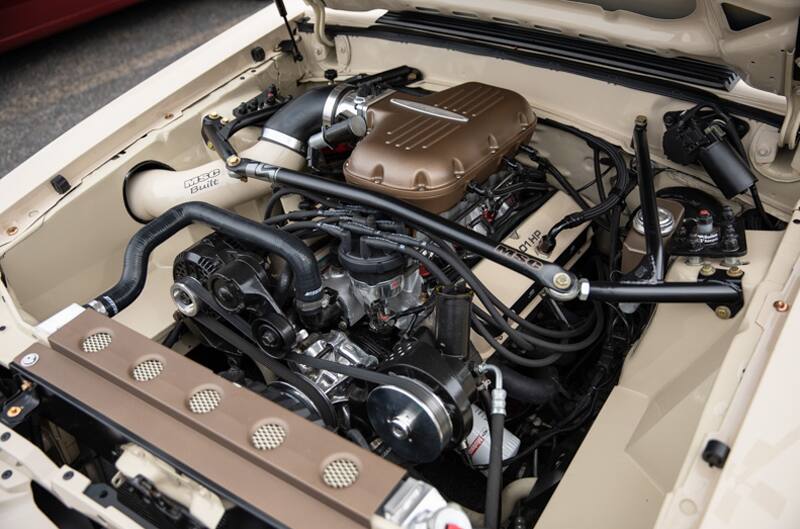 If you are a Fox Body Mustang fan, you need to put Foxtoberfest on your "must-see" show list. It's one Mustang event where even your project car will feel right at home.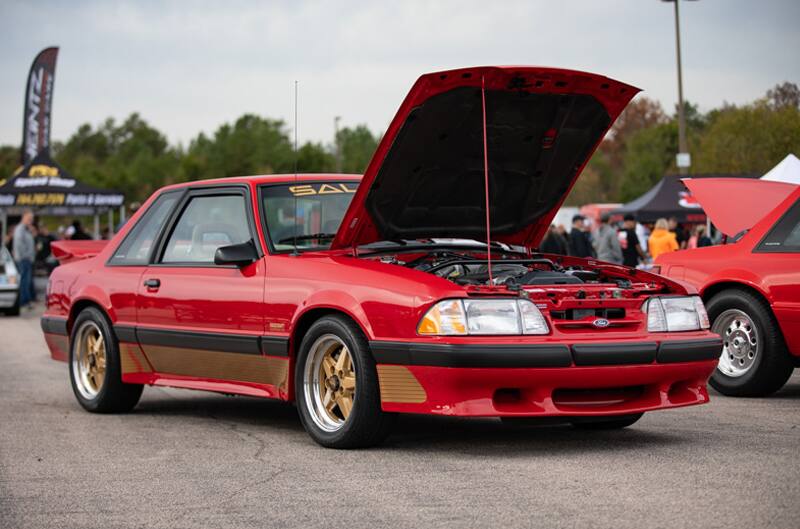 FORD PERFORMANCE PHOTOS / COURTESY JARON COLE OF MUSTANGFANCLUB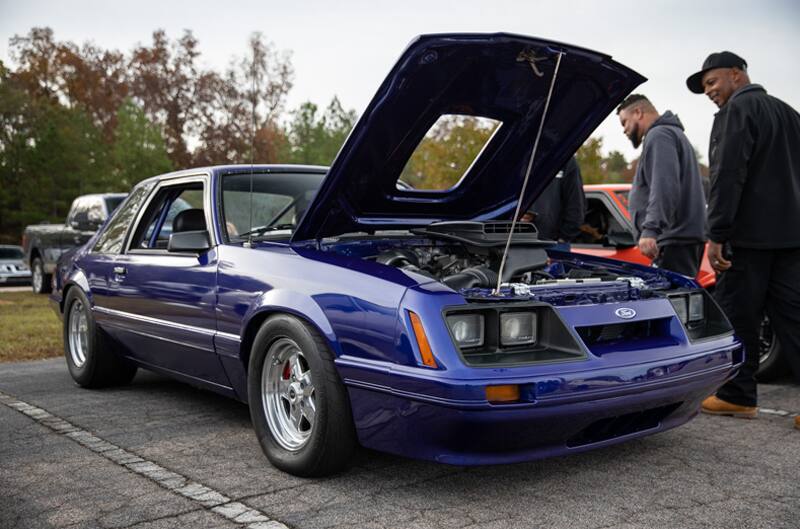 On the surface, this 4-Eyed Fox looked like a regular modified Fox Body. As we got closer and noticed the shaker hood, we saw this bad boy had a '03-04 Mach 1 motor under the hood (complete with SN-95 shaker unit). The owner was standing by the car and saw us really checking it out. He said, "If you think the motor is cool, come check out the interior" Inside, he completely swapped out the interior for a full '03-04 Mach 1 interior and console.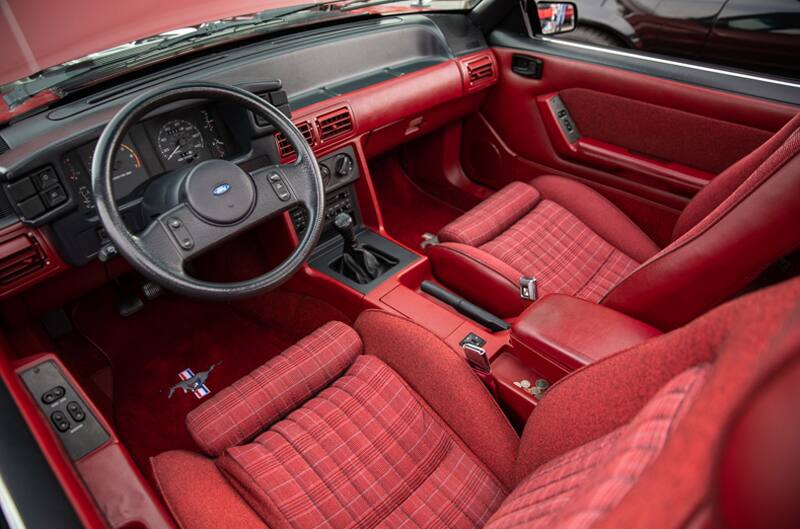 Throughout the Mustang generations, the Fox Body is among those that is probably the most modified of them all. So that's why it was refreshing to see an all-stock Fox. Although many of us can't buy a Mustang and keep it in all-stock form, we can definitely appreciate those who do. See this was like staring at a time capsule.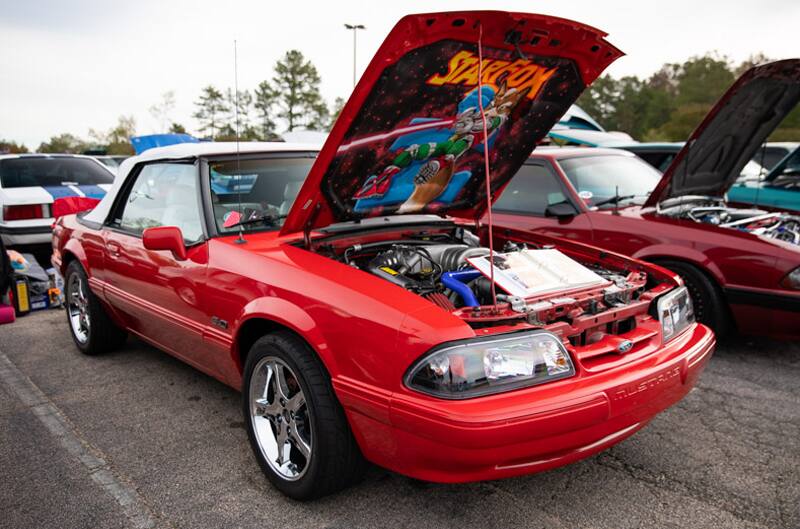 This 1990 Fox Body LX Convertible belongs to Dustin Swihart (@starfox4autism). He is 13 years old and has Asperger's, which is a form of Autism. He is building this one-owner LX for Autism Awareness.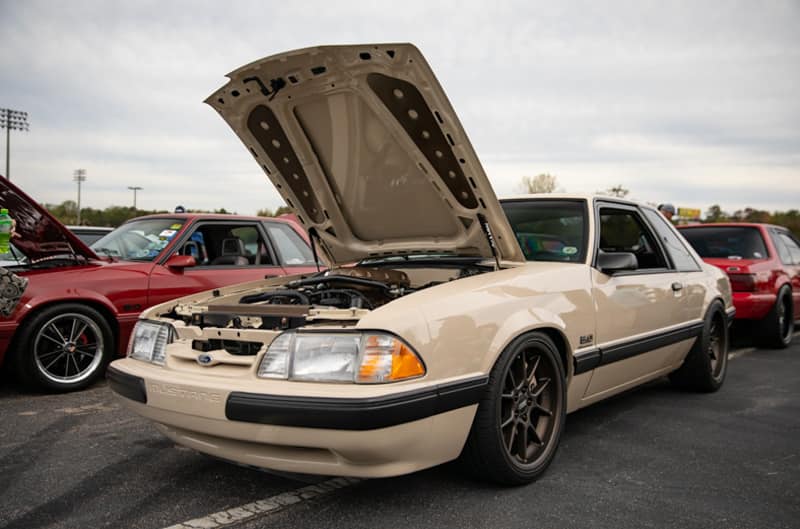 "Sandy" is Robert Miller's 1987 Mustang LX. Adorned in the Ford factory color called Sand Beige, you can likely understand why Robert gave this Mustang the name "Sandy." There were only 47 LX Coupes produced in this color back in 1987.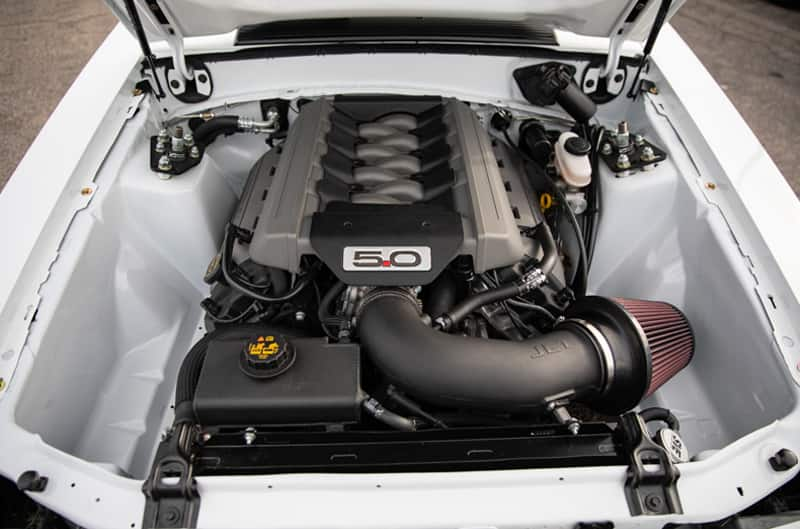 Here's that classic Fox Body look with modern muscle! The 5.0L V-8 is no stranger to the Fox chassis, but here, a modern Coyote 5.0L V-8 engine fits nicely under the hood while adding many extra ponies under there as well.