Editor's Note: February 4, 2019, marked 'World Cancer Day,' an international observance to increase awareness of cancer, and to encourage its prevention, early detection and treatment. Each year a new theme is chosen, and for World Cancer Day 2019 the theme is: 'I am and I will.' That theme seems to personify Trisha Goodridge, whose own journey fighting cancer involves a 1964 Ford Galaxie that she calls 'Lola,' a bucket-list road trip along Route 66, and an inspirational spirit. We thank her for sharing her personal story with us below:
YPSILANTI, Mich. – My name is Trisha Goodridge. I recently started my fourth year of Ovarian Cancer Survivorship, as I was diagnosed with Stage 3C Ovarian Cancer on December 4, 2015. So far, I have survived five surgeries, over 50 (and counting) rounds of various chemotherapy agents, and some vicious side effects. I was born in 1964 and raised in Ypsilanti, Michigan, not far from The Motor City. Motown was well into its stride at that time. My dad was a big car fanatic, and I learned at a very tender age the importance of taking care of a vehicle.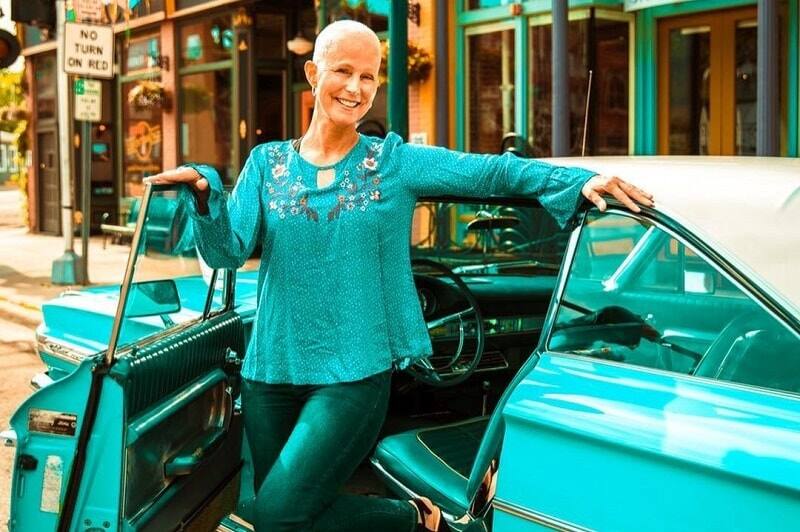 When I was received my devastating diagnosis of 3C Ovarian Cancer, what did I do? I went in search of a pristine classic car and planned a journey to roll across the country on a trip of a lifetime. The only requirement for my vehicular sidekick was that we would have to be the same age – a 1964 model year. I found "Lola" -- my original Pagoda Green 1964 Ford Galaxie 500 XL, with a 390 "Thunderbird" V-8 under the hood. She was created and released into this world from the Ford assembly plant in California. She managed to have owners that cared for her with obvious tender, loving care. Lola has survived the elements for more than five decades. She is more exquisite than the day she rolled off the assembly line. She drives like a queen and has the attitude of a saucy showgirl. Cruising down the road, she is a mesmerizing sight to behold!

I started planning the trip to roll my showgirl across country down Route 66, out to the California coast and back to Michigan. The purpose of the trip was to intertwine driving awareness and education about the most lethal gynecological cancer, all while celebrating and living life to its fullest along the way.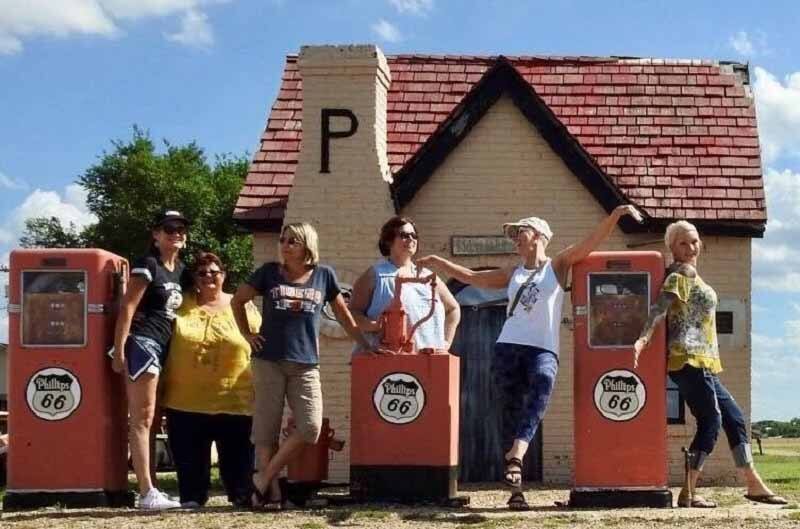 I began the journey on Sunday June 17, 2018, after being diagnosed with an ear infection and receiving a double dose of chemotherapy the Tuesday before. Lola, myself, my sister and a few friends headed out at about 10:30 in the morning on our three-week "Route 66 Adventure of a Lifetime." Lola was absolutely glorious rolling down the road. We had people clapping, honking, and cheering us on. Every time we stopped, people asked where we were heading and what we were up to. It was SO fun!

Lola's road trip sadly ended in Tulsa, Oklahoma, when she decided she preferred her showgirl role over her go-girl role. Fortunately, I had a solid Plan B just in case. Arrangements were made, and we rented a van that we lovingly called "Trudy on Duty." and continued our cross-country trip without skipping a beat.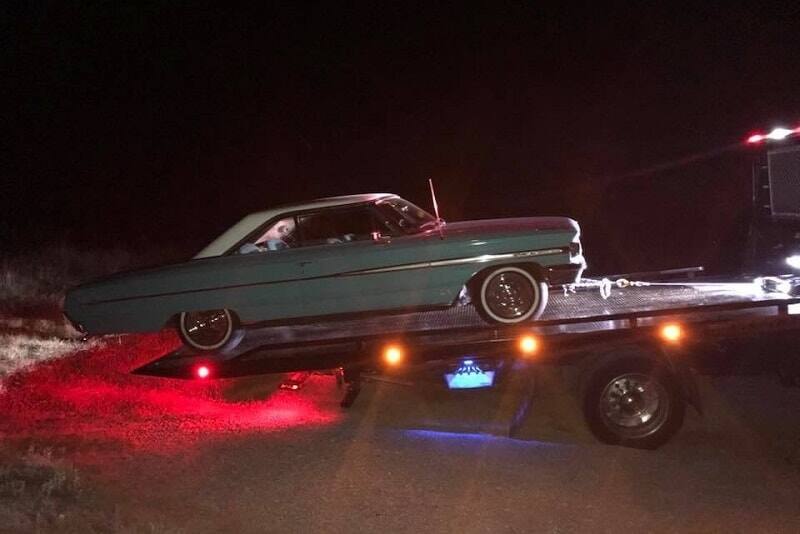 We completed the journey and our Ovarian Cancer Awareness Campaign on Friday July 6, 2018. More than 1,200 info cards were handed out from Ypsilanti to the California coast and back. Ovarian Cancer Awareness was infused into Native American reservations, primarily Spanish-speaking communities, big cities, small towns, and rural areas. It was such a powerful opportunity to leave my mark, and try to turn my pain into power and give it a purpose.
I am a nurse of 20 years. I was oblivious of the signs and symptoms of ovarian cancer that was happening to me. This allowed this devastating disease to slither in and ambush me in the prime of my life. My lack of knowledge placed me in the literal battle for my life. If I had known the signs and symptoms beforehand, I guarantee I would not have delayed seeking the appropriate testing and treatment. The saying "Once a nurse, always a nurse" rings true in my soul. If ovarian cancer can sneak up on me, it can sneak up on anyone.
Knowledge is power. I partnered with the Michigan Ovarian Cancer Alliance (MIOCA), and they provided outreach cards that share the sign and symptoms of ovarian cancer. Ovarian cancer is the 11th most diagnosed cancer in women, and shockingly ranks 5th in cancer fatalities for women. It is the most lethal gynecological cancer. This year, 22,000 women will be diagnosed with ovarian cancer, and 14,000 of those ladies will die within five years.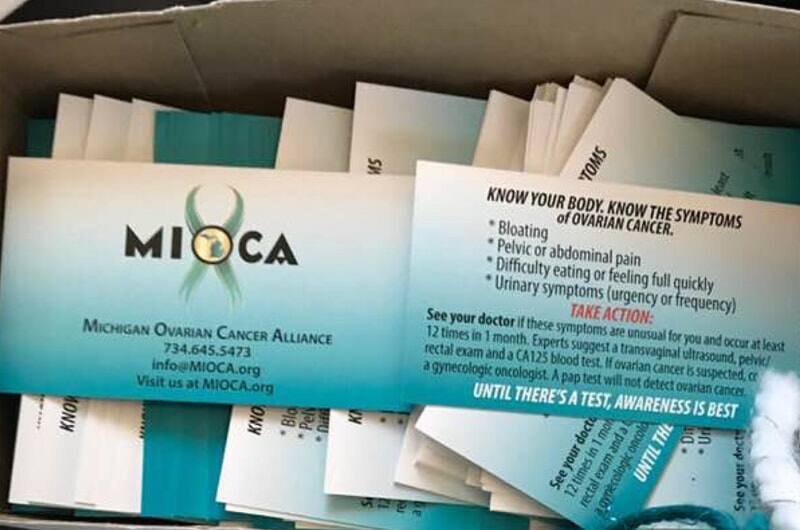 Contrary to most people's perception, ovarian cancer is not an old woman's disease. I have heard stories firsthand of children -- girls as young 5 years old -- that have been diagnosed with ovarian cancer. Ovarian cancer is a vicious and aggressive cancer. If not caught in its early stages, it is very difficult to treat. Unfortunately, only 15 percent of ovarian cancer cases are caught in the early Stage 1 or Stage 2. It is also important to note that pap smears DO NOT test for ovarian cancer, which is a common misconception. The motto is, "Until There's a Test, Awareness is Best!"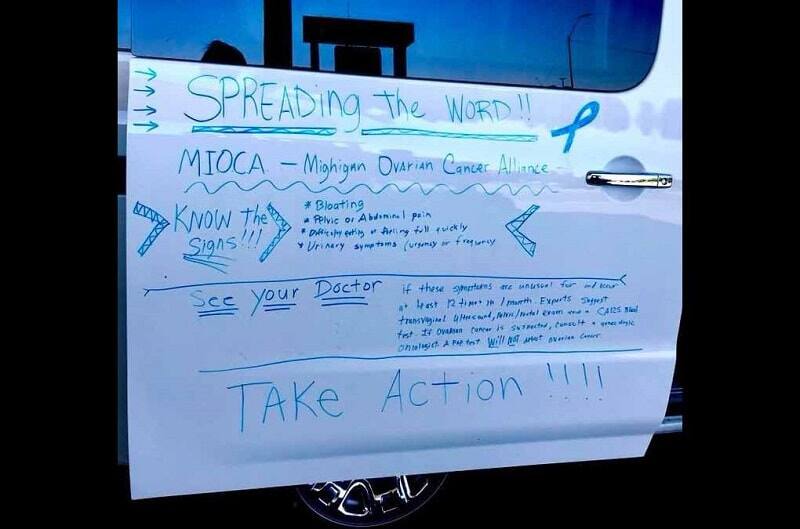 Lola and I are both 54 years old. When I think about the evolution of the automobile industry over the last 54 years and the research efforts and changes put forth to preserve life, it gives me hope. Lola left the assembly plant with all the latest bells and whistles. She was even equipped with two lap seatbelts for front-seat passengers. Since 1964, look at all the passenger restraint advances that the automobile industry achieved: Seat belts for all travelers, shoulder harness seatbelts, child safety seats, air bags, crash tests, and crash-test dummies. From a legal standpoint, the adoption of drunk-driving laws, seatbelt laws, and distracted driving laws have all been established to help preserve life.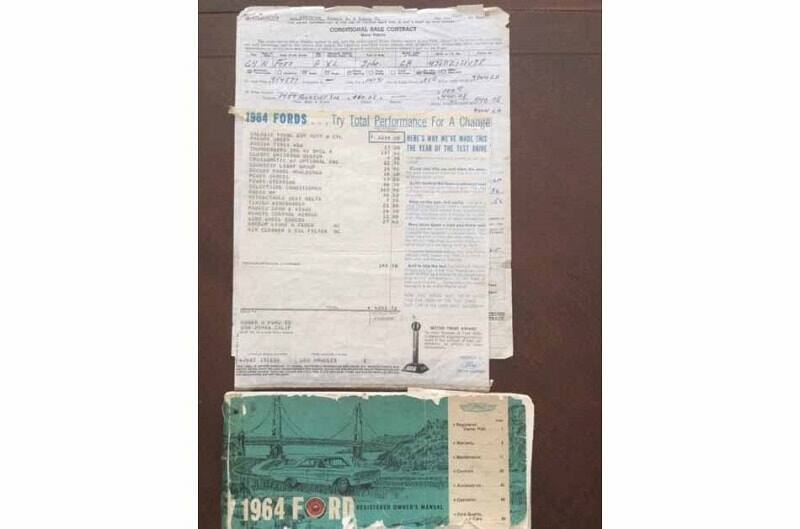 Unfortunately, research and successful efforts to preserve life in regard to ovarian cancer has a much less impressive resume. In the past 50 years, ZERO progress has been made in the first line of chemotherapy treatment. And in those same 50 years, ZERO progress has been made in early detection. While so many other cancers are "racing for a cure" and early detection, ovarian cancer is still HOPING for early detection.
The good news is that since returning from my trip, the ripple effect resulting from throwing my stone into the awareness water is still growing. Lola and I have been invited to participate in several ovarian cancer awareness events. We even have a song dedicated to us by the band "The Timbre of Cedar" titled "Let's Go". Lola was the prop for their cover photo for this song. Check them out in Spotify.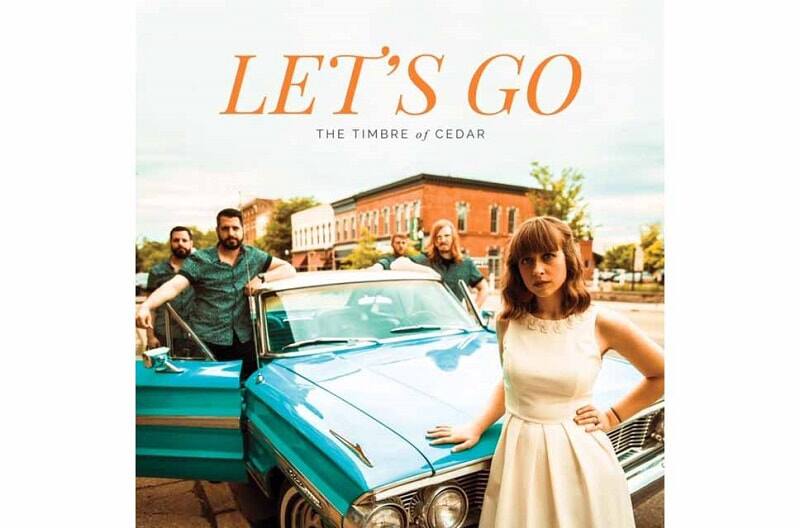 Back in September (which is Ovarian Cancer Awareness Month), we were invited to join MIOCA at the kick-off stage for the annual Wheels and Teal Event in Rochester Hills, Michigan. Wheels and Teal is a teal and turquoise car show preceded by a 5K run to raise awareness and money for ovarian cancer research. Lola and I were invited to promote this event on WXYZ-TV Channel 7 and Fox 2 News (http://www.fox2detroit.com/good-day/wheels-and-teal-car-show-in-rochester-hills-this-weekend) in the Metro Detroit area.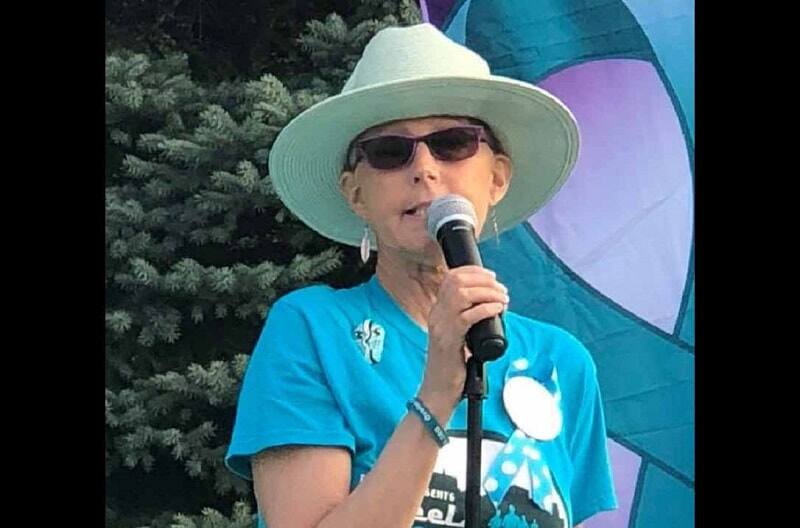 I was also invited and had participated in a Podcast at a Michigan Medicines Rogel Cancer Center to talk about my diagnosis, Lola, and my Route 66 Adventure. I even got to be the guest speaker at MIOCAs year-end dinner and Next Gen Ovary Fun Night.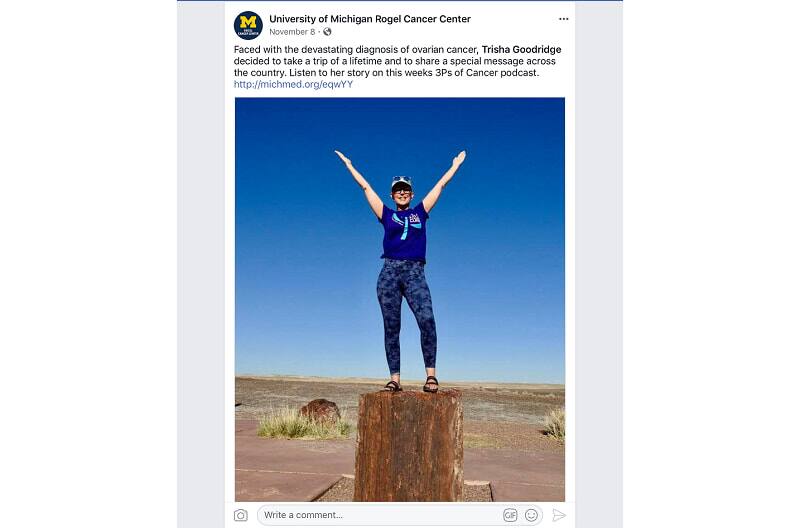 Just like my lovely showgirl, Lola and I epitomize the Ford attitude of "Built Ford Tough." And as far as I'm concerned, we are also built to last -- no matter what roadblock comes our way.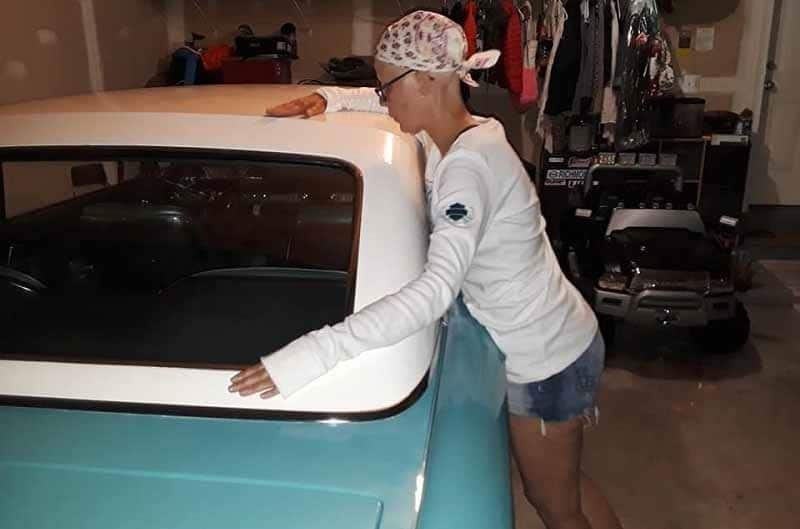 FORD PERFORMANCE PHOTOS / TRISHA GOODRIDGE, CAROLYN McCARTHY & KRIS HERRMAN