LAGUNA SECA, Calif. – Gulf Oil's famous -- indeed iconic – blue-and-orange racing livery has identified many of the world's most significant and successful racing cars. The most famous Ford to ever wear the Gulf colors is GT40 chassis number 1075, which won the 24 Hours of Le Mans overall in 1968, with Pedro Rodriquez and Lucien Bianchi at the controls, and again in 1969 besting Porsche in a thrilling last-lap duel, this time with Jackie Oliver and the incomparable six-time Le Mans winner Jacky Ickx aboard. This was the first time a single individual car and chassis won Le Mans back-to-back, completing Ford's history-making "Fourpeat" in winning the world's most famous round-the-clock endurance race from 1966 through 1969.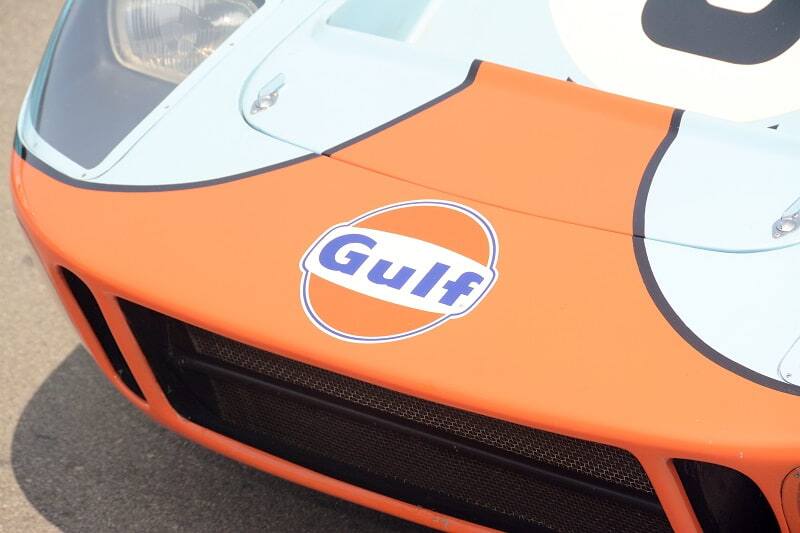 Another place you've likely seen the famous Gulf Blue and Orange is draping several of the Porsche 917s in Steve McQueen's motor racing epic film, Le Mans, of 1970.
It only made sense, then, that Ford honor that famous repeat win with the 2006 Ford GT Heritage Edition painted in those same, famous colors – very few were produced, and the Blue and Orange Heritage GT is one of the most sought-after, collectible, and valuable Ford GT models.
If "Two's good, then Three must be better?" Right?
It certainly appeared that way at WeatherTech Raceway Laguna Seca on Friday August 24, 2018, when Ford gathered its own executives as well as Gulfs, several racing luminaries, the press and the interested public to reveal the 2019 Ford GT Heritage Edition, yet another fabulous GT trimmed in Blue and Orange.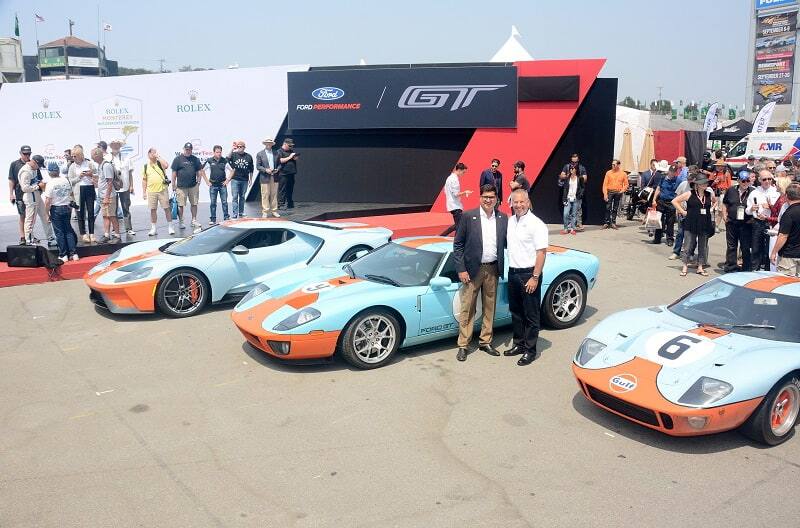 "Many view the Gulf Oil paint scheme as the most famous in motorsports," said Joe Hinrichs, Ford president, global operations. "The 1968 GT40 quickly became a global sensation after beating its European competitors on the track four times in a row, and in honor of the 50th anniversary of its win, we're paying fresh tribute to the original with a new heritage limited edition."

Along with the new car, Ford had on hand the one-and-only GT chassis #1075, the actual car that earned the repeat win in 1968-69, along with an '06 Heritage GT. Those two cars were parked in front of a stage, flying an obvious "missing man" formation, when the firing of a new GT's 3.5-liter twin-turbocharged EcoBoost V-6 could be heard in the background, and none other than current Ford GT IMSA racing driver Joey Hand drove the car out to rather thunderous applause; Hand is among the team of drivers that brought home Ford's historic 50th anniversary (GT) class win at the Le Mans 24 in 2016, and is currently teamed with Dirk Mueller and Sebastian Bordais in the IMSA/WeatherTech sports car racing series in the GTLM class number 66 Ford GT. Another Le Mans legend on hand was Sir Derek Bell, a five-time Le Mans overall winner with some seat time in the original Ford GTs as well.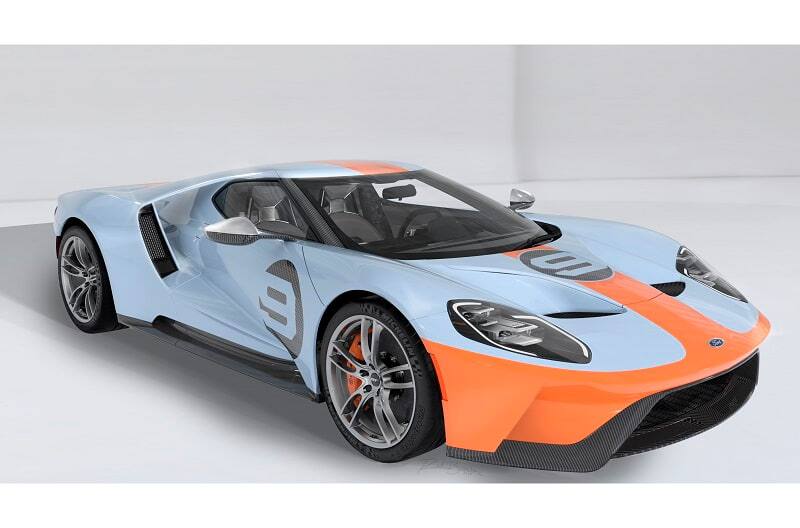 For the first time, an optional package on the new car provides exposed carbon fiber accents for both the interior and exterior of the Ford GT Heritage Edition. For 2019, the package features the No. 9 graphics on the hood and doors, as well as a ghosted image on the interior door panels. For 2020, No. 6 honors the same car that went on to win Le Mans in 1969 running race number 6.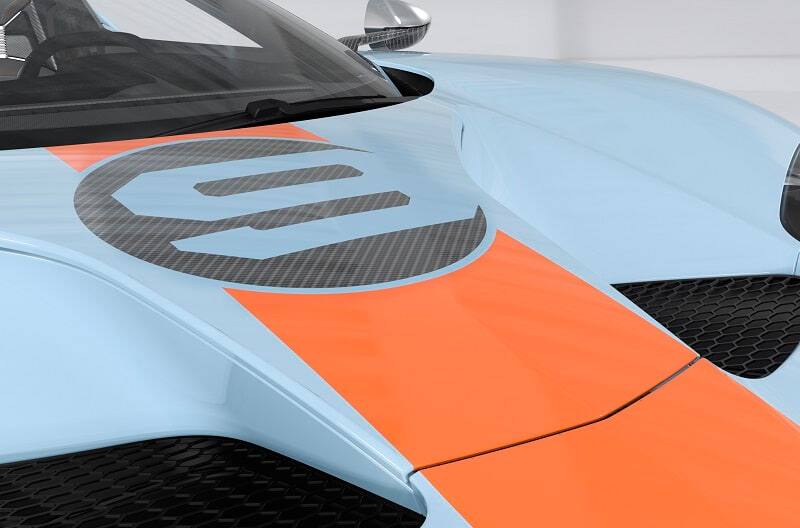 "We are delighted to partner with Ford to help the Gulf-themed Heritage Edition Ford GT become reality," enthused MD of Gulf Oil Lubricants India Ltd., Ravi Chawla. "The Ford marque has played a major role in creating Gulf's place in motoring and motorsporting legend and the same is true in reverse. Every Gulf outright victory at Le Mans has been Ford-powered, and of course a Gulf Ford GT40 took the latter two wins of Ford's four consecutive victories at Le Mans from 1966-1969. What could be more fitting than both brands coming together to produce this fantastic motor car – the modern spiritual successor to the amazing Gulf-Ford GT40s that took Le Mans and World Championship honors?"
What, indeed. The new Heritage Edition GT will pack the same performance specifications as other Ford GT models. Production numbers, availability and pricing have not yet been announced.
FORD PERFORMANCE PHOTOS COURTESY MATT STONE / INSPIRED COMMUNICATIONS