HERSHEY, Pa. - Jim Aberts was clearly pleased, if a little dazzled and perhaps even bemused. "I've been with this museum since before it opened, and I've never seen this many people here at one time." Jim, a longtime Mustang enthusiast and museum guest curator, is referring to the AACA Museum in Hershey, Pennsylvania, a Smithsonian affiliate whose permanent collection of over 150 vehicles ranges from two-cylinder high-wheelers to exotic sports cars and custom-bodied classics. The Museum houses three of the world's remaining 46 Tuckers, a showroom-condition '54 Corvette, a 14-liter Pierce-Arrow Model 66, and four Stearns-Knights, which is at least three more Stearns-Knights than you're likely to see anywhere else.

But the record crowd had come to see Mustangs – specifically, the May 18, 2018, opening reception for Mustangs: Six Generations of America's Favorite Pony Car, a temporary exhibit which will run at the Museum through October 14, 2018. As guest curator, Aberts has not only assembled more than 30 outstanding vehicles, but also recruited Mustang luminaries Gale Halderman, Art Hyde and Chuck Cantwell for a kickoff evening panel discussion that proved both enlightening and entertaining.

The reception opened at 5:30 p.m., with upwards of 100 people expected. But by 6:30 the crowd had swelled to 350, and the Museum's Director of Marketing & Communications Nancy Gates was estimating some 400 attendees by the end of the evening.

Sharing the opening-night spotlight was a smaller, three-car exhibit curated by the International Thunderbird Club (which we'll cover in a later article); and the T-Birds were certainly generating their share of the night's excitement. But as we mingled in cocktail-party atmosphere, it became clear that most of these folks are here to see the Mustangs – and to hear from their illustrious creators.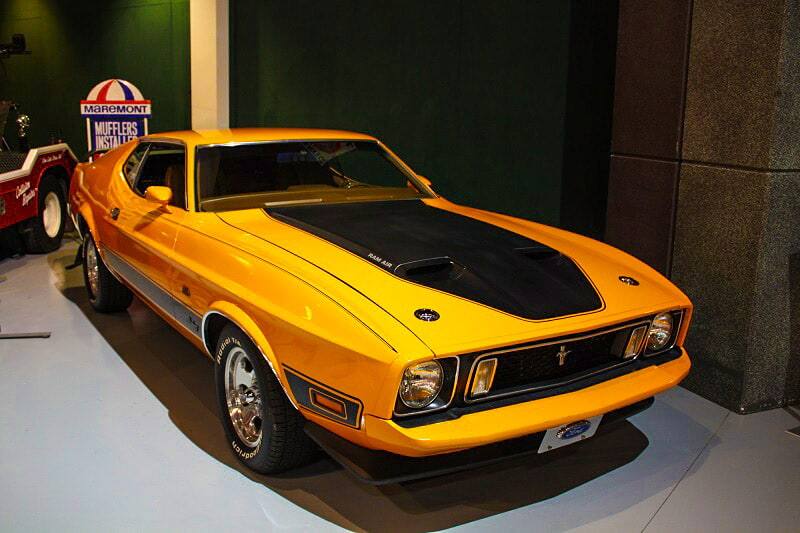 "Tonight we celebrate two products of the Ford Motor Company that have become icons for generations of car enthusiasts," announced Richard P. Sills, the board member who chairs the Museum's Exhibits Committee. "Each of these cars is responsible for starting a whole segment of the industry, and each has attracted a host of imitators." The covers of both Time and Newsweek hailed their debuts, and each became a cultural phenomenon. But the Mustang, additionally, became a phenomenal success. Total production of 1955-57 two-seat Thunderbirds totaled 53,166, and that's a respectable number. But Ford dealers moved 22,000 Mustangs on the first day the car became available, and 400,000 in the first model year.
Sills attributed much of that success to the Mustang's relatively low purchase price – just over $2,300 in 1964 – combined with its "appeal to a remarkably wide segment of buyers. Depending on how it was equipped, it could be an economy runabout, a high-performance car, or an elegant cruiser."

According to Jeff Bliemeister, the Museum's executive director, Six Generations is about "maintaining the brand," by representing "the continuous development of the Mustang for 50 years." And indeed, the high points are all here, beginning with the 1964 convertible ordered personally by Henry Ford II, with custom leather interior and custom Stanhope Green paint, a 1940 Lincoln hue that Mr. Ford particularly favored. There are hardtops, convertibles and fastback 2+2's from the early years. Nineteen-sixty-nine Bosses 302 and 429 greet visitors in the lobby, and a '69 Mach 1 menaces the Museum's recreated Atlantic service station. A trio of '64-68 models nose into a drive-in movie to watch a promotional film about the all-new Mustang for 1971.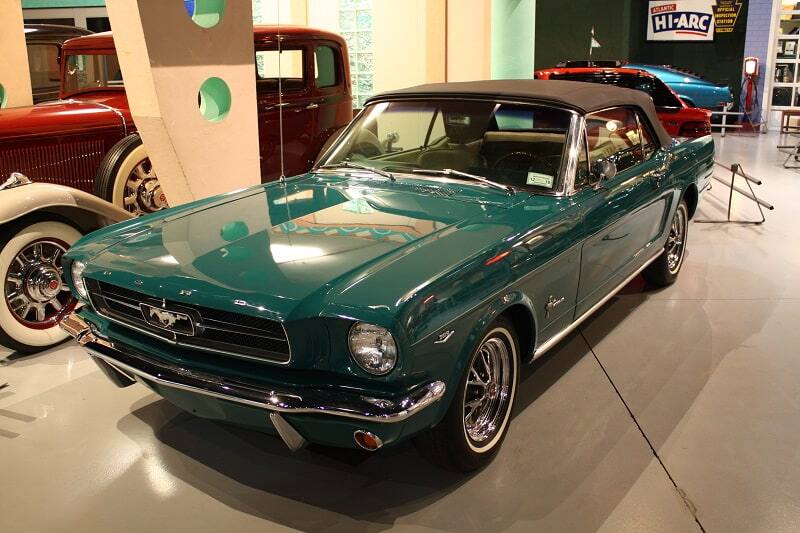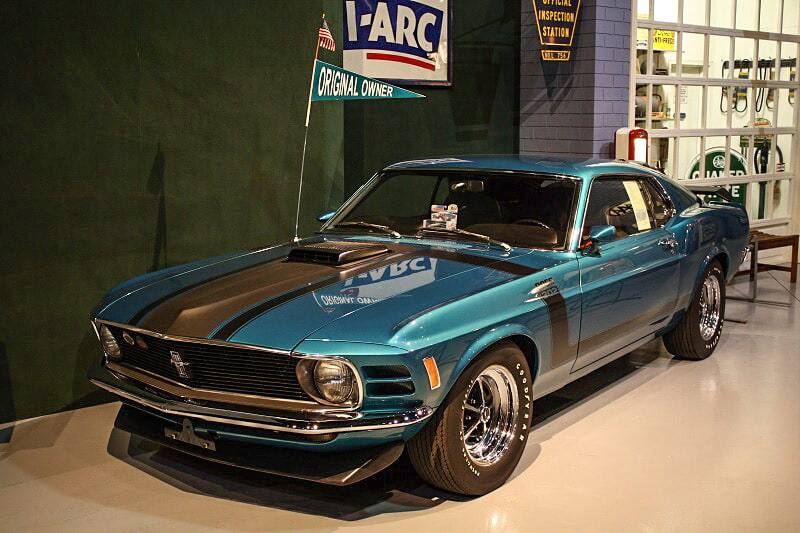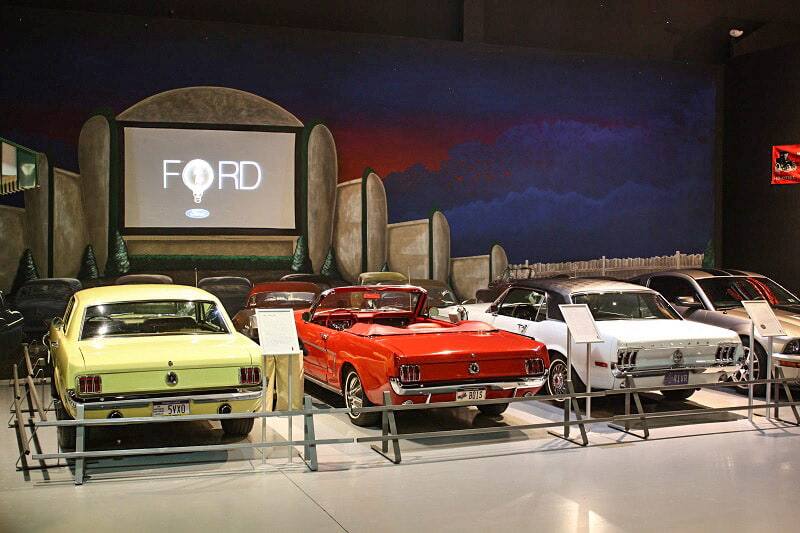 According to Halderman, the retired Ford Designer who had been the primary stylist of the original, the Mustang almost didn't happen. Still smarting from the Edsel debacle, HFII "did not originally want the program," he told the crowd during the panel discussion. "He didn't want another failure. But [Lee] Iacocca said that if we did a design that he liked, Mr. Ford might change his mind. We had only 10 days to do it. And when we pushed it outside, Mr. Ford looked at it, and said, 'I like it. I like it a lot. . . . But I'm not approving it.'
"Then as he turned to walk away, he added, 'But don't stop.' And Iacocca said, 'We've got it'!"

John Clor, enthusiast communications manager for Ford Performance, emphasized the influence of Mustang enthusiasts in general, and of the independent Mustang clubs in particular, on the Mustang's continuing evolution. "Since day one, everything that happened to the Mustang was steered by our customers," Clor noted. "Early on you told us that the 289 HiPo wasn't fast enough. So we put a big block in the Mustang. And then some of you told us that wasn't enough. And, well, thank goodness for Mr. Shelby."

In the Museum's display, just beyond a 1967 German-export T5, a '67 Shelby GT-350 seems to chase a '65 GT-350R. Turn right and a pair of '68 GT-350's – a red fastback and a blue convertible – prance arrogantly before a faux used car sales office.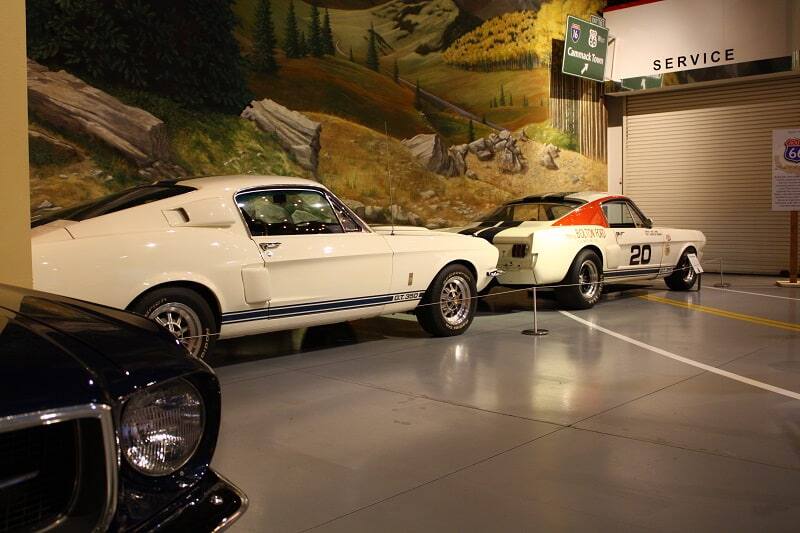 Chuck Cantwell went to work for Shelby in October of 1964 as a project engineer on the Shelby GT-350 Mustang program. "Carroll Shelby was a complex person," Chuck recalled, "and probably everything you've heard about him is true. He was in the factory and in our offices every day that he wasn't traveling. But he didn't meddle much, and he never hovered." On the other hand, "he was very persuasive, and if he wanted you to do something, you got the idea.

"Our objective was to beat the Corvettes in SCCA B/Production," with the GT-350, and for homologation "we had to build 100 street cars in the Shelby configuration."

Cantwell's team had just weeks to decide which parts they needed, and then how to order Mustangs from Ford minus the parts that Shelby planned to replace. "But the cars had to be driven off the assembly line. So some of the Shelby modifications were installed by Ford, like the nine-inch rear axle and the competition transmission from Borg Warner." By that January, Cantwell's team was working 10-hour days, six days a week; but before the month was out, Bob Bondurant and Ken Miles tested the first two race cars at Willow Springs. "And I got to ride with Ken Miles, and see what the car could do. Then after Miles and Bondurant went to Europe, to win the FIA GT Championship with the Cobra coupe, I track-tested all the Mustangs before we delivered them to the customers. Over three-year period, I tested about 75 cars.

"We only made the GT-350R for one year, but we won the national championship in '65." Then privateers campaigning Shelby Mustangs won it again, in '66 and '67.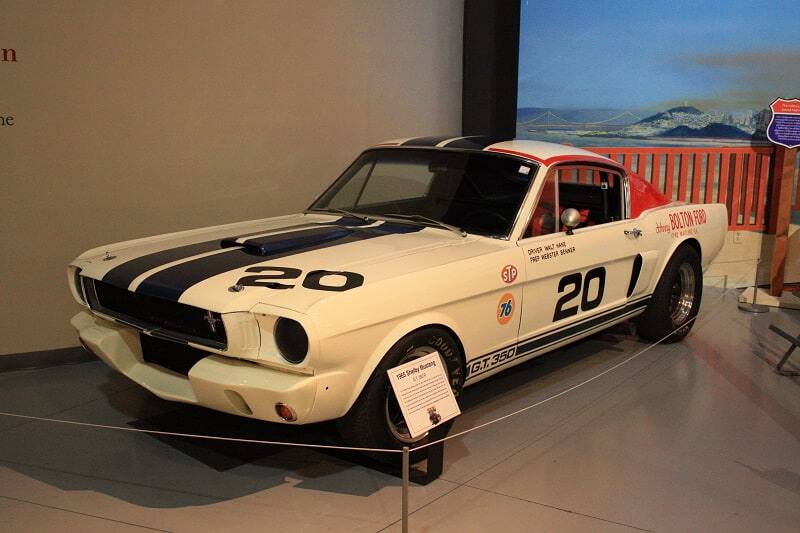 They couldn't have known that an era was ending as the muscle cars wars began to wane by the early '70's. "And then you couldn't even get gasoline," said Clor, "and we introduced the Mustang II, and sold nearly 390,000 the first year." Again, however, as fuel supplies stabilized, even this mini-Mustang grew more mighty every year; the breed is represented in Hershey by a limited-edition King Cobra, which marked the Mustang II's final year (1978) with a standard 5.0-liter V-8 generating just under 140 ponies.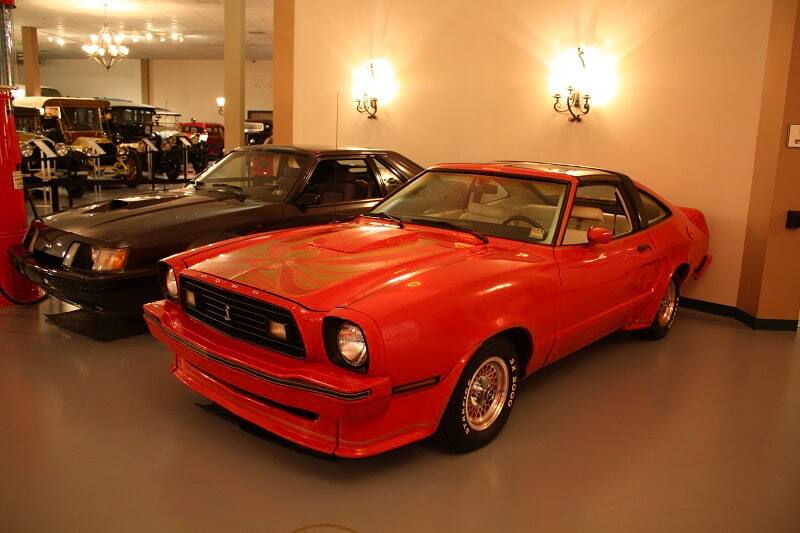 "And then our customers wanted something fresh and different," said Clor, clearly referring to the all-new and thoroughly modern "Fox Body," a sharp and sexy Mustang reinterpreted by Italian coachbuilder Ghia and guided under the eye of Ford VP of Design Jack Telnack.
Engineer Art Hyde joined Ford in 1977, just in time to preside over the Fox Body's launch in 1979. He later collaborated with Ford supplier Cars & Concepts to revive the Mustang convertible in 1983, and helped design the SVO engine for 1984. (The Six Generations includes examples of each, along with a 1988 Florida Highway Patrol car.) "And then I became the body manager for the (fourth-generation) SN-95, and after that Chief Program Engineer for the Mustang."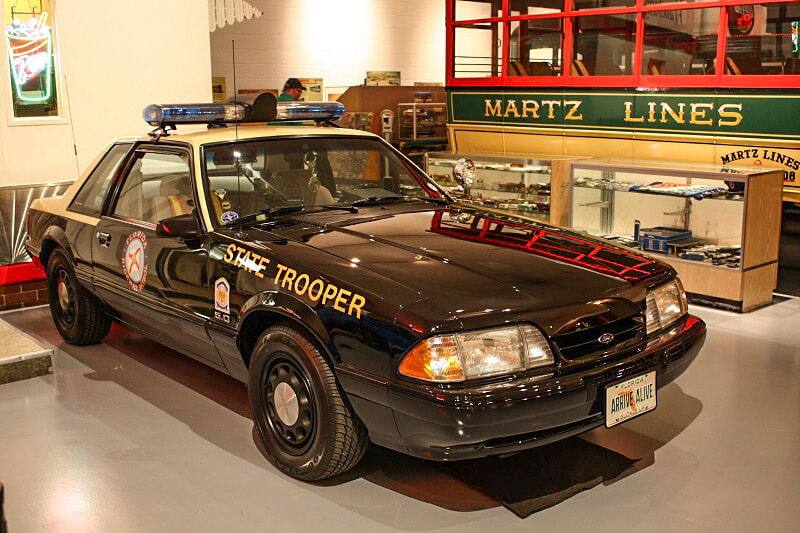 Again, however, fuel prices threatened the Mustang's fundamental concept. Clor recalled how close Ford came to releasing "a front-wheel-drive Japanese car with a Mustang logo on it. But you sent letters, and in them said some nasty things about the Ford Motor Company, and about the Ford family. So cooler heads prevailed, and we came out with a Mustang that looked like a Mustang again."
In fact, the Mazda-based front-drive car (which became the 1988 Ford Probe) "was six months from production," added Hyde, when Ford management decided that the Fox Body would soldier on while the SN95 was being developed. "And then, 15 years later, we did it all again. Senior management told us that the next Mustang after the SN95 was going to be a front-wheel-drive car with an aluminum body. And I said that's fine, but it's not a Mustang. And it took about a year, and a lot of manipulation, and people talking to other people so they didn't think it was coming from just me. But that's how you get things done in a big organization."

Possibly the most significant Mustang missing from the collection is Production Serial Number 1 which was purchased new by airline pilot Stanley Tucker. According to Sills, Mustang One has resided in the Henry Ford Museum in Dearborn ever since Captain Tucker was persuaded to trade it for Mustang number 1,000,000. That was back in 1966.

The Museum's exhibit does, however spotlight an even earlier Mustang than Number One – that being one of just 15 pilot production cars, and the only one built on an experimental short wheelbase. Affectionately known as "Shorty," it is powered by a triple-carburetor 260 (presently enlarged to 302 cubic inches), and will also be highlighted in a separate article coming to this website soon.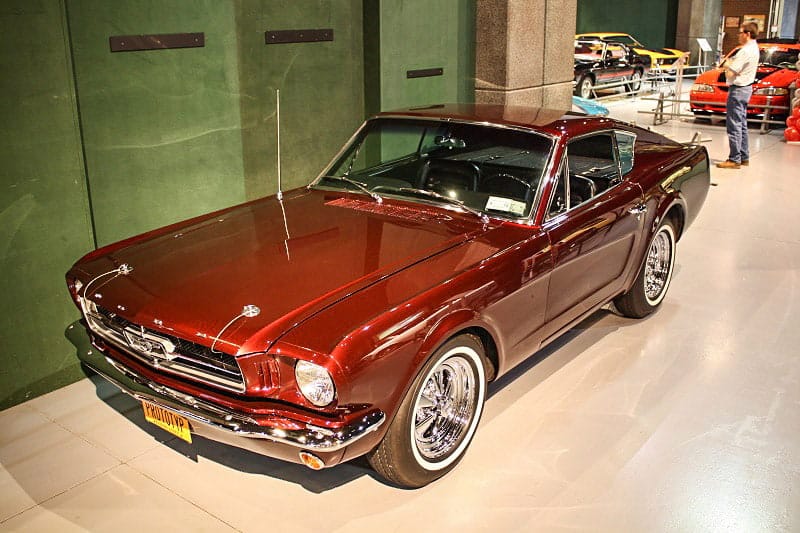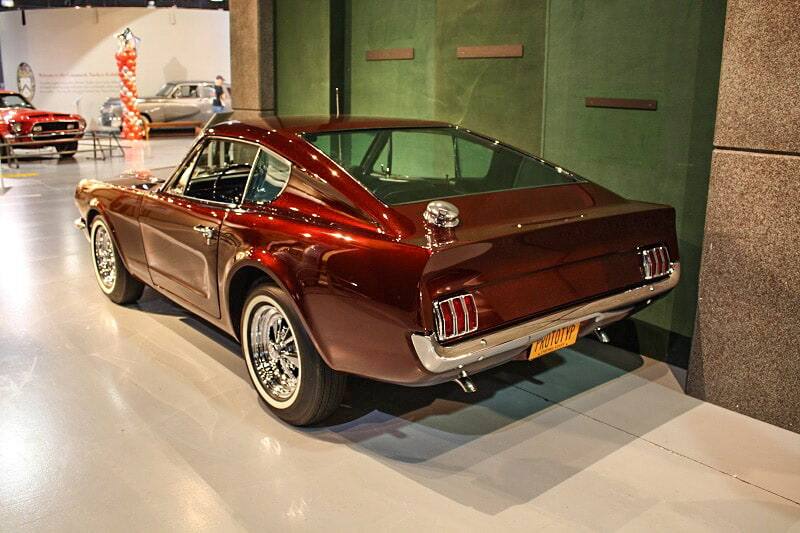 And yes, even Mustang "Tuner" cars are represented here: by the second of 13 Boss Shinoda SN95's, radiant in "Certified Vibrant Red;" Fox-based Saleen Musang No. 1, still wearing its "Federal Certification Vehicle" stickers, lounges comfortably alongside the S197-derived Saleen No. 491. And back out in the main lobby you'll find a lovely GT-500 Eleanor tribute, built for owner Hal Flack by Coventry Restorations of Wyoming, Pennsylvania.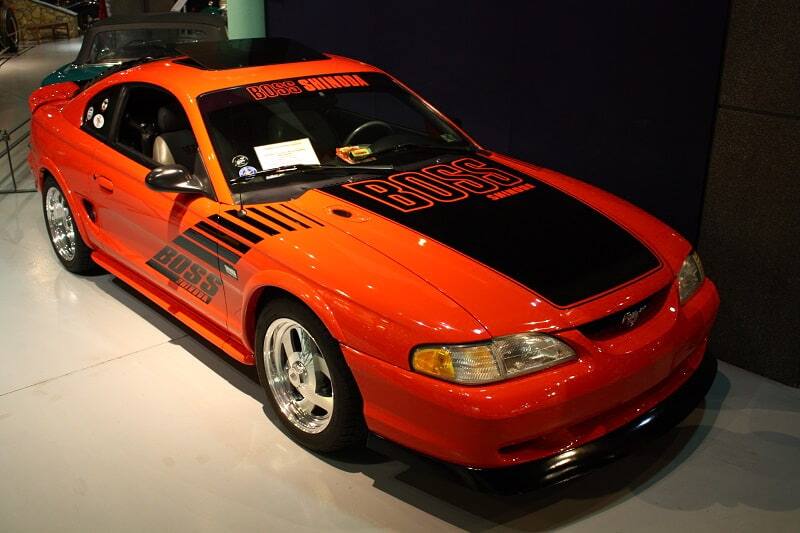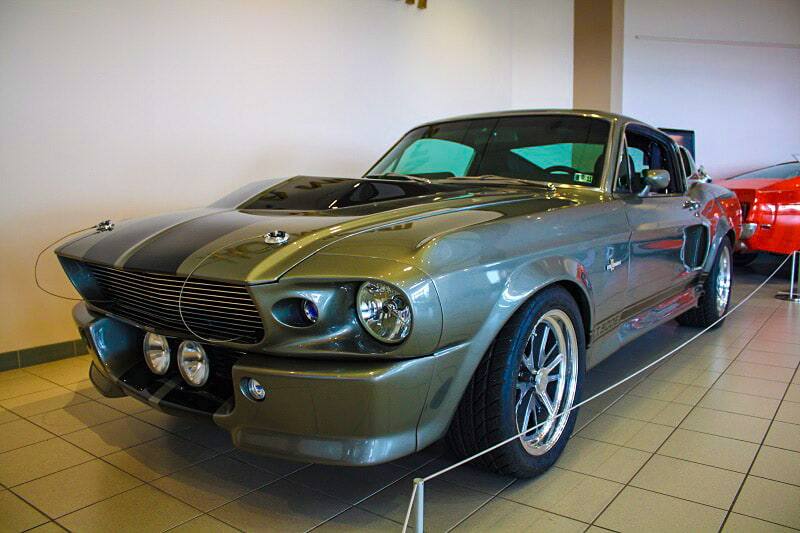 In his concluding remarks, Clor again praised Mustang clubs and individual Mustang owners for not only guiding the model's evolution, but preserving its history as well. "We don't have a stockpile of these cars anywhere," he noted. "We're not saving them in some historical collection. You are maintaining the legacy of these cars. And we can't underestimate the value of you, the enthusiasts, to the company – because you help sell more Mustangs than all the ads we've done through J. Walter Thompson.
"We travel the country and meet with Mustang people to try and gain insights into what they want and like most about their Mustangs. You can't just ask, 'Is this what you're going to want in five years?', because they don't know what their other choices are going to be. But you can determine their values and attitudes. And we learned that the Mustang's competition is not cars like the Camaro. The Mustang's competition is disposable income being spent today on a vacation, or a big-screen TV, or a home remodel. And the most important thing we learned is that when they really want to reward themselves, they want a Mustang. They don't want just another new car, they want that cool car from their youth – they want to be Steve McQueen. That's why ever since the end of the Fox Body, we've been designing the Mustang to celebrate its own remarkable heritage, to be more and more like the car that Chuck worked on, and like the car that Gale worked on.

"The Mustang is . . . America," Hyde added. "It's about freedom and personal expression."

Perhaps Bliemeister said it best – having owned a '67 Mustang hardtop since 1985: "It's just really hard to have a bad day when you're driving a Mustang."

FORD PERFORMANCE PHOTOS / COURTESY JOHN F. KATZ