LAS VEGAS, Nev. – The annual Shelby Bash event is all about having fun, and in the proper spirit of Carroll Shelby, is could at times border on the mischievous. At least that seems to be the recurring theme of each Shelby Bash, which has now reached its 11th year (the first dating to 2008 and Carroll Shelby's 85th Birthday Bash).
Shelby owners love to bring their Mustangs and Cobras home to Shelby-American, where they meet up with other enthusiasts from all over the country and the world. This year we met owners from just about every state, and as far away as Norway and Holland. One lady hailed from Zimbabwe.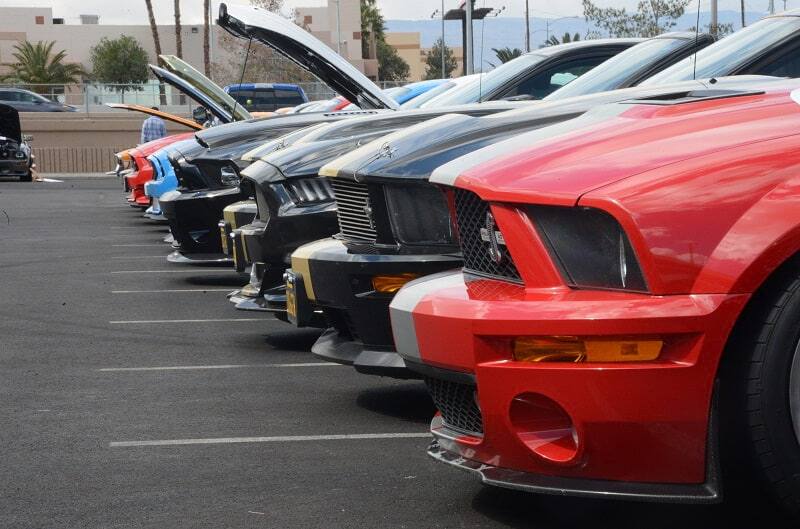 An atmosphere of lightheartedness pervades each Bash. A Poker Run (Friday) and a Scavenger Hunt (Saturday) offer carefree street driving that leads to adventurous activities at various stops along the way, and provide an alternative to the open track racing that happens on Friday and Saturday at Spring Mountain Motorsports Ranch, located 50 miles west on Highway 160. There, Gary Patterson and Vince LaViolette gave rides in new Shelbys, while Rick Titus, son of legendary Shelby Team Driver Jerry Titus, gave rides in the "new" 1965 Shelby G.T. 350 R model that is now being produced in California in conjunction with Shelby-American.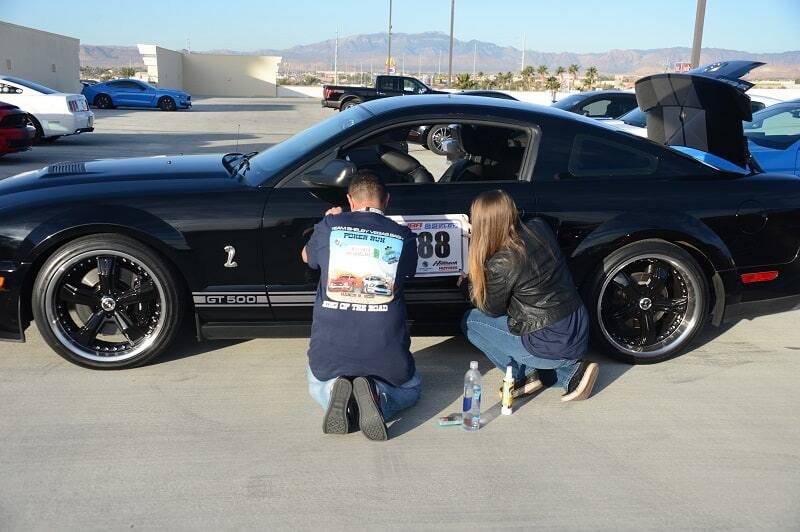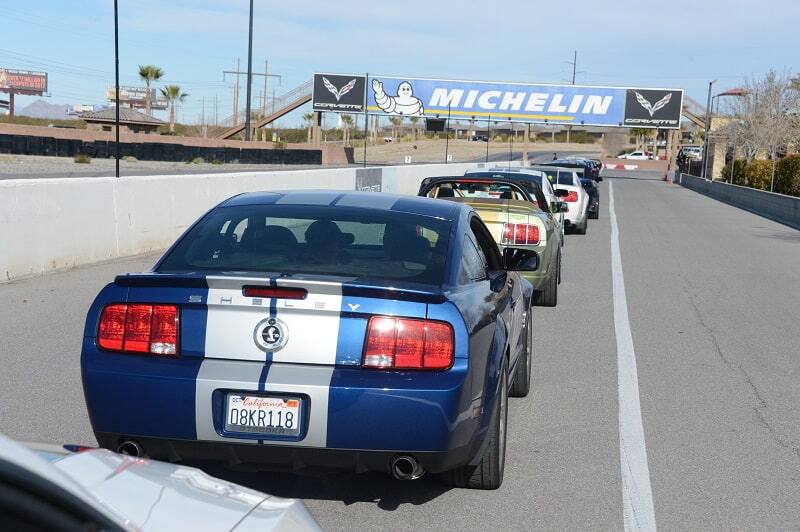 Day One of the 2018 Shelby Bash kicked off with registration at Shelby-American's facilities in Las Vegas on Thursday, March 8, 2018, followed by a meet-and-greet at "Stoney's Rockin' Country," located a few blocks away in the Town Square Mall on Las Vegas Boulevard South. There, Shelby's three grandsons -- Aaron, Randall, and Shawn – mingled with attendees amid food, drink and music.
Poker Run participants departed at 8:00 on Friday morning from the host Silverton Hotel & Casino, describing itself as a "rustic, modern lodge" located off the Las Vegas strip on the south end of the city, a mile or two from Shelby-American. From the open-air top floor of the parking garage (reserved exclusively for Shelby Bash participants), Poker Runners motored along the Blue Diamond Highway (otherwise known as highway 160) to the Mountain Springs Saloon, advertised as "cooler" than most places, due to its 4,500-foot elevation at the summit of the Spring Mountains. There, everybody retrieved their poker chips and snapped pictures. Next stop was the Area 51 Alien Travel Center in Armargosa Valley on Highway 95. Lunch was held at the Mt. Charleston Lodge, which is above the snow line.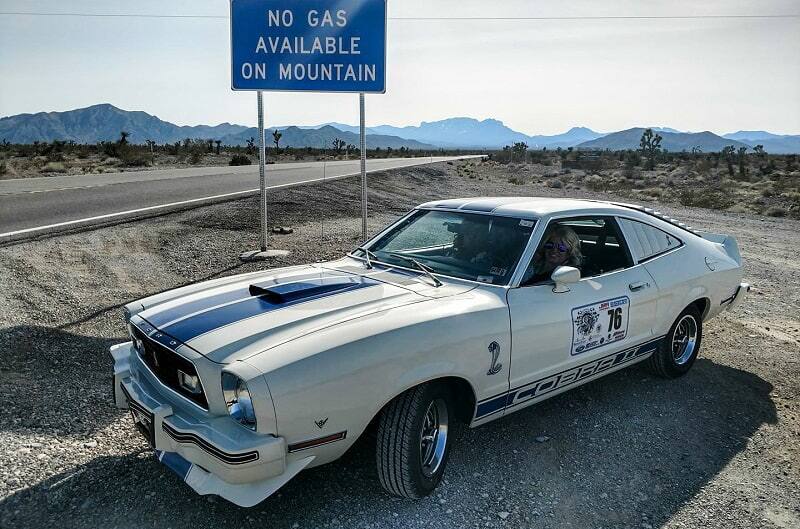 "You would not think of snow when in Las Vegas," one person said, but it was clearly visible on the mountain tops, even though nobody had to walk through the white stuff.
The Poker Run concluded with a brief stop at the Silent Heroes of the Cold War National Monument, five minutes down the hill from the Lodge, leading to a unique event that has been gaining strength since its inception three years ago – called Snakes on the Strip. This year, some 80 Shelby Mustangs gathered to motor together down the famous Las Vegas strip, and Tracey Smith, director of Team Shelby, got cooperation from the city of Las Vegas to provide a police escort.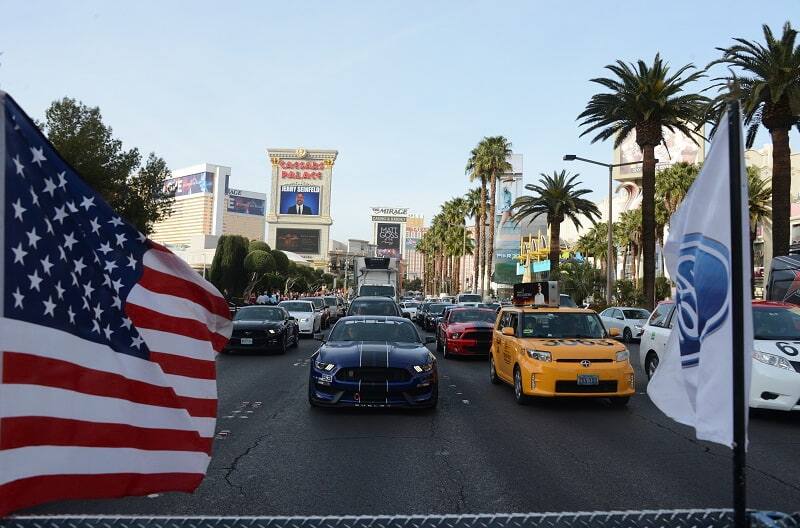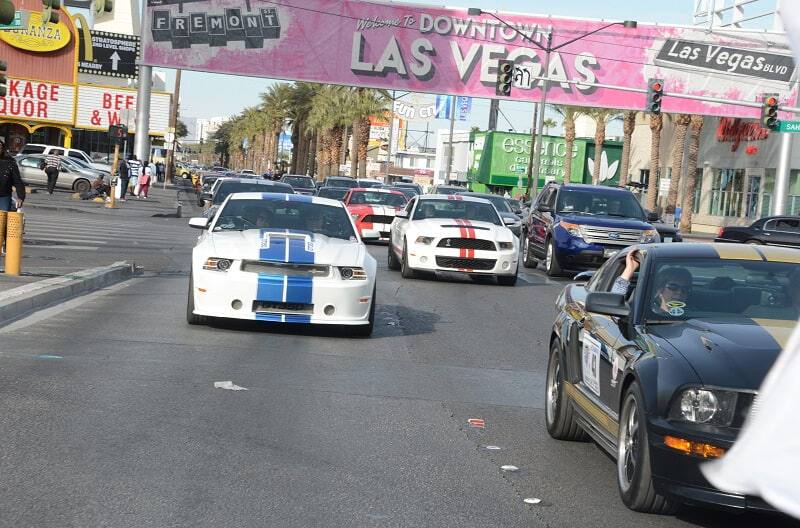 Ms. Smith and Scott Black of Timepiece PR moderated a party Friday night at the Silverton Hotel, featuring Karaoke, a magic act, and something fun and wild – Sumo wrestling, albeit the friendly kind waged between members fitted with large inflated suits.

The King of the Road Scavenger Hunt began early Saturday morning with a stop at a candy maker. They later rode a train to Boulder City while they ate lunch, then visited a pinball museum where they played pinball. They wound up driving to the Las Vegas Motor Speedway where they had a tricycle race and drove their Shelby Mustangs a few laps around the big oval.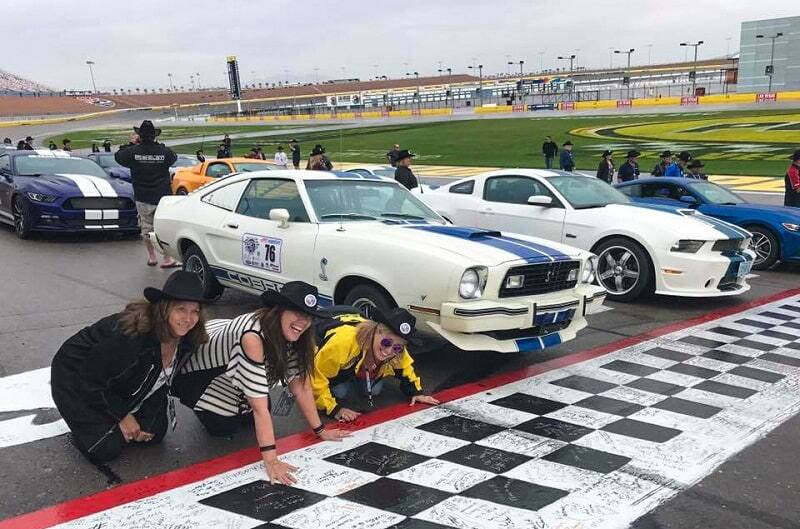 Saturday night was the big banquet, held in the Heritage Center at Shelby-American where museum cars are normally parked. More than 400 people enjoyed the comedy of Adam Ferrara, co-host of the U.S. version of the Top Gear TV show, among his numerous other acting credits. The Shelby grandsons – Aaron, Randall, and Shawn – reappeared and showed excerpts of a new Carroll Shelby documentary that the Shelby family is putting together.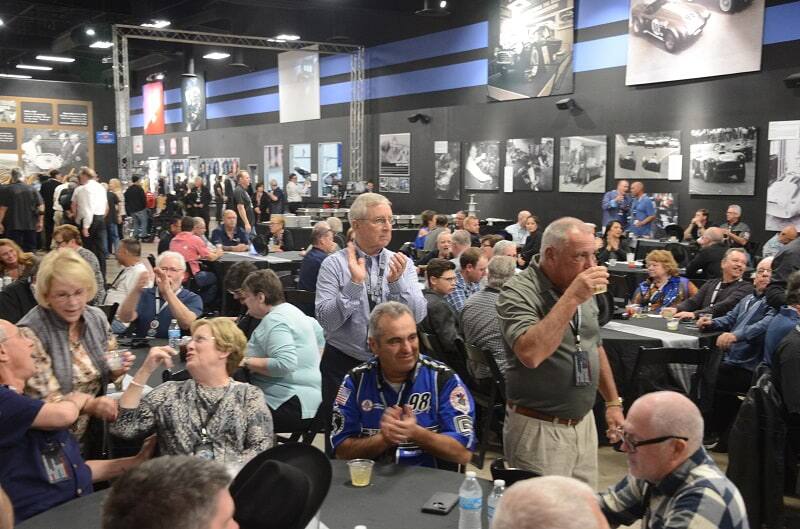 The car show on Sunday, March 11th began with a pancake breakfast, the rollout of a new Shelby Ford 3500-series diesel pickup dubbed the "Shelby 1000," and finally an awards presentation to wrap up the event. But right before the awards, Gary Patterson called everyone to the front of the Shelby Heritage Center to see a yellow-with-white-stripes 2016 Shelby Super Snake owned by Vincent Fragoso. Patterson called Vincent's nephew, Frank Brieno, to the front of the crowd, and said, "I think Vince has something for you. I think he's got a set of car keys for you, buddy. How 'bout that?"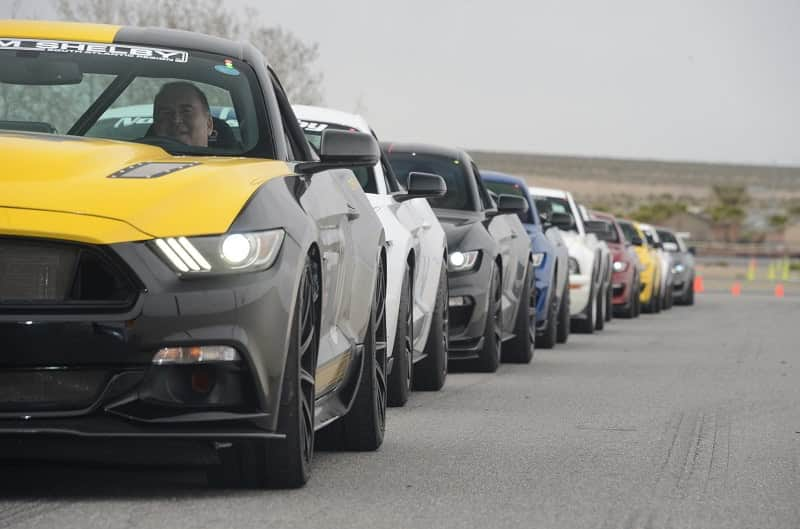 Frank was speechless, so his uncle said, "Hope you enjoy it, and it brings you a lot of good times. Now, on all the Shelby runs, you can be driving your own car." To that the crowd screamed and clapped, with one yelling out, "Welcome to the Shelby family!"
(Ford other event details and photos, click on "Mustang 360" coverage HERE.)

FORD PERFORMANCE PHOTOS / COURTESY JERRY HEASLEY