BOWIE, Mass. - Jim Popp's first new car was an Edsel. Forty years later, he owned at least a dozen more.
Accumulating Edsels was certainly not Jim's intent on December 14, 1960, when he walked into Cunningham Motors in Turtle Creek, Pennsylvania; he was simply searching for a good deal on a new car. But Edsel production had ceased just 25 days earlier, and dealers were eager to rid themselves of these embarrassing money losers.
Cunningham offered Jim a well-equipped, V-8-powered Edsel Ranger sedan for just $2,300 – about the price of zero-option Fairlane six, and roughly two-thirds of the Edsel's actual $3,550 list price. Reasoning that the Edsel was just a Ford by another name, Jim took the deal.

And Destiny smiled.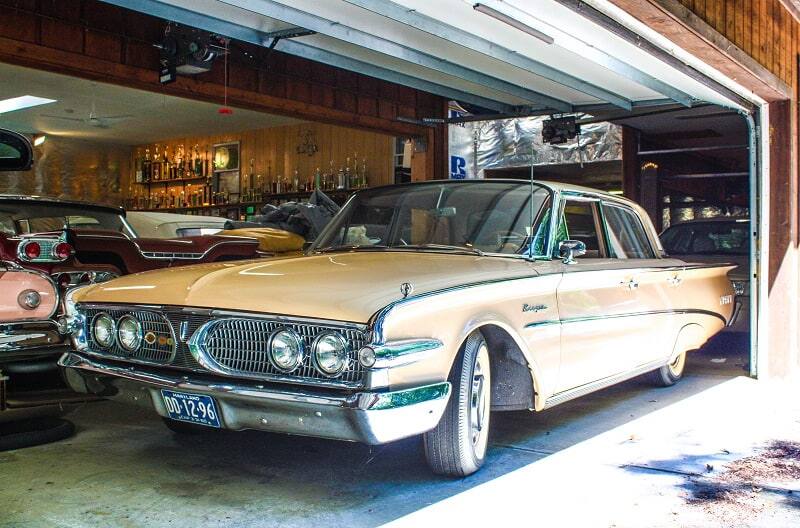 In fact, the Ranger provided reliable, workaday service for a dozen years and 120,000 miles. Meanwhile, Jim bought a new Mustang in '64, and then a Mustang GT in '65 or '66. He road-raced a Sprite on weekends. In 1972, he relocated to Maryland to take a job in D.C., leaving his Edsel behind, parked on his father's property in Pennsylvania.

Life brought other changes. Jim married Carolyn Botts in June 1973. A few years later, Jim's father retired and told Jim he was moving to Florida. "And then we had to make a decision," Carolyn told us recently. "Either junk the Edsel or move it down here to Maryland." They chose the latter. "And that began the long years of restoration."

The job was finally finished in 1989. The refurbished Ranger won a class trophy at an Edsel club meet in 1990, and an AACA First Junior in '92. And it was around that time that one Edsel started to lead to another.

"People would approach us at car shows," Carolyn recalled, "and say, 'You have an Edsel!', like they were shocked." But people also told the Popps about Edsels that were for sale. Jim dove in deep and bought four from a man in Ohio, although the only one of those he kept was another 1960 Ranger, this one a sleek turquoise two-door hardtop.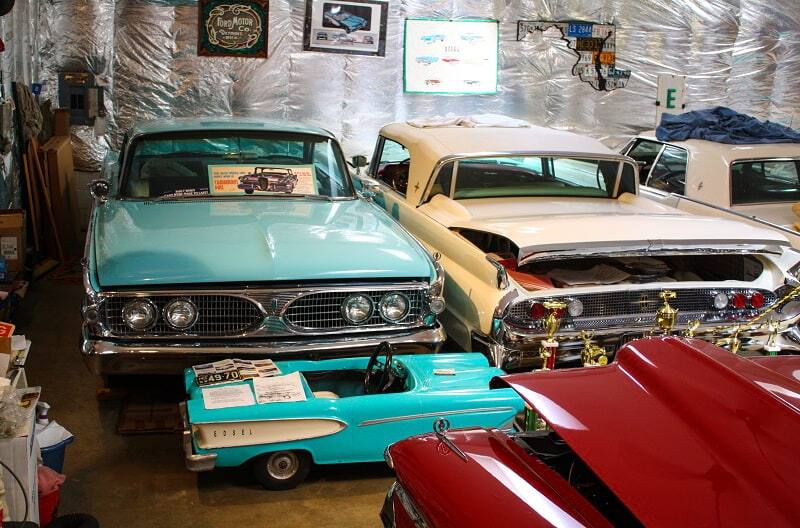 Wanting an open car, he soon added an original-condition Ranger convertible, also a 1960 model, finished in Regal Red. He found and purchased 1960 Edsel Serial Number One – a four-door hardtop coincidentally painted the same Sahara Beige as his first four-door sedan. Yet another early acquisition was a '58 Pacer convertible, turquoise with white "scallops" and a white top. "It came out of a barn in the upper Midwest," said Jim when we spoke years ago. "It took two years, but we finished it in '94."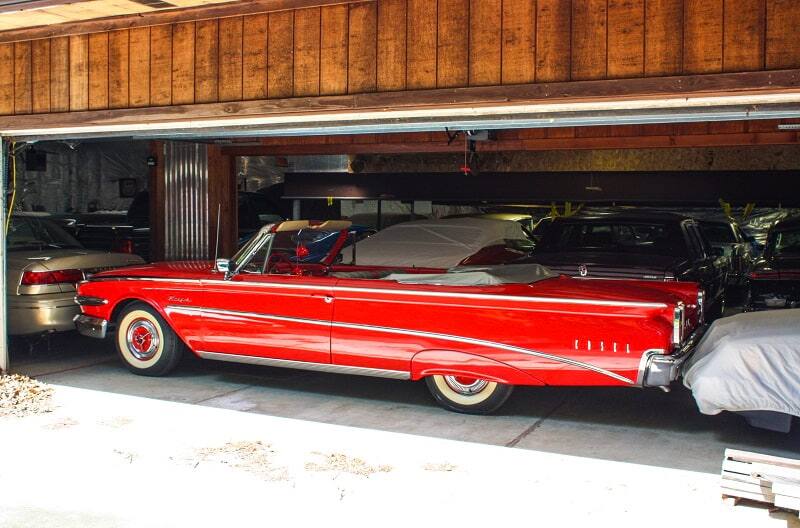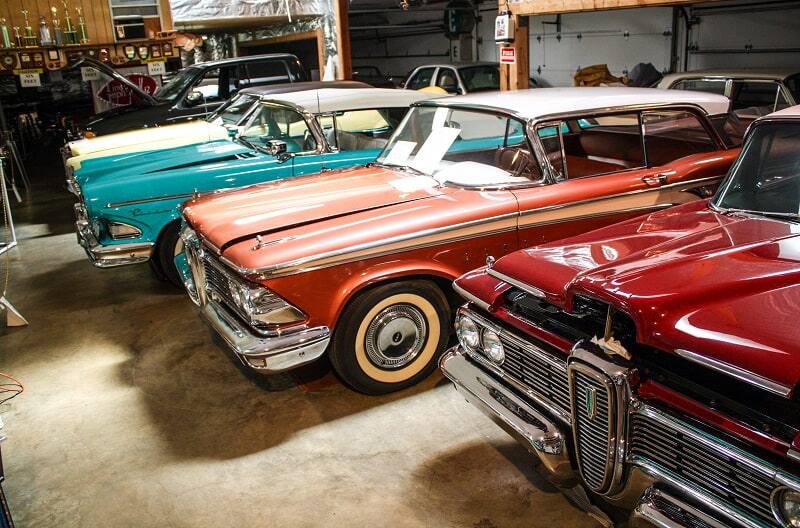 "He tried to pick good cars to start with," Carolyn added, "because it costs so much to restore a car. The worst basket case was the original family car" – the 1960 Ranger sedan. A lot of the Popps' cars are low-mileage originals, including a black '58 Citation four-door hardtop that has clocked just 22,000 miles, and a '59 Corsair two-door hardtop – red, with cream-yellow inserts and a white roof – showing just 16,300. Jim also bought a scruffy-but-serviceable '58 Villager, and kept it that way, for transporting his dogs, as well as picking up parts and other Edsel-related errands.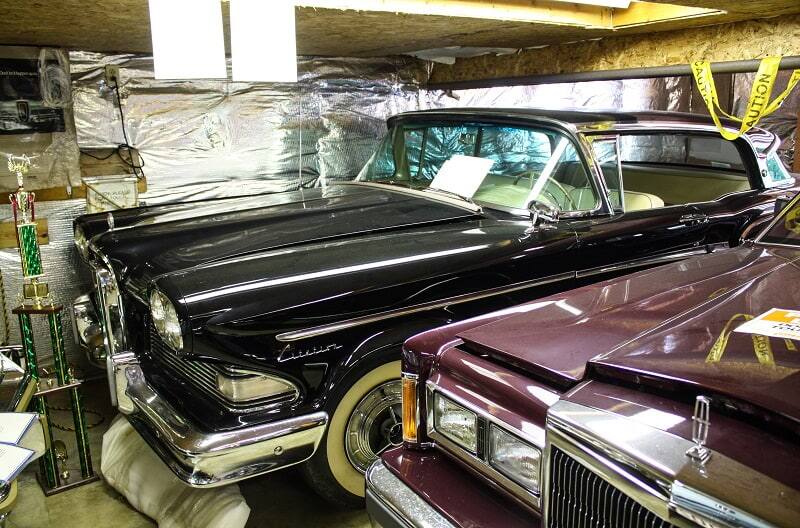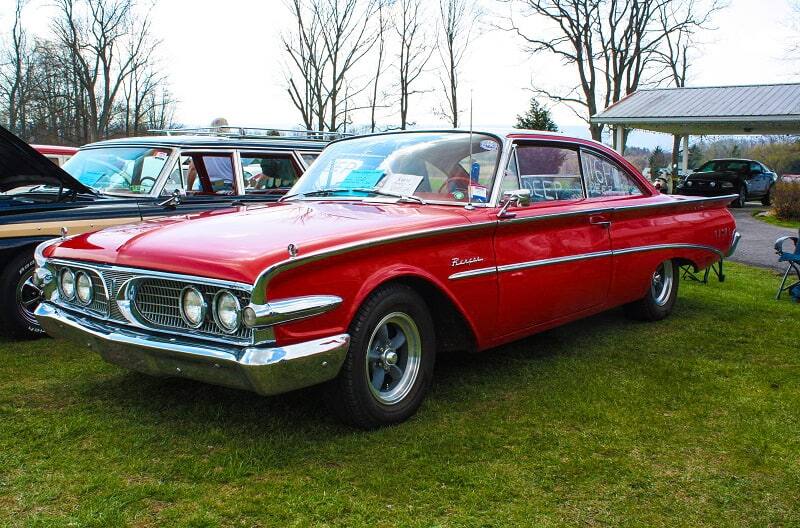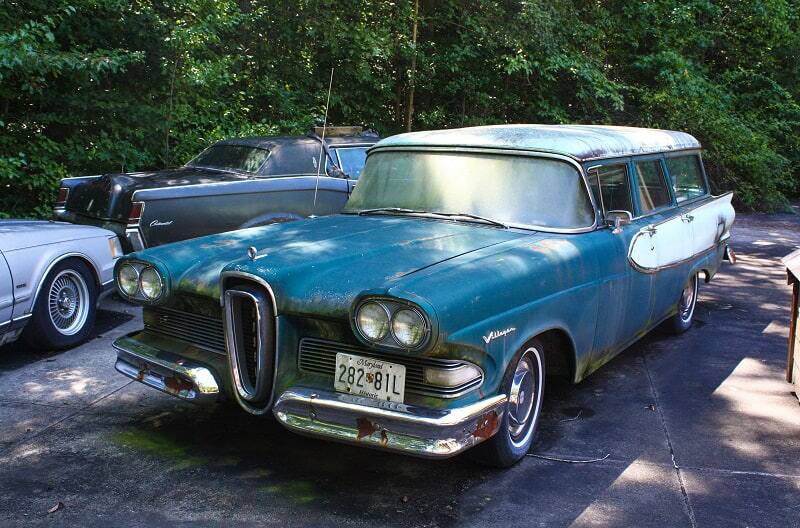 By 1996 the Popps owned nine Edsels and were running out of storage space. Looking for a larger property, they found a cedar-shake house with a matching storage barn on a seven-acre site, still within Maryland's D.C. suburbs. "The barn was just a shell," said Carolyn. "Jim added on to it, insulated it, and installed heating and air conditioning." Above the front entrance he mounted a chromium "horse collar" grille, centered in a semi-circular sign proclaiming "The Shrine of the Holy Grill."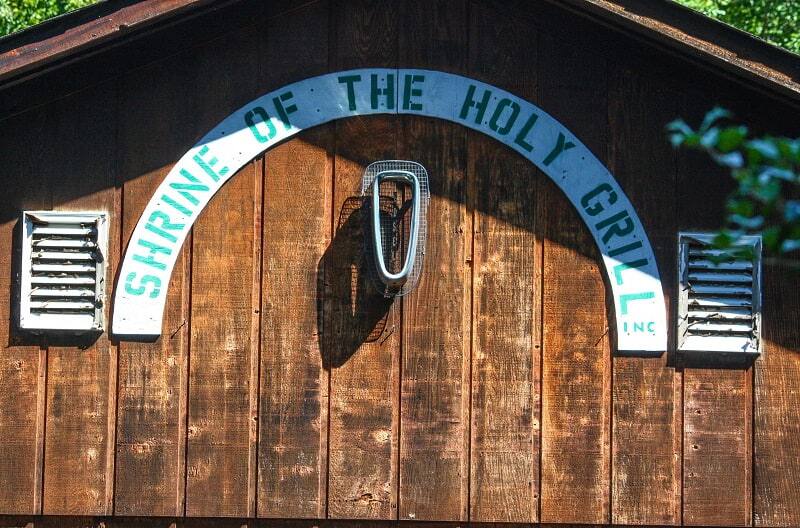 Already, however, the Popps' Ford-product enthusiasm had expanded to include Continentals. They added a '40 Cabriolet, a '56 Mark II, a '58 Mark III, and latter-day Marks III through VIII. Their '62 Continental hardtop (a 25,000-mile original) appeared in the 2000 feature film Thirteen Days – as did their black Citation and (very briefly) the '60 Ranger sedan.

Still other members of the extended Ford family followed, including a '57 Mercury Turnpike Cruiser and a '73 Montego GT. The Popps even collected a few Fords, including a '59 Skyliner, a '60 Sunliner, and a 1970 Boss 302 Mustang once owned by 1988 NASCAR champion Bill Elliott.

Perhaps the most whimsical member of the Popp potpourri is a 2008 50th Anniversary Edition Edsel, the second of two built by Florida collector (and son of an Edsel dealer) Robert Cerame. Starting with brand-new Ford Crown Victoria, Cerame re-worked the front end to accept a modified '58 Edsel grille, and around back created a convincingly modern, aero-flush interpretation of the '58 Edsel's taillights.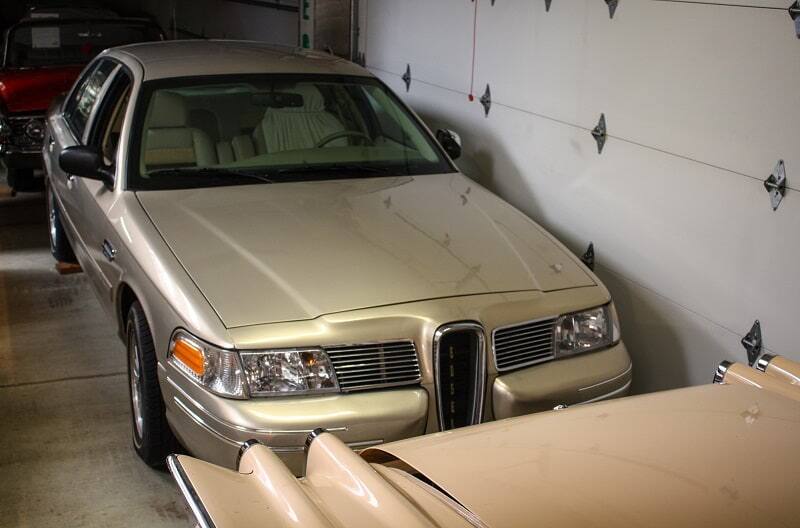 The bumpers, engine hood, wheel covers, nameplates, and upholstery are all uniquely "Edsel" as well; but Cerame only changed parts that already differed between a Crown Vic and a Grand Marquis – as he reasoned Dearborn would have done, had the he Edsel marque survived.

Even more imaginative, if not downright surreal, is the numbered print that hangs on the wall, proposing a 1996 Edsel-Division Mustang – clearly mindful of the SN95 body shell, and rendered by then-79-year-old former Edsel design chief Roy A. Brown, Jr.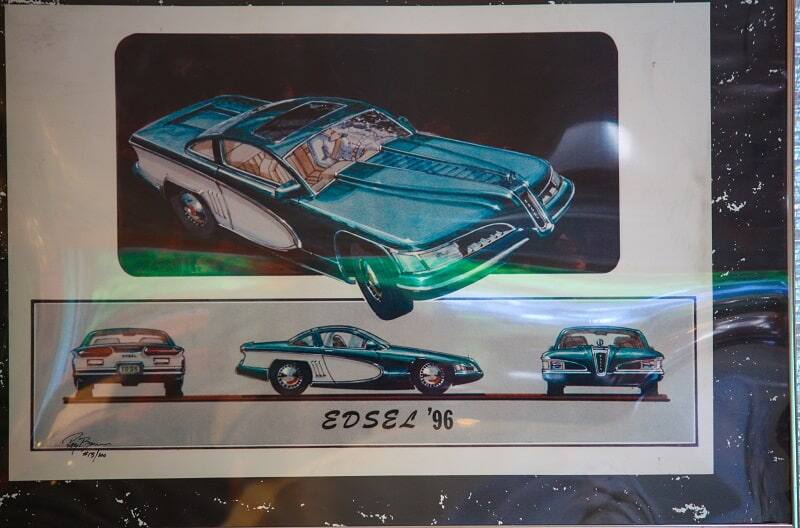 We first became acquainted with the Popps when we photographed their '58 Pacer and test-drove their '59 Corsair convertible for a December 24, 2007, article in AutoWeek. We met Jim again about a year later, when he generously loaned his '60 Ranger sedan for a temporary exhibit titled Fins! at the Antique Automobile Museum in Hershey.

Sadly, Jim passed away in December of 2016.

When we contacted Carolyn again in mid-2017, we'd been out of touch for almost 10 years. She has kept all of the cars, and although she no longer drives or shows them, she very kindly opened up the Shrine so we could take the accompanying photographs. She also lent us some beautiful portraits, all taken some years back, of three of the collection's crown jewels.
One is the '58 Pacer convertible described above. Another is a maroon/pink/white '59 Villager station wagon, which had spent most of its life in Michigan museum. And then there's Carolyn's clear favorite, a '58 Citation convertible, restored as originally ordered in Chalk Pink with Charcoal Brown scallops.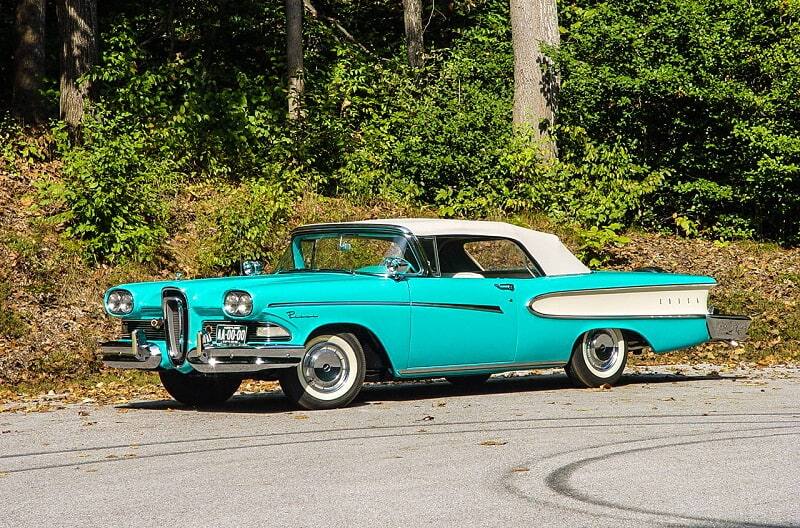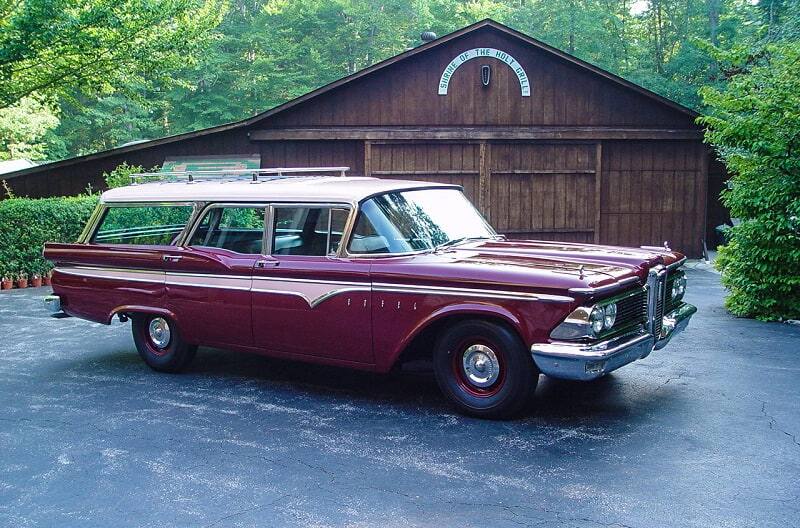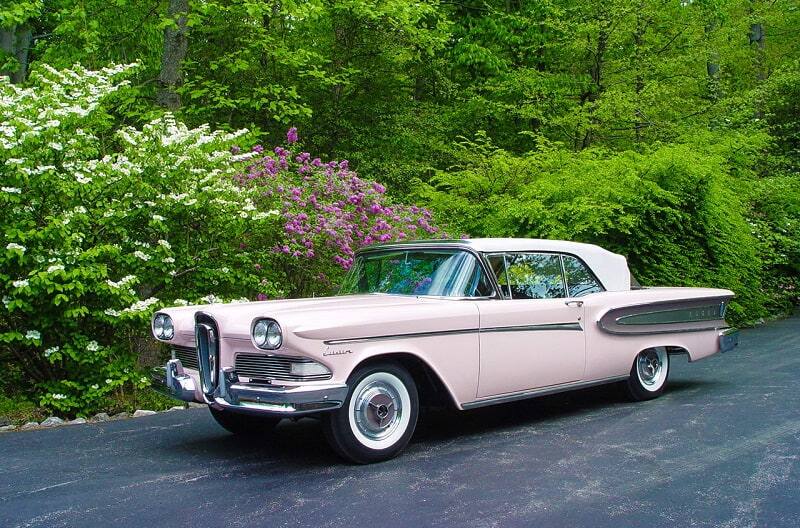 It is the ultimate Edsel, the flagship of the fleet, the most expensive model and bodystyle ever offered – finished in a color combination at once attractive and yet conceivable only in Eisenhower's America. One cannot imagine more pure essence of Edsel packed into 4,300 pounds of metal, plastic, and glass.
And yet . . . it is another, less-likely member of the collection that might rightly claim the ultimate in Edsel achievement. In 1994, Jim's 1960 Ranger sedan – the first Edsel he ever purchased, 34 years before – earned a Grand National First Prize from the Antique Automobile Club of America.

It was the first Edsel ever to be so honored.
Truly, for the late Jim Popp, collecting Edsels was a calling – or perhaps it simply was his destiny.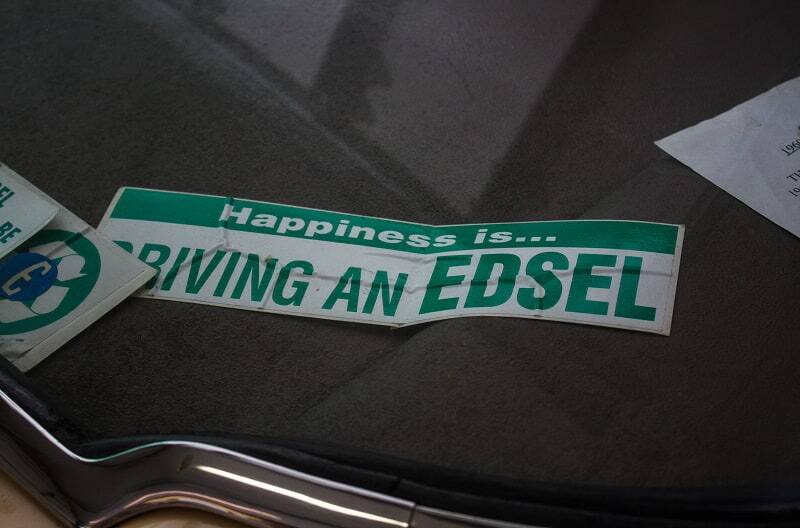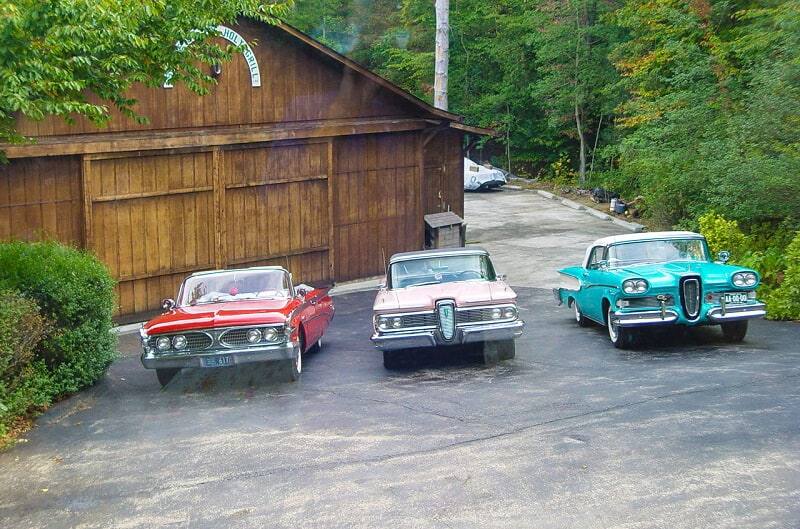 FORD PERFORMANCE PHOTOS / JOHN F. KATZ