SARASOTA, FL – Ford GT and Shelby Cobra owners, racers and Roy Lunn's friends and family gathered at the Lakewood Ranch Golf & Country Club in Sarasota, FL, just before the holidays to celebrate the legendary Ford engineer and designer, known as the Godfather of the GT40. His accomplishments led to Ford's domination of international sports car racing in the mid-late-1960s.
On June 19th, 2016, racing enthusiasts, friends of the Blue Oval, automotive journalists and historians, as well as the Ford Motor Company itself, will celebrate the 50th anniversary of what is probably the most iconic event in auto racing history. It was on June 19th, 1966, when three GT40 Mark II-As, raced by Bruce McLaren & Chris Amon, Ken Miles & Denny Hulme, and Ronnie Bucknum & Dick Hutcherson, crossed the finish line, respectively – One-Two-Three – win the 24 Hours of Le Mans and change the face of sports car racing.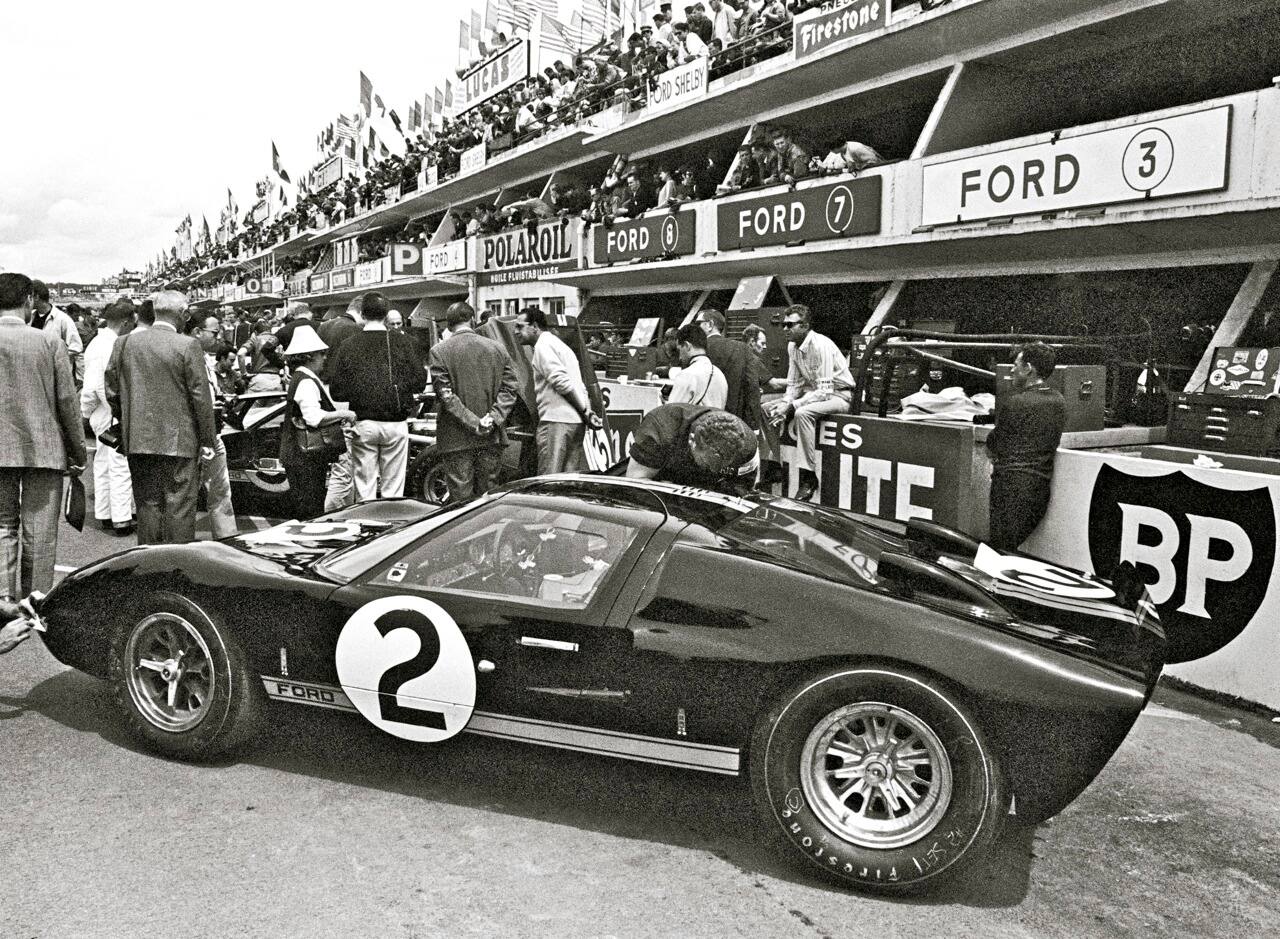 "I want to congratulate you on your creative role in the historic Ford victory at Le Mans and winning the World GT Championship," the late Don Frey, then-Ford vice-president and general manager, wrote in a letter to Roy Lunn dated June 28, 1966.

It was the first-ever Overall win for an American carmaker and the first of four consecutive wins of the world's most prestigious race. In 1967 a Mark IV J-6, driven by Dan Gurney & A.J. Foyt, took the win and, in 1968 and 1969, a singular early GT40, raced by Pedro Rodriguez & Lucian Bianchi and Jackie Ickx & Jackie Oliver, respectively, made it three and four in a row. For the first time, America and Ford had dominated International road racing.

Ford's GT40, Mark IIs and Mark IV were designed, engineered and developed under Roy Lunn's direction at Ford's Skunk Works, Kar-Kraft. Lunn was manager of the Advanced Concepts Group.

Martyn Schorr, Ford GT owner and author of the new book, "Ford Total Performance" which includes details of Roy Lunn's career at Ford and Kar-Kraft and the history of the GT40, organized the Lunn Tribute event.

"Not only do I feel appreciative and honored today to share this occasion with my wife, Jeannie, and my family, but I'm also overwhelmed by the incredible display of power outside: Ford GTs and Cobras," Lunn told the gathering. "It really is a Show Of Force, and I'm so happy to be a part of it."

Ford SVT co-founder Neil Ressler, a retired Ford chief engineer and Product Development vice president and former head of Advanced Vehicle Technology, attended with his own Ford GT. Ressler was chairman of Jaguar Racing and Cosworth Racing back in 1999 and was also involved in ford's mid-engined GN34 Concept sports car project which evolved into the 2005-2006 Ford GT, the spiritual successor to the GT40. He retired in 2001 after 34 years and returned to join the Ford GT team assembled under the SVT organization.

"I wasn't going to miss this wonderful opportunity to meet Mr. Lunn, and relive some of those glory days of winning at Le Mans," Ressler said.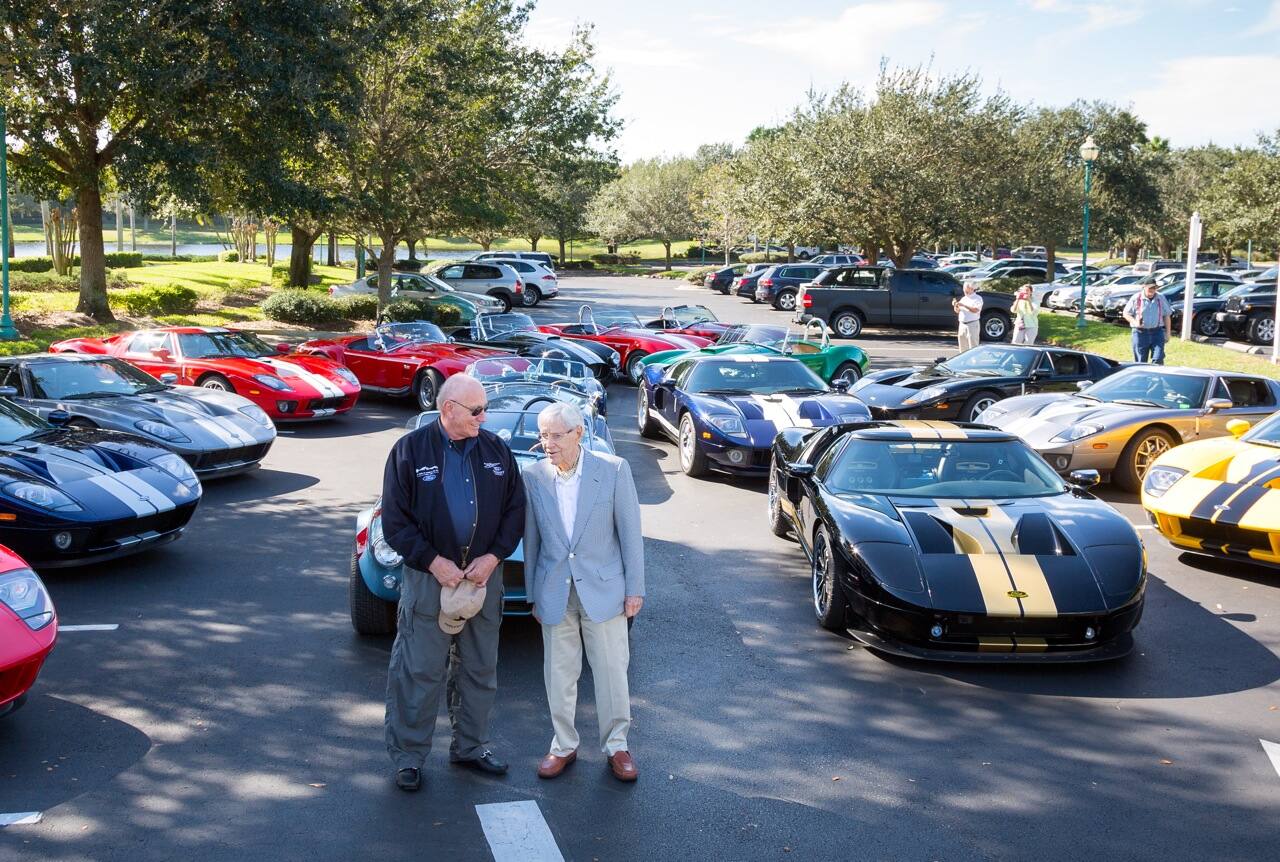 The "Show of Force" included nine Ford GTs, including a rare GTX1 and CP4 (Confirmation Prototype 4), the seventh prototype built. Nine Cobras, including a vintage FIA Cobra built by AC Cars, rounded out the loud and colorful field on hand at the event.

Roy Lunn will be 91 years old in April and has started working on his fourth book about the environment, sustainability and future cars.
"I'm looking forward to finishing my new book," he said. "and celebrating the 50th anniversary of the win at Le Mans with my family and friends on June 19th next year."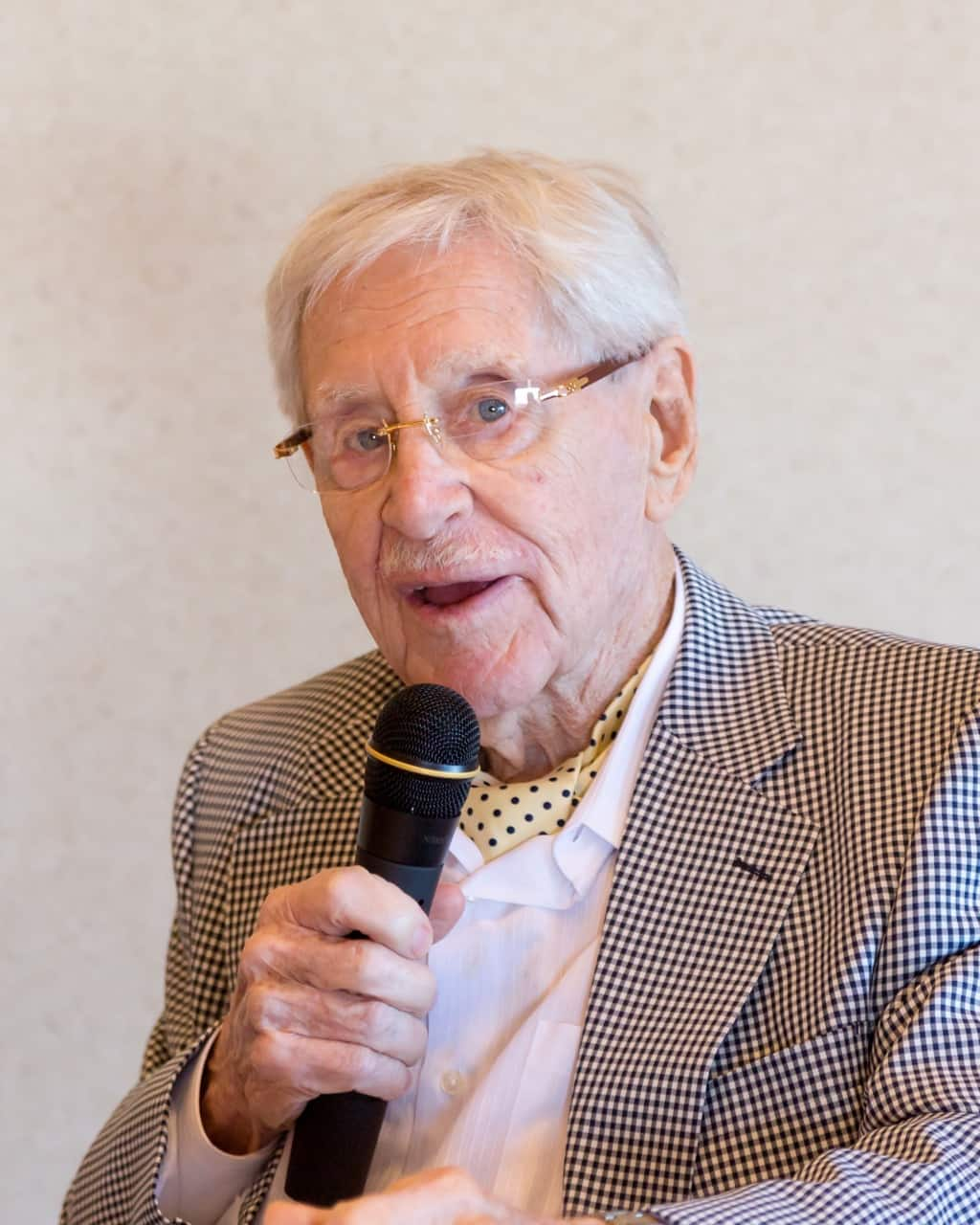 (For additional information about Roy Lunn and his career in the automotive industry, please contact Martyn L. Schorr at MLSchorr@Verizon.Net.)
FORD PERFORMANCE PHOTOS COURTESY MARTYN L. SCHORR / PMPR, Inc.