SIMSBURY, Conn. – In Part One of this three-part series I explained why I had set out on a cross-country journey in my 1967 Ford Mustang Convertible that I had named, of course, "Mustang Sally." In this second installment of my Mustang adventure, I'll trace our drive from the East Coast to the middle of the upper Midwest.

Some of the highlights of the cross country journey so far go beyond the various way points and tourist attractions that have been designated "must-sees" along the route. Sure, there are many historical and significant destinations that could occupy the pages of a journal or travel blog, and act as recommendations to future travelers. But, the experience of getting behind the wheel of an American-manufactured vehicle, and a classic one at that, to discover the country, has a far more esoteric meaning.

It's the song that you hear while crossing a state line or looking down the road; it's the people you meet or overhear in conversation who you would not make a connection with under normal circumstances; it's the people that approach you in a service station along I-90 who feel inclined to share a story with you about their own Mustang; it's about contemplating the vastness of our nation and its diversity – both topographical and cultural.
These are all the things that make travelling from Point A to Point B much more about plugging your destination into your GPS and searching for the fastest way to travel there. This is about exploring America, making connections and recognizing your place among the patchwork of our vast country. To that end, here is a summary of our travels so far:
Day One (The Journey Begins): Simsbury, CT, to Niagara Falls, ON – 411 miles
We set out from Connecticut on the morning of July 17th, 2017. The air was crisp and the sky was clear – a perfect start to our 3,500+ mile drive. I dusted of my girl, Sally, put the top down, and we were off. As my day rarely begins without a jolt of caffeine, our first stop was at a local donut shop in Canton, CT, known for their old-fashioned cinnamon cake donuts.
We decided, rather than beginning the trip on the shapeless Interstate, that it would be more appropriate to meander along some scenic back roads. So we headed for the serene hills of the northwest corner of Connecticut and continued on the scenic roads through the Catskill Mountains before meeting up with a state highway which took us to Ithaca, New York, our first meal stop. As we caught up with my friend Wylie for lunch (Wylie should be recognized here because if it weren't for her, I'd still be undertaking this adventure without a co-pilot!) the skies started to darken and the radar map warned of impending storms. After only five hours on the road, it was time to put the top up. Sally fared well through this 15-minute burst of heavy rain, thunder and lightning, and we continued north along Cayuga Lake, stopping to sample a bit of the Finger Lakes' white wines before joining up with I-90 for what would become our most well-traveled roads.

We made our way to Niagara Falls, where we would spend the first night of our 11-day trip; the immensity and sheer power of the falls, from both the Canadian and American sides, was awe-inspiring and humbling. This is the first night that I would be parking my pride and joy somewhere other than a protected garage, and my main concern was whether or not the Marriot Falls View Hotel would have covered, secure parking. For the first time along this journey we lucked out; a bit of sweet-talking – and a little bit of extra cash – secured a sought-after spot underneath the hotel's portico, right outside the front door. Sally thoroughly enjoyed the attention she received from hotel guests!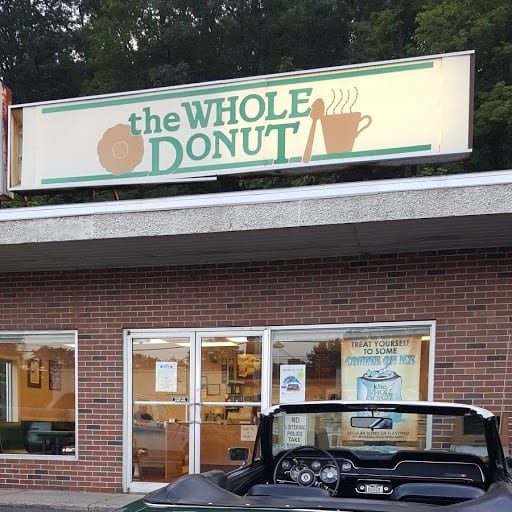 Day Two: Niagara Falls, ON, to LaSalle, MI – 286 miles
Day Two was undoubtedly the most anticipated day of the trip for me, as I would have the opportunity to meet with John Clor and Trent Zeisler of Ford Performance (hereby referred to colloquially throughout our trip as "the Ford guys"). Unfortunately, the day did not begin well.
Mistake #1: Leaving Niagara Falls, thinking that by going through the entire width of Ontario, Canada, rather than heading south from Buffalo and hugging the southern part of Lake Erie along the U.S. shoreline, which appeared to be the most direct route on the map, we might arrive in Dearborn, Michigan, for our lunch with Ford Performance on time. Mistake #2: Not traveling with an Ontario road map when U.S. cell phone coverage is non-existent.
The construction traffic on ONT 103 was horrific, I had to go to the bathroom like never before, and every semi in the right lane of the highway was playing a game of cat-and-mouse to see who could block the greedy motorist from riding the shoulder in order to be one step closer to the service plaza. We did however experience – what would be the first of many along our journey – one of our first Mustang stories, shared voluntarily by a friendly gentleman at the Ontario service plaza. He noticed that Sally had Connecticut plates and stated that he, too, had owned a similar Mustang, while once living in Connecticut, and that his plate had been one letter different from mine ("STANG" rather than my "MSTANG"); he was amazed that I was able to secure that plate given the popularity of the Mustang.
Despite our morning travel challenges, the postponed lunch with John and Trent at Ford's Garage in Dearborn was a huge success! They were welcoming, jovial and just as enthusiastic as we were about the trip. The burger and beer provided a great, casual background for a brainstorming and story-telling session. We all agreed that the Mustang is an iconic car that has a personality of its own, and contains a host of stories within its walls. (I am thrilled to be writing for Ford Performance a few times during the trip, and was also energized collaborating about possible future participation in their Enthusiast Club events.).
The afternoon in Dearborn concluded with a visit to the Henry Ford Museum, then great conversation and food with Matt's mother and her husband, Jim, in LaSalle, Michigan, where we spent a comfortable night.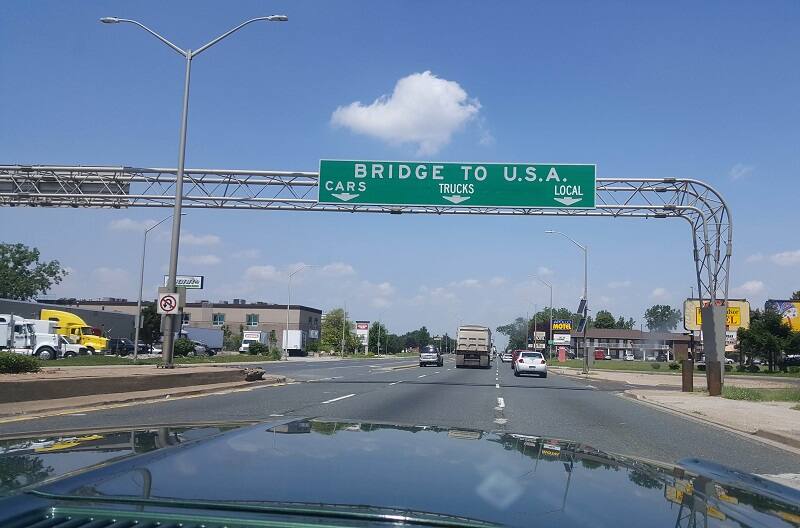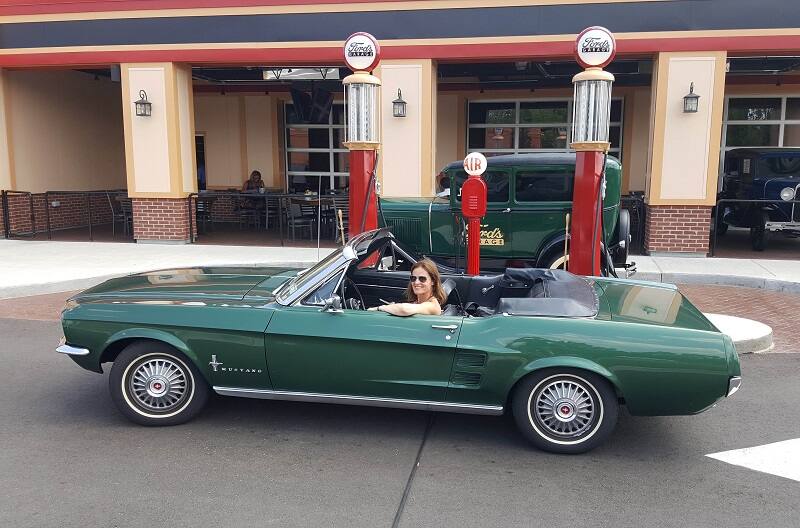 Day Three: LaSalle, MI, to Clinton, IA – 419 miles
After a wonderful breakfast of Eggs Benedict with Carole (Matt's mom) and Jim, we set out on an uneventful trek across the Midwest on I-80, passing through Ohio and Indiana (with lunch at Bob Evans!) before hitting summer seasonal traffic on the southern end of Lake Michigan. (Remember there are two seasons in Chicago: winter and construction.)
We achieved a milestone today: Sally now has 1,000 miles under her [fan] belt for this trip, and is doing great so far, weathering the hot blacktop and the Midwestern oppressive heat like the tough 50-year-old that she is.
Our next stop was a bit of a trip down memory lane for me. As we had anticipated traveling to Clinton, Iowa, via the Lincoln Highway, where we would spend night three, we decided to visit Geneva, Illinois, where I lived when my kids were younger before moving east to Connecticut. There, we imbibed in a refreshing treat at Graham's Chocolates, a favorite venue of Geneva locals. While sitting enjoying my root beer float I was surprised to see an old friend walking towards us. I love spontaneous occurrences like these! Renee looked just the same as when I last saw her 15 years ago.
We left Geneva and hopped on the Lincoln Highway (the country's first paved coast-to-coast road). I thought about how much we take for granted what is right in our backyard. All of the years I lived in Geneva, part of the eastern end of the Lincoln Highway, I never once questioned the significance of it or set foot on its historic path; evidently, Illinois was the first state to completely pave its section, which crosses the state almost parallel to today's I-80. It didn't take more than five minutes traveled outside of town to start humming the Kenny Loggins title song from the movie Footloose. "Where is Kevin Bacon?" we asked ourselves. The two-hour drive to our destination of Clinton, Iowa, was nothing more than corn field after soybean field after corn field, with majestic granaries towering above the otherwise flat landscape. Lucky us – upon arriving in Clinton to threatening skies, and cringing at the thought of parking Sally under ancient trees which towered generously above the houses, we were overjoyed to learn that our host was saving us a spot in her brand-new garage. Thanks, Kelli! We knew we were in a small town when our friendly server at dinner greeted us with the following line: "Where are you two from? I don't recognize you!"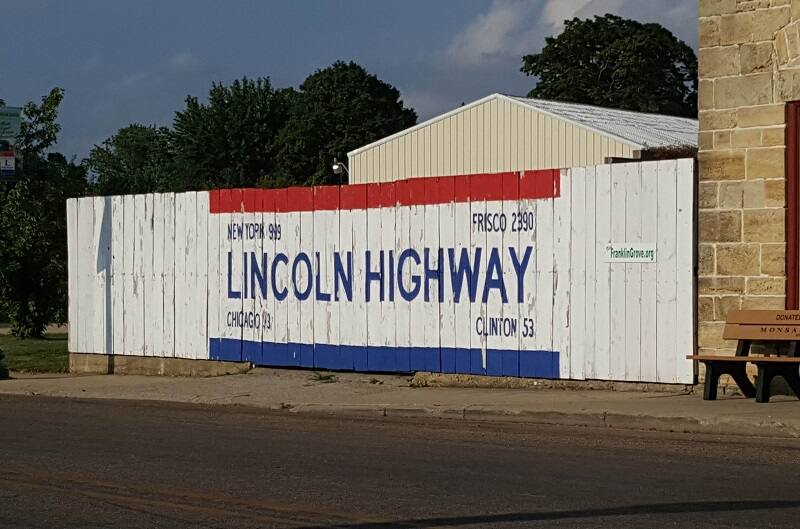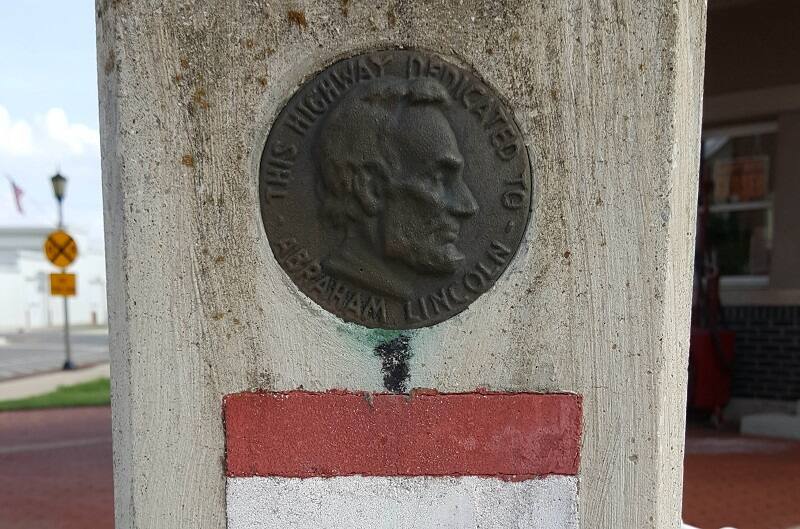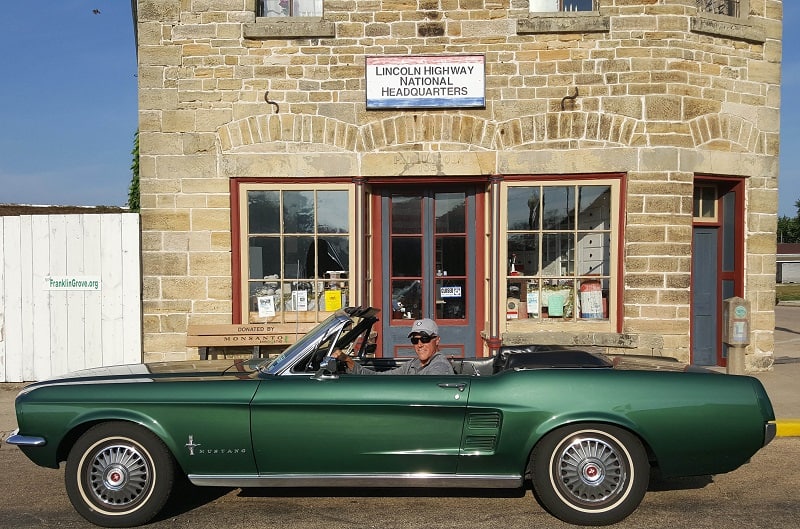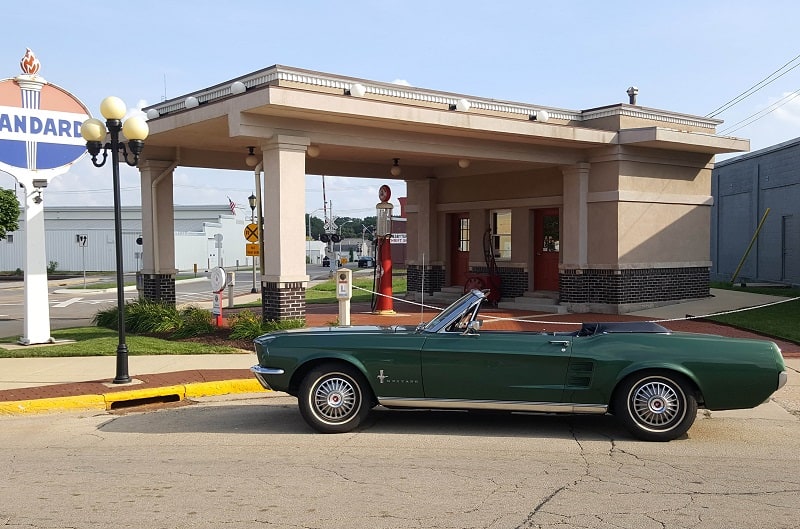 Day Four: Clinton, IA, to Albert Lea, MN – 282 miles
We departed Clinton, Iowa, late this morning, after I substituted my normal morning boost of coffee with a ginger tea and an Excedrin Migraine, and did a bit of writing while Matt went for a run. We continued north toward Minnesota on the Great River Road, one of the country's scenic byways which hugs the Mississippi River. Before leaving Clinton we explored the lookout at Eagle Point Park and were able to view the widest part of the Mississippi. We later discovered that the best views along the Mississippi, at least on the Iowa side, are at the Pikes Peak State Park, where we witnessed park crews cleaning up the destruction imposed by the previous night's storm. Prior to that, we had stopped at Bellevue State Park, which was touted as having an attractive butterfly garden. Total number of butterflies viewed: zero.
Much to my chagrin, Matthew tried his hardest to rename Sally "Sparty" after the Michigan State Spartans, or "Spartacus" to be precise. But even with that slight disagreement, we enjoyed listening to the Footloose soundtrack, Queen and the Eagles while "running down the road" lined with cornfields. One observation today: The state of Iowa appears to have the largest number of Dollar General stores per capita of the U.S.!
Day Five: Albert Lea, MN, to Chamberlain, SD – 323 miles
With a forecast for rain, high winds, possible hail and tornadoes, we were not in a huge hurry to leave our hotel in Albert Lee, Minnesota. So we had a short workout in the gym (as I was supposed to be training for a summit up Mt. Rainier in two weeks!) which is quite a different way to sweat than baking in a 100-degree black-upholstered car! We took advantage of the complimentary hotel breakfast with the other travelers, also waiting for the rain to pass, before stocking up on some necessities at Walmart, where a mild panic set in upon hearing via the P.A. system, "to the owners of a green Ford Mustang . . . you left your lights on."
A major milestone today, as we reached the half-way point of our journey, as well as the half-way point of I-90 which extends from Boston to Seattle.
The first stop along our westward route on I-90 was the venerable American icon, the Jolly Green Giant, in Blue Earth, Minnesota, not to be surpassed by our next destination, "The World's Only" Corn Palace – decorated with "crop art" made from corn and other grains – in Mitchell, South Dakota. It was aMAIZing – so much fun that we couldn't think of "corny" jokes fast enough.
Being a Mustang owner, the highlight of the day was receiving a personalized tour from Mavis at Telstar Motors in Mitchell. She and her husband, Jerry Regynski, have been collecting, rebuilding and restoring classic Fords (primarily Mustangs and Shelbys) for the past 35 years. They have a collection of beautiful cars valued at over $4 million – a must-see for all car enthusiasts!
Finally, after getting passed by young and old on I-90, where the speed limit is 80 (a bit aggressive for Sally), we settled in to the fake taxidermy-lined halls of the AmericInn in Chamberlain, South Dakota. Dinner was a very forgettable frozen hamburger and Reuben at the "highest rated" (obviously a relative term) dining establishment in town.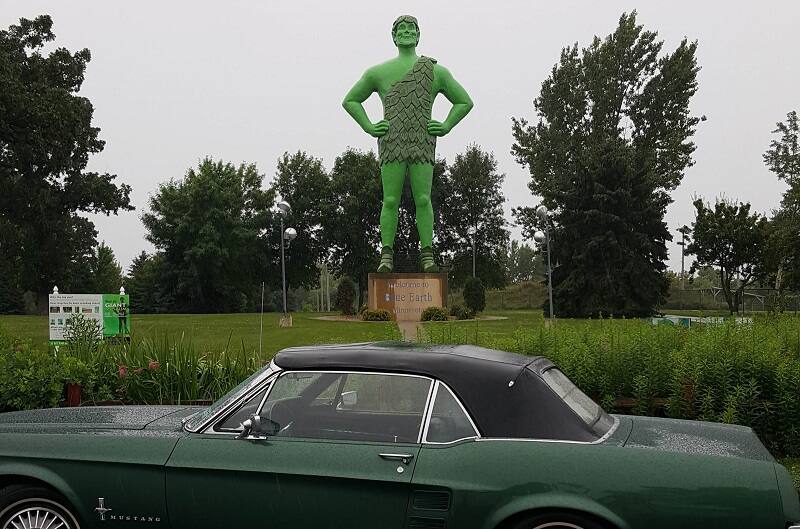 Day Six: Chamberlain, SD, to Rapid City, SD – 256 miles
Today we marveled at the vastness of the Northern Plains of the United States, as we continued our drive across South Dakota. While we settled in for the long day, we both imagined what it would have been like racing across the plains on a different kind of Mustang, appreciating the fact that we have many more horsepower at our disposal today then did the early pioneers.
The plains stretch forever, and we couldn't imagine where one would ever hide from the enemy let alone procure drinking water. Along the way we ran into a nice gentleman from Kentucky, also driving his Mustang around part of the country. Speaking of Mustangs, it's easy to tell the Mustang drivers (and possible renters) from proud Mustang owners: owners wave!
The first major highlight of the day was a spectacular drive through the Badlands of South Dakota. It's amazing how the terrain of our country changes so dramatically as you log each new mile and take each bend in the road.
Next was the Crazy Horse Memorial, in the heart of the Black Hills, which has been in a constant state of carving since 1948, and is far from being completed. The memorial was commissioned by Henry Standing Bear, a Lakota elder, who informed the sculptor, "My fellow chiefs and I would like the white man to know that the red man has great heroes, too." We actually noticed a Connecticut connection as the sculptor, Korczak Ziolkowski, who also worked on Mount Rushmore, hailed from New England.
Following our visit to Crazy Horse, we drove another 20 minutes down the road to visit Mount Rushmore, another impressive feat of insight and engineering – this one complete.
Finally we settled into an Airbnb in Rapid City, South Dakota, where again we had the luxury of a spot in a garage, thanks to our host, John. We spent the evening at a nice brew pub downtown, Independent Ale House, afterwards walking through Art Alley, a block-long alley filled with somewhat edgy (and surprisingly sanctioned!) graffiti. I did not hesitate to stage my own artsy shots here.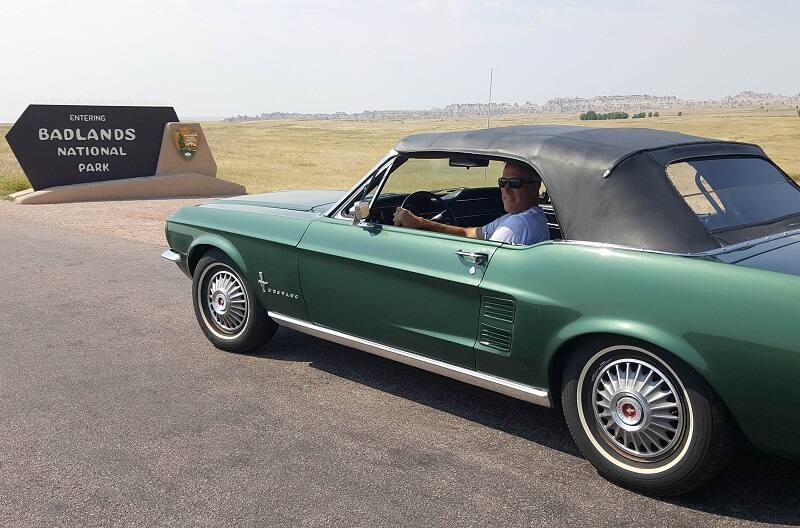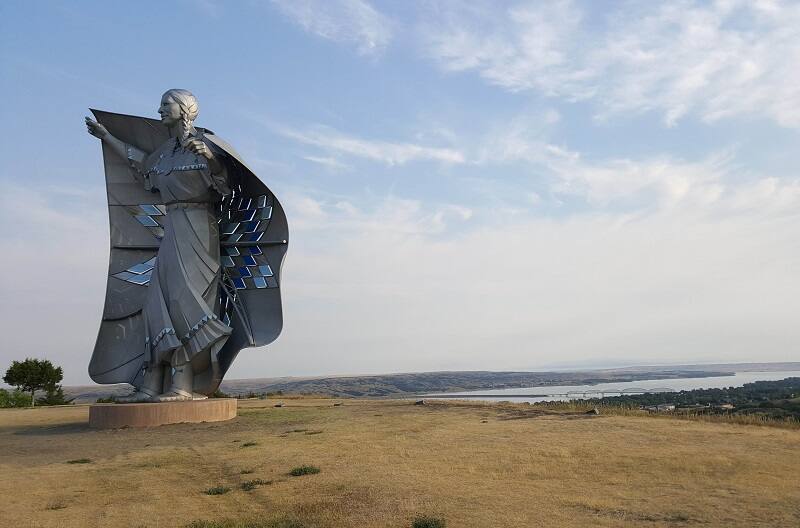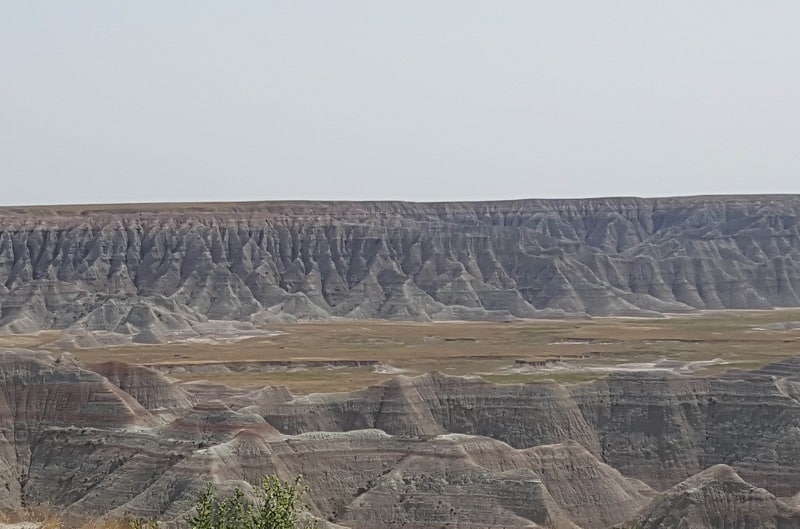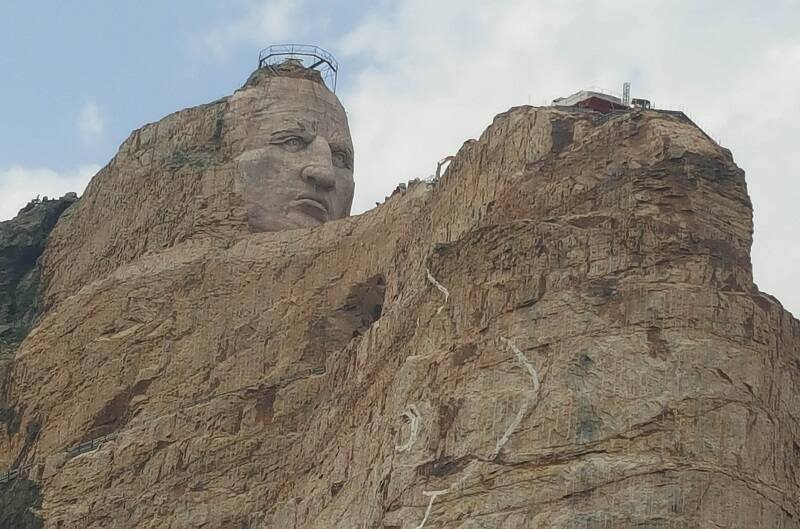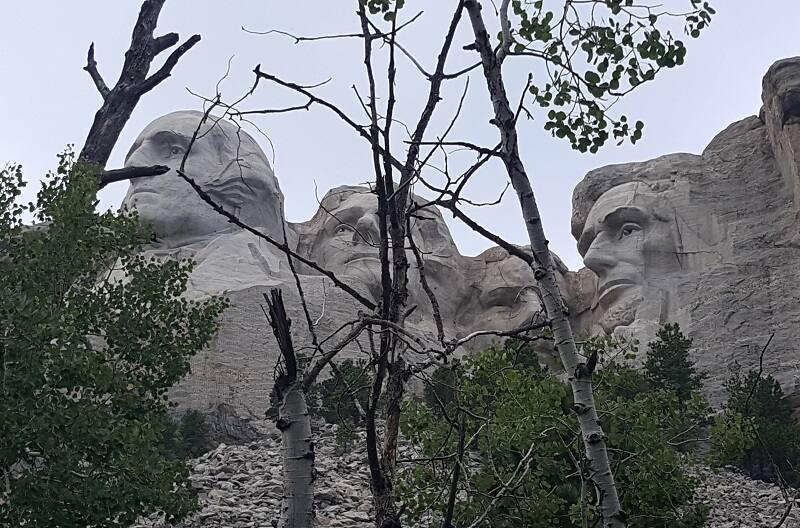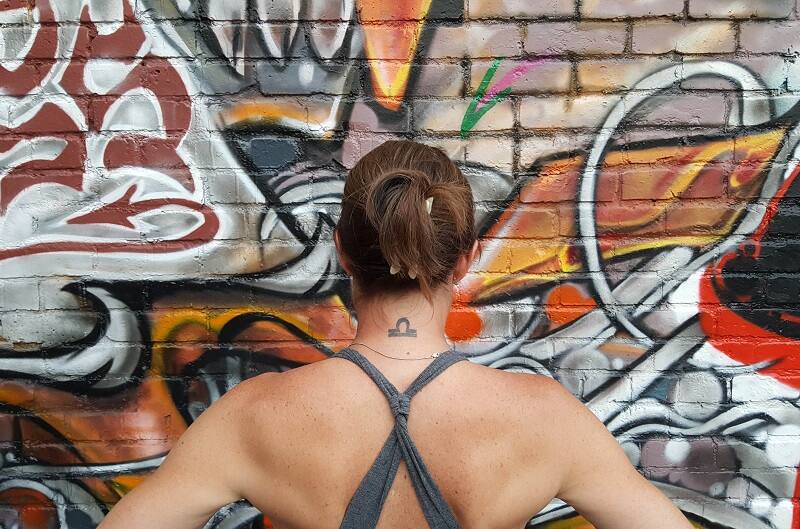 FORD PERFORMANCE PHOTOS / COURTESY MONICA KATZEN