VAN NUYS, Calif. – You know Galpin Ford. It's been the World's #1 selling Ford dealer for decades. It's a family owned and operated dynastic institution descending from founder Frank Galpin, sales manager then later owner Herbert "Bert" Boeckmann, and now a third- and fourth-generation of Boeckmann family members running the store. Annual open houses and car shows have been a part of the company's outreach since the 1960's, and the Galpin Gang pulled off another dandy of one on October 8, 2017.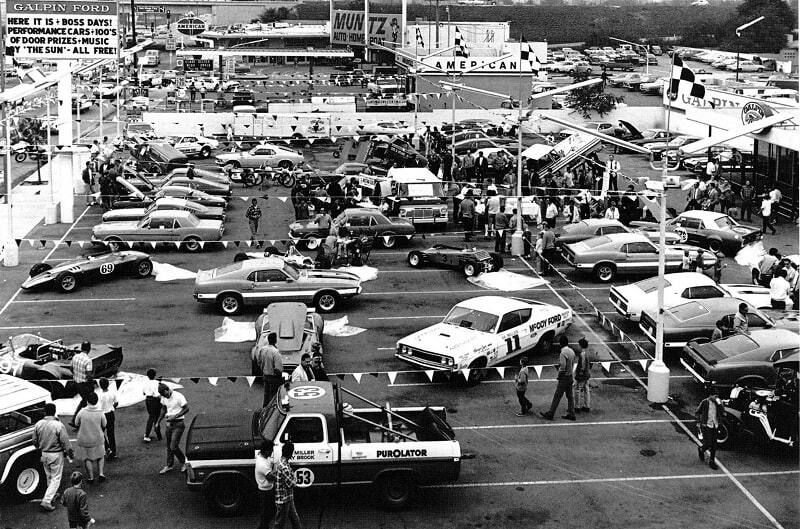 This year, the Galpin team decided to open the doors to its "Galpin Square" department store of car dealerships and brands a little wider. Galpin owns several blocks along Roscoe Boulevard in the San Fernando Valley, just East of the 405 Freeway. And among its brands (in these locations and others) are Ford, Lincoln, Jaguar, Aston Martin, Volkswagen, KIA, Mazda, Volvo, Lotus, Porsche, Honda and Subaru, plus the Galpin Auto Sports Toybox, Ford Performance Parts outlet, and Shelby ModShop. With many of those dealership fronts lined up shoulder-to-shoulder along the boulevard, Galpin decided to open up all the stores as grounds for this year's annual car show. Most of the new and pre-owned inventory was moved out, and all of the dealership ground became the show field.
Most of the Ford and Shelby cars and trucks were at the main Galpin Ford locale, while the Volkswagen store got the VWs, and the Lincoln/Volvo/Aston Martin properties hosted those brands and anything falling into the exotic car realm, plus Mazda hosted all the Japanese classic stuff. Many of the hotter Mustangs and hot rods hung out in the GAS front yard. It was a "run-what-you-brung, anything-and-everyone-welcome kind of affair. Bring the family and the dog, there's plenty to see, a special area for the kids, and lots of food on hand, too.
Of course it wouldn't be a car show without vendor booths, so there was also all kinds of stuff to ogle. Jay Leno's Garage was on hand with its new line of Jay approved-and-used car-care goodies. And as you might expect, the always affable and friendly Jay made quite an entrance in his new Ford GT. Even though most folks are cool with Jay and give him some space and a little slack, the guy never says no to a selfie or a photo with someone's kids . . . smiling all the way.

The main Galpin Ford showroom looked like a cross between its mid-60's self – packed with all manner of great early Shelby Mustangs and Cobras, plus Ford GTs, old and new – and 2017. Yum. Plus it provided a special playground area and rides for kids of all ages. You couldn't miss the several historic Galpin-built or -sponsored race cars lined up out front. Ever seen a funny car running four small-block Ford V-8s? You did here. There were lots of old 427 SOHC "Cammer" motors on the property, too . . . truly something(s) for everyone.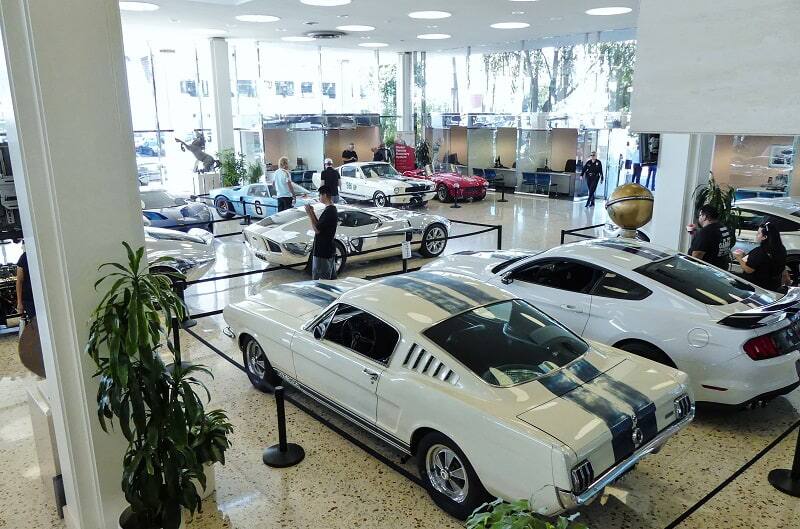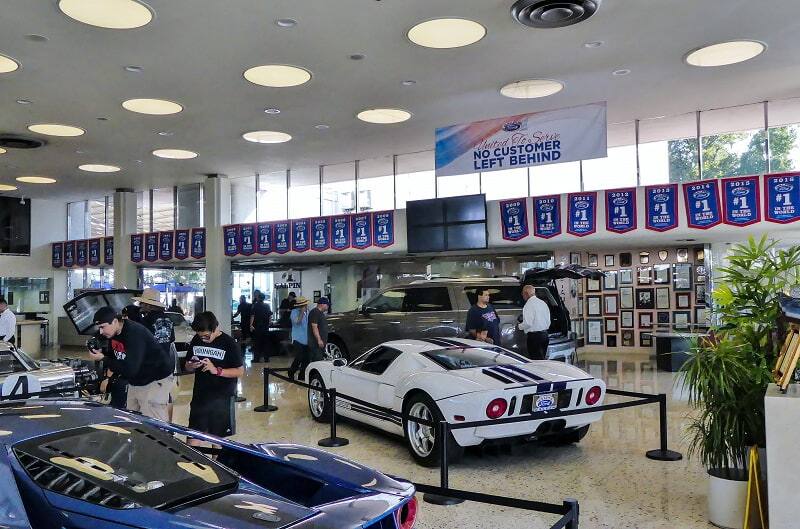 All of the Galpin gift and goodie shops were open, selling parts, this year's show commemorative T-shirts, and all kinda Ford and Galpin stuff. There was no charge to attend the show, so why not leave a few bucks behind for some goodies?
Since the cars and crowd were spread over so many areas, it was hard to accurately gauge the number of attendees this year, but I heard the number 10,000 batted around a couple times. After covering the whole show throughout the day, I'm sure it was even more as the herd ebbed and flowed. Should we expect another big Galpin show next year? Bet on it – and likely bigger and better than ever. And you can keep track of the happenings – and enter your car – at www.Galpin.com.
FORD PERFORMANCE PHOTOS BY KIRK GERBRACHT, MATT STONE and COURTESY GALPIN AUTO GROUP