FOLLY BEACH, SC – It was during the summer of 2017 when I found myself on a new journey. After building my 1965 Mustang and driving it all over the country, including a 13,000-mile trip from South Carolina to Alaska and back -- putting half-a-million miles on the car in about seven years -- I had basically done everything I could do with it. But I was still coming up with ideas for new adventures. That's when I read about a road that was almost finished and that would allow you to drive all the way to the Arctic Ocean and Tuktoyaktuk in the North West Territories of Canada. Previously you could only get there by airplane or snowmobile. I had to go!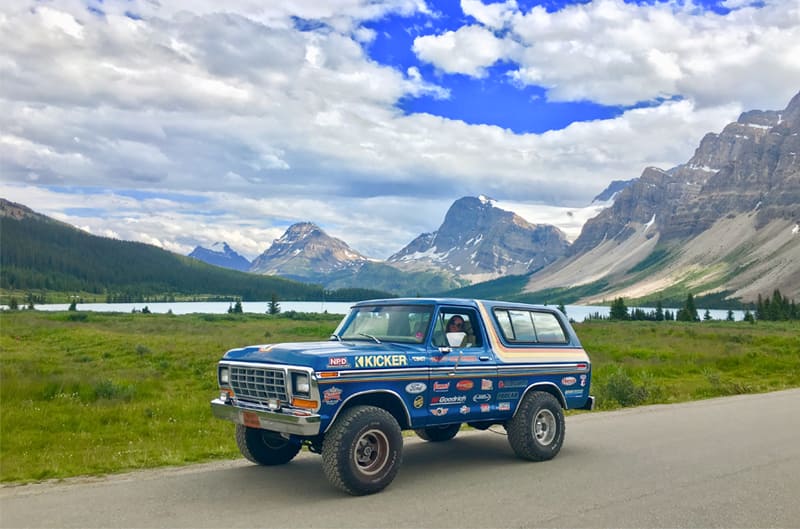 After the Alaska trip, I knew my Mustang would never survive a trip to the Arctic, so as a goal-oriented person, my life took a radical change because I just had to drive to the Arctic! But in what? Most of my challenges -- this one included -- are self-imposed, which to me makes them even more crucial to accomplish. And I'm bull-headed at how to meet a goal when it's consuming my thoughts, so I went on the hunt for a suitable vehicle. It still had to be a Ford, of course, since they're what I know and love.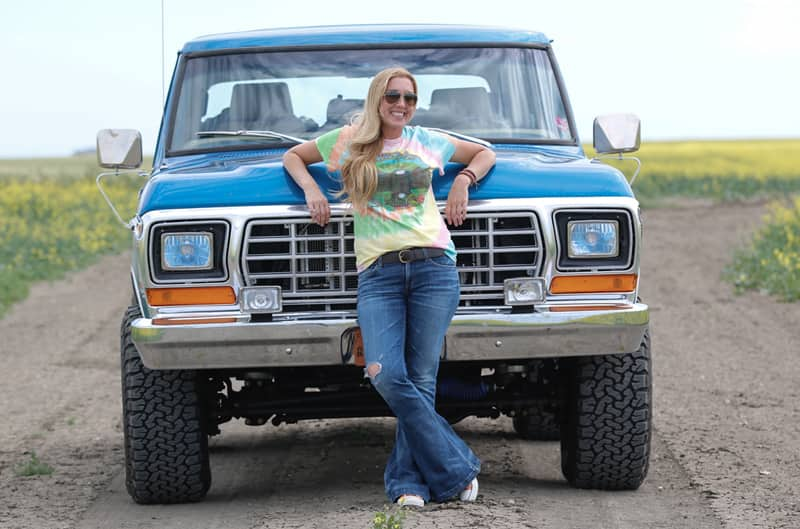 My search began and after a few months I had found what I thought to be a great adventure vehicle – a 1978 Bronco. They say "buyer beware" when it comes to used cars, and that's the story of my first days and months with the Bronco. Don't get me wrong -- I now love it like a child but there were definitely some bumps on my maiden voyage from Illinois to home in South Carolina after (Buying the Bronco). But without those bumps and bruises, this adventure would have been too easy -- and where is the fun in buying something perfect and just driving it? So began "Project Road Warrior 2.0."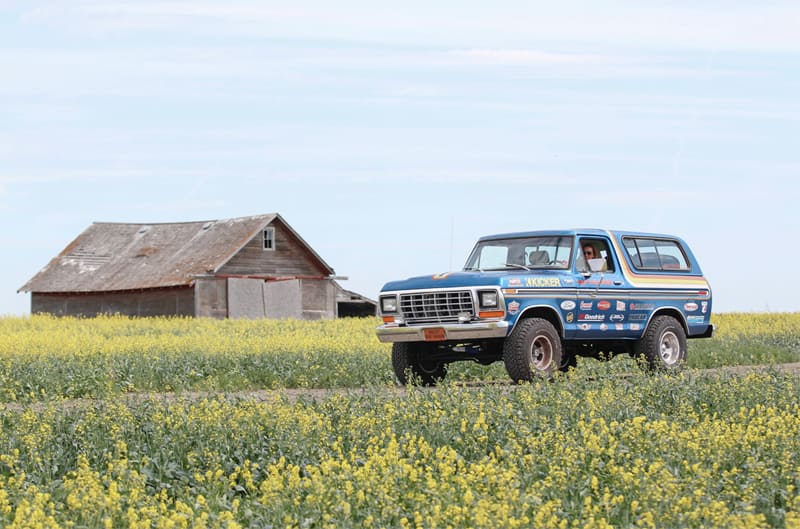 After restoring the Mustang, I thought I knew everything about a vehicle build. But that quickly went away when I realized that the girl who loves to drive long distances was dumb enough to purchase one of the rare, all-time-4-wheel-drive Broncos. My idea of a just doing a little tune-up soon became a major overhaul (See Part 1, Part 2, Part 3).
The original goal was to make it to the Arctic last summer, but a few build delays and having Hurricane Florence hit my hometown put an end to that plan. The delay was a bummer but also gave me a chance for a few test-runs, such as to SEMA in Las Vegas and then on the Hot Rod Power Tour this past summer. You know, a 5,000-mile shake-down run. The Summit Racing 408 stroker V-8 engine, Gearstar overdrive transmission and upgraded chassis were performing like a dream, so when the time came to head North, I was confident in the truck and finally comfortable behind the wheel.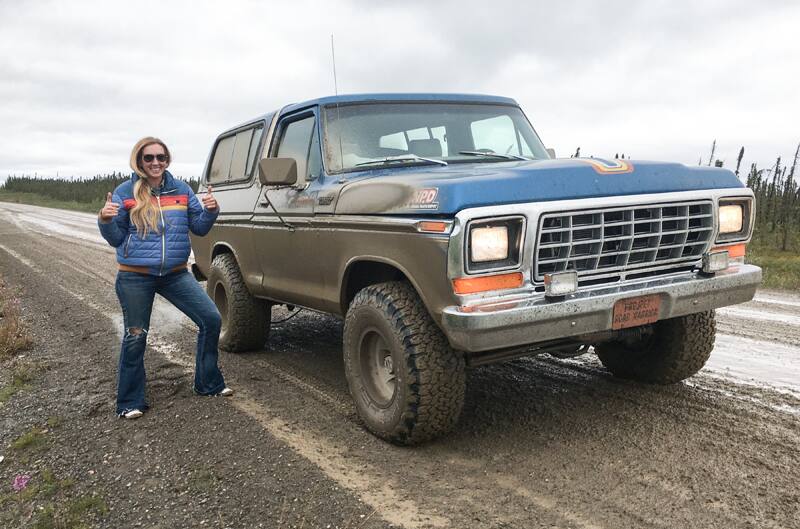 With adventure in mind and just a hint of the danger involved in the journey, I hit the road for Tuktoyaktuk on July 28, 2019, from Folly Beach, South Carolina. After a quick stop at Classic Speed and Custom in Charlotte, NC, to give the Bronco one last check, I was off to Minnesota to pick up my partner for the journey, Rob Kinnan, editor at Motor Trend, before heading for the Canadian border. My plan was to hit Banff National Park and Mile Marker 0 in Dawson Creek and then head for Tuktoyaktuk -- with Google Maps leading the way. Much to Rob's surprise, (his actual quote was, "What the hell, Courtney? I thought you had it all planned out!") I didn't have a mapped-out route or a single hotel reservation. I've learned in the past that the more plans you make, the more pressure you feel, and I hate that kind of pressure! When you have a firm plan, something is bound to slow you down and it becomes a horrible game of catch-up. So, I've learned that the best plan – for me at least – is no plan at all.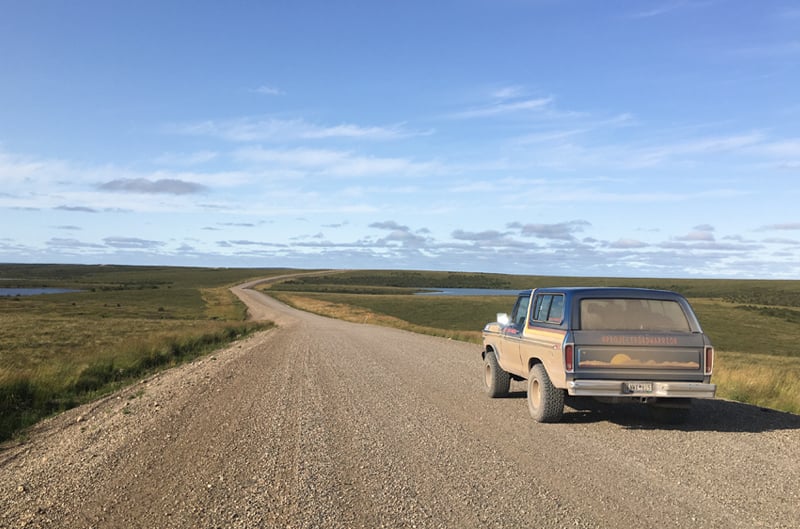 Banff was everything I remembered from the trip in the Mustang. The water and skies were so insanely blue that pictures can't possibly do it justice. Add in the mountains, glaciers and wildlife and it feels like being in a magical wonderland of natural beauty. I understand everyone reading this might not have a desire for driving all the way to the Arctic Circle, but Banff and Jasper National Parks should be on everyone's bucket list to visit.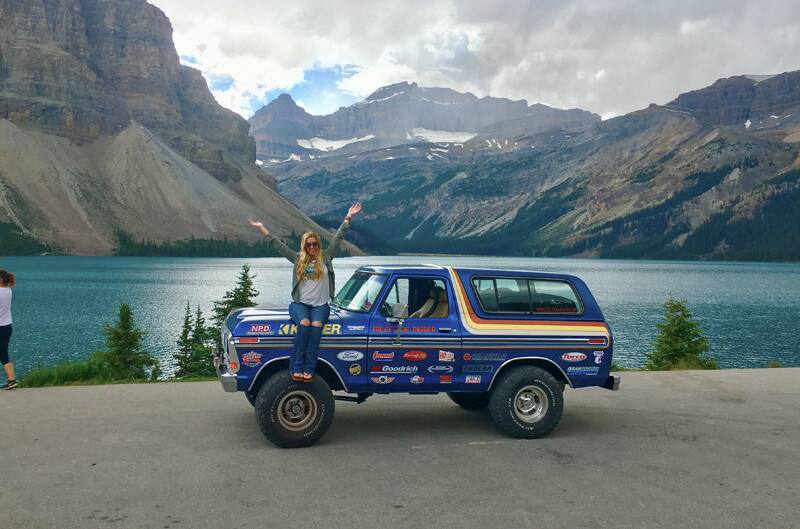 After taking in the sights we continued Northwest for Dawson Creek and made sure to stop for some pictures at Mile Marker 0 before starting our trek on the infamous Alaskan Highway. Wide open-road, mountains, rivers and wildlife of all kinds, combined with the fellow road warriors you meet, are what make this my favorite road in the world. This time, instead of following the road into Alaska, we turned off in Whitehorse onto Yukon 2 North, to head for Dawson's City and the Dempster Highway, and eventually that last 80-mile road to the Arctic Ocean.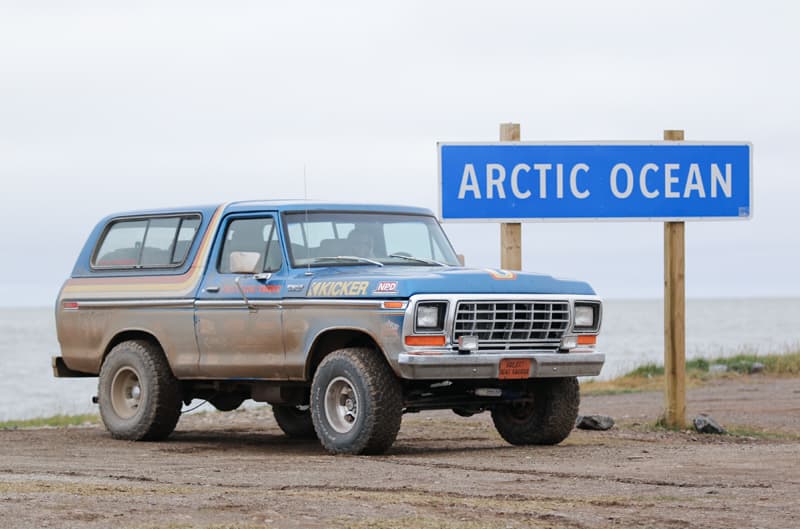 It felt like the adventure that had consumed my thoughts for over two years now had finally begun for real. So far, the roads – despite being remote and off the grid -- had been easy and I was ready to take on the challenges of the unknown. We had been told about a summer storm hitting Tuktoyaktuk with lots of rain expected and high winds that were certain to make the drive treacherous. But after turning back because of a storm the year before, we were going to make it come hell or high water. If you know me, you know that where there is a will, there is a way!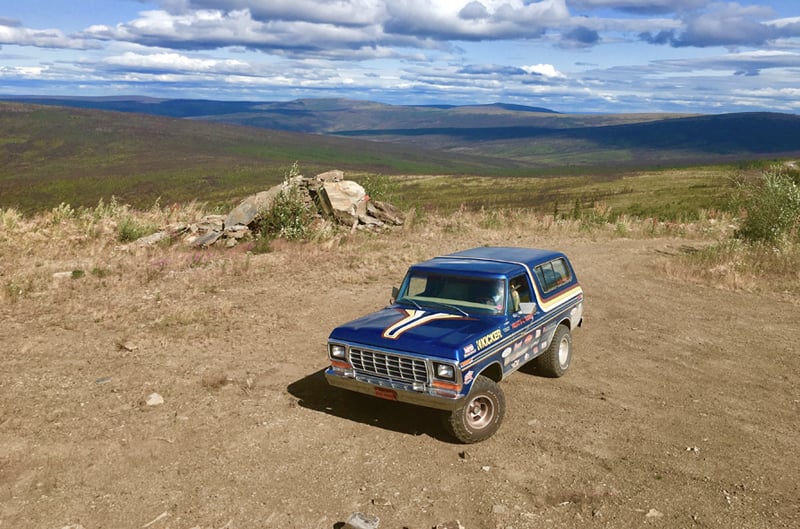 After staying the night in Dawson City at the Bonanza Gold Motel we finally made the turn onto the Dempster Highway that would take us into the Arctic Circle and the 458 miles to Inuvik. At first, it wasn't all that bad; mostly a gravel road with a few short, paved areas. It was slow going but the scenery was spectacular – nothing but nature as far as the eye could see. Living in a fishbowl world as we do these days, where every action is immediately captured on a cell phone and shared with the world, it's nice to know that you can find places where that connectivity is not an option. After the shock and horror passes and you realize that your phone might as well be a bookmark for the next four days, you're allowed to live in the moment and take things in – just for you. Remoteness like we witnessed allows a person to forget about the outside world and truly live in the moment.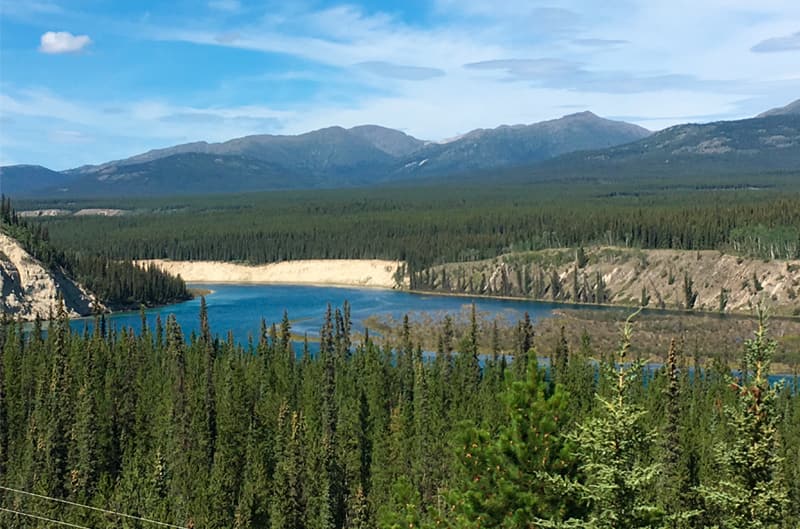 We stopped at Eagle Plains for the night, although you wouldn't know it was night by looking outside. The sun doesn't completely set during the summer here. As someone who prefers to drive with the sun and almost always picks a stopping point for the day when the sun goes down, it made stopping very difficult. But the Bronco needed gas, so we had to stop in Eagle Plains where there was just one gas station. With one pump. We woke up and were ready to hit the road at 6:30 a.m., but the gas station didn't open until 8 o'clock, so we waited.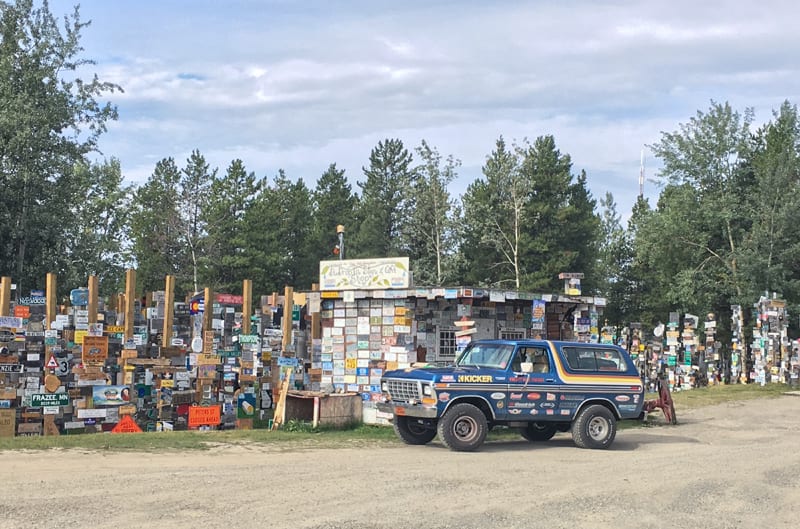 With a full tank of fuel and after a good breakfast, we hit the road and soon entered the Arctic Circle! It took until this moment for the reality that it was actually happening to sink in. The Bronco was running like a brand-new truck with zero issues, and today would be the day we would reach the Arctic Ocean! After a happy dance and two ferry rides, we finally made the turn onto the Inuvik-Tuk Highway for the last 80 miles to Tuktoyaktuk. After so many warnings of driving danger, blown tires, extreme weather and roadside misery from fellow travelers, we were both concerned. But it was surprisingly easy, and I began to wonder what they actually considered difficult. That wonder vanished the next day when the storm arrived.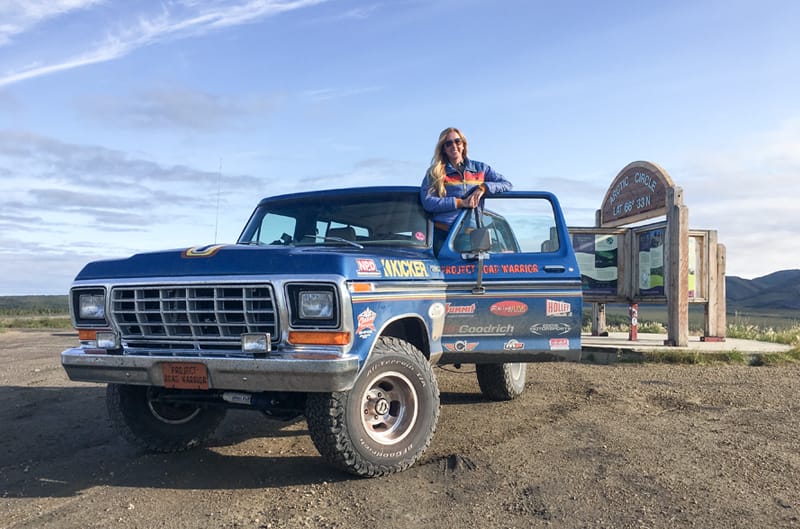 The day we rolled into Tuktoyaktuk it was 60 degrees and sunny. The day we woke up in Tuktoyaktuk it was 31 degrees and raining. Pulling out of Tuk and heading south to reverse the journey is when the real adventure began. I live for the heart-pounding, borderline miserable moments when you think you can't go any further but have no choice but to continue on. Those are the moments that create the real adventure; things that are hard at the time but allow you to look back on with fondness. Those times make for great stories that will live in your heart forever, and provide the confidence that says, "Well, hell -- if I made it through that, I can do anything!" Our trip from Tuktoyaktuk was one of those days we will both remember forever.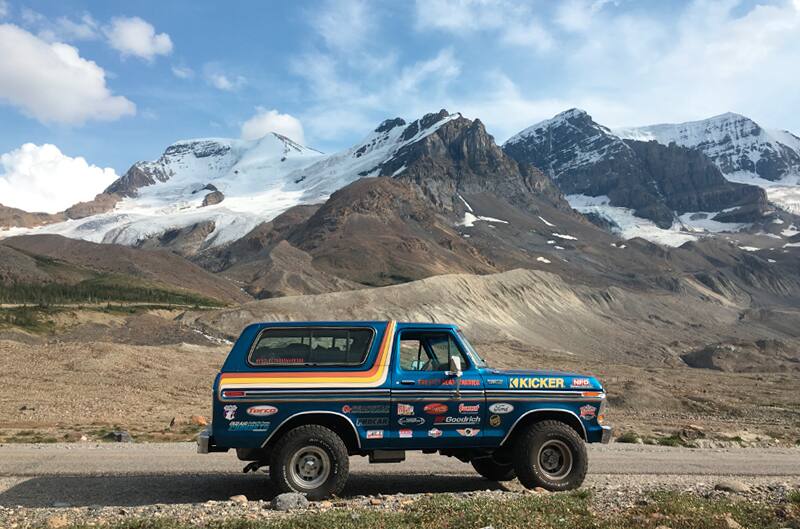 After just one second into driving on the wet road, it almost felt like a joke: "No way this was the same road we drove in on just 12 hours earlier." The sand and gravel had turned into a slick, ice-like mud that gave me flashbacks of driving to high school during New Hampshire winters. The day before, the 80 miles to Tuk had taken us about two hours and that was with stopping for pictures along the way. With the storm upon us, that two hours turned into six. On the ferries they actually offered people buckets of water to rinse off the windows and mirrors because everything – and I mean EVERYTHING – was coated in inches of mud. You couldn't even tell the Bronco was blue anymore, and the windows were impossible to see out of.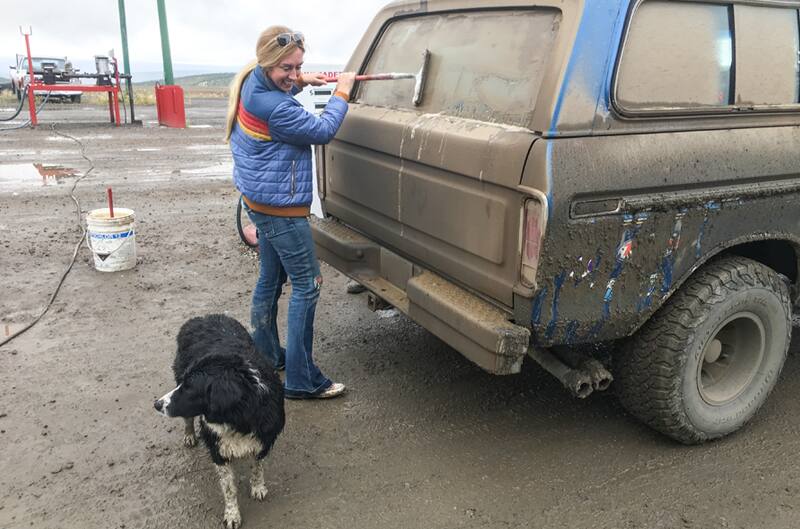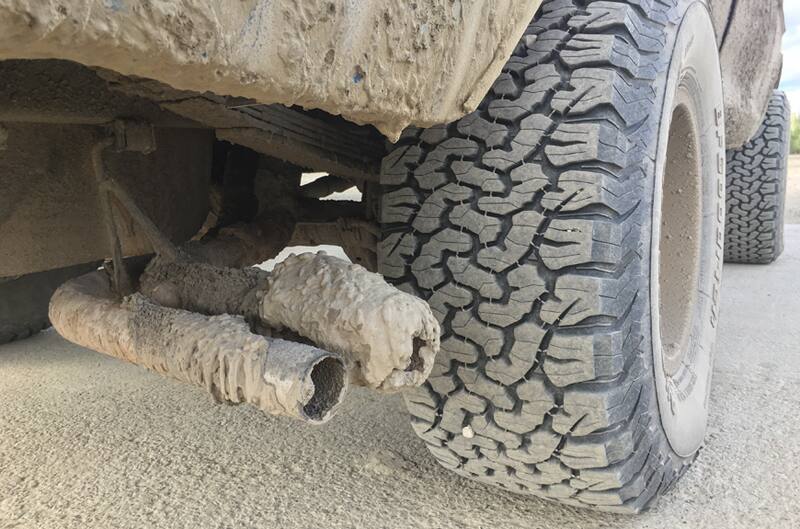 The journey from Inuvik back to Eagle Plains was equally as challenging and got even more tricky as fog joined the party. It never quite got dark but stayed right in that middle zone where headlights do absolutely nothing. The day before, all we could see were beautiful mountain vistas and luscious green fields. In the rain, those gorgeous views turned into cliffs of death with no guardrails. There was no kidding yourself that if you go off the road, you're going to walk it off. We fishtailed around the corners so much that I feel like I now know how to drift. But the scariest part had to be the giant hills. You had to get a running start to make it to the top but couldn't go too fast or would lose control. The roads were narrow with steep drop-offs and just as you got confident that you might actually make it to the top without sliding back down, the fear of an oncoming truck thunders into your head and you start praying there's nothing there to meet you at the top if you do manage to get there.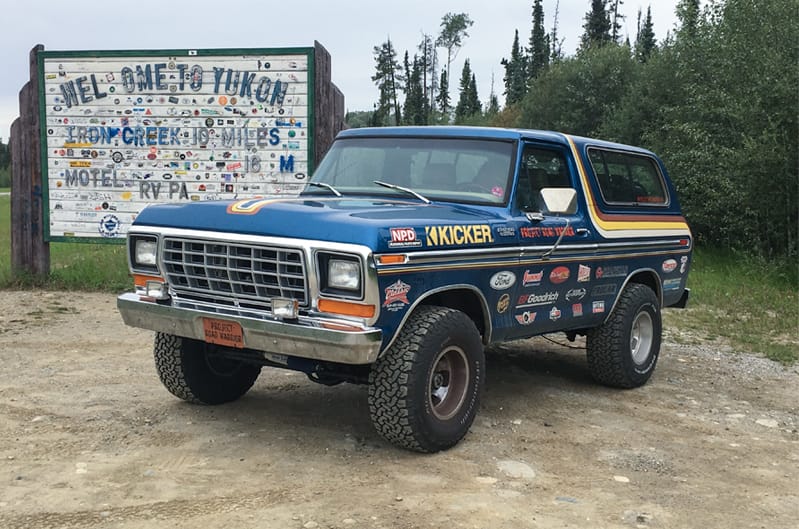 It was well after midnight by the time we made it back to Eagle Plains. My knuckles were white, and the Bronco was unrecognizable. But the Bronco made it, we were alive, and we even saw a grizzly bear, which was awesome. The next morning we heard the news that the road we came in on just hours before was closed because a tractor-trailer had gone off a cliff, and my heart skipped a beat.
We hit the road for our final day on the Dempster highway, and by noon the road was drying up and the day before seemed like only a bad dream. That is until you tried to look out the rearview or any window other than the windshield, at which point that adventurous day before came rushing back into reality. By the time we made it back to Dawson's City, every bottle of water we took with us was empty from cleaning the windshield. (I had given up on trying to clean off all the other windows some 400 miles earlier!)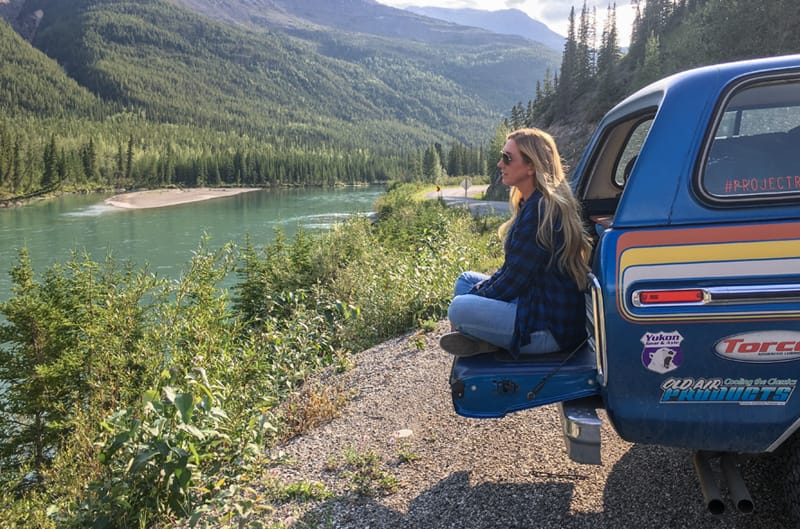 Back in Dawson City all the hotels advertise a car wash -- and I now know why. I couldn't get in line fast enough and went through $30 in change and a great pair of Chuck Taylors, but I managed to remove at least some of the dirt caked onto the Bronco. I'm not sure if it will ever actually be clean again, because it's been months now since the trip and I still find dirt every time I wash it. But she's a Bronco, she doesn't mind the dirt – that's what she was built for!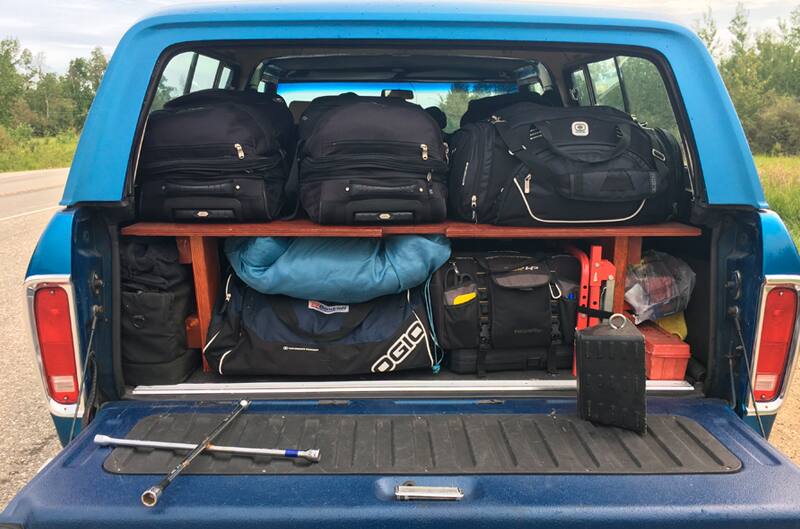 In case you're wondering, no, I will never be looking to sell the Bronco, or the Mustang. But I am looking for a new road to go somewhere awesome for the next adventure please!
Be sure to keep up with Team Mustang Girls Ford Aventures on her social channels here: Instagram, Facebook, and YouTube!
FORD PERFORMANCE PHOTOS / TEAM MUSTANG GIRLS