Legendary Shelby American World Manufacturers Championship team driver Allen Grant is offering up his 2017 Shelby GT350R as the grand prize for a sweepstakes fundraiser being held by the Palm Springs Cruisin' Association (PSCA) to raise money for the Desert Cancer Foundation – and you can be the lucky winner! Better still, the holder of the winning ticket will not only receive Grant's own Shelby Mustang, but also get the chance to learn to drive his high-performance GT350R during a track day with Grant, plus take home some rare original Shelby American memorabilia from his personal collection.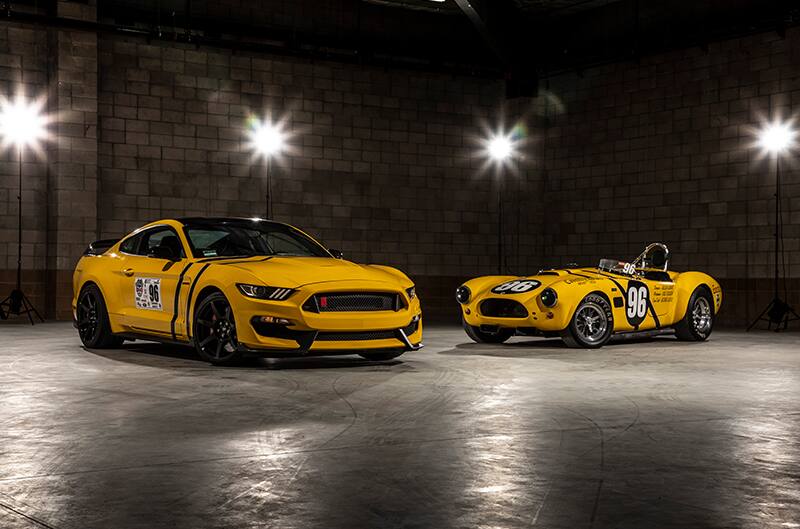 Grant's triple-yellow GT350R features Ford's 5.2L Ti-VCT V-8 with 526 horsepower and 429 pounds-feet of torque, an advanced suspension including the MagneRide™ damping system, Brembo™ brakes, 19-inch Carbon Fiber Wheels and Michelin Pilot Sport Cup 2 tires, an R-Electronics Package, a Voice-Activated Touchscreen Navigation System, Painted Black Roof, and an extra set of aluminum racing wheels.

"The Shelby GT350R is an amazing car!" Grant said. "It is an awesome street car and a race car all in one. It is as happy on the race track as it is on the street. I ordered the car in bright yellow and added the two black stripes to replicate the livery of the Cobra that I raced early in my career. The paint scheme of the Cobra was designed by my crew chief, George Lucas, before he went to USC film school and started making movies. I'm donating my Shelby GT350R Mustang because I wanted to help the PSCA raise money for the Desert Cancer Foundation."

The PSCA is an all-volunteer non-profit organization whose purpose is to promote camaraderie among car enthusiasts and to stage and promote charitable car events. The Desert Cancer Foundation was founded more than two decades ago to pay for treatment of cancer patients who lack health insurance or sufficient funds to pay for their medical care.

Allen's limited-production Shelby GT350R Mustang is an instant collectible, so don't miss your chance to win it – enter today via your donation to the Desert Cancer Foundation. Simply visit the sweepstakes website and use our special code, "FORDFAST25" on your entry. The sweepstakes ends at 3 p.m. on May 22, and the drawing takes place on the same day at 4 p.m. So don't delay – enter now!

Get Ready to Soar: T-Bird Owners Across the Globe Are Urged to Get Out and Drive on Thunderbird Appreciation Day May 16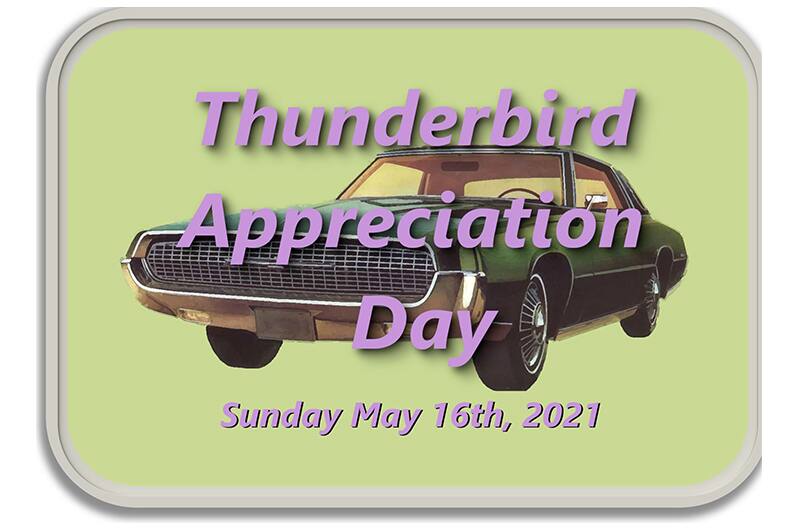 Ford Thunderbird owners know well that their cars are "Unique In All the World!" as the classic Ford catchphrase proudly points out. That's why each May, the three major Thunderbird enthusiast clubs promote a global "Thunderbird Appreciation Day" – which this year falls on Sunday, May 16. Ford produced more than 4 million Thunderbirds over the years but they are still a rare sight on the road. Join other Thunderbird owners around the world as well as members of the Classic Thunderbird Club International, Vintage Thunderbird Club International, and the International Thunderbird Club as they celebrate these iconic cars on their 5th annual Appreciation Day. The clubs simply ask that you attend a cars-n-coffee, picnic in the park, drop-in at a diner, join in on a cruise, or simply just take your Thunderbird out into the public. Any place you go, people will surely want to talk to you about your Thunderbird, no matter what year it was built! Thunderbird Appreciation Day is the day to show other T-Bird fans that they, too, can be part of the Thunderbird family by joining a T-Bird club. And don't forget to share some photos of what you did on Thunderbird Appreciation Day on the various Thunderbird clubs' websites and social media group pages (or send them to us at ClubHub@Ford.com)! So get your T-Birds ready to soar on Thunderbird Appreciation Day, May 16, 2021, and show the world how unique these iconic Fords really are!
Join the NE Georgia Mustang Club for a Cruise-In to the Mustang Museum of America and Barber Motorsports Park on May 22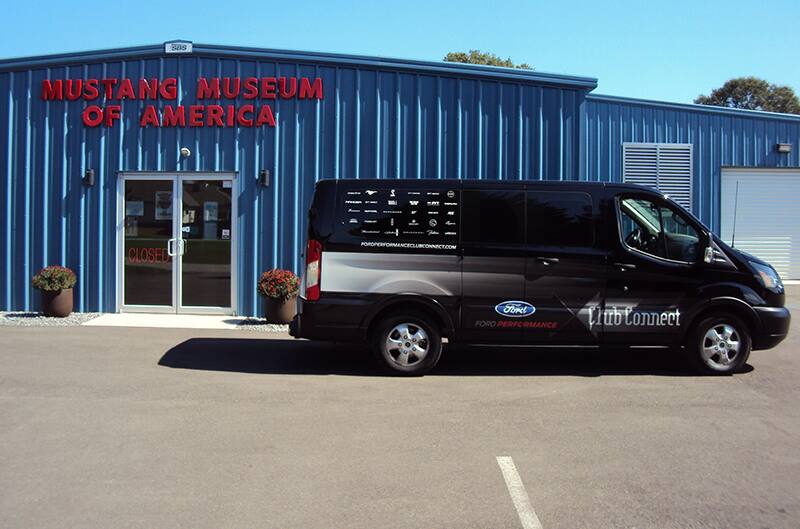 If you've ever needed an incentive to join an active Mustang club, here's one that will make you want to sign up for the Northeast Georgia Mustang Club right now: The NEGMC is planning a cruise to Birmingham, Alabama, on May 22, 2021 to go to the Mustang Museum of America and spend the remainder of the day at Barber Motor Speedway. The plan for the day is to cruise over to the MMA website in the morning for a full tour before heading to nearby Barber Motorsport Park where the club will park as a group, see a race and possibly get to take some Pace Laps on the track. Afterward, they'll stop in at the Barber Motorcycle Museum for a private tour before staying overnight in Leeds, Alabama, and returning to Georgia on Sunday. If that sounds cool to you, join the NEGMA at www.negeorgiamustangclub.org to get in on the fun!

Time to Register your Club or Ford Fan Facebook Group with Ford Performance Club Connect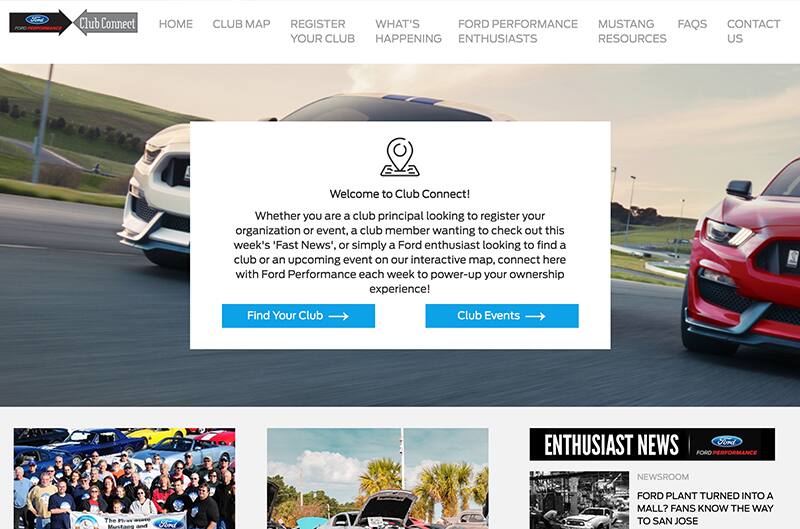 By now you should have heard about a cool Ford Performance initiative called "Club Connect" that can help all Ford and Mustang enthusiasts get connected with both Ford Motor Company and each other. Only those clubs who register with the program are eligible for no-cost promotion and support from Ford Performance, so you owe it to members of your Mustang or Ford vehicle club or online forum to register and appear on our Ford enthusiast club map. All it takes is a visit to www.FordPerformanceClubConnect.com and a single click on the "Register Your Club" link. Once you fill out the form and hit "Submit," you'll be notified within just a few days of your acceptance in Ford Performance Club Connect -- it's that simple, and it's FREE!

The primary goal of our Ford Performance Club Connect program is to get everyone to register their club – at no cost – and get themselves on our Ford enthusiast group map so that we can all connect with each other. Once there, you'll be able to see all of the other clubs and groups who have registered in your region – not just Mustang clubs, but ALL Ford vehicle organizations. And now we'd like to invite all of you who are part of any Ford vehicle Facebook Group to register with Club Connect, too. Why? Because connecting your Facebook Group with more owners and fans makes your group more worthwhile – and registering with Club Connect will link your online group with participants who may never have known that your group exists.

The value in all of this is that whenever you plan a club or group activity, you can see what other clubs and groups are in your area that you may wish to contact and ask to join you at a show or event. It also allows Ford Performance to see all the clubs and groups in a certain area, so that when we are coming to town or planning a special Ford event in your city or state, you and your club members can be contacted to participate.

It takes only a few minutes for a club principal or board member to register your club and establish a direct link for your members to Ford Performance. And now, you can also register your group and logo with Ford Brand Licensing all in the same process. Have a product or parts question that you want answered? Wish you could get some free club event promotion in our weekly "Fast News" e-blast that goes out to more than a quarter-million Ford fans each Thursday? Looking for event coverage for your show in the Enthusiasts section of FordPerformance.com? Hoping you could find a cool Ford goodie-bag or door-prize item, or a banquet guest speaker? How about requesting on-site show support with an appearance by our Ford Performance Meet & Greet tent, along with FREE Mustang poster giveaways for all show attendees? Individual requests are reviewed on a case-by-case basis, but they can ONLY be awarded to clubs who are registered.

So go to www.FordPerformanceClubConnect.com and click on the "Find Your Club" link to see if you are on the map. If not, then act now to register your Ford-based club or Facebook Group so that you can join this special program -- all backed and supported by a real enthusiast staff managed by Ford Performance. If you have questions or want more info, you and your members can always email us at ClubHub@Ford.com, or can simply call our Ford Performance Info Center, toll-free during regular business hours, at 1-800-FORD-788 (800-367-3788).

So what are you waiting for? Get online and make sure you're connected. Then plan to enjoy your performance Ford later this year so that you can discover the fun and all of the friendly people involved in the world of Ford Performance. We're sure that being connected with each other and with Ford will make your ownership experience even more enjoyable!
Here's How Easy It Is to Get You and Your Car(s) Featured in Our Weekly 'Ford Fan Spotlight'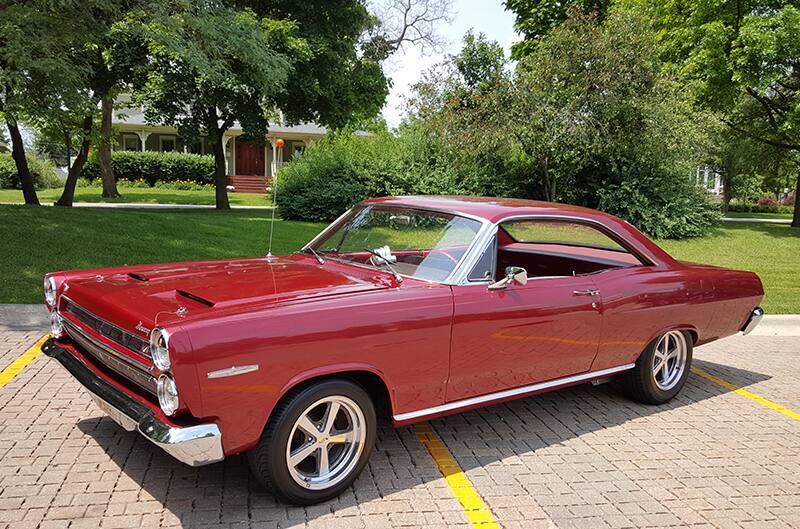 For the past decade, one of the most popular features on FordPerformance.com and in our Fast News e-newsletter continues to be "Ford Fan Spotlight," where readers can send in their own reasons why they're fans of Ford Motor Company. You know who they are: Ford "superfans;" grassroots Ford racers; unique Ford vehicle owners; loyal Ford enthusiasts; notable Ford club people; special Ford families; and/or any avid supporter of Ford, Ford vehicles, Ford motorsports or Ford Performance who deserves a little bit of special recognition.

All you need to do to get you, your car or candidate considered is to send in a brief description (200-500 words or less) and a few photos (in .jpeg format, preferably 1 mb) of a person (full name and hometown, please) and vehicle that you think Ford Performance should feature (and why) in the "Ford Fan Spotlight" for an upcoming installment of Fast News and posting on FordPerformance.com. Then email it to: ClubHub@Ford.com. (Your submission grants us your permission for us to use your copy and photos on our website and other Ford media outlets, edited as necessary.) We'll choose one submission to be featured each week. We hope to see YOU and your collectible Ford in our Fan Spotlight soon!
Now Read Our Enthusiasts News Each Week on Ford Performance Club Connect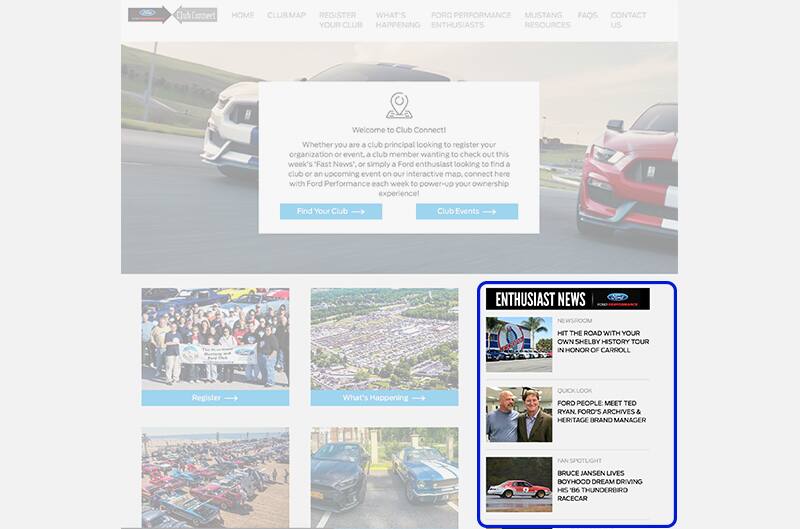 One race – one win – was all it took for Henry Ford to generate enough buzz and belief in his engineering among investors to secure funding and launch the Ford Motor Company. At Ford Performance, we have never forgotten where it all began. So we've been honoring our heritage, our products and our relentless competitive spirit by shining a light on motorsports and the Ford enthusiast world each week with our Fast News e-newsletter.
From news on our hottest cars and trucks or performance parts to the latest scoop on all the must-see Ford enthusiast events and shows, our weekly Fast News email has been your ticket to stay connected to the company that put the world on wheels. But trying to keep up with emails has left some of you in the dust. So that's why Ford Performance is now posting our weekly Enthusiast News directly on www.FordPerformanceClubConnect.com -- so you can check it out the next time you're online without sorting through your email inbox. So put our FordPerformanceClubConnect.com website on your Favorites list, and then hop-in, buckle-up and hang-on each and every week for our Enthusiast News, because like you and all of us in the Ford enthusiast world, we'll be driving Ford passion!