Sustainable Mobility and Enduring Freedom
The electric vehicle fleet of tomorrow will include many of the coolest cars and hottest trucks burning gas on the road today. What's more, thanks to the ingenuity of the Ford Performance Parts team, that dream for a green future can include you and your favorite wheels.
Helping make this vision for the world ahead into automotive reality is Ford Performance's Eluminator, an available electric crate motor riffing off of the name of the popular Aluminator internal combustion engine (ICE). An integral part of the Ford Mustang Mach-E GT, this remarkable electric powerplant comes ready to be adapted for use in electric propulsion vehicles now powered by ICE, first demonstrated by the F-100 Eluminator concept vehicle built by Ford Performance and MLe.
"Innovation and ingenuity are American traditions," said Mark Wilson, North America Vehicle
Personalization Planning & Operations Manager, Ford Motor Company. "The teams at Ford Performance and AEM are pushing the boundaries of what a home-grown electric vehicle can be."
The statement above is no prediction.
"It's here today," said Nate Stewart, an applications development engineer with AEM EV Performance Electronics of Hawthorne, California.
Stewart and his colleagues at AEM EV helped pioneer the concept of adapting EV technology to ICE-powered vehicles, converting sports cars, including a remarkable fifth generation Mustang affectionately code-named, "Judith", as well as the Mustang Cobra Jet 1400 in conjunction with Ford Performance and MLe. AEM technology has proven so successful at providing computerized vehicle control systems, it now is an official partner of Ford Performance.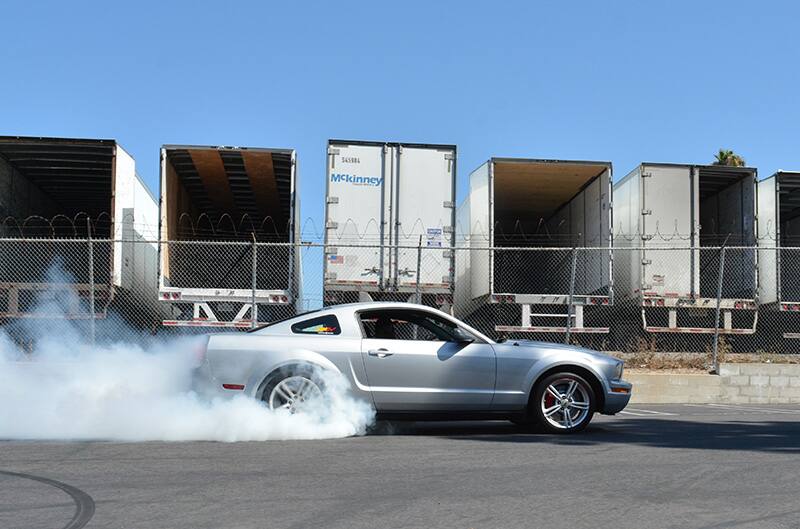 "The motor is the heart of an automobile," Stewart said. "It gives our favorite rides their unique personalities. The Eluminator makes it possible for those who really enjoy cars to integrate new technology and still have fun."
A New Kind of Workhorse
For a skilled builder, the Eluminator is a dependable motor at the heart of an efficient EV system. Weighing in at a svelte 205 pounds, this electric dynamo delivers 281 horsepower (210 kW hours), 317 lb.-ft. (430 Nm) of torque and generates a maximum rotational speed of 13,800 rpm. The Eluminator package includes a high-voltage motor-to an inverter harness, low-voltage harness connector, and vent tube assembly.
"I just smiled as we opened up our first Eluminator crate," Stewart said. "We would be able to swap a Ford V8 with Ford electric power. And that's great for enthusiasts who love to drive their unique vehicles."
"In addition to the remarkable new wave vehicles being introduced by Ford and the world's automakers, the Eluminator crate motor makes it possible for us to take advantage of the existing fleet of automobiles," explained Wilson. "Many great cars and trucks that can be modified to continue service as personal transportation and as work vehicles in the decades to come. Without having to be recycled, we can repurpose the existing fleet. In terms of conserving natural resources and energy, that's a really big deal."
A Worthy Challenge
The installation isn't a simple matter of dropping in the new powerplant in the home garage, however. In addition to the engineering and technical know-how for handling and installing high voltage electrical systems, the work requires several components specific to electric vehicles in addition to the motor. Required additional components include battery packs, contactor box, VCU and battery management system, DC-DC converter, on-board charger, low voltage and high voltage wiring and of course the inverter, which takes the DC power from the batteries and converts it to AC which powers the Eluminator.
Harnessing this e-powertrain requires an electronic mastermind – such as the VCU200 from AEM. The Vehicle Control Unit provides torque maps for power delivery (up to 4 different ones, selectable on the fly), which is what provides pure driving enjoyment.
Just as importantly, it serves as a central point of control and communications for all of the different systems on the vehicle, from switched inputs like powering up the high voltage system to activating AC, lights, and blinkers using AEM EV's PDU-8 power distribution modules, and integration of AEM EV's BMS-18 battery management system to deliver the proper amount of current to the inverter and protect the batteries under extreme temperature or low voltage conditions.
For many, the automobile spells freedom. While ICE to EV conversions can be pricey and complicated. Early adopters of today will have to work a bit to achieve their goals, but the goal for tomorrow is to make them even more affordable and most importantly, achievable.
# # #