If you're a regular reader of our Ford Fan Spotlight each week, then the name Dennis Healy may sound familiar. That's because about a year ago, we had featured Dennis -- well-known in Mustang circles because of his involvement in the Mustang Club of America and his own Mustang & Shelby Club of Long Island – after he added a 2018 Royal Crimson Mustang EcoBoost to his personal Ford fleet. But something amazing has happened to Dennis since that time, and we just had to have him share this new stroke of Mustang luck with you below:
"Hello, Ford Performance! My name is Dennis Healy and I am a member of the Mustang & Shelby Club of Long Island. This is the amazing tale of how I acquired my latest Mustang.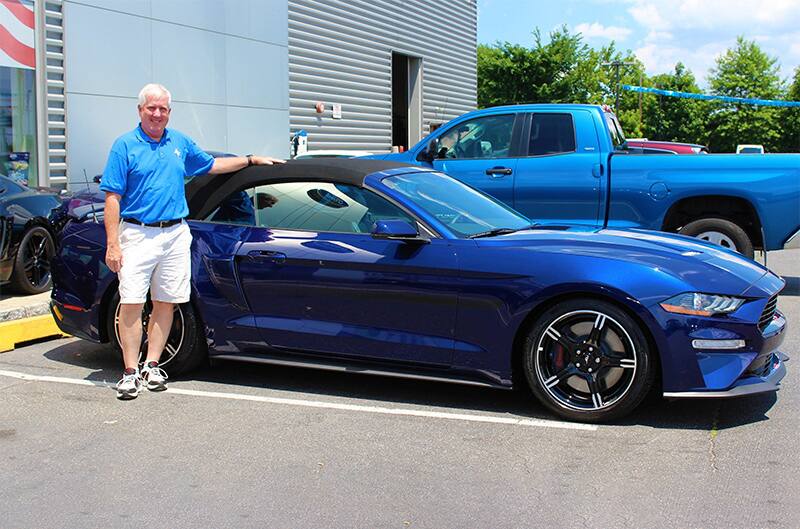 "My story begins in February of 2018 when I saw a link to the 2018 Ford Motorcraft 5.0 Fever Sweepstakes in the Fast News from Ford Performance email newsletter. I clicked on the link and entered the sweepstakes . . . and forgot all about it as I had then treated myself to a 2018 Premium EcoBoost Coupe finished in Royal Crimson in April.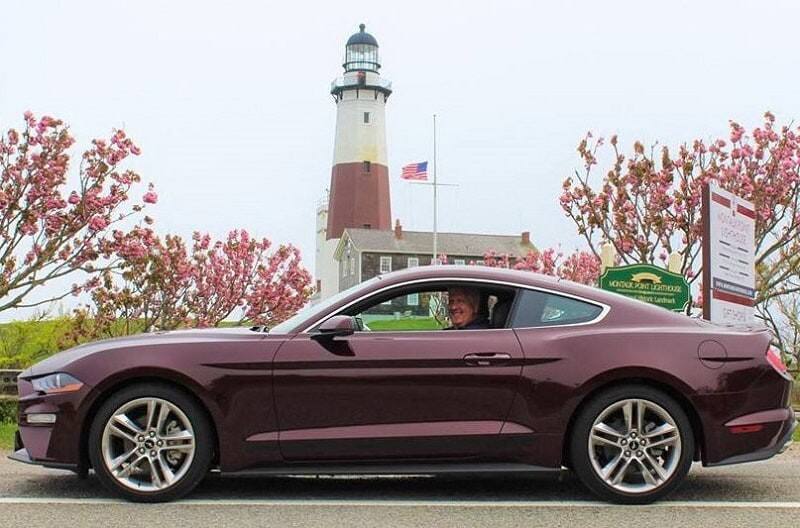 "Fast forward to December 13, 2018, when I saw I had a voicemail stating that I was a finalist in the 5.0 Fever sweepstakes and to call back to confirm my eligibility. I immediately called back, and after meeting the eligibility requirements I was informed the winner would be announced on December 17th between 1 and 2 p.m. The next days went by sooo slowly! At a little after 1 p.m. on the 17th the phone rang -- and I was told that I was the Grand Prize winner! Needless to say, Christmas 2018 was amazing!
"I spent the holidays configuring the Mustang of my dreams – a 2019 Mustang GT California Special Convertible in Kona Blue. Of course, I went over budget, but it was the car I wanted and all I had to do was pay the difference.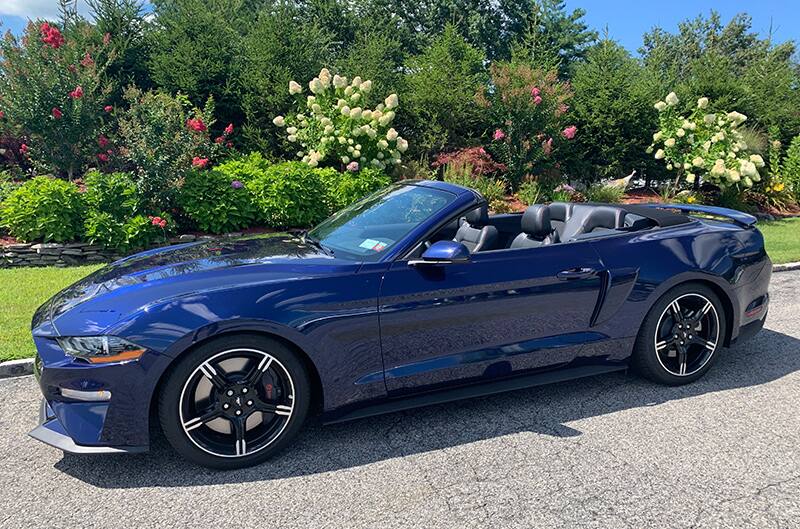 "Once everyone was back from the holidays and my local dealer, Levittown Ford, was officially notified on the procedures for claiming my grand prize, I went into the dealership to build the car on their system and put in the order. The paperwork was submitted to the sweepstakes for approval on January 12th and I had an email on January 14th (my birthday) that it was approved! The build order was submitted to processing by Ford on January 17th.
"It was now time to pick out the Ford Performance parts to add to the new Mustang. Having no idea what to add (as my other Mustangs are all-original), I reached out to fellow club member John Olesuk for assistance. John helped me spend the budget allotted to the parts very quickly by choosing the Mustang GT X-Pipe, Mustang Performance Pack 6-Piston Front Brake Kit, Mustang Street Handling Pack, and Mustang Hood Lift Kit. The parts were ordered and shipped to Levittown Ford to await delivery of the Mustang and then installation.
"Now the waiting game began as the car did not go into production until March 25th. Unfortunately, due to a strike at a plant in Mexico that supplies the steering wheels, the car was not completed until late April and was finally ready for shipment on April 30th. The estimated delivery date was May 17th so imagine my surprise when I checked on May 11th and saw it had been delivered!
I went straight to the dealership to see the car. Two days later it was in the Service Department for installation of the Ford Performance parts I had ordered. It was completed and ready to go on May 17th, which was the original estimated delivery date.
"Delivery of the Mustang would take a bit longer than anticipated. The funds needed to be transferred from the Sweepstakes to Levittown Ford before it could be released. Due to some internal accounting issues, that process took almost a month. During this time, I visited my Mustang every other day as the dealership is only 10 minutes from my home.
"Finally, on June 24th the funds were in place and delivery could be scheduled. I chose to pick up the Mustang on Thursday June 27th so that both the General Sales Manager, Dan Krauciunas, and my salesperson, Darnell Desfoges, could be present because both were involved from the start and I wanted them to be there.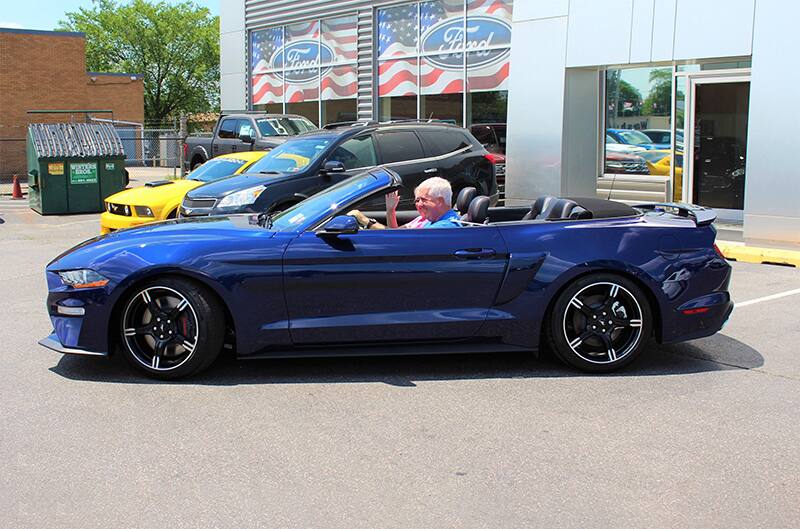 "The weather was beautiful as I drove away with the top down listening to the rumble from the 5.0 and headed home. Once there, this Mustang joined not only my recently acquired 2018 but also my 1990 "7-Up" Convertible, 1980 Ghia Hatchback and 1966 Convertible.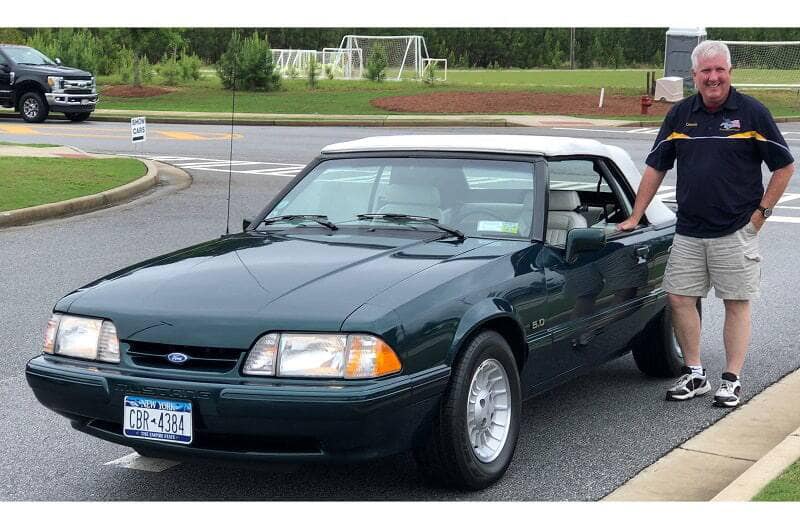 "I am now looking forward to a summer of top-down driving as well as showing it off to my fellow club members. (A note to everyone out there: People do win these Ford sweepstakes, and the same 5.0 Fever Sweepstakes will be giving away another Mustang GT in 2020 . You can enter at mustang50fever.com when the sweepstakes open back up – and good luck!)"
How YOU can Get In The Spotlight: For the past decade, one of the most popular features on FordPerformance.com and in our weekly Fast News e-newsletter continues to be "Ford Fan Spotlight," where readers can send in their own reasons why they're fans of Ford Motor Company and its vehicles. You know who they are: Ford "superfans;" grassroots Ford racers; unique Ford vehicle owners; loyal Ford enthusiasts; notable Ford club people; special Ford families; and/or any avid supporter of Ford, Ford vehicles, Ford motorsports or Ford Performance who deserves a little bit of special recognition.

All you need to do to get you, your car or candidate considered is to send in a brief description (200-500 words or less) and a few photos (in .jpeg format, preferably around 1 mb in size) with the owner's full name and hometown, please. Just tell us about the vehicle(s) and why you think Ford Performance should feature it (them) in the "Ford Fan Spotlight" for an upcoming installment of Fast News as well as for posting on FordPerformance.com. Then email it to: ClubHub@Ford.com with your contact info. Should you wish to send a video, you simply need to post it on www.YouTube.com (preferably 1-2 minutes long) and send in the link, along with a brief description, to that same ClubHub@Ford.com email address. We'll choose one submission each week. We hope to see YOU and your Ford in our Spotlight soon!