DEARBORN, Mich. – The holiday season is upon us and people all over the world are reminded of the many traditions that come to light during Christmastime. Did you know that our modern-day view of how Santa Claus looks is rooted in the Coca-Cola brand soft drink? It's true.
Coca-Cola itself says, "Coca-Cola did not create the legend of Santa Claus. But Coca-Cola advertising did play a big role in shaping the jolly character we know today. Before 1931, there were many different depictions of Santa Claus around the world, including a tall gaunt man and an elf – there was even a scary Claus. But in 1931, Coca-Cola commissioned illustrator Haddon Sundblom to paint Santa for Christmas advertisements. Those paintings established Santa as a warm, happy character with human features, including rosy cheeks, a white beard, twinkling eyes and laughter lines. Sundblom drew inspiration from an 1822 poem by Clement Clark Moore called 'A Visit from St. Nicholas' – commonly known as 'Twas the Night Before Christmas'."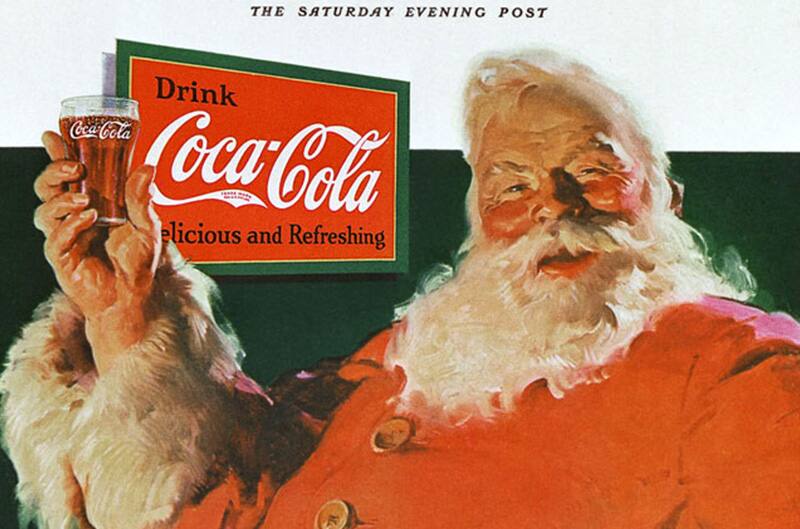 And the rest, as they say, is history. Which brings us to the Coca-Cola story we'd like to share with you: The Cola-Cola Mustang – or at least the mystery surrounding the possible existence of such a model. No, not a Coca-Cola metal Mustang pedal-car or a Coca-Cola Mustang die-cast car. We're talking about a real-life, full-size first-gen Coca-Cola Ford Mustang. Or at least that's what we have uncovered in a couple of posts that were found online a while back about what somebody is calling the "Coca-Cola Mustang." Enthusiasts well-know that Mustang's place in pop culture has been the result of countless marketing efforts trying to tie Ford's beloved pony car to a variety of brands, products and special editions. And that's precisely why this story seems so real.
Back in early August of 2014, BarnFind.com's Jesse Mortensen posted a story entitled "Coca-Cola Mustang Mystery." In it, he wrote that someone he identifies only as "Jim S" had sent him an auction link to a 1966 Mustang with a mention of Coca-Cola in the auction title. And that is what got his attention, despite the horrible condition of the car as seen in the auction photos.
"The seller doesn't provide much information in their description, but there are some photos of a door tag with the name "Coca-Cola Bottling Co." engraved on it," Mortensen wrote. "That seemed interesting, so we did some digging and came up with a little history." He found the car listed on eBay in Westfield, Indiana, with the bidding starting at $1,200 with no reserve.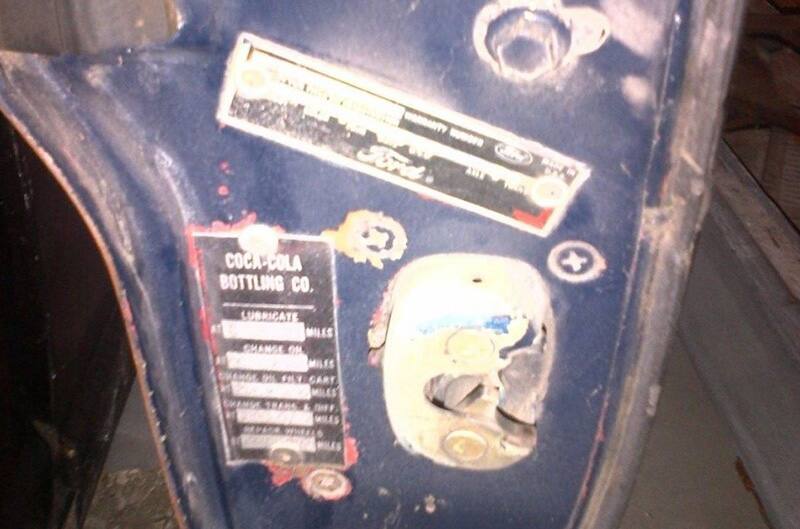 "The seller of this Mustang thinks that the car may have been used for a promotion by Coke, but we were unable to verify that theory'" the BarnFind.com story stated. "We did find an old eBay listing for another Mustang with the same door tags that sold for $960 back in 2009 though. After inspecting the photos more, we realized that it was the same car! The seller at the time thought they had something special enough to actually call Coke to see if anyone knew anything about the car. Supposedly someone on the other end of the line claimed that Coca-Cola had purchased a fleet of 1966 Mustangs to use as company vehicles. No other details were provided though."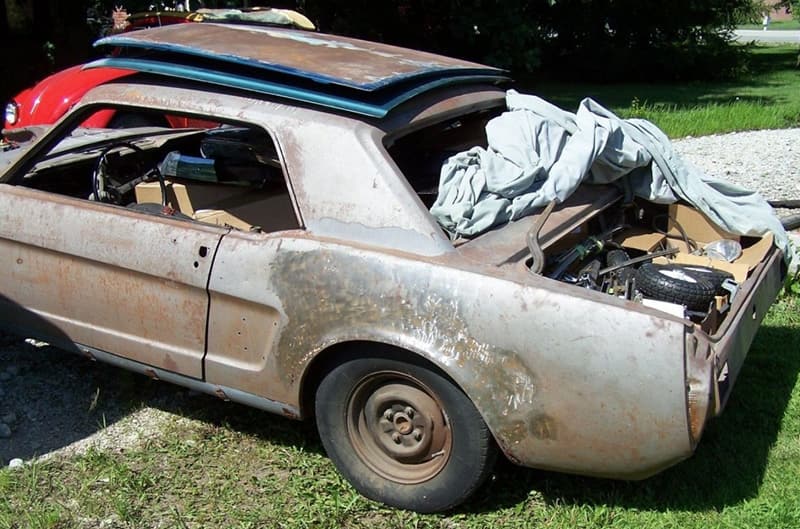 "This specific car was a base model with a six-cylinder and an automatic, but its interesting past makes it intriguing to us," Mortensen continued. "Unfortunately a previous owner started a restoration and never finished the job. There's some rust that needs addressed and the front fenders have gone missing. It does appear to be crammed full of spare parts though. We would love to see this one returned to its original Coca-Cola red with a white logo hand-painted on the door. But first we would want to track down more information about what these cars were used for and if any others are known to still exist today. So, have any of you ever heard of or seen another Coca-Cola Mustang?"
Well, our enthusiast team here at Ford Performance has not, so we started asking some of our Mustang experts, club friends and fellow auto writers if they've ever heard of or seen such a car. After a few weeks of hunting, all we could come up with was a single reference in Peter Sessler's "Ford Mustang Buyer's & Restoration Guide, 1964½ - 2007" book. There on page 28 came a brief mention and two small, blurry, black & white photos – one of what appears to be a red-with-white interior Mustang Convertible, and another of a Coca-Cola logo next to the tri-bar running pony badge on the Mustang's front fender. The caption reads: "This nice example of a Mustang was also a Coca-Cola car. It's one of a few cars that were used by Coca-Cola. Note the logo above the Mustang logo on the front fender."

And that's it. No other mention or reference in the text. Nothing. And nothing in any of the many other Mustang books that we have in our collection.

Just a week after that first article and photos had appeared back in August of 2014, FordMuscle.com's Don Creason referenced the BarnFinds.com story and also put out the call to see if anyone can provide information about this so-called Coca-Cola Mustang. Noting its additional, engraved "Coca-Cola Bottling Co." door tag, he had written that the car had exchanged hands at least once between 2009 and 2004 when it was won in an eBay auction for a mere $960. It was in need of full restoration, but other than the original engine being an inline six, there was no info on any original options on this car or any of the others in the "fleet."
He also wrote that Coca-Cola had been either unwilling or unable to providence on the car, according to its then-owner, who had claimed to have contacted the company and was told only that Coca-Cola had purchased a fleet of Ford Mustangs back in 1966 – but no details were given.
"We're not sure if these cars were used for display purposes, advertisement, or for some type of sales or executive fleet," Creason mused. "A fleet of cars could constitute 2 or 200, so we don't even know how many wore this door tag, or any other specifics of these cars."

"Could these cars have been all ordered red, and then had the Coca-Cola script painted on the doors?" he continued, "Or could this have been a corporate perk, ordering the hottest car around for executive to drive and provide a more youthful image to the brand? No one seems to know . . . We'd love to hear from someone who could shed some light on this."
And that's where the trail runs as cold as a frozen Coke at your local 7-Eleven. It's been almost nine years now since those online posts first appeared without a single follow-up that we can find. Sometimes in cases like this, you can uncover clues in the "Reader Comments" section after an online story is posted. So we went back to the BarnFinds.com story on the Coca-Cola Mustang to see what readers were saying about that old post. Here are some of their comments:
"Looks like (the door tag was) a way to keep track of maintenance of a fleet vehicle. Rare? Sure. Important? Not unless Coke is in your blood."
"Coca-Cola collectables always fetch good money. A restorer could do very well off of this."
"I have reached out to someone at Coke corporate to see if there is any more information."

"I have now been put in contact with the Corporate Historian at Coca-Cola. I'll post when I learn anything."
"Tag reads Coca-Cola Bottling Co., which were separate entity's from the Coca-Cola Corporation. There were many of them around the country (I guess there are more these days), so perhaps there are some others in different parts of the country. I doubt they would have made metal tags with the maintenance intervals for only a couple of vehicles. Speculation on my part, so it would be cool to find out the whole story on it."
"Just heard back from the Coca-Cola Historian. They are reaching out to a historian at FMC for as much as they can find out. Will post when I get an answer."
"If you wanted to finish it correctly and make money, it would be best to turn up pics or drawings of how it was originally painted. I mean, was it red with swooshy white Coke stripes or merely a stock Ford color red with "Coca-Cola Bottling Co." stenciled on the door?"
"I was a kid when I saw an original Coke mustang. It was an off-color red; it looked like the Coke color. (The owner) won it when she bought a small bottle of Coke. It was under the cap; the person that owned the store won one as well. If I remember correctly it was a 1964-1/2."
"I'm guessing a fleet car for sales in youth markets. Don't see how that or any other connection with a Coke bottler adds to value."
"You apparently don't know Coke collectors . . . add that and combine a Coke collector with a Mustang collector."
"I've never heard of a Coca-Cola Mustang but back in '77 there were a bunch of Coke 'Denim Machines' built off Ford Econoline vans that were raffled off. Every once in a while when down in the Flathead Valley in MT I run across one that I'm sure has been in the region since 77."
"I have a 6-foot by 2-foot double-sided sign, on what appears to be some type of hard Styrofoam with hard surfacing. There is a red @1965 Ford Mustang convertible on both sides, with Coca-Cola on the doors, and at the bottom of the sign was the Coke copyright information. It appears to have been at one time advertising for Coke, but I don't know much more than that. I, too, read the stories about Coke and Ford. This signage is not proof of the cars, but there was definitely a close corporate relationship in the 60's."
Well, there sure is a close relationship between Coke and Ford still today, as our own Ted Ryan, Ford's Archives and Heritage Brand Manager, was formerly with Coca-Cola before coming to FoMoCo. So we contacted Ted and his Ford Archives team to see if they could shed any light on this mystery. Ryan told us that he had received the same question from a Coca-Cola club member a while ago, and had one of Ford's corporate researchers, Jamie Myler, look into it.

Myler contacted Kevin Marti, who told him he'd never heard of such a car. He also noted that the Coca-Cola Bottling Company is separate from Coca-Cola corporate, so it's possible that it could have been a regional bottling company doing its own promotional vehicle. To that, Ryan responded that since Coca-Cola corporate did not seem to have info on the car, it "very likely would have been a bottler adaptation."
And that's as far as we've been able to follow it as we enter into 2023. It's true that Mustang owners and enthusiasts often know much more about Mustang minutia than even the most noted of Mustang historians, so we're asking all of you out there, do YOU happen know anything about a Coca-Cola Mustang? If you do or have even just a clue for us, please email your info to ClubHub@Ford.com. If anybody comes up with concrete proof of this model's existence, we'll send you a FREE vinyl Ford Performance garage banner for your efforts. Help us solve this Coca-Cola Mustang mystery once and for all – and have a wonderful holiday season from all of us here at Ford Performance!

PHOTOS FROM BARNFIND.COM