DEARBORN, Mich. – So, what does it take to drive a 40- to 50-year-old car across the country when many car show enthusiasts won't drive beyond the parking lot? When it comes to the Ford Pinto, not a lot! These cars are Built Ford Tough and have a simple design. A little maintenance and they can still "Stampede" across the country -- and that's just what they did this past summer as a homecoming of sorts to mark a half-century since Ford's little subcompact debuted for 1971.
The annual Pinto Stampede chooses different locations for participants to drive their Pintos each year. We first visited the Ford PDC Car Show back in 2014 with 50 Pintos. At the time it was established that the Stampede would be back in 2021 for the 50th Anniversary of the Ford Pinto. The dream was to have a never-before-attempted four separate Stampedes come from different parts of the country to converge on Dearborn. We expected to have between 100-200 cars participate -- a pretty tall order given that Ford stopped manufacturing the car 40 Years ago, and there really aren't many left on the road today.
Then COVID 19 broke out and we all held our breath. The 2020 Pinto Stampede was scheduled for mid-August down Highway 1 in California, and we kept waiting for things to open up, but then our main event, the Concourse DeLemons, was cancelled, hotels didn't open and the event itself had to be cancelled for the first time in its 10-year history.
However, the Ford PDC Car Show was still on the schedule for July 2021, so we moved on to plan for the next year, as 2021 surely would be more promising. Routes were planned and 75 Pinto owners signed up for the event. This year, we would be raising money for the Michael J. Fox Parkinson's foundation. (Please feel free to make a donation; just follow the link: https://fundraise.michaeljfox.org/tf-2021/PintoStampede) So we planned the four Stampedes and set the hotel blocks and began to work our details for the stops and routes along the way. They included the Uranus Fudge Factory, Cocaine Bear, Wagner-Hagans auto collection and the National Air Force Museum, just to name a few. Things were looking good.
Then on Thursday, April the 8th of 2021 -- just about three months before the event -- everything went bust! Word was sent down that the annual Ford PDC Car Show was cancelled. A truly bad day, indeed, given the fact that the climax of the Stampede was to be this show at Ford Motor Company in Dearborn on Friday, July 16 for the Pinto's big 50th Anniversary celebration. What the Heck were we going to do now? Most of the people who had signed on already set their vacation time aside.
Well, it was time to figure out how to rework the Dearborn events and find a new Ford venue. We were coming to Dearborn anyway, like it or not, and that means there would be Pintos everywhere. The Friday originally set aside for the PDC show now had three main stops, and with help from some special Ford people, a key Ford retiree and Ford Performance Club Connect, the not-at-Ford event became a pretty darn cool Ford-based event.
Friday morning, we headed out to visit the private car collection of retired Ford exec Mike Berardi, which was loaded with exotic Mustangs and other cool Fords -- and to our surprise, even a few Pintos! Ford Performance Enthusiast Communications Manager John Clor, who also oversees Ford's Club Connect program, arrived and sponsored a pizza lunch party for us. And with the help of the PDC show chairman, Ford engineer Dave Glickman, they both gave out special Ford Performance awards and prizes for some of the cars that drove through a driving rainstorm to be there that morning. We had a great time hearing all of Berardi's Ford stories and the history associated with the collection. Next, we headed out in two groups to visit the Roush Manufacturing facility, and got a hands-on tour of where the Roush Mustangs and F-150's are built. This was a truly unique tour as most groups don't get to go behind the scenes. Next, we headed over to the Roush Collection museum in nearby Livonia, Michigan, where we got to see the race cars, the private cars and some unique prototypes engines -- as well as many other items of interest (like a piece of the Gapp-and-Roush Pinto fender on display!). We cannot thank our Ford friends and the management at Roush enough for those tours, and the lunch and car awards -- and mostly for helping to save our event.
We then went back to the hotel and got ready for our buffet dinner at Angelo Brothers restaurant in Westland, Michigan, where we handed out Stampede goodie bags and spent time really getting to know each other. This event isn't like a local car meet, as Stampede people come from all over; we had people here from New York, California, Florida, Texas, etc. We would have had some Canadians had the border been open, but all-in-all this was a really down-to-earth great bunch of people from all over the map. Later that night, we were supposed to go to the Ford Drive In, but the heavy rains and the fact that there was nothing interesting that Hollywood released on the screen worth watching, made it easy for us to decide it's best to go back to the hotel and spend more time together. It turned out to be the best choice anyway.
The last day had the Stampede going to the annual Ford-Mercury Restorers Club of America Car show at a local fairgrounds. They welcomed us in, gave us special parking and we all had a great time. We held our own awards show -- voted on by the Pinto owners, so the winners of the 50th Anniversary Ford Pinto car show were voted on by their peers. We think this made for most authentic Pinto awards ever, as no one was able to trade votes in the field, or was voted on by a judge who knows nothing about our cars. No one knows Pintos better than Pinto owners, so we simply voted, and there would be no need for a recount. We had Best Original, Best Modified and Best Overall categories. To top it off, we even had one of our Pintos win the "Best in Show Overall" award given out by Ford-Mercury Restorers club. So, at the end of the day, given the challenges and forks in the road we faced -- just like the product life of these cool little Fords, the 2021 Pinto Stampede was a huge success, everyone was happy and had a great time to mark the car's 50th anniversary. Many new people joined seasoned veterans on the Stampede, and the family has grown. To all those who dared to Stampede in their Pintos while others watched form the sidelines, we'll see you on the road next year! (Just visit www.pintostampede.com.).
So it's now been a half-century since Detroit got serious about taking on the imports. But five decades ago that sales war was being waged mostly on the ever-growing subcompact front, with VW's Beetle the champ among an expanding number of imported models. After Ford's first two "import fighters" -- the compact Falcon and Maverick -- successfully began and ended their runs in the '60s, they were considered more by buyers of American cars than buyers of imports, which had grown to 16 percent of total U.S. car sales and nearly 40 percent of the trend-setting Southern California market by 1970. It was apparent that if the Big Three were to stem the import tide, it needed a true subcompact.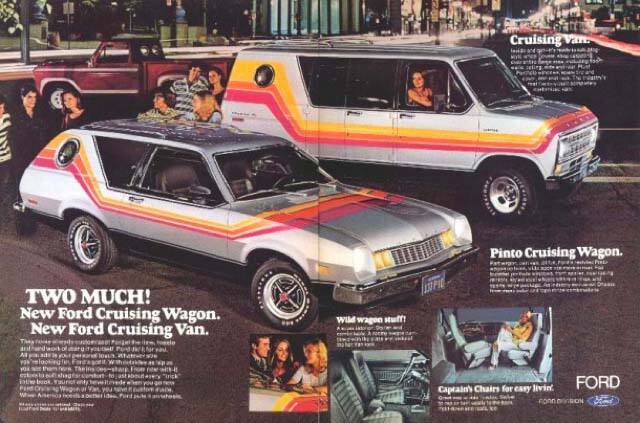 Detroit's first shot across the import bow was fired by American Motors, which introduced its little Gremlin on April Fool's Day, 1970. For the 1971 model year, GM had the Chevrolet Vega, and Chrysler could counter only with the Dodge Colt, built in Japan by Mitsubishi, and the Plymouth Cricket, built in England by Austin.
Ford's answer was the Pinto, a chunky two-door fastback introduced on Sept. 11, 1970. Developed as Project Phoenix, it began life in the mid-'60s codenamed the G-Car, with a transverse inline four mounted in the rear. In part to speed development, that chassis layout was discarded for a conventional front-engine, live rear-axle design, but the overall body style was retained.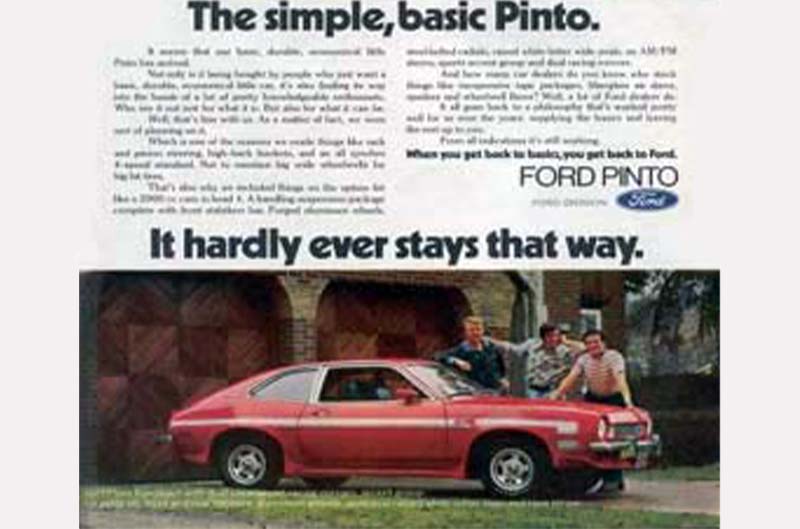 The result was a Euro-American hybrid in a Beetle-sized package using engines from Ford of Europe subsidiaries. Pinto came with the 1.6-liter (98 cid) 75-hp inline four from the British Cortina; optional was the 2.0-liter (122 cid) SOHC 100-hp four from the German Taunus. Both cast-iron motors came mated to European four-speed manuals, with Ford's three-speed Cruise-O-Matic optional only with the 2.0-liter.
Pinto was initially labeled only as a two-door sedan, but Ford responded to complaints of poor trunk space with a hatchback "Runabout" in mid-'71, sporting a fold-down rear seat. In '72 a two-door station wagon was added, a version which proved very popular.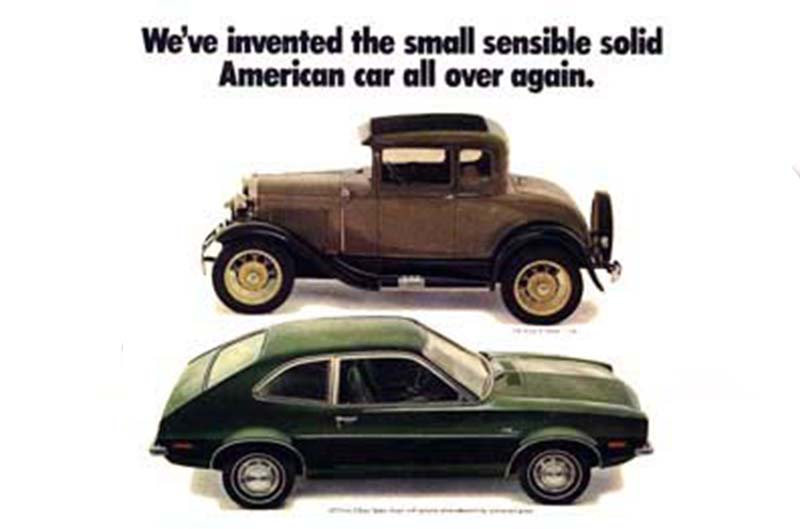 Ford called Pinto "a frisky new little car [that] kicks up its heels," promoting its simplicity and user-friendly nature. The owner's manual explained many routine DIY maintenance chores, and a special ignition key was offered that could be used as an emergency screwdriver and spark-plug gapper.
But as in its previous responses to an import threat, Ford's biggest competition came from Chevrolet, and Pinto's came from Vega. Though smaller (94.2-in wheelbase vs. 97), lighter (1,949 pounds vs. 2,146) and less technically daring than Vega, Pinto had a mechanical advantage that rested in its well-proven European powerplants and rack-and-pinion steering.
It also carried classic Ford styling cues in a more American-looking package, while the Vega had a more foreign look that some people felt looked similar to a Fiat 124. With performance and fuel economy not quite on par with some European and Japanese cars, Pinto and Vega did little to slow imports. In fact, the only import that Pinto killed was Ford's own Cortina, which was pulled from U.S. dealers after 1970.
Vega and Pinto sparked inevitable comparisons, and the press tended to be more impressed with the somewhat sportier Vega. Road & Track wrote that while Vega is "by far the more interesting design… Pinto happens to be the more pleasant car to drive in everyday use." It said Pinto "is somewhat less roomy, and in standard form, it's not as quick as a standard Vega. But, thanks to a quieter and smoother engine, a superior gearbox, somewhat greater comfort for the driver and better finish throughout, it is subjectively the nicer car." A 2.0-liter ($82 extra) model Pinto with front disc brakes ($32) was liked even more.
Despite an early outbreak of underhood fires that forced a minor recall to fix some leaky carbs, Pinto drew more than 350,000 buyers in its very first year. It then went on to outsell the trouble-plagued Vega in every single model year afterward.
Continually refined with mechanical upgrades and better trim, Pinto saw just two face-lifts – in '77 to a "soft" slant-nose look, and in '79 with a "shovel-nose" to incorporate the new, square headlights. When stricter, power-sapping emissions laws hit, Pinto received a new, U.S.-built 140 cid 2.3-liter four ('74) which served it until the end, and lives on in later Fords. Pinto even offered V6s, a 2.6 liter ('75) and 2.8 liter (1975-79).
The Pinto, however, is all-too-often remembered mostly as "a car fire waiting to happen," due to some highly publicized fuel-tank fires in rear-end collisions of early models, and several subsequent fatalities. While Chevy's Corvair was the first car killed by safety critics, Pinto was the first to be killed by the media, who had a veritable field day with sensationalist crash reports after Ford became involved in criminal litigation.
Some legal cases charged Ford Motor Co. with reckless homicide in selling Pintos without warning buyers that the cars may explode if hit hard enough from behind – despite the undeniable fact that most any of the compact cars from that era were subject to the same laws of physics as the Pinto – and some even had a higher incidence of fires in rear-end collisions!
Sanity prevailed, and Ford was eventually acquitted in a high-profile federal case in Indiana, but the media hounds had already wreaked havoc on the car's reputation. Although Ford recalled about 1.5 million 1971-75 Pintos to revamp the filler-neck design and shield the gas tank from impacting against the differential in a severe rear-end collision, there was no stopping the fact that car fires and the Pinto became synonymous in the public's eye.
Worse still, a Ford actuarial table leaked to a self-proclaimed consumer protectionist publication sparked an ethics debate on the cost of large-scale auto recalls vs. that of settling wrongful death lawsuits, prompting some would-be do-gooders to paint Ford as the epitome of what's wrong with corporate America – yet completely ignoring the fact that such cost analysis is an everyday part of big business, especially in the health care and insurance industries.
But unlike Corvair, it was the marketplace that really determined the length of Pinto's automotive life. Pinto's legal troubles did more to blacken Ford's PR image than the car's, with Pinto sales falling by '78 as stories about the fires and lawsuits swept the media, but rebounding again in 1979-80 thanks to the oil crisis increasing demand for inexpensive, fuel-efficient cars, while opening the door for a wave of new front-drivers. For enthusiasts, Pinto's 2.0- and 2.3-liter engines were the basis for SCCA racing series, and hot-rodders soon popularized swapping V8s into Pintos for the street and strip.
When it was finally replaced by the Ford Escort for 1981, Pinto was labeled by one auto journalist as a car "nobody loved, but everybody bought." Really loving it aside, more than 3.1 million people liked it enough to buy it – and Pinto galloped off as the decade's only true domestic subcompact sales success story.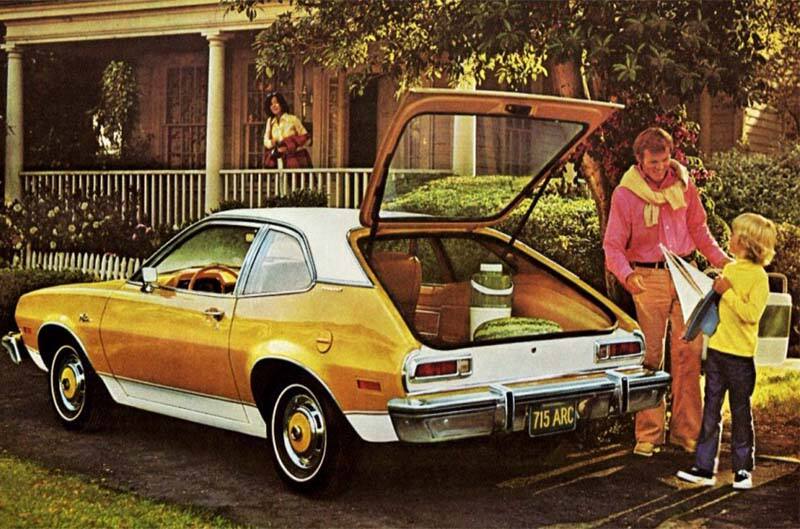 Today, scores of former owners remember fondly the Pinto's place in their motoring past. It's unfortunate that the public's polluted perception has since become reality for the poor Pinto, which was otherwise a winner as an inexpensive, domestically produced economy car. As Ford celebrates the modern design, safety, fuel economy and technology of its freshest subcompact entry, the European Fiesta, Pinto fans everywhere recognize the Pinto as a small-car pioneer while faithful owners celebrate this fun little Ford's 50th Anniversary!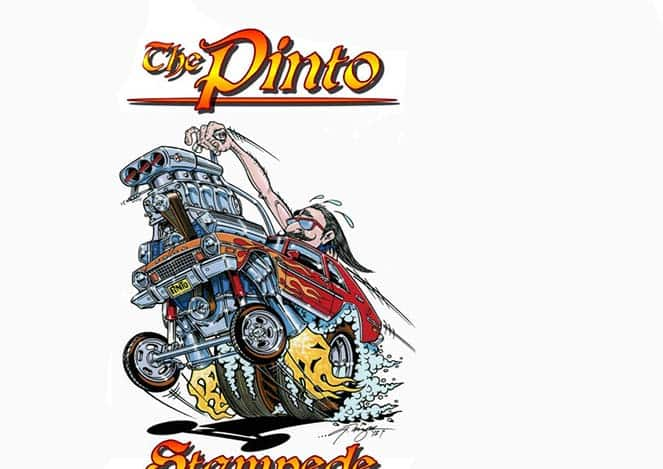 FORD PERFORMANCE PHOTOS / COURTESY THE PINTO STAMPEDE and JOHN M. CLOR