Many enthusiasts wind up having to wait well into adulthood before finally getting the chance to own their dream Ford. But that's not the case with Cameron Brewer, who was an entrant in our Ford Performance Virtual Car Show last year. Cameron landed his dream vehicle at the ripe old age of 25. Check out his note to us below about how he followed up his first Mustang at age 17 with his current 2018 dream machine:
"Hi, Ford Performance! My name is Cameron Brewer. I am 27 years old and currently living in Osceola Indiana. Check out the pictures of my 2018 Ford Mustang GT. Under the hood, it has 5.0L Gen 3 Coyote motor and on the outside it's my favorite color for a Mustang, Kona Blue. This is the second Mustang I have owned. I bought my first Mustang when I was 17 years old.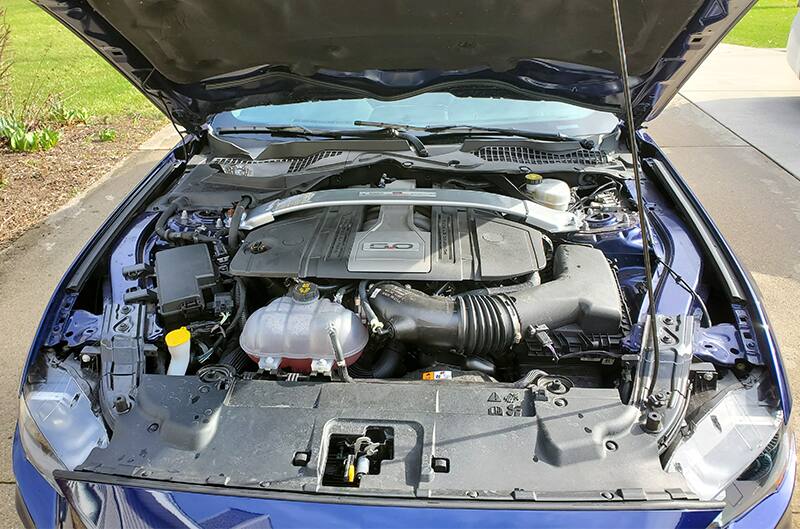 "The biggest reason I got a job right after my 16th birthday was to buy a Mustang. After working for a whole year, I saved enough money to buy a 2009 4.0L V6 Oxford White 45th Anniversary Mustang. I owned it until I was 25, when I traded it in for my current Mustang. I created many memories in my first Mustang over the 8 years of ownership, including it being a part of my wedding.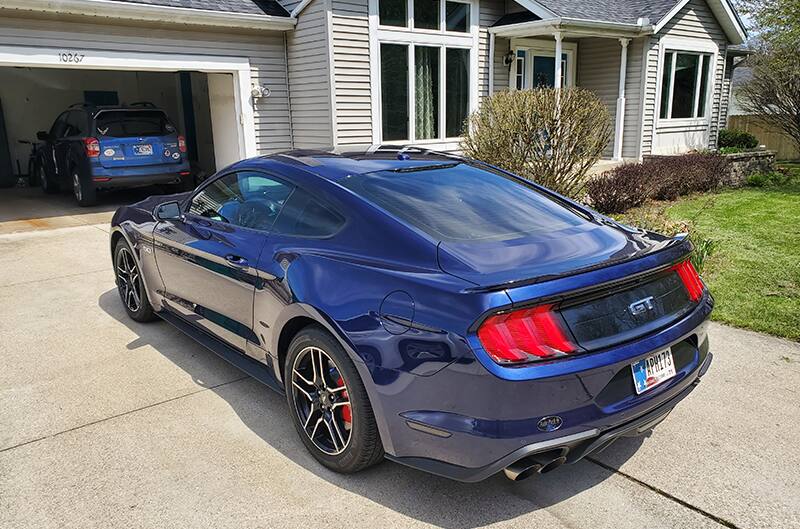 "I am excited for all the new memories I have already created -- and the new ones yet to come -- in my 2018 Mustang. Ever since I was little kid, I always wanted a Ford Mustang. I would dream of the day I could buy a blue Mustang with a V-8 and a manual transmission. Two years ago, I finally had the opportunity to purchase my childhood dream car. (A lot of thanks to my wife for allowing me to follow my dream).
During my two years of ownership of my 2018 Coyote, I have removed the resonator for an X-pipe, added red caliper covers, upgraded the clutch spring, added a throttle body spacer, and made some small, cosmetic changes (blue shift knob, blue valve-stem caps, smoked-lens rear lights, and blue switch knobs). The previous summer, I participated in my first two car shows, and look forward to many more in this upcoming season. I hope you enjoy my car . . . and my Mustang story.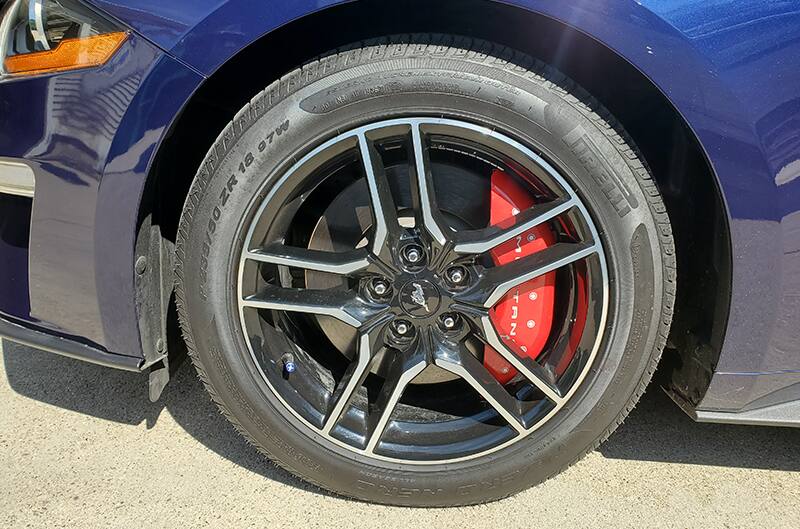 How YOU can Get In The Spotlight: For the past decade, one of the most popular features on FordPerformance.com and in our weekly Fast News e-newsletter continues to be "Ford Fan Spotlight," where readers can send in their own reasons why they're fans of Ford Motor Company and its vehicles. You know who they are: Ford "superfans;" grassroots Ford racers; unique Ford vehicle owners; loyal Ford enthusiasts; notable Ford club people; special Ford families; and/or any avid supporter of Ford, Ford vehicles, Ford motorsports or Ford Performance who deserves a little bit of special recognition.
All you need to do to get you, your car or candidate considered is to send in a brief description (200-500 words or less) and a few photos (in .jpeg format, preferably around 1 mb in size) with the owner's full name and hometown, please. Just tell us about the vehicle(s) and why you think Ford Performance should feature it (them) in the "Ford Fan Spotlight" for an upcoming installment of Fast News as well as for posting on FordPerformance.com. Then email it to: ClubHub@Ford.com with your contact info. Should you wish to send a video, you simply need to post it on www.YouTube.com (preferably 1-2 minutes long) and send in the link, along with a brief description, to that same ClubHub@Ford.com email address. Your submission allows us the rights to use your words and images (along with any edits) for editorial purposes; we'll choose one submission in random order each week to post online. We hope to see YOU and your Ford in our Spotlight soon!