When you see a 1969 Mustang Mach 1 rolling down the street these days, you'd likely expect to see a Baby Boomer behind the wheel, re-living fond motoring memories from his or her youth. That's why we think Brian McCarthy of West Lafayette, Indiana, and his '69 Mach 1 deserves to be in this week's Fan Spotlight -- not only because this classic Mach 1 is actually Brian's daily driver, but mostly because Brian is a Millennial who's still his 20's! Check out his email to us below for the whole story:
"Hello Ford Performance! My name is Brian McCarthy and my fascination with Mustangs began when I was a young kid, around age 8. No, I didn't have the stereotypical father/grandfather who had Mustangs growing up, restored cars, or even worked in the auto industry to expose me to classic cars. For me, it was seeing the old, faded-green 1966 Mustang in my best friend's garage at 8 years old. Something about that Mustang always looked cool and fostered my interest in Mustangs as I grew older.
"Fast forward 12 years. Having little to no experience working on an old car other than changing brakes and oil, I purchased my 1969 Mustang Mach 1 for $7,500 in Southern Virginia with money I had saved up from working hard in the summer. My Mach 1 came from the factory with a 351 cubic-inch Windsor V-8 motor, a four-barrel carburetor, and a 4-speed Top Loader transmission, with no power steering, no power brakes and no A/C. She was built in mid-July 1969 in San Jose, California (one of the last '69 Mach 1's built!).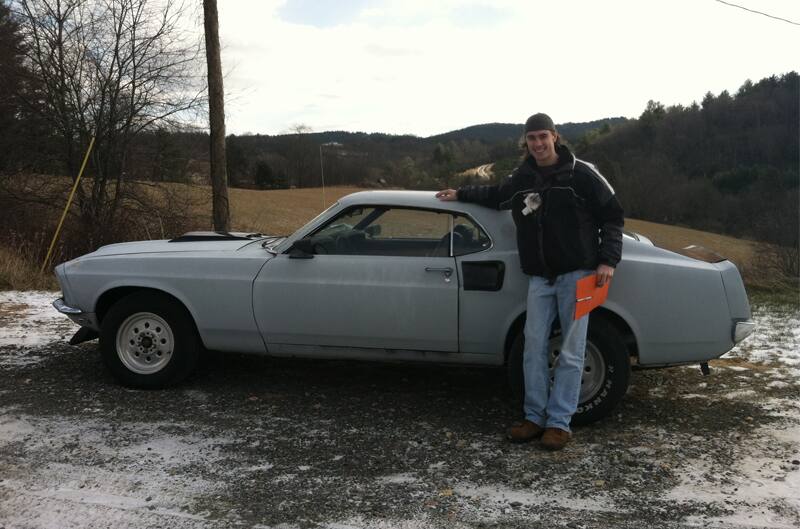 "As an aerospace engineering student at Virginia Tech at the time, I thought, 'How hard could it be to restore a 42-year-old car?' I was determined to eventually make my Mach 1 my daily driver. Along the way, I taught myself to rebuild the transmission, rebuild most of the engine, upgrade the entire brake system, rebuild and tune a carburetor, and many more skills required in owning a classic Mustang.
"I, again, eventually saved up enough money to have it painted properly back to the factory Silver Jade color. After nearly five years of restoration, my Mach 1 was finally a relatively reliable daily driver. Just in 2019 alone, I racked up over 10,000 miles driving from Indiana to Texas to Virginia -- and many places in between. Currently a Ph.D. student in aerospace engineering at Purdue University, wrenching on my Mustang is a healthy break from the academics.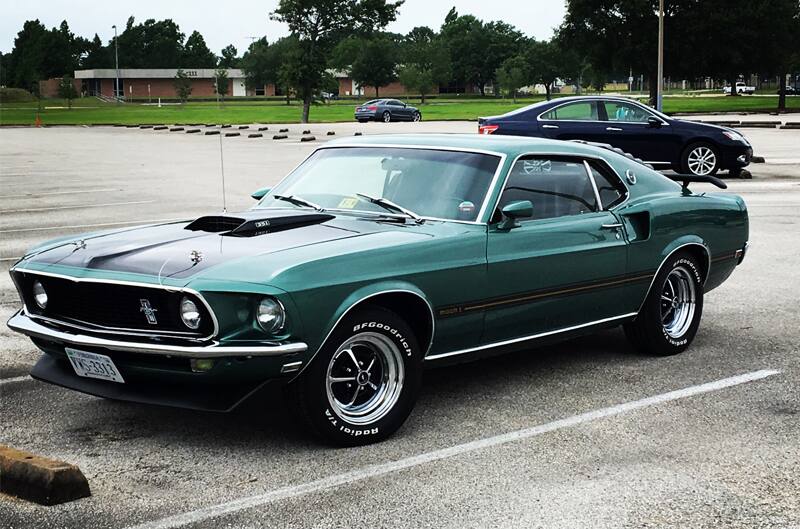 "While many modern cars are considered more reliable and better-handling than my '69 Mach 1 due to technology advancements over the last 50 years, I have built an ear for understanding the limitations and sounds an old Mustang should and shouldn't have. It is music to the ears hearing the smooth sound of the finely tuned, pushrod V-8 as you cruise down the highway.

"This Mustang also has given me the opportunity to connect with so many incredible people with the Mustang and Ford community. I am a proud member of the Millennial Mustang Registry (MMR #297) and I feel pretty lucky to have my dream car as my daily driver while still in my 20s! I hope you consider my story and the photos I've sent along. The first pic is from the day I bought my Mach 1; the second pic was taken just after getting it painted; and the third pic is from a trip I took in it to Houston, Texas. Enjoy!"

How YOU can Get In The Spotlight: For the past decade, one of the most popular features on FordPerformance.com and in our weekly Fast News e-newsletter continues to be "Ford Fan Spotlight," where readers can send in their own reasons why they're fans of Ford Motor Company and its vehicles. You know who they are: Ford "superfans;" grassroots Ford racers; unique Ford vehicle owners; loyal Ford enthusiasts; notable Ford club people; special Ford families; and/or any avid supporter of Ford, Ford vehicles, Ford motorsports or Ford Performance who deserves a little bit of special recognition.

All you need to do to get you, your car or candidate considered is to send in a brief description (200-500 words or less) and a few photos (in .jpeg format, preferably around 1 mb in size) with the owner's full name and hometown, please. Just tell us about the vehicle(s) and why you think Ford Performance should feature it (them) in the "Ford Fan Spotlight" for an upcoming installment of Fast News as well as for posting on FordPerformance.com. Then email it to: ClubHub@Ford.com with your contact info. Should you wish to send a video, you simply need to post it on www.YouTube.com (preferably 1-2 minutes long) and send in the link, along with a brief description, to that same ClubHub@Ford.com email address. Your submission allows us the rights to use your words and images (along with any edits) for editorial purposes; we'll choose one submission in random order each week to post online. We hope to see YOU and your Ford in our Spotlight soon!