Enthusiasts who compile and use vehicle registries will tell you that being able to connect with -- or simply get information from -- previous owners of a particular vehicle can serve to make or break their own ownership experience with that same vehicle. That concept certainly wasn't lost on Brian "Willie" Wilkens of Flagstaff, Arizona, who wrote to us recently to say that because he was able to track down the previous owner of 2008 Shelby GT500 that he was thinking about buying, his purchase of the car went from a "Not sure I should" to a "Glad I did!" Check out his story below:
"Hello, Ford Performance! I recently purchased a 2008 Shelby GT500 convertible, and the investigation of it ended up with me gaining a friend, giving the previous owner peace of mind, and me having a neat story to tell.

"I had gotten burned on the purchase of a Brand X SUV (which led to a year and a half-long lawsuit). I settled the case, replaced the engine in the truck, and sold it to the dealer. Because of this, I was a little gun-shy when I came across a unique Shelby.

"I was a little leery because the car had gold stripes, but they were not a factory option for this model year. So I did a search with the VIN. The two main things I found out were a report that had the details of the car as an auction listing in Dallas (Mannheim) and a guy's name, listing him on some website as the car's owner. I eventually found him on LinkedIn, and after stewing about it for a day, I decided to send him a private message (after having to pay the $60 Premium Members fee in order to do so). All I said was, "Sorry for the random message, but I'm looking at a Shelby, and I think you may know something about it." He replied within just a few hours, and was very interested to know what I was up to.

"Turns out, the gold stripes are actually painted on . . . using the paint that is used for the New Orleans Saints football team helmets that he had gotten directly from Riddell (the helmet manufacturer). They wouldn't give him the paint match color info, but they did sell him the actual paint! Well, my wife also grew up in New Orleans like the previous owner, and she is also a Saints fan. My hometown is Davenport, Iowa, and the sort-of old-school Hawkeye colors is what initially drew me to this car. So that pretty much sealed the deal on the purchase of the Shelby.

"He and I have since talked on the phone for hours about the car. I have many more things that I found out from him prior to the purchase that made it a slam-dunk, but will not go into all of them here because I just didn't want this to get too long. Suffice to say, I'm so glad I was able to connect with him, and I think it's an awesome car. My wife and I are now thinking of moving to Louisiana soon, and why not? We've got the right car!"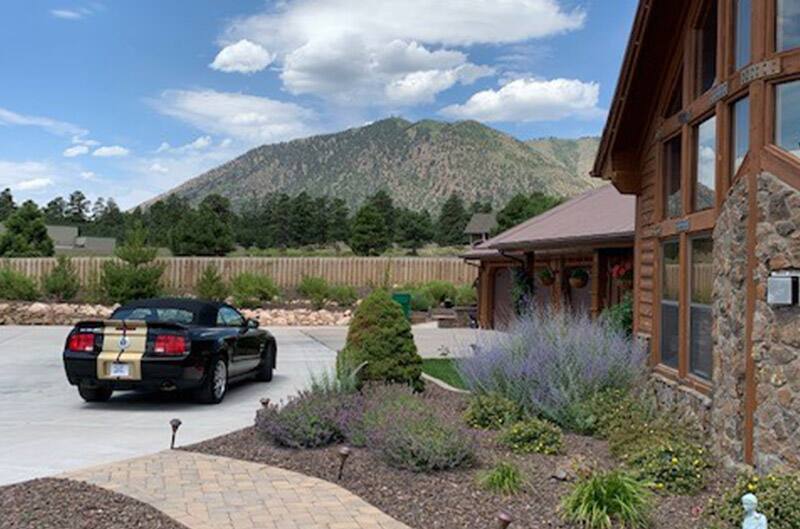 How YOU can Get In The Spotlight: For the past decade, one of the most popular features on FordPerformance.com and in our weekly Fast News e-newsletter continues to be "Ford Fan Spotlight," where readers can send in their own reasons why they're fans of Ford Motor Company and its vehicles. You know who they are: Ford "superfans;" grassroots Ford racers; unique Ford vehicle owners; loyal Ford enthusiasts; notable Ford club people; special Ford families; and/or any avid supporter of Ford, Ford vehicles, Ford motorsports or Ford Performance who deserves a little bit of special recognition.

All you need to do to get you, your car or candidate considered is to send in a brief description (200-500 words or less) and a few photos (in .jpeg format, preferably around 1 mb in size) with the owner's full name and hometown, please. Just tell us about the vehicle(s) and why you think Ford Performance should feature it (them) in the "Ford Fan Spotlight" for an upcoming installment of Fast News as well as for posting on FordPerformance.com. Then email it to: ClubHub@Ford.com with your contact info. Should you wish to send a video, you simply need to post it on www.YouTube.com (preferably 1-2 minutes long) and send in the link, along with a brief description, to that same ClubHub@Ford.com email address. We'll choose one submission each week. We hope to see YOU and your Ford in our Spotlight soon!