VALENCIA, Calif. - We've all heard plenty of car stories of how some enthusiasts have found their dream car in Southern California or "Down South" and brought it back to the Midwest to be restored and driven as a classic cruiser. But for Keith Karzin of Valencia. California, it worked the other way around. Read his email to us below about how he took a Midwest "barn find" low-mileage 1966 Ford Galaxie 500 and brought it to his So-Cal home to be restored and enjoyed as his own personal dream machine:
"Hello Ford Performance! I'm Keith Karzin of Valencia, California, and I'd like to nominate my 1966 Ford Galaxie 500 to appear in your Ford Fan Spotlight. With only 53,000 original miles on this 390-V-8 powered Galaxie when I purchased it last November, it is truly a 'barn find' if there ever was one.
"My love for Ford Galaxies goes way back, as I owned one in high school in the late 70's. It was the first car I ever bought with my own money, and I have always wanted another one. After searching for years here in Southern California without much success, I finally found my 'dream car' in Dyersville, Iowa. I bought the car from a self-proclaimed 'Ford Guy' who had heard about an 'original Galaxie in great shape' in Maquoketa, Iowa. He drove 50 miles to see the car and bought it on first sight.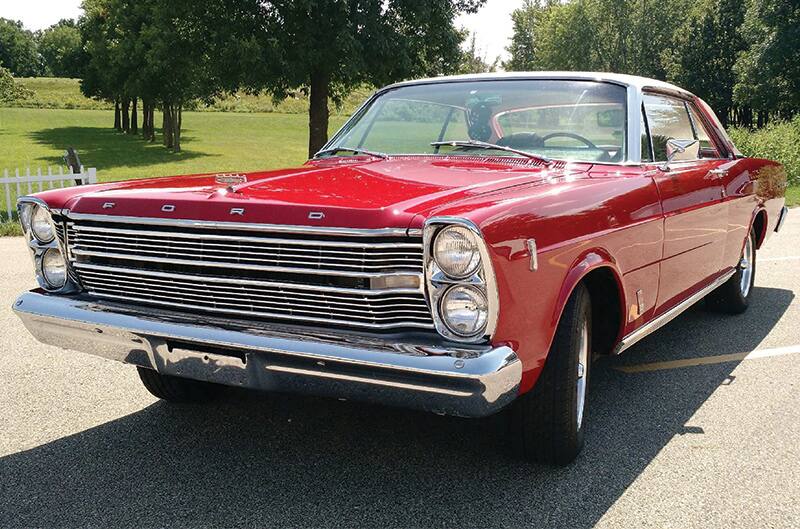 "Come to find out, the car was originally purchased by a farmer and his wife back in January of 1967 in Princeton, Iowa. Apparently, the wife 'only drove it on Sundays to church and back' and that was about it. They kept it in the barn until their passing, at which time the car went to the couple's niece. She and her husband drove the car sparingly and kept it in a shed during the harsh Iowa winters.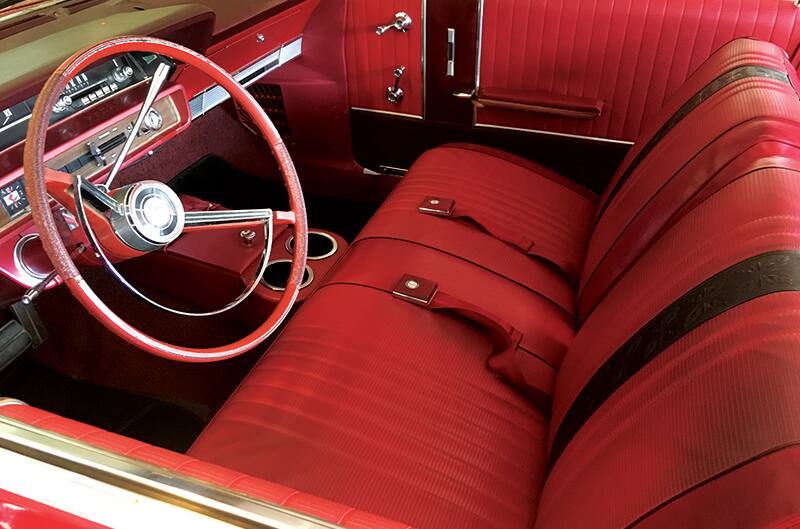 "The person I bought it from (3rd owner) had it for a couple of years and only upgraded the exhaust (installed a dual exhaust system) and installed new wheels and tires (period-correct rims from American Racing). Everything else on the car -- from the engine to the transmission and the interior to the chrome -- is all original!
"What is so amazing about this car is the way it looks inside and out, the way it runs and handles (starts right up and cruises like a dream) and the numerous 'thumbs up' I get when I drive it. No one can believe it's a 53-year-old car. Folks often ask if I did a full rotisserie restoration on the car and are shocked when I tell them that I hadn't.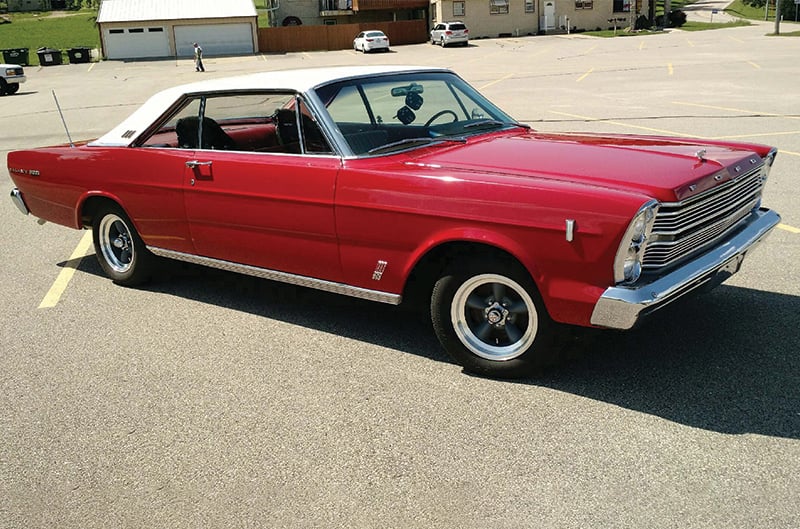 "The only things I have done since buying the car is replace all of the seals, water pump and hoses, and I had the intake manifold and valve covers cleaned up and painted 'Ford Blue.' I also rebuilt the carburetor. I'm trying to keep the car as original as possible so that it looks as it did when it came off of the showroom floor all those years ago.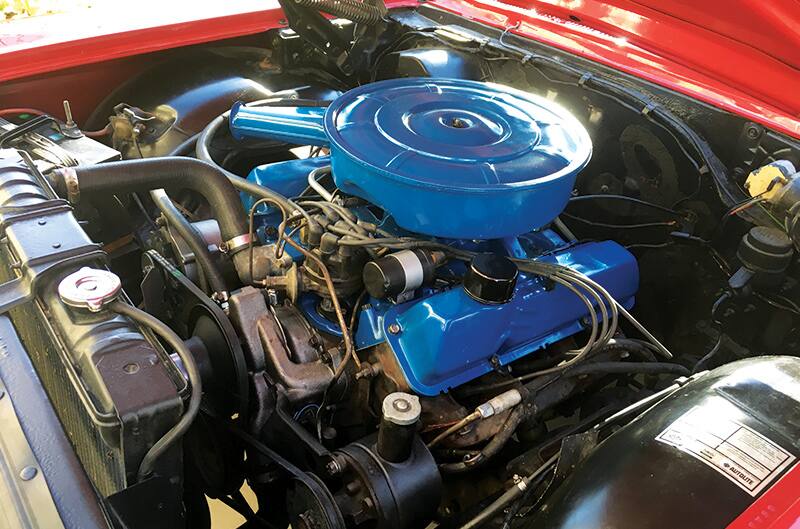 "Fortunately, I have the original window sticker, maintenance manual and even the original Iowa license plate for car. These 'treasures' help document its history and will ensure its value for years to come.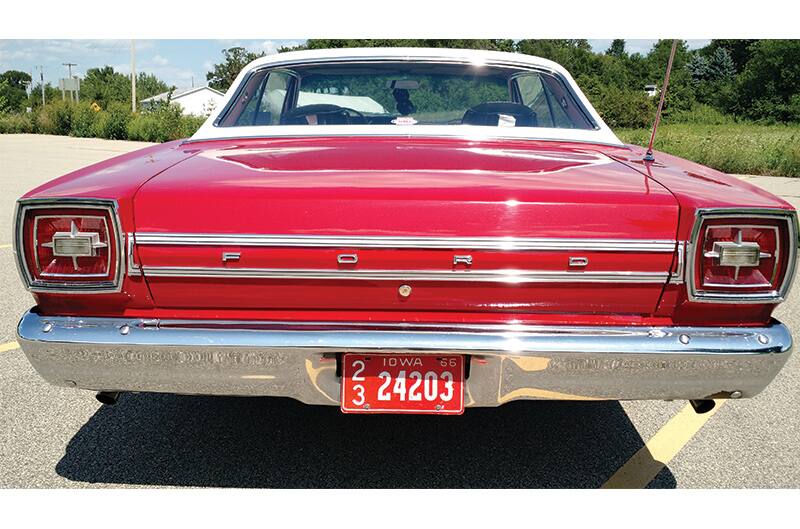 "On Saturdays, you can find me and my '66 Ford Galaxie 500 at the local Cars-and-Coffee event, along with many other classic car enthusiasts swapping wonderful stories -- just like the one I just shared with all of you. After all, every classic car has one!"

How YOU can Get In The Spotlight: For the past decade, one of the most popular features on FordPerformance.com and in our weekly Fast News e-newsletter continues to be "Ford Fan Spotlight," where readers can send in their own reasons why they're fans of Ford Motor Company and its vehicles. You know who they are: Ford "superfans;" grassroots Ford racers; unique Ford vehicle owners; loyal Ford enthusiasts; notable Ford club people; special Ford families; and/or any avid supporter of Ford, Ford vehicles, Ford motorsports or Ford Performance who deserves a little bit of special recognition.

All you need to do to get you, your car or candidate considered is to send in a brief description (200-500 words or less) and a few photos (in .jpeg format, preferably around 1 mb in size) with the owner's full name and hometown, please. Just tell us about the vehicle(s) and why you think Ford Performance should feature it (them) in the "Ford Fan Spotlight" for an upcoming installment of Fast News as well as for posting on FordPerformance.com. Then email it to: ClubHub@Ford.com with your contact info. Should you wish to send a video, you simply need to post it on www.YouTube.com (preferably 1-2 minutes long) and send in the link, along with a brief description, to that same ClubHub@Ford.com email address. We'll choose one submission each week. We hope to see YOU and your Ford in our Spotlight soon!