DEARBORN, Mich. - There are Blue Oval enthusiasts for just about every single Ford vehicle ever produced, and the Ford F-Series is certainly among them. When Norm Shirey emailed us a story and a few photos of his 1955 F-100 Stakeside, we wanted to share them with you. And when we read just how rare Norm's factory half-ton "Platform Flatbed" is, it makes this week's selection all the better: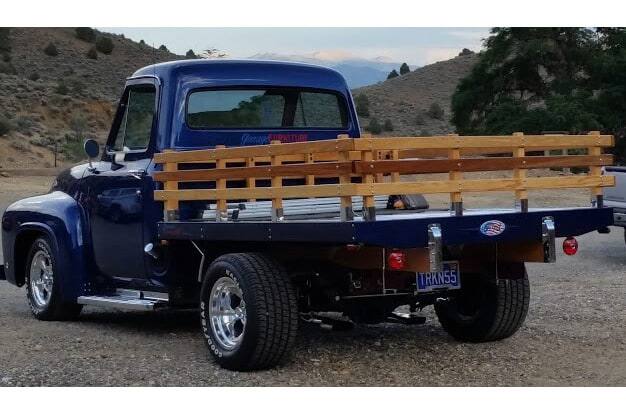 "Hello, Ford Performance! My name is Norm Shirey, and I think it would be great to have my F-Series truck featured in your Ford Fan Spotlight! Take a look at my 1955 Ford F-100 Stakeside; back in the day it was called a 'platform flatbed.' I bought this truck in 1975 from a wrecking yard because it was the only STOCK half-ton flatbed Ford I had ever seen at that time. (To date, I have personally now only seen three in existence.)
The truck has a full steel tilt-front, and is powered by a 390 big-block with a C-6 Ford automatic bolted-up a 9-inch Ford rear end. It features modern Mercury disc brakes and is a blast to drive. It is painted 'Moonlight Blue,' which is a Ford factory color from 1995.
"In August of 2017, my truck received a Celebrity Award from the City of Sparks, Nevada (one of 39 celebrity picks out of over 8,000 participants who were eligible for awards), during Hot August Nights, an annual celebration of cars event just outside of Reno, Nevada. And yes, I have been a Ford fan for life! We have a Mustang and a Ranger pickup, and our motorhome is on an F-53 Ford chassis. Thanks for considering me for your Ford Fan Spotlight!"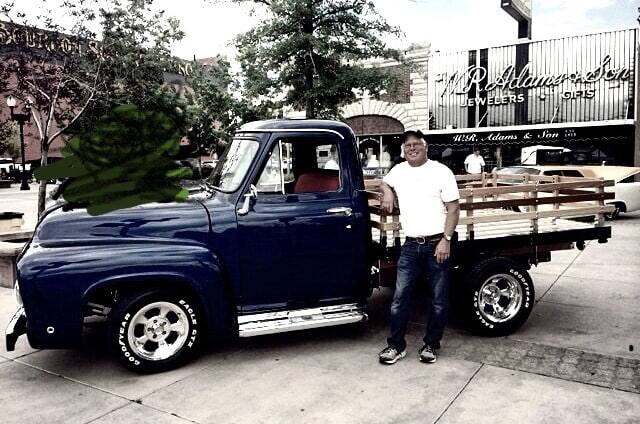 Editor's Note: One of the most popular features on FordPerformance.com and in our Fast News e-newsletter continues to be "Ford Fan Spotlight," where readers can send in their own reasons why they're fans of Ford Motor Company. You know who they are: Ford "superfans;" grassroots Ford racers; unique Ford vehicle owners; loyal Ford enthusiasts; notable Ford club people; special Ford families; and/or any avid supporter of Ford, Ford vehicles, Ford motorsports or Ford Performance who deserves a little bit of special recognition.

All you need to do to get you, your car or candidate considered is to send in a brief description (200-500 words or less) and a few photos (in .jpeg format, preferably 300 dpi) of a person (full name and hometown, please) and vehicle that you think Ford Performance should feature (and why) in the "Ford Fan Spotlight" for an upcoming installment of Fast News and posting on FordPerformance.com. Then email it to: ClubHub@Ford.com. Should you wish to send a video, you simply need to post it on www.YouTube.com (preferably 1-2 minutes long) and send in the link, along with a brief description, to that same ClubHub@Ford.com email address. We'll choose one submission each week.