Music City (aka Nashville) Mustang Club member J. Denise Wilkinson was 14 years old in 1977 when her father, Bob Wilkinson, purchased the classic pony car featured in this Ford Fan Spotlight. The 1965 Mustang convertible was purchased for a whopping $600 -- the going rate for many used pony cars in the mid 1970's. J. Denise's dad was the owner and operator of Wilkinson Body Shop in Princeton, Indiana, and he knew that the future value and interest in a Mustang Convertible would be strong. But this story is different than most – as it isn't a "love at first sight," story, nor is it just one of being reunited with a "first car" after a restoration. There's a surprise ending because this Mustang restoration uncovered a mystery that J. Denise Wilkerson hopes you can help solve. Keep reading below to find out:

"When J. Denise turned 16 and was ready to drive, her dear old dad gifted her the 1965 Mustang Convertible he had purchased a couple of years earlier as a "Sweet 16" surprise. At first J. Denise recalled that she, 'Hated it, and didn't want some old jalopy like that. I wanted a '55 Thunderbird' Some tears were shed and after a teenage tantrum or two, her mother assured her that, 'The guys will give their eye teeth for that car!' Her mother was right -- and J. Denise got into a lot of trouble in that Mustang with her lead foot.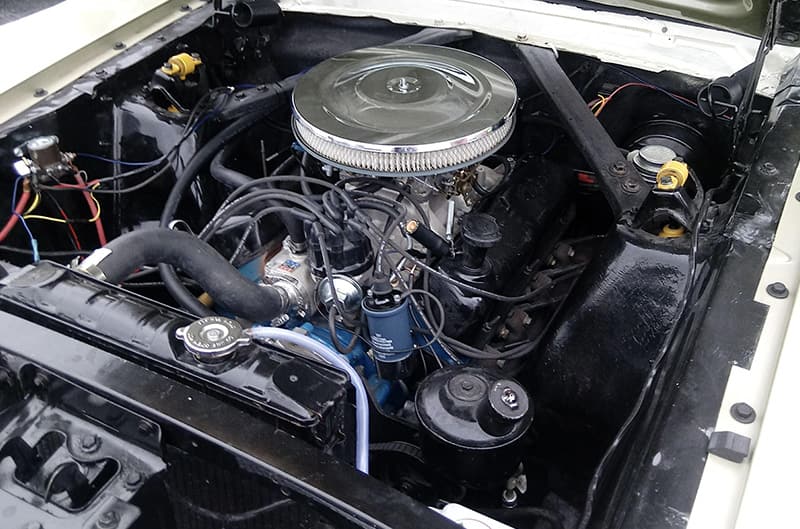 "Over the years of her Mustang ownership, friends, family and so called 'car experts' tried to get J. Denise to sell the rusted heap of a car. Midwest winters were hard on the Mustang and it eventually sat in storage under a tarp for 30 years.
"But now, after a five-year restoration and a final sorting by friends, her fully restored Honey Gold 1965 Mustang convertible looks like the day it rolled off the assembly line at the Dearborn Assembly Plant in Michigan. To help celebrate 50 years of Mustang in 2015, J. Denise purchased a set of floor mats with the 50th Anniversary Mustang logo on them. Future plans include attending several car shows in Middle Tennessee, including the monthly Cars 'n' Coffee at Mike Mefford's Mefford Motors in downtown Columbia, Tennessee.
"But there's something else that J. Denise would like people to know about the restoration of her car. When the Mustang restoration shop finally returned J. Denise's car after the 5 years 7 months and 19 days that they had it, she felt like it was a miracle unto itself. But confusion set in when the restoration shop owner held out a shiny ring. The shop owner told her that he had located the men's high school class ring deep inside the glove compartment. Apparently, someone nearly 50 years ago placed his class ring in her Mustang, never to be seen again. And she has no idea who it might belong to.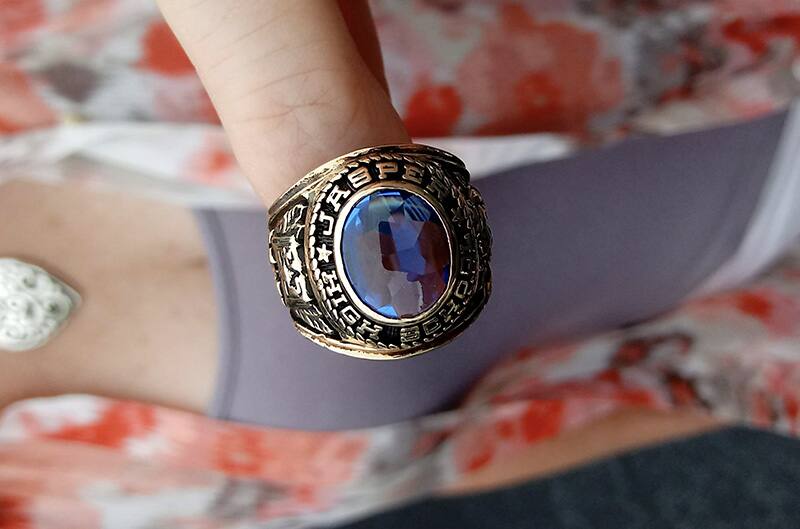 "I have been in contact with the Jasper Indiana High School class of 1971, and no one has claimed it," Wilkinson says. "So I wear it from time to time -- to a car show, and when I'm taking a Saturday afternoon drive. I am still in hopes of locating the rightful owner. No name is engraved on it, just the manufacturer – 'Herff Jones.'
If you or someone you know may have been in J. Denise's Mustang and lost a Jasper High School Class of 1971 men's ring – email us at ClubHub@Ford.com and we'll get your clues to J Denise. Seeing that person reunited with his class ring would make J. Denise being reunited with her beloved 1965 Mustang Convertible just that much better.
Here's How YOU Can Get In The Spotlight: For more than 15 years now, one of the most popular features on FordPerformance.com and in our weekly Fast News e-newsletter continues to be "Ford Fan Spotlight," where readers can send in their own reasons why they're fans of Ford Motor Company and its vehicles. You know who they are: Ford "superfans;" grassroots Ford racers; unique Ford vehicle owners; loyal Ford enthusiasts; notable Ford club people; special Ford families; and/or any avid supporter of Ford, Ford vehicles, Ford motorsports or Ford Performance who deserves a little bit of special recognition.

All you need to do to get you, your car or candidate considered is to send in a brief description (200-500 words or less) and a few photos (in .jpeg format, preferably around 1 mb in size) with the owner's full name and hometown, please. Just tell us about the vehicle(s) and why you think Ford Performance should feature it (them) in the "Ford Fan Spotlight" for an upcoming installment of Fast News as well as for posting on FordPerformance.com. Then email it to: ClubHub@Ford.com with your contact info. Your submission allows us the rights to use your words and images (along with any edits) for editorial purposes; we'll choose one submission in random order to post online. We hope to see YOU and your Ford in our Spotlight soon!