Rob May of the Central California Mercury Club (CCMC) has family ties to one of the best popcorn shops in the world, known as The Little Popcorn Store in Wheaton, Illinois. He recently spotted this 1969 Mercury Cougar prowling around in front of the place and decided to get the story behind this luscious white Mercury that landed it the title of "Popcorn Cat" in Motorhead magazine. Turns out the Cat belongs to local insurance agency owner Greg Jones, who is a member of the International Mercury Owners Association (IMOA) and a guy May calls an "incurable motorhead." Check out what he found out about Jones and his "Popcorn Cat" 1969 Cougar XR7 droptop in his Fan Spotlight submission below:
"Hi, Ford Performance. Greg Jones has had a passion for cars his entire life. He got his first car shortly after being licensed – a red '72 Cougar Convertible.
'That lasted for a year, until I gravitated towards the styling of the '69 Cougar,' Jones explained. 'So I traded my '72 Convertible for a '69 XR7 Hardtop, dressed as an Eliminator – in Orange. Far from discreet, that led to local law enforcement knowing me by sight, and by name within six months. I have been hooked on Cougars (and a few other Fords) since.'
"Greg has owned five Mercury Cougars over the years, including this current '69 XR7 Convertible. There was five-year stretch in his life where Greg went without what he called a 'fun car.'
'So I began a search for a Cougar," Jones recalled. 'I'd looked for a few years before I found the right one. I knew what I wanted, and envisioned a driver-quality car, and one I could tolerate seeing ice cream or crushed Oreos on the seats as the kids grew up.' (Greg has been married for 20 years and his wife is supportive of his affliction with cars. Their three children – Brad, Erica and Danielle – are now teenagers.) 'I found this Cougar in Wisconsin in 2011, and believe we are the third owners.'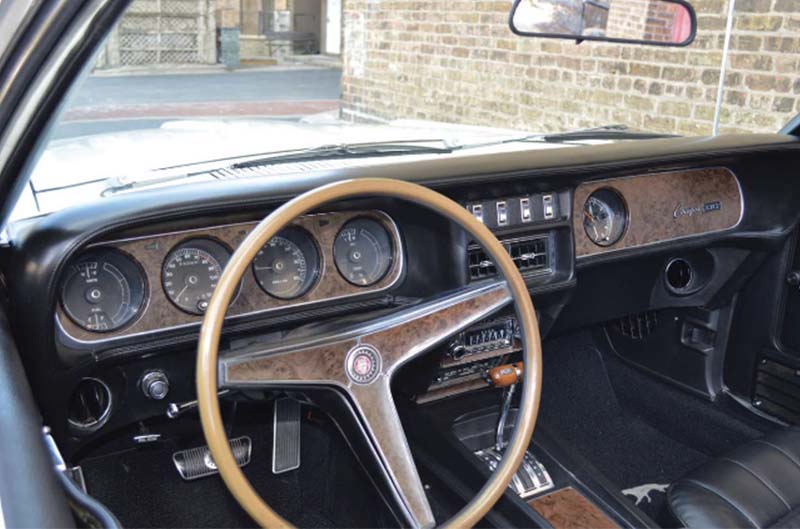 "This Cougar grabbed Greg's attention immediately, with its striking white paint, black interior and black top combination.
'The white shows off the Cougar's body lines nicely," Greg said, 'accentuating the unique 'bounce line of the 69-70 Cougars. It's always been one of my favorite features and angles of the car.'
"This 52-year-old Cougar was sold new at Merlin Motors in Camden, New Jersey on April 10, 1969, and the ragtop cat spent most of its life out East – fortunately used mostly as a fair-weather-only driver. It has 116,000 original miles on it, and the 351 Windsor V-8 mated to the FMX 3-speed automatic transmission were both rebuilt at 100,000 miles. The car is largely stock, with only the addition of a four-barrel Holley 650 differing from the original two-barrel configuration. A '68 XR7-G shift handle highlights the mostly original interior. The front end was rebuilt with lowering springs, and a 'Shelby Drop' of the upper control arms freshens up the factory optioned heavy duty suspension package.
'Those changes give it a more aggressive stance, and much better handling,' Greg noted. 'I topped off the look with a set of reproduction Shelby 10-spoke wheels and BFG Radial TA's, which I feel complete the package nicely!' These wheels are the same style wheels that were sold over the Ford and Mercury parts counters as part of the 'Sharpen Your Cougar's Claws' aftermarket parts advertising efforts.'
"Greg said his Cougar is a treat to drive.
'We logged a 500-mile round trip to Auburn, Indiana, for the 50-year celebration of the 1969 Cougar, without any drama or mechanical issues,' Greg said. 'The Mercury took second in our class at that show, and we really enjoyed getting the car out to stretch its legs. Most of all, it was great being there with like-minded Cougar owners!'
"The enjoyment that Popcorn Cat brings others while it is out is what Greg really likes most about his Cougar.
'Just having the car on the road, or even parked while we're out having a drink or dinner, allows others to enjoy some of the history of what cars were really all about back then,' Greg said. 'Sharing the Cat with others brings us joy, and hopefully serves to inspire a few young kids (and perhaps some older ones alike) to follow their passion, join the hobby and to simply have an appreciation for these cars! We take the Cougar to shows, but tend to enjoy cruise-ins more – seeing as how it's more a driver for us. And yes, we're members of the IMOA!' (Join the IMOA at its annual convention August 3-7, 2022, in Kingsport, Tennessee, including a visit to Bristol Motor Speedway. For details, email Info@MercuryClub.com)
"Thanks for considering this car for the Ford Fan Spotlight!"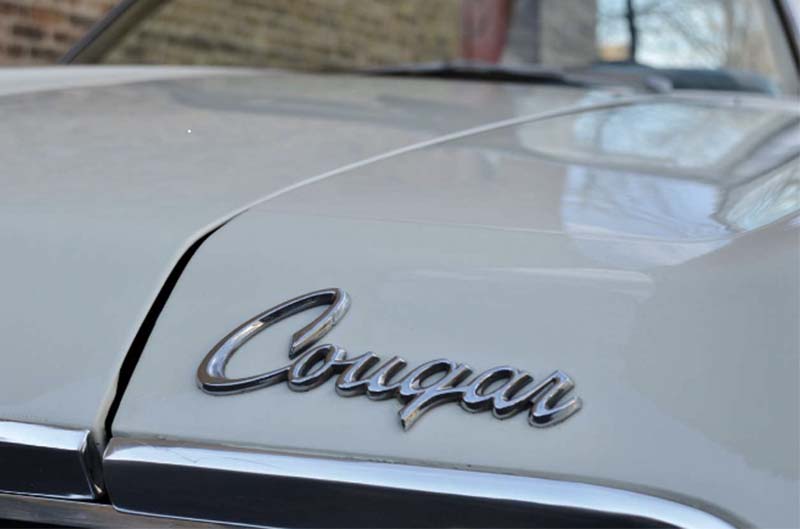 FORD PERFORMANCE WORDS AND PHOTOS / COURTESY MOTORHEAD MAGAZINE, APRIL 2020
Here's How YOU Can Get In The Spotlight: For more than 15 years now, one of the most popular features on FordPerformance.com and in our weekly Fast News e-newsletter continues to be "Ford Fan Spotlight," where readers can send in their own reasons why they're fans of Ford Motor Company and its vehicles. You know who they are: Ford "superfans;" grassroots Ford racers; unique Ford vehicle owners; loyal Ford enthusiasts; notable Ford club people; special Ford families; and/or any avid supporter of Ford, Ford vehicles, Ford motorsports or Ford Performance who deserves a little bit of special recognition.
All you need to do to get you, your car or candidate considered is to send in a brief description (200-500 words or less) and a few photos (in .jpeg format, preferably around 1 mb in size) with the owner's full name and hometown, please. Just tell us about the vehicle(s) and why you think Ford Performance should feature it (them) in the "Ford Fan Spotlight" for an upcoming installment of Fast News as well as for posting on FordPerformance.com. Then email it to: ClubHub@Ford.com with your contact info. Should you wish to send a video, you simply need to post it on www.YouTube.com (preferably 1-2 minutes long) and send in the link, along with a brief description, to that same ClubHub@Ford.com email address. Your submission allows us the rights to use your words and images (along with any edits) for editorial purposes; we'll choose one submission in random order each week to post online. We hope to see YOU and your Ford in our Spotlight soon!